Rebellious Sahara Desert rock rolls into Royce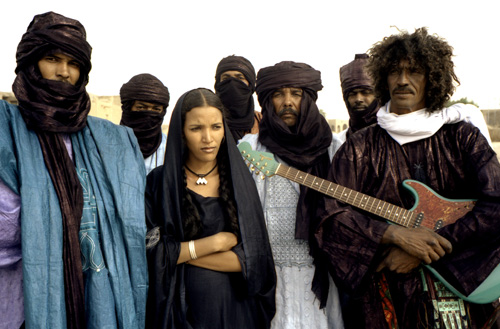 Formed in the crucible of the long freedom fight of the nomadic Tuareg people of the Sahara, Tinariwen has been leading a revolution in world music since 2001. The group, which has played at major music festivals throughout the world, including Coachella and Glastonbury, will lay down their hypnotic bass and drum beats on Saturday at Royce Hall.
By
Daily Bruin Staff
February 18, 2010 9:32 pm
By: Diana Bizjak
Rock 'n' roll bands may claim to be all about rebellion, but you'd be hard-pressed to find one that embodies that fighting spirit more than Tinariwen.
On Saturday, the desert blues rebels Tinariwen, members of the nomadic Tuareg, hit the stage of Royce Hall with their devilish guitars and trance-like melodies.
"We are going to transport our audience to a different planet," said Eyadou Ag Leche, bass guitarist and support vocalist for the band.
Ag Leche has been a member of the band for the past 10 years and has witnessed the band's meteoric rise outside of Africa, sweeping up fans such as superstar rockers Bono, Carlos Santana, Thom Yorke, Robert Plant and Chris Martin, and playing at major music festivals around the world including Coachella and Glastonbury.
However, the journey to widespread acclaim and popularity hasn't come easy for the band, who formed in 1979 in Algeria and have been rocking through periods of great civil unrest and violence. When Col.
Moammar Gaddafi of Libya began enlisting Tuaregs "" who have lived in the Sahara Desert for more than two millennia "" into his military in the early '80s, the founding members of Tinariwen answered the call, hoping to get a chance to take back their home country of Mali from its new government. It was then that Tinariwen began using music as a tool to call for rebellion among their people.
"Our music is our weapon, it's what we are fighting with now," Ag Leche said in French via a translator. "We can use music to move people politically."
Though the band's relationship with the military lasted up through the Malian rebellion of 1990, their message isn't one of war.
"Our music is about things that all living people share: solidarity, peace and freedom," Ag Leche said.
Their universal message matches their diverse sound: The band creates a fusion of Tuareg styles and Western popular music.
"You can hear elements of traditional music in there," said Jacqueline Cogdell DjeDje, chairwoman of the ethnomusicology department at UCLA."But they've created these harmonies that go along with Western pop that you would play on the guitar."
The band is famous for its bluesy guitars and melodies, but much of their sound is based on the music of the desert. According to DjeDje, slaves taken to America from West Africa played music that was a forebear to American blues. This musical style that has been widespread throughout the region is only recently being influenced by its American counterpart, creating a sort of musical feedback loop.
Ag Leche is quick to point out that though their music may sound Western or blues, their foundation is in the Tuareg tradition.
"It is our experiences and history that inform our music. The element of our origin is inseparable, intrinsic from it," Ag Leche said.
The integration of Tuareg culture into the band's core is even reflected in their stage clothes. The band performs in classic Tuareg garb (though if you look closely, you can see some sneakers peeking out beneath their pants), a far cry from the skin-tight leather and jeans of the rocker stereotype.
"We want to show our audience what Tuareg looks like. These are the clothes we have been wearing our whole lives. Our costumes are beautiful and show our authenticity," Ag Leche said. "Plus, they have a practical purpose "" they are good in the heat."
An American audience may find the clothes exotic.
"Their clothing is a visual marker that causes the audience to immediately recognize that what they are seeing is completely new and different from anything they've experienced with other rock bands," DjeDje said.
But these days, Tinariwen is not struggling with clothing choices or even with the Libyan and Malian governments that plagued the Tuaregs in the past. Instead, the issue of cultural preservation is at the front of their minds, especially in regard to maintaining their beautiful nomadic homeland, according to Ag Leche.
"I'd imagine that there are young men out there who don't want to spend their lives riding a camel carrying salt out in the desert," DjeDje said of the unraveling of the Tuareg culture.
Even so, Tinariwen isn't just about a specific culture, but about appealing to people everywhere.
"It is the journey on stage that makes us who we are, it is how we transport the audience," Ag Leche said. "The audience becomes a part of our family and our people."
As they continue their tour "" UCLA is only one stop amid a flurry of dates across North America and Europe "" Tinariwen is looking to continue to spread awareness of their cause.
"We want to provoke people into thinking about the path to liberty and solidarity. We want people to pay attention to each other," Ag Leche said.
Yohana Valdez, a UCLA alumna and burgeoning Tinariwen fan, finds the band's message transporting.
"I think that they are succeeding at giving us a transcendental human experience. What they are doing just sounds so inviting," Valdez said. "I want to be taken to that other planet."