One-man musical aims to spread knowledge about foster care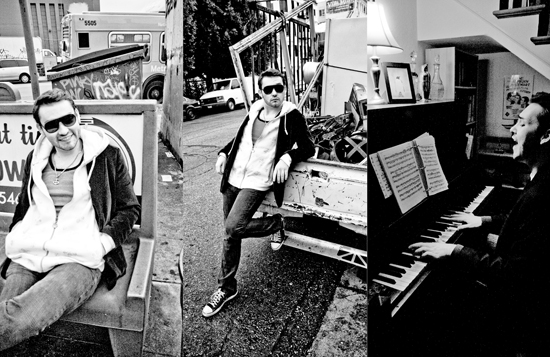 Performances of the Ahimsa Collective's "From Foster Care to Fabulous," about a man who lived with four different families as a teenager, begin Jan. 30. at The Improv Space on Gayley Avenue.
Patrick Burns lived with four foster families between the ages of 14 and 17. When he began attending UC Irvine and found he was one of only six students in the school who had been through the foster care system, he discovered just how rare his story was.
Now Burns is sharing his story in the form of a one-man musical, "From Foster Care to Fabulous," presented by the Ahimsa Collective at The Improv Space beginning Jan. 30.
"I came up with the idea to do this a couple years ago because I was in college and I would always tell people stories about my life and people would be like, "˜That's crazy, can you explain that?' So I finally thought, "˜My experience, my life, is abnormal,'" said Burns, whose foster care experience included living on a ranch and living with a lesbian couple.
Negin Singh, Burns' friend since college and also the director of the show, remembers hearing his stories at parties. But she continues to be surprised by his anecdotes.
"When (Patrick) and I rehearse, he'll go over some line that is shocking to me and, for him, he's just passing through. And I'm like, "˜Wait wait wait, no no no, you have to explain what that means,' because for me, as somebody who doesn't know what that is, that sounds crazy," said Singh. "It's been really cool to learn about the terms used … and what it's like to interview for parents and how crazy that must be, and the court process."
For Burns, telling his story to people who aren't familiar with the foster care system is very important even though, as he found,many children who lived in foster care want to forget about their experience and move forward.
"I really feel like, as young adults, we have a responsibility to help better this system for the next generation," Burns said. "If I tell my story, then people will know more and they'll want to learn more and there'll be more questions and people will be motivated to change."
The show aims to help spread knowledge about foster care in more ways than just a single run of the performance.
"The way I've directed it, and the way Pat's written it, this show can get picked up and put pretty much anywhere," Singh said. "We are hoping to take this show and put it in front of soon-to-be foster parents."
Proceeds from the show will go toward a long-term project to bring art programming into the foster care system. Also, at Sunday shows, there will be a person from the foster care field to talk with the audience after the performance.
Burns and Singh hope that audience will include UCLA students. Their Westwood location is no mistake.
"We're bringing the show right next to you," Singh said. "I want (students) to see the show not only to be educated about foster care and the system, but also to know that there's this company out there doing good, solid community work and it's all about getting people involved."
Liana Dillaway is one of those UCLA students who has already gotten involved. The third-year theater student is the stage manager for Burns' show. She said she thinks it's one that will appeal to her fellow Bruins.
"Even though it's about a topic that's heavy and serious, there's a lot of humor in the show so it's fun to see. … I think it really can show a side of life that most students at UCLA probably haven't been through and it can expand someone's world view," Dillaway said.
For Burns, his hopes for the audience go beyond just an understanding of his life and foster care experience.
"I would really like people to remember that not everyone's life is the same," Burns said. "The show is about the perseverance of the human spirit, it's about race, it's about class, it's about community and it's about family, and I'd love people to leave thinking that they have some new opinions."