New clothing store Brandy Melville brings Italian style straight to Westwood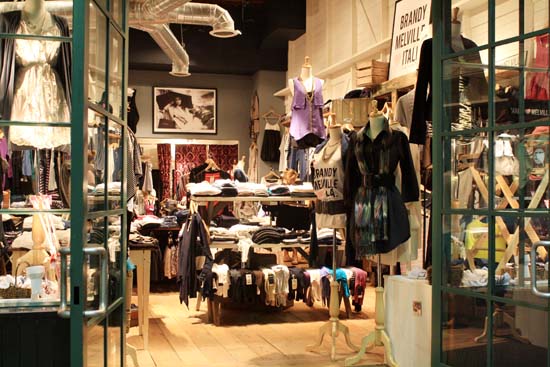 Italian clothing chain Brandy & Melville recently opened a new store in Westwood. While the chain has 40 locations in Europe, this is the first in the United States.
Step aside Urban Outfitters "" fashion savvy individuals of Westwood have just received another clothing store option, imported directly from Italy, in the form of Brandy Melville. The native Italian store could have settled anywhere in the United States but decided to introduce its clothing line straight from Italy to Westwood.
Store owner Jessy Longo said, "We love this location because it reminds us a little bit of Europe, where people walk on the street. So we chose this area and are very happy with it."
The store name Brandy Melville was inspired by two people in love.
"(Brandy) was this American girl, and Melville was this English guy. They fell in love in Rome. … It was a cute love story," Longo said.
Silvio Marsan, the founder of Brandy Melville, started his career 30 years ago when he was producing merchandise for numerous famous Italian brands. His son, Stephan Marsan, opened the first Brandy Melville store 15 years ago.
Longo, a good friend of Stefan Marsan, said they decided to bring Brandy Melville to the United States together.
"This is the first U.S. store. The company is owned by the Marsan family, and they have 40 stores in Italy, (but) this is the first U.S. store," Longo said.
Although the store is smaller than those in Italy, Longo said the Westwood boutique strives to keep merchandise fresh with frequent new shipments.
"We like to keep it beachy but European-style. We like antique, so vintage. It matches well with the line because we also do a lot of forward styles," Longo said.
Though Brandy Melville members design and manufacture all of the store's merchandise in Italy, the store seeks to find a middle ground with customers, adapting both prices and clothing styles to the American shopper.
For instance, clothes are priced using a fake "euro" where one euro equals one dollar.
"The store's clothing is something between L.A. and Italy. … We don't have a big markup on the merchandise. We make less profit on the merchandise, but we want more people to afford it, and I've seen UCLA girls appreciate it very much," Longo said.
As far as advertising, Longo is relying on students and customers to spread the word about the new store.
"I've seen word of mouth going on already. … As far as quality, it is better than Forever 21 "" a little more expensive, but it's less expensive than Urban Outfitters or American Apparel. So it's something that can be there and in between," Longo said.
Brandy Melville can also count on the proximity of the store to college students ­"" where stores within walking distance trump those farther away.
Natalie Yost, a third-year communication studies student and the fundraising and sponsorship director for UCLA's Fashion and Student Trends group, said she had recently visited the store.
"I think the store is so cute. … The way they have everything displayed, I think they did a really creative job displaying the clothes," she said. "I actually bought a vest off the mannequin "" it was the last one."
Besides the display and setup of Brandy Melville, the clothing pieces are timeless wardrobe staples.
"The great thing about the clothing was that it is very basic; most of the colors are white, grey and black with some bright colors. … But it's very basic clothing that you can just incorporate into virtually any wardrobe," Yost said.
Yost said she feels the European boutique will thrive among the other Westwood clothing stores due to the appeal of its affordable, imported style.
"Since they're from Italy, it makes their perspective on fashion a little different. So it's a fresher option for us to have," Yost said.