Hollywood Forever Cemetery to host 10th annual Day of the Dead celebration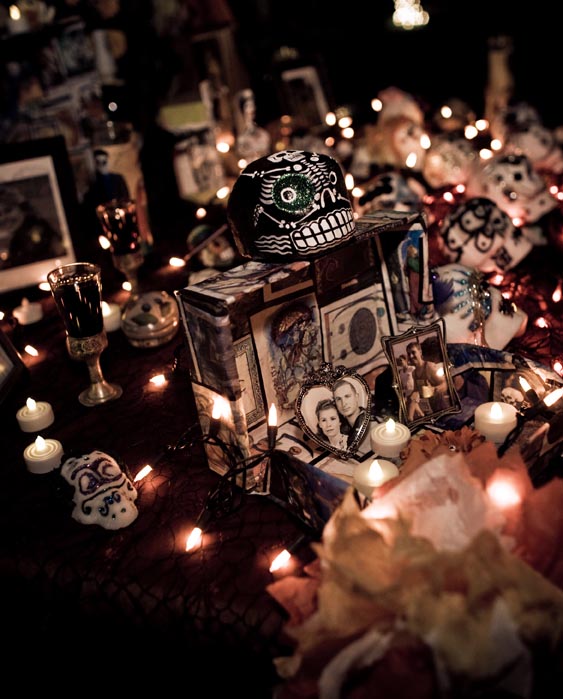 Traditional altar displays such as this one can be seen at the Dia de los Muertos event put on by L.A. Day of the Dead on Saturday at Hollywood Forever Cemetery.
On Saturday, Day of the Dead festivities offer the opportunity to visit a Los Angeles landmark decked out for a celebration that's even older than the graves of film stars Jayne Mansfield and Rudolph Valentino, who are buried on the 120-year-old site. The event is in its 10th year at the Hollywood Forever Cemetery and features food, film, art, live music and an altar-decorating contest.
The Day of the Dead, or Dia de los Muertos, dates back more than 3,000 years to the ancient Aztecs, who believed that souls retire to an underworld called Mictlan. Once a year, families gather in graveyards to honor their departed, and it's said that the dead return from Mictlan on this day to visit their living relatives.
"A cemetery is where the dead souls come to live," said Liliana Rosas, the event organizer for the Los Angeles Day of the Dead.
In Mexico, people gather at the grave sites of the deceased, but altars may be erected remote from the place where the bodies of the celebrated souls are buried.
"They arrive where they're remembered," said Deisy Marquez, the event's producer, who was born and raised in Zacatecas, Mexico.
Building altars is central to the celebration. The Hollywood Forever festivities will feature a community altar for the first time this year, where anyone can place offerings to a deceased loved one.
There will also be the annual altar contest, which produced more than 200 elaborate displays last year. The contest is judged based on creativity and tradition.
Traditional altars include references to nature's four elements of earth, wind, water and fire, but contestants may be as creative as they want with representing them. Common decorations include incense, photos of the deceased, sugar candy skulls and marigolds, which are the official flowers of the dead because they grow most plentifully in Mexico at this time of year. People also bring candles to help light the way for the souls on their long journey and lavish spreads to greet them.
"They've traveled a long way, so they arrive thirsty and hungry," Marquez said.
People prepare their departed loved ones' favorite foods and drinks and present them along with the other offerings. Of course, there's also plenty of food for the living. Traditional Day of the Dead fare consists of foods first eaten by the ancient Aztecs and Mayans: tamales, chocolate, a cornmeal drink called atole and a sweet bread called pan de muerto (bread of the dead). Vendors at the event will include several of the city's finest authentic Mexican restaurants.
Saturday's festivities will also showcase indigenous Mexican music. Musician Xavier Quijas Yxayotl and his troupe will perform traditional songs and dances passed down from the ancient Aztecs and Mayans.
"Right away people think mariachi," Yxayotl said. "But it's very different."
When the Spanish conquered Mexico, they prohibited the native music, and people could only play European instruments, so mariachi was born, and the older music was largely lost.
Yxayotl, who grew up in Mexico and is of Huichol descent, sings in three native languages and plays several kinds of ancient flutes, drums, rattles and whistles. His favorite is the Aztec clay flute, which he started making when he was a kid. He became interested in creating exact replicas of the ancient instruments.
"It's in my blood, I have inside me a spirit to guide me to make these instruments," said Yxayotl, who has been commissioned by private collectors and a movie studio to produce authentic flutes and drums. "I lived with Indians for months," he said, learning the ancient languages, music and traditions of Mexico's native people.
"They lived in the jungle; they believed in equality, so they tried to make instruments that imitated the sounds of nature," Yxayotl said. "The music is very intense; it's beautiful."
Also performing is beloved Mexican songstress Lila Downs, who sings traditional folk songs in several different languages, including English. And besides live entertainment, there will be the works of 15 local artists, face-painting, arts and crafts and the premiere of "La Fiesta Eterna." The documentary, from director Christopher Chacon, explores how the Day of the Dead is celebrated around the world.
Marquez and Rosas hope the event will help participants understand the value of having a family and traditions. "A lot of new generations haven't even been in their parents' or grandparents' country where there is a lot of richness in the culture," Marquez said. "This would be a great way to be part of it."