Weekly markets give L.A. residents a fresh, farm-grown alternative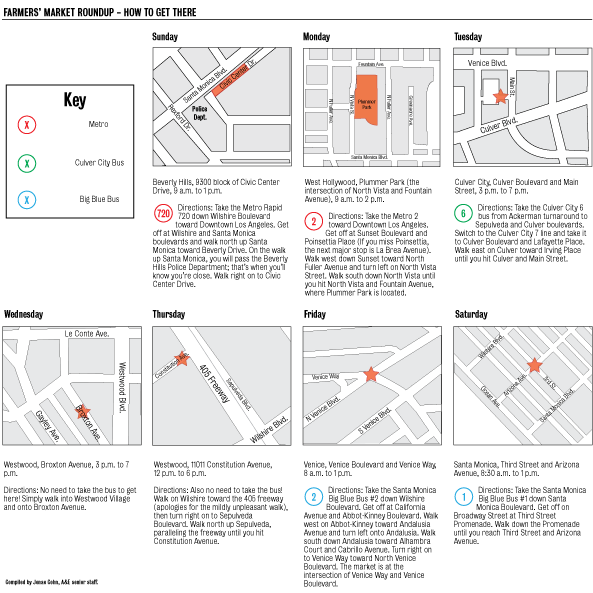 Los Angeles' congested freeways and urban sprawl may not seem like signs of sustainable living, but peek into downtown Culver City, behind the Beverly Hills City Hall or past Sunset Boulevard in Plummer Park, and discover rows of farm-grown tomatoes, corn, pears and organic delights. While Los Angeles may be known as the city responsible for smog and car-dependence, it is also home to dozens of farmers' markets cropping up around different parts of the city every day of the week. Here's a guide to some of the closest farmers' markets to UCLA with an inside peek on the scene, what to buy, and how to get there.
SUNDAY
Beverly Hills, 9300 block of Civic Center Drive, 9 a.m. to 1 p.m.
Razzle-dazzle defines Beverly Hills, and the weekly farmers' market proves no exception. With a plethora of prepared food, from made-to-order crepes to stuffed organic veggie burritos to orange juice squeezed on-site. Make sure to eat at the picnic tables while enjoying the weekly live music. Of course, foodies should also seek out Rancho Mexico Lindo's exotic fruit stand, offering up prickly pears and guavas, and the Delta Grown Asparagus and Potatoes, with beautiful Yukon Gold potatoes and an array of red, white and purple fingerlings on sale. This market may not treat your wallet very well, but what in Beverly Hills does?
MONDAY
West Hollywood, Plummer Park (the intersection of North Vista and Fountain Avenue), 9 a.m. to 2 p.m.
Directly off of Sunset Boulevard, this unassuming weekday market is all about the primarily organic and (get this!) affordable produce. The best deal comes in the form of a $1, 3-pound bag of organic heirloom tomatoes from Smith Farms, and their 99-cents-per-pound spaghetti squash is not too shabby either. Peter, "The Fishman," also offers up fresh seafood with $7-per-pound tuna, but just be prepared to get hungry standing in line outside the fish truck adjacent to a fresh tamale stand and a sizzling barbecue station.
Live musicians offer a subdued sound track to a market primarily frequented by workers buying groceries on lunch breaks.
TUESDAY
Culver City, Culver Boulevard and Main Street, 3 p.m. to 7 p.m.
Vibrant, developing downtown Culver City hosts a farmers' market as booming and hip as its young residents.
With LA Weekly restaurant favorites like Carmela Ice Cream and Alana's Coffee Roasting Company offering up gourmet luxury treats, the Culver City market is more boho than home-grown.
Sip on some watermelon juice or horchata sold adjacent to a Lonzo's Bakery stand that offers up fresh-baked baguettes and multi-grain loaves. Independent craft dealers also set up shop with jewelry, scarves and purses.
For the real budding bohemian epicurean, be sure to chat with Laurent Bonjour, a French man with a cowboy hat and a distinctive goatee, who is happy to provide a tutorial on cheeses from around the world from his open-air cheese truck.
WEDNESDAY
Westwood, Broxton Avenue, 3 p.m. to 7 p.m.
Previously on Sunday mornings, the Wednesday night farmers' markets in Westwood are increasingly becoming a more happening affair. Spanning only the small stretch of Broxton Avenue, produce stands predominate while the selection of prepared foods is limited only to the alluring salty-sweet scent of Kettle Korn wafting through the Village. But what the Village lacks in size, it makes up for in some of the most affordable prices in the West L.A. market scene. With bunches of grapes running $2 a pound and killer $5 deals on three baskets of strawberries, the Village market honors a college-student budget, even if does not capture the festivity of other area markets.
THURSDAY
Westwood, 11011 Constitution Avenue, 12 p.m. to 6 p.m.
Sure, this Westwood market may not be right in the Village, but with its focus on gourmet and pre-prepared food, it fills in what the Village's market lacks. The star of this market is its variety of gourmet cheeses and meats. Winchester Cheese Company features a dizzying selection of locally made cheeses from family recipes while Candy's Natural Gourmet Meats grills up succulent sausages, carne asada and chicken. Even fledgling foodies can find supplies to build up their home kitchen: the Dollar Table, run by the Department of Veterans Affairs' voluntary services, offers up kitchen staples for only $1 a piece.
FRIDAY
Venice, Venice Boulevard and Venice Way, 7 a.m. to 11 a.m.
Venice's beachside smoke shops and street performers seem miles away from this small, airy neighborhood farmers' market. A modest smattering of stands in a cozy neighborhood parking lot, market-goers revel in the self-righteous glory of the market's "waste-free zone" where everything sold, including the bags, are either compostable or recyclable. For those living in apartments with some balcony space (or even a window ledge), this is a great place to pick up some potted plants or herbs, with planters of sweet basil, cilantro and thyme running only $1. Check out the Provence French Bakery, based in Long Beach, for some fresh-baked bread, pasta and pastries. The owner, who hails from Normandy, may be there, and if you ask him how he is, he's likely to tell you, "Not as good as you are, but still good nonetheless!"
SATURDAY
Santa Monica, 3rd Street and Arizona Avenue, 8:30 a.m. to 1 p.m.
Think Third Street Promenade on a Friday night is madness? Then check out the Organic Farmers' Market on Saturday morning; it makes any Promenade evening feel like a ghost town. With vendors lining Arizona Avenue at 3rd Street, the Market is packed with vendors hocking free organic peach samples, non-profit environmentalist groups looking for support and street musicians rocking out on acoustic guitars. Almost everything sold, from the fresh mozzarella cheese to the crates of yellow raspberries, is organic. For seafood-lovers, Anjin II Fish sells large live prawns and cracks fresh oysters on-site. A father-son team from East Los Angeles also sells cage-free eggs, quail eggs and even blue eggs, and every week, acclaimed Santa Monica-area restaurants including Border Grill and Bravo Cucina set up food tents selling lunchtime "munchies."
 Compiled by Jenae Cohn, A&E staff.