Enjoy eclectic Parents' Weekend dining options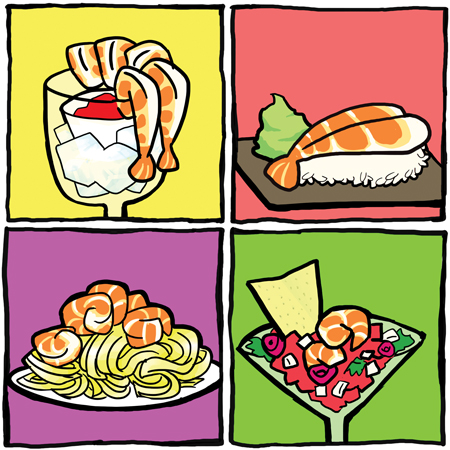 Starting today, tons of moms and dads will be on campus for Parents' Weekend. Nothing cures empty nest syndrome better than a nice family dinner out "" on your parents, of course. Relish the opportunity for a free meal and show the parentals what their hard-earned money is going toward.
Pizzeria Mozza
641 N. Highland Ave., Los Angeles, CA 90036
323-297-0101
mozza-la.com
Pizza is a college staple, but most Bruins aren't eating authentic Neapolitan-style thin-crust pizza with white clams or prosciutto. Created by television chef Mario Batali, his business partner Joseph Bastianich and La Brea Bakery founder Nancy Silverton, Pizzeria Mozza is a trendy, upscale restaurant where you can share a slice with your family "" as long as you make reservations ahead of time. Don't miss out on the sorbets and gelatos.
Katsuya
11777 San Vicente Blvd., Los Angeles, CA 90049
310-207″"8744
sbe.com/katsuya
For the hip Angeleno in all of us, Katsuya offers highbrow sushi in a modern, artsy atmosphere that will have you scanning the surroundings for celebrities. You and the fam can lounge on comfy white couches and take in the ultramodern Japanese decor while you wait for your bento boxes. A far cry from sushi night at Hedrick Hall, Katsuya boasts an artfully presented array of sushi, sashimi and hot entrees. (They even sprinkle edible flowers on your plate for extra pizazz.) Even if you don't spy a celebrity mid-sake bomb, you might catch yourself feeling a bit famous. Like all hot spots, reservations are suggested.
Umami Burger
850 S. La Brea Ave., Los Angeles, CA 90036
323-931-3000
umamiburger.com
Umami is considered "the fifth taste," a savory flavor "" it would explain the appeal of the orange chicken at Panda Express, for example. This restaurant is a tribute to the fifth taste, with eight different types of burgers, including a turkey confit burger with apple relish and goat cheese. The sides also include hand-cut, triple-fried, oversized fries and malt liquor tempura-battered onion rings and a house ketchup. It's considerably pricier than In-N-Out Burger, but the line is just as long.
Border Grill
1445 Fourth St., Santa Monica, CA 90401
310-451-1655
bordergrill.com
If Taco Bell is your idea of authentic Mexican food, it may be time to step outside of your comfort zone and impress the 'rents with this gourmet Mexican grill at Third Street Promenade. The menu offers familiar favorites such as tortilla soup, as well as more exotic entrees such as carnitas norteñas, a pork dish with fried yucca and handmade tortillas or roasted plantain empanadas. For those families on a budget, the $3 taco special during happy hour should leave your wallet and your palate muy feliz.
Ttanino Ristorante Bar
1043 Westwood Blvd., Los Angeles, CA 90024
(310) 208-0444
tanino.com
Designed to resemble the Pitti Palace in Florence, Tanino is a little piece of Italian paradise smack-dab in the middle of Westwood Village.
If the architecture and charming ambience don't seduce you, chef Tanino Drago's culinary homage to his Sicilian motherland most certainly will. The pumpkin tortellini in sage cream sauce is a delicious and unusual surprise, while the decadent tiramisu will titillate your appetite as only fine cuisine can. Don't be intimidated by the valet parking and fancy decor, however: The friendly servers are more than happy to help you navigate the menu and the extensive wine list.