Linkin Park uses Music for Relief to help natural disaster victims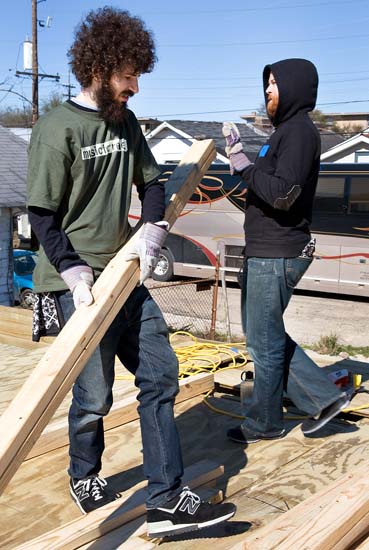 Linkin Park guitarist and UCLA alumnus Brad Delson works on a project for Music for Relief, a nonprofit organization that provides relief to victims of natural disasters. Some of the money raised by ticket sales for Linkin Park concerts goes toward the organization.
Many people have been hurt due to natural disasters, from earthquakes to wildfires. Smoky skies previously looming over UCLA can attest to the nearby threats. Though it's hard to imagine doing something to combat such mighty powers, making a difference can be as simple as going to a concert.
Music for Relief, founded by rock band Linkin Park, raises money and awareness for world natural disasters through a variety of concerts, local activities and internet support. The organization started in 2005, after the tsunami in Southeast Asia left many in need of assistance, and has raised over $3 million to date. Linkin Park knew the might of the music industry could be utilized to aid in the relief.
"At the time, my bandmates and I had just completed a concert tour of South Asia, and were deeply distressed by the destruction we witnessed on television. When such an unfathomable tragedy occurs, it's so easy to feel powerless. What ultimately proved inspiring to me was the way in which so many individuals transformed their grief into action, to help those in need," said Brad Delson, Linkin Park guitarist and UCLA alumnus.
Whitney Showler, executive director of Music for Relief and a UCLA alumna, had been working for Linkin Park's record label Machine Shop Recordings when she decided to get involved with Music for Relief full time.
"Their goal was to bring the music community together and join forces to make the greatest impact they possibly could," Showler said. "So they founded Music for Relief, and in doing so really brought together music industry professionals, artists, fans, people all across the industry to do the best they could to help following a natural disaster."
There are a few main ways to aid in fundraising for the foundation: online donations, texts, and concert ticket proceeds. By going to the organization's Web site, people can choose to donate to Pacific Island Tsunami victims and many others, while sending a text with the word "Relief" to 90999 adds a $5 donation to the monthly phone bill. Since 2007, a portion of concert ticket sales for Linkin Park has gone to Music for Relief.
"Half the time people don't do anything out of the ordinary, but with Music for Relief, they just go to a concert and they're still helping out," said Megan O'Neal, a third-year UCLA communications studies student who interns at Music for Relief. "If at a concert you had to go to a table and donate, I don't think that would be as effective."
Showler said music turns the gears in making the organization succeed.
"I think that music speaks to people and people are passionate about music. I think the fans in general are obviously a really diverse group of people, but music is their unifier. So I think that it's helpful to have artists who are interested in doing some good and giving back, and they can be in a wonderful position to enlist fans and other aspects of the music community to make a difference," Showler said. "The music also comes in because it's really meant to be an industry-wide organization "" an umbrella for various groups, genres and people all get together to help."
However, concert tickets can be fairly costly for starving college student due to high tuition. But there's a way to donate without even shelling out cash. Adding a SocialVibe badge to one's social networking page (like MySpace or Facebook) gives a donation from a sponsor to the beneficiary of his or her choice.
Besides just raising money, Music for Relief also looks for local involvement like tree plantings with partners such as Habitat for Humanity.
"Whenever we do an event like our build on Earth Day last year or our tree planting that's coming up, we reach out to UCLA students," Showler said. "I'm especially interested in getting Bruins involved when they're interested in either in the organization or in philanthropy in general."
The relief efforts are successful on a large scale due to perseverance at a local level.
"Music for Relief relies heavily on grassroots participation. Whether we're building homes with Habitat for Humanity, planting trees with American Forests, or "˜sending dirt' to the Louisiana Wetlands, we can't do it alone," Delson said. "And who better to help than young, motivated, smart people?"