Orchestra to perform stellar scores of "˜Star Wars' trilogies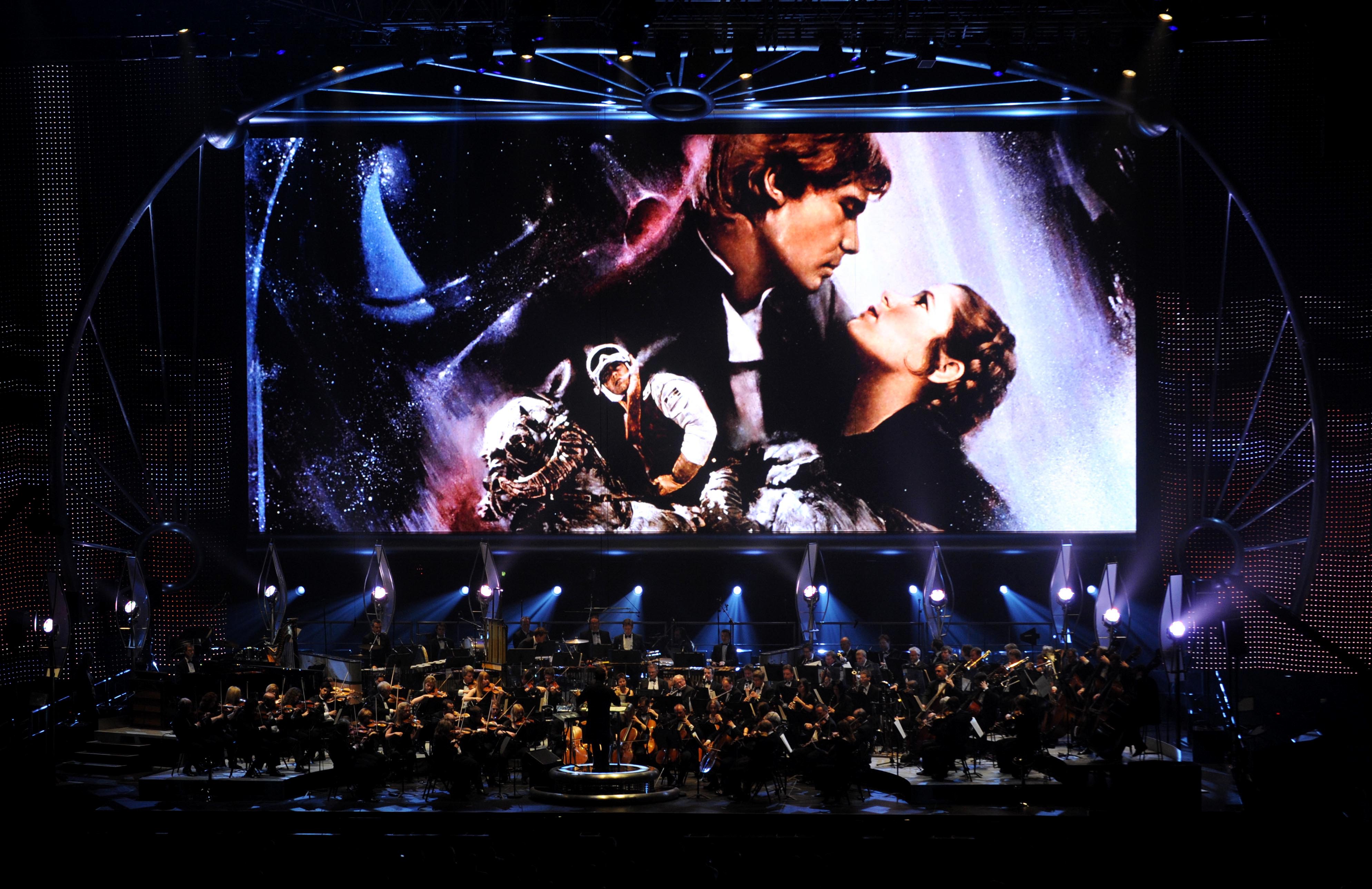 LUCASFILM LTD
A live orchestra accompanied by a choir and a narrator will perform music from all six of John Williams' "Star Wars" scores.
A long time ago, in a galaxy far, far away, one of the most famous film scores of all time was born.
This year, John Williams' timeless masterpiece will be honored in "Star Wars: In Concert," a unique multimedia event that features live music from all six movies, coupled with specially edited footage from the films displayed on LED super-screens and a live narration by Anthony Daniels who portrayed C-3PO in the films.
Produced by Another Planet Entertainment, the worldwide concert tour made its U.S. debut in Anaheim on Oct. 1 and will play at the Nokia Theatre L.A. Live on Oct. 7 and 8.
"The show was designed to appeal to the general public, to people of all ages, to "˜Star Wars' fans and to symphony fans," said Gregg Perloff, CEO of Another Planet Entertainment and UCLA alumnus. "We hope a lot of people will spend the money to come see the show but on a different level, we really hope that a lot of people learn about the importance of music to film and that they hear what a full symphony sounds like and how great a 86-piece orchestra and 80-piece choir sounds."
For many fans, "Star Wars: In Concert" will be an especially invigorating experience because the production puts both music and film on center stage.
Not only have the editors at Lucasfilm created original film montages to accompany the musical selections, but the concert will also showcase an exclusive exhibit of "Star Wars" costumes, props, artifacts, production artwork and behind-the-scenes videos, many of which are leaving Skywalker Ranch for the first time.
Besides viewing the stunning props, attendees will be able to relive the "Star Wars" experience through a comprehensive synchronization of key themes from the sound track coupled with a series of related images from the film.
"A lot of the different themes that come out of the films are kind of explained in a way that would make sense to a lot of people," Perloff said. "It was an idea that Lucasfilm always wanted to do."
"Star Wars: In Concert" promises to be a unique event for both "Star Wars" fans and music lovers alike, although for a movie such as "Star Wars," the two are often one and the same. Audiences who saw the first film in 1977 were as impressed by the musical score as they were by its stunning visual effects. More than three decades later, the legacy of the groundbreaking score still persists.
"Movies of a similar genre sound like "˜Star Wars' because composers are told to imitate it," said Paul Chihara, the head of UCLA's visual media program. "Even a great score like "˜Lord of the Rings' could not have been written if you didn't have "˜Star Wars' before it."
Chihara noted that the influence of the film's sound track was so great that viewers were already humming it aloud in theaters by the second screening. Although music has always been an integral part of the film industry, for "Star Wars" its importance was especially evident.
"Before "˜Star Wars,' there was nothing quite like (it)," Chihara said. "Williams created a score that is very much in the style of 19th century German opera "" it's Romantic, orchestral music. Because the music is of such high quality, I think it's a good thing that we have concerts like this. People who go to it are going to be introduced to the wonderful sound of the 19th century orchestra, which can't be reproduced by electronic means."
The "Star Wars" score is unique in that it borrows from a number of old musical traditions, resulting in a score that is not only heroic-sounding, but gives viewers a sense of what to expect.
"(Williams) followed the practice of assigning different melodies to particular characters and events, so Princess Leia has a theme, Darth Vader has a theme and the emperor has a theme," said Elizabeth Upton, an assistant professor of musicology.
"Having identified different characters with different melodies, he then uses the melodies throughout the rest of the film and the rest of the series to immediately let you know either who's being talked about or who is there or who's important. He got the idea from opera composers, and other film composers have done this sort of thing, but he did this really well, so now we think it's normal for movie music," she added.
Because it was so unique, music from the "Star Wars" films not only drew crowds, but opened up new portals for the ways in which music and film intertwine, producing a collaborative industry that's currently gaining momentum.
"Film music is funny because it doesn't want to draw attention to itself and it's primarily used to add emotional excitement to the scene," Upton said. "But Williams showed that you can have the music be more memorable and draw attention to itself and still be used to create emotional excitement too."
There's no doubt that the live "Star Wars" orchestra will be getting much of the spotlight.
"I don't want to say that "˜Star Wars' is a religious experience, but it has music that is moving and ceremonial," Chihara said. "It's good to have music that does that because ceremonial music makes us all part of a single society "" we're sharing an experience."