UCLA students specify lack of accessibility on campus, call for improvement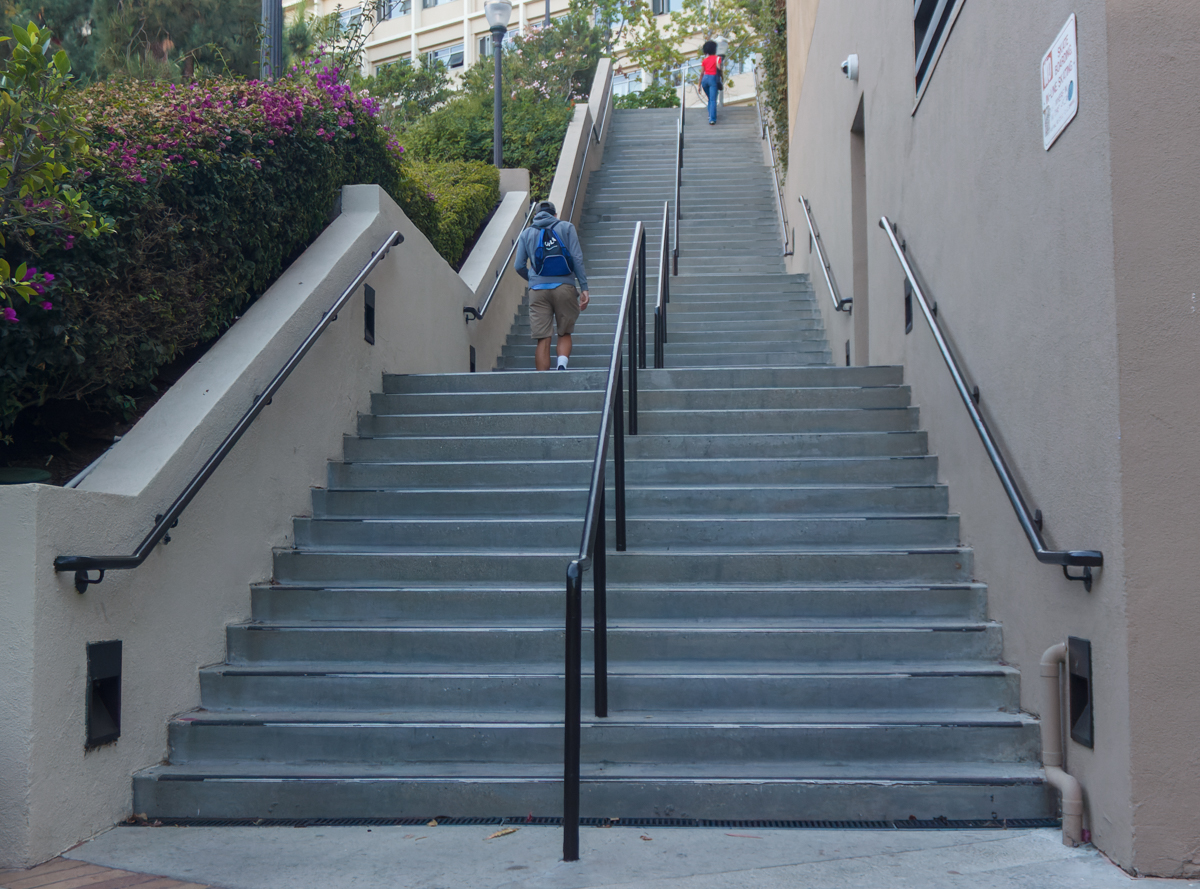 Disabled students say many parts of the UCLA campus are inaccessible, including staircases such as this one, which do not differentiate between steps and are not always lit at night. (Joseph Jimenez/Assistant Photo editor)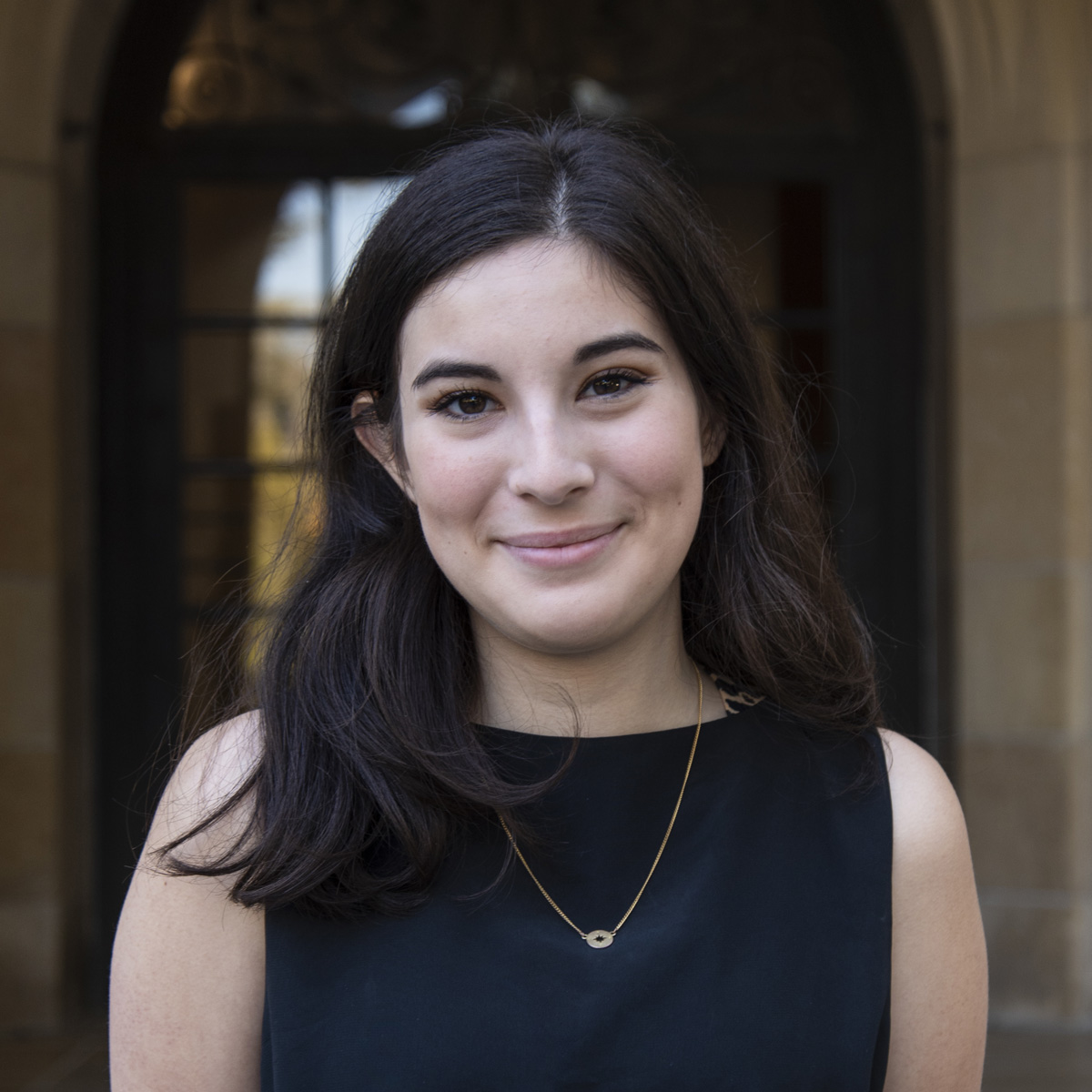 This post was updated July 31 at 10:51 p.m.
Students are calling on UCLA to improve accessibility on campus.
Many parts of the campus are inaccessible, said Rowan O'Bryan, a rising fifth-year art student. From the number of stairs students must traverse to get to class to broken elevators to the unavailability of the BruinAccess van, disabled students face many difficulties getting around campus, she added.
O'Bryan said when she lived on the Hill, getting around was very difficult as a disabled student. In order to get from her dorm in De Neve to a dining hall near the top of the Hill, she had to take either a complicated series of elevators or an electric scooter, adding more time and obstacles to the commute, O'Bryan added.
The elevators on campus can also be unreliable, O'Bryan said, adding that each elevator she used would break down a couple of times per quarter on average.
"In general, I just found that I need to use the elevator. So if it's out of service, then I can't get to class," O'Bryan said. "If the elevators are out of service, then you can't really do anything."
The many stairs on campus are also an issue for disabled students, said Christopher Ikonomou, a rising fourth-year communication student. Not only is the number of stairs challenging, but the stairs themselves are not made to be accessible, especially to people with visual impairments, he added.
"In order to be an accessible staircase, there needs to be some sort of visual indicator of when the steps (end)," Ikonomou said. "Basically, if you have a visual impairment like myself, if you look at, say, a flight of stairs, and each stair has the exact same pattern, whether it be bricks or it's all concrete, it essentially looks like a slide," he added.
Ikonomou, a student with Marfan syndrome, which affects eyesight among other symptoms, added that not all staircases are lit at night, which is also dangerous for somebody who is visually impaired.
The BruinAccess van is another service that needs to be improved, O'Bryan said. The van helps disabled students get around campus but is often late, meaning students get to class late, she added.
"Even if I call the BruinAccess van an hour before my class, I'd still be, like, 30 minutes late to class," O'Bryan said.
Ikonomou said the BruinAccess van also only operates on weekdays during the day, which limits his options for transportation on weekends and at night.
UCLA SafeRide operates from 7 p.m. to midnight Monday through Thursday and provides ADA-compliant buses and vans, said UCLA spokesperson Bill Kisliuk in an emailed statement. He did not mention any UCLA-run service available on weekends.
A solution to this problem O'Bryan would like to see would be to hire more drivers so more vans could operate and pick up students, O'Bryan said.
UCLA Transportation is currently working to recruit more drivers after many left during the pandemic because of low demand for the service, Kisluik said in the statement. They are optimistic they will be able to fully meet demand starting fall quarter, he added.
O'Bryan said sometimes students have had to take it upon themselves to create and work on-campus services to aid disabled students. For example, the MetaMap of accessible routes on campus will soon aid disabled students more, she added.
The MetaMap tells users the location of accessible entrances to buildings and where to find accessible paths on campus and can be downloaded as an app, said Eliana Judith Sisman, Undergraduate Student Association Council general representative 3.
Currently, volunteers are updating the map to include accessible routes on campus, said Phoebe Chiu, the USAC facilities commissioner. Looking forward, Chiu said they hope to connect the MetaMap to the main UCLA campus map and integrate the 311 system for reporting broken elevators or blocked passageways on campus.
The administration can start to solve accessibility issues by identifying the areas on campus that need changes, Chiu added.
The university has recently hired an accessibility consultant to create an ADA Self-Evaluation and Transition Plan, Kisliuk said. The consultant will survey the campus and evaluate the university's compliance with the ADA, proposing solutions and giving cost estimates for each deficiency found, he added.
The survey will evaluate seven zones on campus, starting with the Hill, and take around one year to complete, Kisliuk said.
However, Ikonomou said the administration needs to remember to include disabled students in their work to fix accessibility issues.
"We have more awareness of what it means to be disabled. We have more awareness of what accessibility guidelines truly help students and which are harming students," he said.
Kaiser is the 2022-2023 campus politics editor. She was previously a News reporter and Opinion columnist. She is also a third-year communication and political science student.
Kaiser is the 2022-2023 campus politics editor. She was previously a News reporter and Opinion columnist. She is also a third-year communication and political science student.