UCLA community members discuss final draft of sustainability plan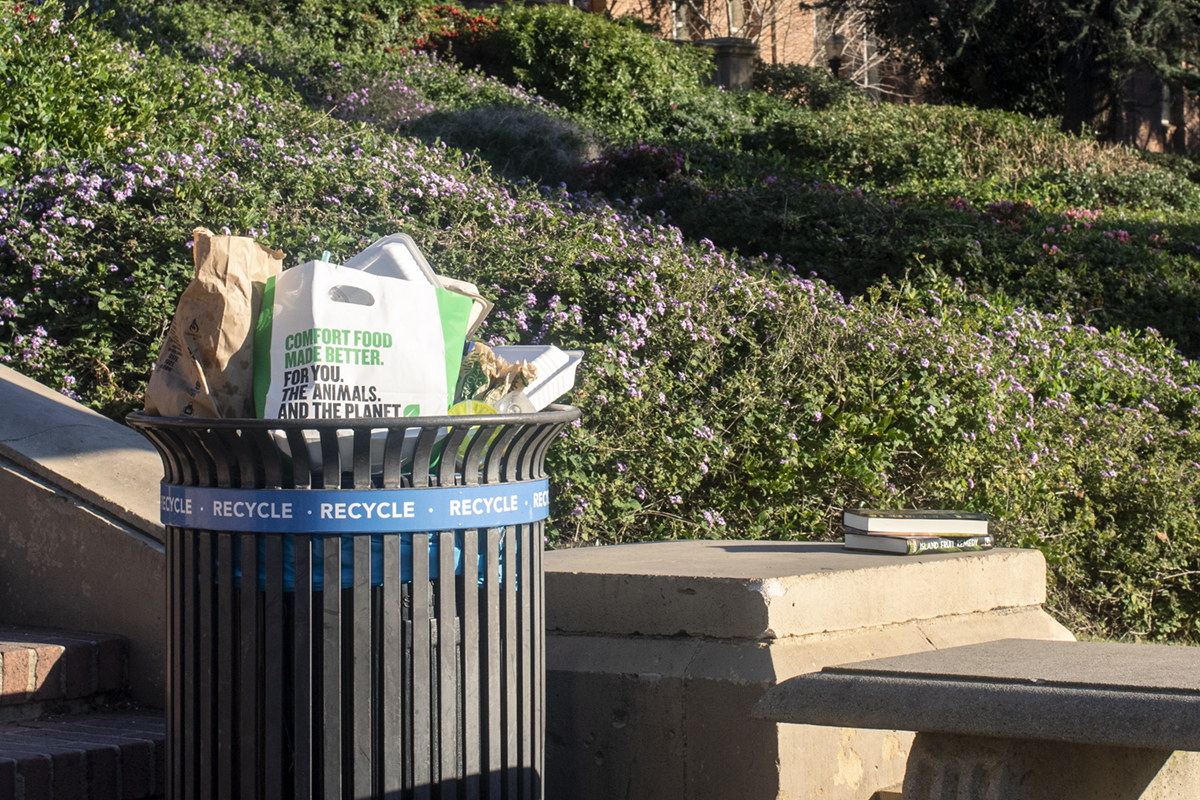 An overflowing recycling bin stands on Janss Steps. Community members discussed UCLA's sustainability plan and its potential impact on future environmental initiatives. (Finn Chitwood/Daily Bruin)
UCLA released the final draft of its sustainability plan in December, following a decade of proposals for climate initiatives.
The plan outlines the university's goals to reduce its environmental footprint, including designing new buildings to outperform current energy efficiency standards and implementing automated systems to reduce energy use. Other targets include decreasing the environmental impact of the university's refrigeration and computer systems.
The UCLA plan was based on a set of University of California-wide guidelines created in 2020. The UC Policy on Sustainable Practices will be used to monitor UCLA's commitments as part of the plan.
Nurit Katz, the chief sustainability officer at UCLA, said in an emailed statement that the draft plan's team will work on incorporating community feedback collected by Sustainability at UCLA, a group advancing campuswide environmental efforts.
According to the draft plan, the university also aims to reach carbon neutrality while procuring clean energy and mitigating greenhouse gas emissions.
After the plan's release in late December, UCLA community members began raising concerns that the timeline for attaining net-zero carbon dioxide emissions was too vague.
In response to these concerns, Katz said the university will aim to source all of the electricity it purchases from only clean sources by 2025.
Additionally, the university plans to create a carbon-neutral transportation fleet by 2025 by requiring all new university vehicle purchases to be electric or hybrid, according to an emailed statement from UCLA Transportation.
"These electrification efforts help improve campus sustainability, saving thousands of gallons of fuel and hundreds of metric tons of CO2 every year," the statement said.
In conjunction with reducing greenhouse gas emissions, the university will leverage its buying power in procuring UCLA-licensed products to promote sustainable supply chains, according to the drafted plan.
Liz Kennedy, the UCLA director of ethical labor and sustainability, said in an emailed statement that controlling buying power on UCLA-licensed goods will increase supply chain transparency, improve workplace conditions and influence UCLA-licensed businesses to support environmentally friendly practices.
Incentivizing companies to invest in sustainable products will also result in an array of environmental benefits, including reduced pollution, greenhouse gas emissions and waste, said Ozro T. Wells II, the UCLA chief procurement officer, in an emailed statement.
The draft plan also directs the university to reduce the environmental impact of UCLA Health's waste disposal. To achieve these goals, UCLA Health will divert half of its waste from landfills by 2030 with several initiatives, including the expanded use of federally approved vendors to reprocess surgical products and the expansion of paper towel composting, said James Evans, the UCLA Health sustainability programs manager.
The draft plan also highlights the importance of forming relationships with the Gabrielino Tongva and Fernandeno Tataviam Band of Mission Indians.
According to Sustainability at UCLA, the plan will integrate equity, diversity and inclusion principles into all sustainability policies, with one goal highlighting the development of land-based educational opportunities with the Gabrielino Tongva and Fernandeno Tataviam Band of Mission Indians.
Kimberly Morales Johnson, the tribal secretary and historian of the Gabrieleno/Tongva San Gabriel Band of Mission Indians, said the university's past work for Indigenous people and the draft plan have been progressive but are missing discussion of reciprocity and respect to the Earth.
"Reciprocity is the moral quality of being accountable for returning what one has been given," Johnson said.
She added that she approves of the plan overall but hopes to see more long-term focus from UCLA.
"What's missing is a … paradigm shift in thinking," Johnson said. "I would just like to see something more on the longer term to get people thinking long-term and not just like, 'We need to do this for the next few months.'"
From transportation to expanding educational opportunities, the draft plan aims to address both planetary and human health to promote environmental protection.
"Through comprehensive and strategically targeted sustainability programs consistent with UCLA and University of California policy, we are reducing the impact of our environmental footprint on the communities we serve, and we are committed to enhanced reductions in the future," Evans said.