Students voice frustration with UC over lack of hybrid learning options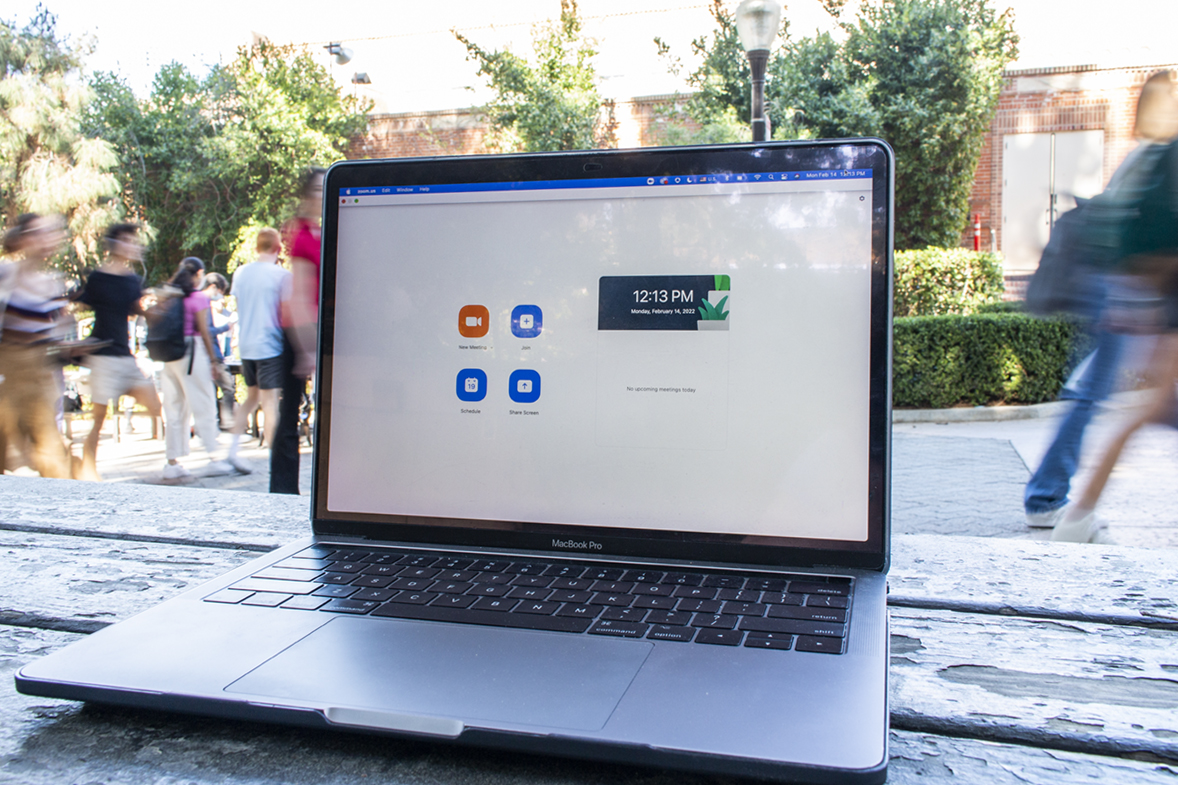 A laptop sits with Zoom open on Bruin Walk as students walk past. Multiple students across University of California campuses have experienced issues with the return to in-person instruction this quarter. (Megan Cai/Daily Bruin)
University of California students criticized the UC's decision to continue in-person classes without hybrid options and expressed frustration with difficulties obtaining accommodations for disabilities.
Starting Jan. 21, UC campuses began announcing plans to allow students to resume in-person classes at the end of the month. According to a campuswide email from UCLA's COVID-19 Response and Recovery Task Force, professors have the discretion to determine whether they will request a hybrid option for their classes.
UCLA's Disabled Student Union recently circulated a petition calling for hybrid learning options, and students held a sit-in inside of Murphy Hall urging the administration to implement long-term hybrid options.
[Related link: Student leaders suspend sit-in, reach agreement with UCLA administrators]
Resist UCI, a student-led organization working to combat ableism at UC Irvine, hosted a virtual walkout Feb. 2 to demand hybrid options for classes.
Canton Winer, a doctoral student at UCI, said UCI Provost Hal Stern failed to consult student leaders before announcing the return to in-person instruction and falsely claimed he had met with student leaders.
"We were blindsided by the university's announcement," Winer said. "That's why the undergraduate and graduate student governments issued a very rare joint statement saying that the provost's statement was false."
Winer added that the provost later issued a private apology to student leaders at the school.
"It's an alarming departure from shared governance that potentially undermines our ability to work with administration in good faith," Winer added.
On Feb. 2, UC Davis' Disability Rights Advocacy Committee, a student-led advisory committee promoting disability-inclusive campus policies, also hosted a walkout to protest UC Davis' in-person policy.
Heather Ringo, a doctoral student at UC Davis, said the current system of accommodations for disabled students seeking in-person course exemptions is a bureaucratic and emotionally taxing process.
"Students began … coming to office hours crying," Ringo said. "They're saying they're going to have to drop out because they weren't able to get the accommodations they needed."
Ringo said that when qualifying for accommodations at UC Davis, there are two separate offices for students and employees. However, graduate students must go through both to secure accommodations.
UC Davis spokesperson Melissa Blouin said in an emailed statement that accommodations for students with disabilities include additional resources as well as instructional and academic flexibilities.
"There are also a number of formally approved virtual and hybrid courses on campus, as well as some that have been temporarily approved to continue remote instruction," Blouin said.
Students are also required to have a paper trail that documents their disability, according to the UC Davis Student Disability Center.
However, many disability assessments are conducted in person, which is a barrier to access for high-risk individuals, Ringo said at a UC Student Association COVID-19 town hall.
"The accommodations process right now as it's currently functioning is a policing system," she said. "It's expensive, it's time-consuming, it's exhausting, it can (be) traumatizing."
Katie Bogue, a second-year biochemistry student at UCLA and a member of the DSU, added that the process of seeking disability accommodations made it more difficult for them to achieve the same quality of education as their nondisabled peers.
"I am spending a ludicrous amount of time trying to access my education rather than actually participating in my education," Bogue said. "It's incredibly demotivating."
UCLA spokesperson Bill Kisliuk said in an emailed statement that the accommodations process begins with an application review and then appointments with disability specialists for qualified applicants. He added that the total turnaround time for each applicant to be registered is approximately two weeks.
"UCLA has received more than triple the requests for remote instruction for disability-related reasons in the winter quarter than in the fall quarter, and new requests are received daily from the 4,000 registered students," Kisliuk said. "These are highly complex accommodations to implement, and thus take more time than most other accommodations."
Ringo said she encourages students who are having trouble getting access to accommodations to document and save all correspondence with their university. She added that all students should follow and engage with disability rights communities such as UC Access Now.
In order to make these changes, Ringo said universities must consult with people with disabilities and recruit them in all campuswide decisions.
"You don't have to be disabled to care about disability rights, just like any civil rights," Ringo said.
Winer said universities need to think more fundamentally about access issues in education. He added that it needs to be a yearslong effort to ensure there is universal access to education.
"COVID-19 has made it increasingly clear to people that we see systemic and structural ableism at all levels in our country, including within the UC system," Winer said. "It's going to take a lot of work to undo that structural inequality."