Opinion: Disabled students at UCLA deserve comprehensive, accessible resources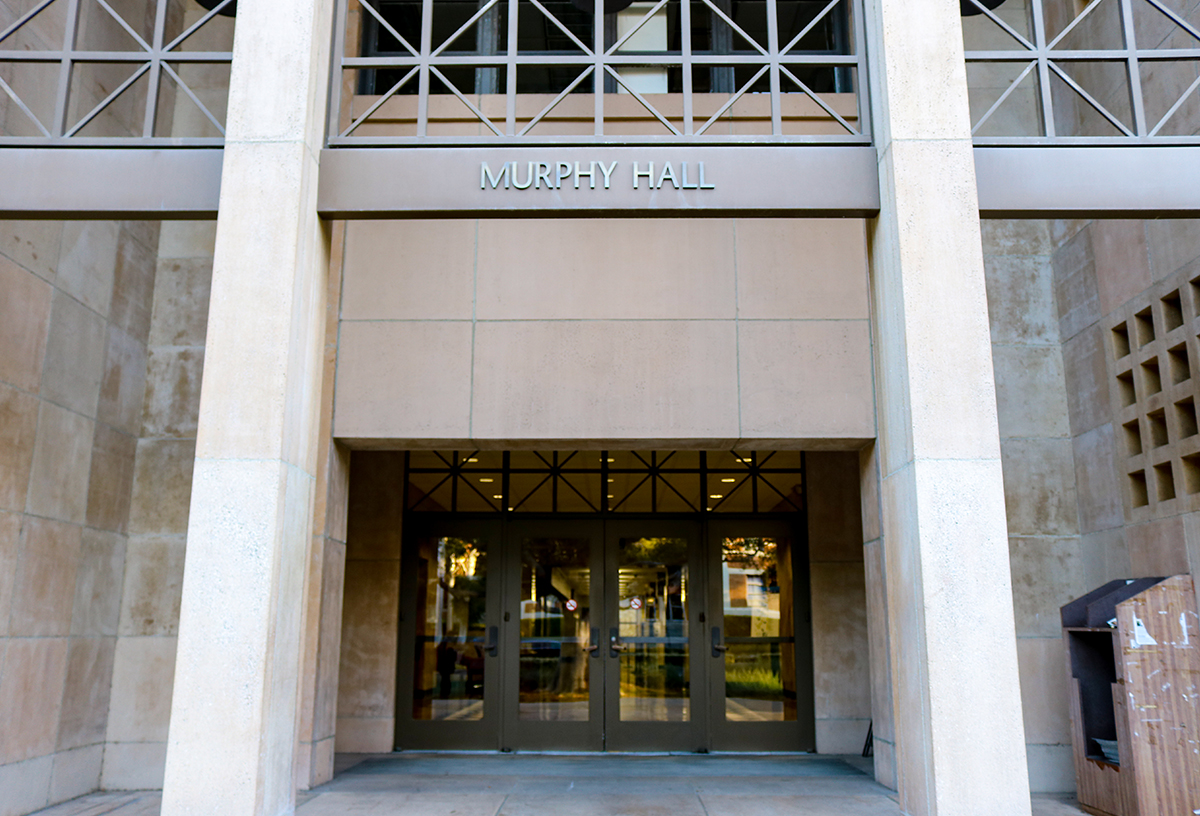 Murphy Hall is home to the Center for Accessible Education – the main resource hub for disabled Bruins. UCLA must work harder to accommodate students with physical disabilities in a more accessible and timely manner. (Daily Bruin file photo)
Correction: The original version of this article misattributed a statement from the CAE.
This post was updated Jan. 10 at 5:24 p.m.
For students with physical disabilities, UCLA is anything but inclusive.
Our university has failed to provide adequate resources to students with physical disabilities living on the Hill and in university-owned apartments.
Proper resources are needed to allow students' learning experiences to suit their needs. Amid the pandemic and instability surrounding students' learning environments, it is important that accommodations are accessible in a timely manner to those who need them.
Currently, the UCLA Center for Accessible Education offers resources for students with physical disabilities who have difficulty traveling to classes. The BruinAccess transport system offers students the opportunity to schedule rides in ADA-compliant vehicles to classes and other meetings across campus.
But students can't use these resources if they aren't aware of them.
Students are not automatically given accommodations. They must submit documentation of their disability to CAE and schedule an intake appointment with a disability specialist before being approved, according to the CAE website.
"Information regarding BruinAccess, BruinBus and UCLA SafeRide was shared in presentations this fall at new student orientations and at (other) events," said Jennifer Friedman, a communications supervisor at UCLA Transportation, in an emailed statement.
The reality for students with disabilities, however, is different.
Christopher Ikonomou, a third-year communication student who requires these accommodations, said he needed to seek out the CAE himself in order to discover what resources were available to assist him in traveling to classes after being admitted to UCLA.
"It's difficult to know to ask for (accommodations)," Ikonomou said. "I don't think it's made obvious enough."
Issues with communication may persist past the application process each quarter and can affect how accommodations are distributed during the year. According to the CAE website, students can experience delays during critical weeks such as the beginning of fall quarter, sometimes not receiving responses from the CAE for up to four weeks during busier periods.
While UCLA does offer a complimentary transportation service for students with physical disabilities, the current structure of the program poses issues. Before scheduled rides were suspended, BruinAccess required students to reserve rides at least 24 hours ahead of schedule. The drop-off points for the vehicles also sometimes required students to walk across campus, a barrier made more egregious by the many pathways on campus that aren't readily accessible for people with certain disabilities.
The BruinAccess hours are on weekdays from 7:30 a.m. to 6 p.m., which also prevents students with disabilities from participating in extracurricular activities or attending classes in the evening.
Ikonomou said walking between his dorm and club meetings during the evening became increasingly difficult during his first year.
"I remember the first couple times I would walk back up and it would take me 30 to 45 minutes because of how much I had to rest," Ikonomou said. "Eventually, I would just pay for an Uber to get from there back to my dorm every time I had a meeting."
As a result, students are left to seek out the resources they need on their own. For example, the Disabled Student Union offers community and support, allowing students with disabilities to advocate for themselves to UCLA's administration. The DSU sponsors numerous petitions, organizes protests and uses its platforms to spread awareness about issues that disabled students face.
Going forward, the CAE must improve response times and work with UCLA Transportation to create a structure for BruinAccess that is flexible to students' needs in and out of the classroom.
Professors also need to be made aware of the types of accommodations available and how those accommodations may affect students with disabilities.
There are currently targeted outreach efforts and presentations on disability-related issues at faculty members' requests, but there is currently no universitywide mandate, said the CAE in an emailed statement.
It is true that remote alternatives are available to students who cannot travel to class or club meetings. Many professors have started recording lectures and some club meetings are being held over Zoom. However, if UCLA cannot offer every student the opportunity to attend these meetings in person, our campus cannot be called inclusive.
UCLA's learning environment is already unstable. Because of the pandemic, students are being forced to transition between in-person, entirely remote and hybrid instruction regularly.
The recent surge in COVID-19 cases will also lead to a rise in the number of people with disabilities who require accommodations. More than 25% of individuals with COVID-19 continue to be affected by symptoms such as respiratory or cardiac problems months after contracting the virus.
In order to truly support students with physical disabilities, UCLA must make accommodations accessible to all in a timely manner.
As we gradually shift back into in-person instruction, creating an equal opportunity learning environment will be more important than ever. The CAE, EDI and UCLA Transportation offices must implement new policies to ensure that the needs of each and every student are being met.