Beach volleyball kicks off Pac-12 championships with victory over Washington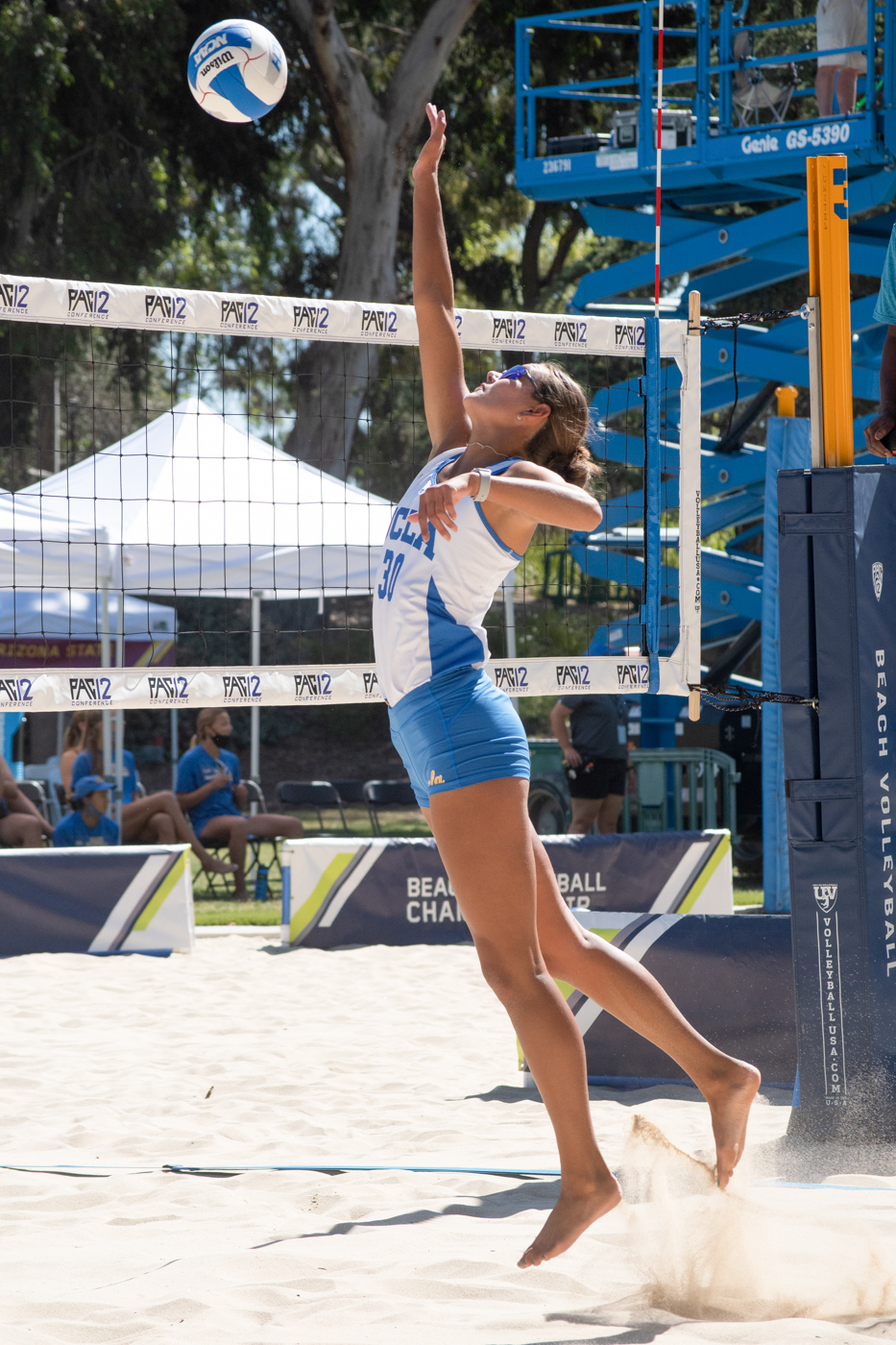 After partnering with redshirt sophomore Cami Sanchez, graduate student Jacqueline Quade (pictured) took the sand once again with junior Megan Muret in No. 2 seed UCLA beach volleyball's victory over No. 7 seed Washington.
(Alex Driscoll/Daily Bruin staff)
Beach Volleyball
---
| | |
| --- | --- |
| No. 7 seed Washington | 0 |
| No. 2 seed UCLA | 3 |
April 30, 2021 12:40 p.m.
The Bruins returned to winning ways on home sand to begin the Pac-12 championships.
No. 2 seed UCLA beach volleyball (25-3, 10-0 Pac 12) defeated No. 7 seed Washington (5-12, 0-7) by a score of 3-0 on Thursday morning at Mapes Beach.
This tournament-opening match was the blue and gold's first contest in a week after it fell at home to No. 1 seed USC in its last regular-season game of the year. Coach Stein Metzger and the team were not made available for comment.
On top of a 3-0 shutout against the Huskies, the Bruins did not drop a set on any of their winning courts.
Court four was the first to put UCLA on the scoreboard, as junior Megan Muret and graduate student Jacqueline Quade registered a 21-17, 21-14 win.
After not playing together the last three matches, this partnership returned for its 25th appearance this season and has won all but five of its matches.
Quade and Muret have been a mainstay on court four, providing the Bruins with seventeen wins together at this position.
The next point for UCLA came from court two, as the new pairing of freshman Devon Newberry and junior Lea Monkhouse completed a victory by the score of 21-15, 21-10.
The clinching victory for UCLA came on court one by freshman Lexy Denaburg and graduate student Savvy Simo, who have played the entirety of the season together.
The duo posted their 24th victory of the season together by winning 21-15 in both sets it played against the Huskies' top pair.
In doing so, UCLA has solidified a spot in the semifinals of the Winners Bracket, where it will face off against No. 3 seed Arizona (22-4, 9-2) at 11:30 a.m. Friday morning.
The Bruins have competed against the Wildcats once this season at the Pac-12 North Invitational and have the opportunity to advance to the finals of the Winners Bracket with another victory.
Diamantopoulos is currently a Sports contributor on the beach volleyball beat.
Diamantopoulos is currently a Sports contributor on the beach volleyball beat.