Despite Senior Day festivities, UCLA women's volleyball falls to Cal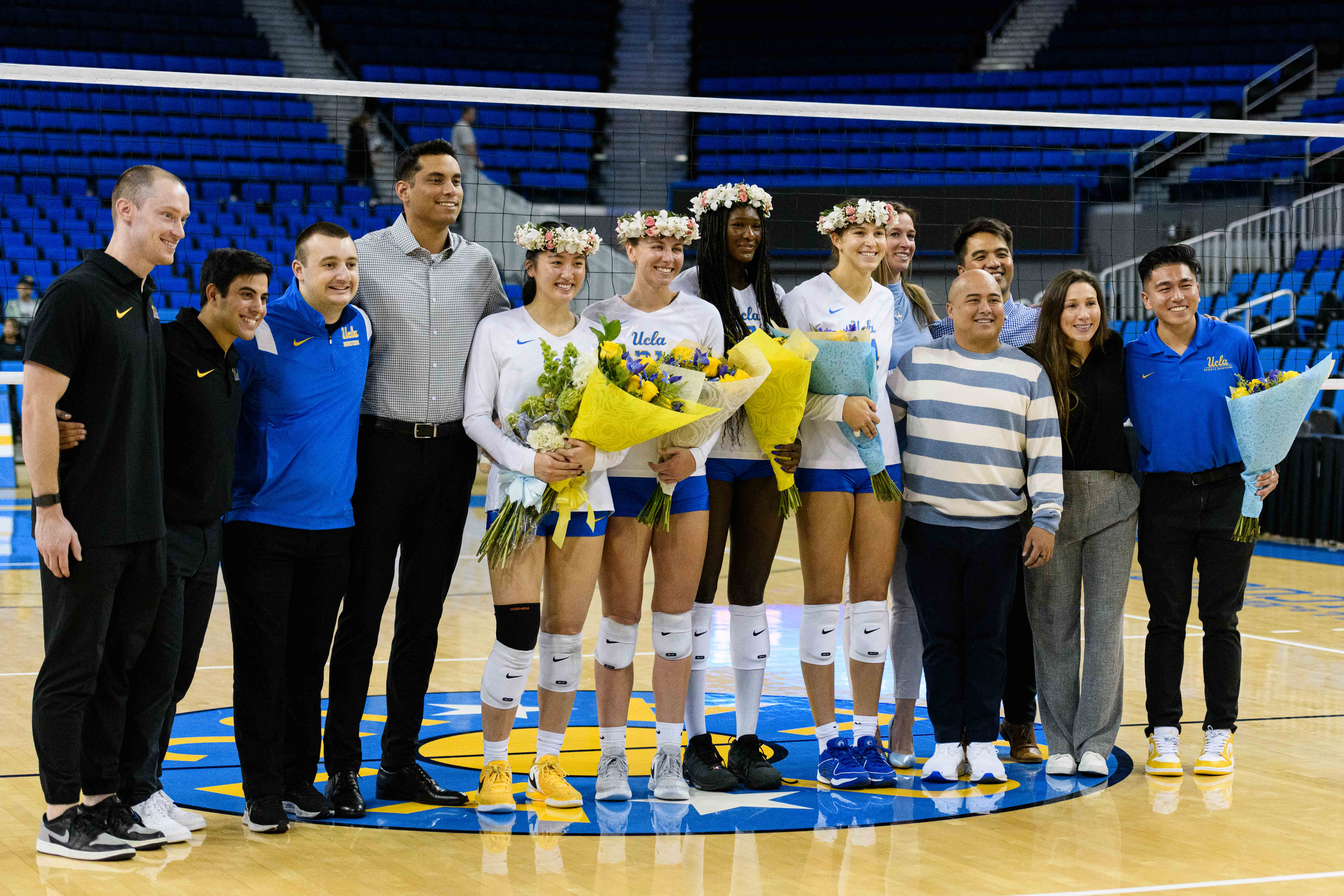 The graduating seniors of UCLA women's volleyball are celebrated with flower crowns and bouquets for the team's official Senior Day. (Jessica Allen/Daily Bruin)
The Bruin faithful held their bated breath as coach Alfee Reft challenged a call that could have allowed his squad to see a fifth set.
But when the challenge was overruled, the Bruins had failed to defend Pauley Pavilion from what could be their last time playing at home in 2023.
Despite 11 tie scores throughout the final set, UCLA women's volleyball (16-12, 8-10 Pac-12) suffered a 3-1 loss to California (16-13, 5-13) on Sunday in its Senior Day celebration and final Pac-12 home game of the season.
"This one stings a bit," Reft said. "We were just shy of being good enough in a number of the skills tonight."
The Bruins' struggle on the defensive end manifested in their inability to contain Cal outside hitter Maggie Li – whose dominant swing throughout the match allowed her to rack up eight kills in the first set alone en route to 23 for the night. Her freshman counterpart, middle blocker Sawyer Thomsen, ended the game with a .318 hitting percentage.
Despite the absence of UCLA's injured stalwart, redshirt senior middle blocker Anna Dodson, the rest of the squad's hitters stepped up offensively. Graduate student middle blocker Desiree Becker struck at a .368 hitting clip, and sophomore outside/opposite hitter Grayce Olson boasted a career-high 19 kills.
"Everything I do is always to do better for the team and try to help us win," Olson said. "I knew that I needed to play a little bit better to pull out points."
The Bruins' .400 hitting percentage in the second set was the highest of either team throughout the game. The squad didn't allow its adversaries to gain a lead during the frame.
However, UCLA was unable to carry its momentum into the third and fourth sets, during which the Bruins committed seven and eight errors, respectively.
"It's hard to win matches when we're not scoring in a balanced way," Reft said.
Before first serve, the team recognized its graduating seniors in opposite hitter Kate Lane, setter Audrey Pak, outside/opposite hitter Iman Ndiaye and Becker with celebratory videos and heartfelt speeches from their family members.
Olson said the four veterans have left a noteworthy legacy on the culture of this program.
"They're all very much leaders on this team, and I think everyone else definitely looks up to all of you guys (the seniors)," Olson said. "I think all four of them have had a huge impact."
During his first season as head coach, Reft has focused on centering his team dynamic around the close-knit relationships between his players. This has been on display with the squad's cheers and peppy attitudes seen on both the court and the sidelines, Becker said.
"This is probably one of the closest teams that I've been on so far," Becker said. "The big takeaway is how important teamsmanship is. We hone in on it a lot, and it makes a big difference on and off the court."