Anna Dodson leads UCLA women's volleyball with heart, human connection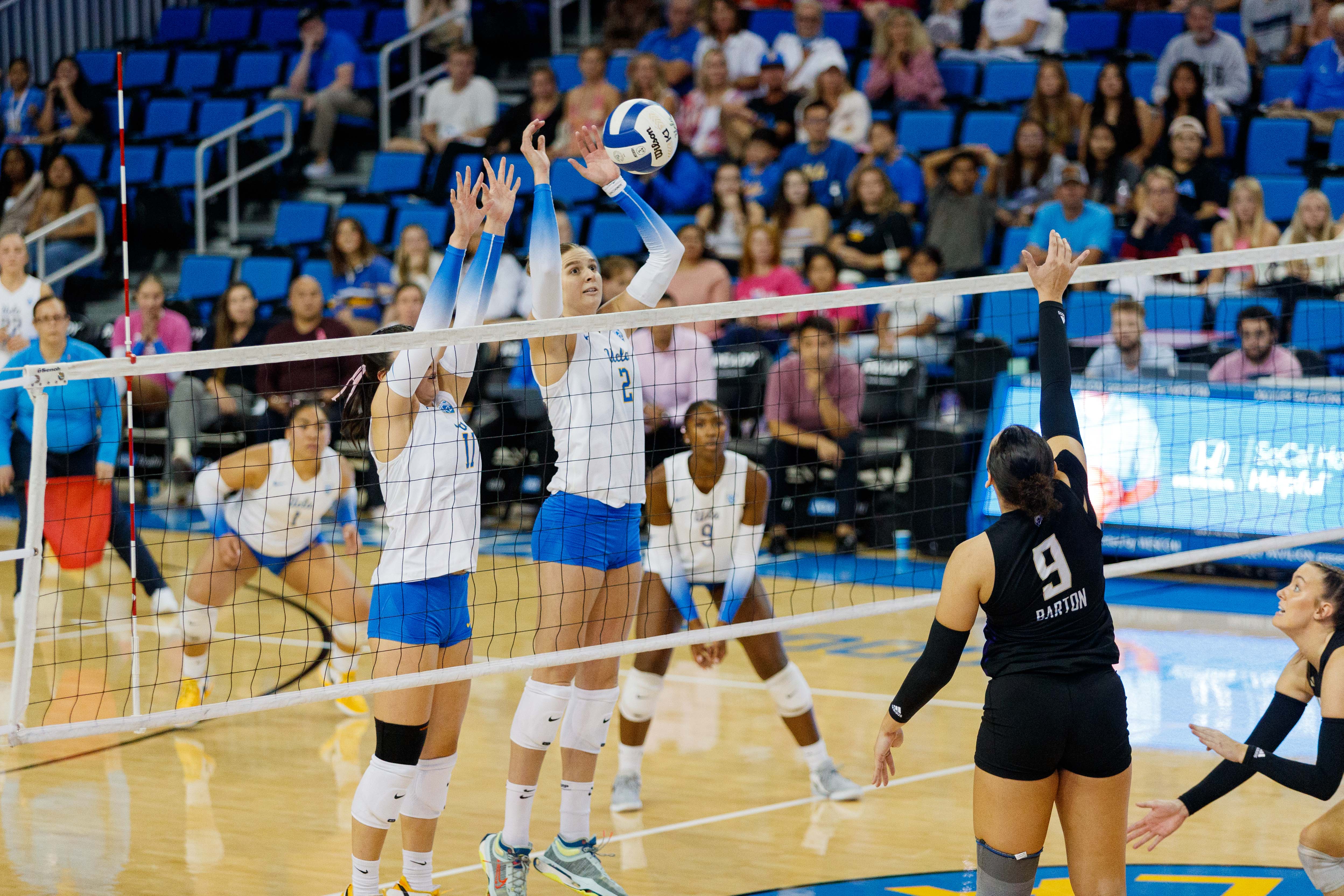 Redshirt senior middle blocker Anna Dodson elevates by the net for a block. (Shane Yu/Daily Bruin staff)
Anna Dodson's performance on the court holds an emotional undercurrent.
"Anna has tremendous heart," said coach Alfee Reft. "And she's OK wearing that heart on her sleeve."
Since the redshirt senior middle blocker landed in Westwood in 2019, she has picked up two All-Pac-12 honors and an AVCA Pacific South All-Region mention and was named to the 2023 U.S. Women's Collegiate National Team.
But the Bruins' leader in blocks plays for more than just the numbers.
"It's just so much fun when you're putting your heart out on the line to be able to display that passion," Dodson said.
Dodson said Reft's values of teamwork and empathy were integral to her decision to return to UCLA women's volleyball for the 2023 season.
"I've always been very passionate when I play. I think in the past few years, it was hard for me to show that emotion," Dodson said. "Alfee is all about having swag and showing personality, and that's where I think I've grown to be the player I used to be."
Reft said Dodson's care for the team runs deep, and she has mastered the art of being a true leader.
"What Anna has really learned to display this year is how to raise the level of competition in the gym but also how to bring people along with her," Reft said. "We talk a lot about teammateship and how we treat each other, and I think it's been really fun to watch."
As a veteran on the team, Dodson said the little things are crucial to her leadership role.
"It's as easy as giving people high-fives and connecting with them through touch and celebrating other people when they're doing well," Dodson said. "Or even when things get tough and making sure that they know that you have their back and knowing that there are five other people on the court fighting for them."
Dodson and her middle blocker counterpart, graduate student Desiree Becker, hit it off early on and formed a dynamic that extends past being two of the Pac-12's top-10 middle blockers.
"I feel like Anna really took me – in a sense when I stepped on campus and just immediately hit it off," Becker said. "I love so many things about her. I love how passionate she is. She's funny. She's so supportive. We like to hang out and do things together all the time."
Reft refers to the pair as "yin and yang" in the way they simultaneously complement each other yet show up for the team in different ways.
"I think she feeds me fire, and I feed her calm fire," Becker said.
Beyond fostering indestructible relationships with her teammates and coaches, Dodson has higher hopes for her impact on the program.
She said she hopes to be a light for female athletes – especially young girls.
"I think the woman empowerment is also a great component of volleyball," Dodson said. "The big thing that arises for me is inspiring the younger generations and making sure they're not putting too much pressure on themselves, but still working hard and looking for something that they're passionate for."
For as long as Dodson dons the blue and gold, she will continue to make herself a leader both on and off the court, Reft said.
"Anna certainly takes a lot of space in a good way by leading by her example," Reft said. "She's really taken on the role and responsibility of her actions, and truly, she's been great this season and will continue to do so."