Op-ed: UCLA is complicit in the genocide of Palestinians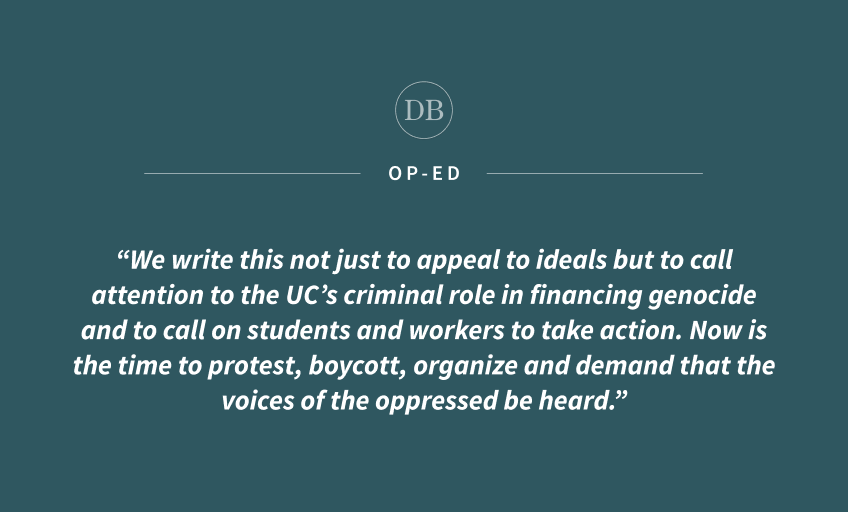 This post was updated Nov. 19 at 7:58 p.m.
For over a month, we have witnessed the murder of over 11,000 Palestinians at the hands of the Israeli military. Since then, the Zionist state has cut off all water, food, fuel and other humanitarian supplies from Gaza. On three occasions, Gaza plunged into total darkness after Israel cut off all telecommunications and internet services, with the blackout on Oct. 27 lasting for 34 hours.
More than two million people in the Gaza Strip are struggling to survive amid a catastrophic humanitarian crisis, as reported by Amnesty International. Young children are composing wills and writing their names on their bodies in permanent marker, hoping that someone can identify their bodies if they are ripped to shreds. The living call out for the dead under the rubble, while the barely living are rushed to hospitals that have run out of fuel or are bombed – in the case of the attack on Al Ahli Hospital and around 250 other incidents.
The fascistic officials who head the Zionist state refer to Palestinians as "barbarians" and "human animals," but it is Zionism that is plunging the region into chaos. Leaked documents from the Israeli Intelligence Ministry reveal plans to permanently expel the entire population of the Gaza Strip into the barren desert of Egypt's Sinai Peninsula.
This is not a war – and Oct. 7 was not the "start" of the violence, as written in a Daily Bruin Opinion article – but the latest phase in a project of ethnic cleansing stretching back to the Nakba of 1948.
The settler colony of Israel, which emerged from European imperialism's efforts to dominate the Middle East, was conditioned from the start by the right-wing conception that each ethnic "nation" needed its own ethnically homogenous nation-state. This same blood-stained ideology bears responsibility for some of the greatest crimes of the 20th century, including the antisemitic violence that culminated in the pogroms and industrial extermination of European Jewish populations during the Holocaust.
The genocidal crimes of ethnonationalism did not conclude with the end of World War II. In 1948, a mere three years later, decades of Zionist settlement under the auspices of the British Empire culminated in the violent establishment of the state of Israel.
Colonial Zionist leaders claimed that Palestine was a "land without a people for a people without a land." But the land did have a people, along with schools, airports, hospitals, an economy and all the other elements of a vibrant Palestinian culture.
Zionists launched a brutal campaign to expel nearly a million Palestinians from their homes to establish the settler colonial state of Israel. Palestinian village wells were poisoned in a biological warfare program, properties were looted and laws were passed to prevent Palestinians from returning. Today, there are around 7.1 million descendants of those Palestinians displaced in 1948.
Palestinians have borne the weight of this colonial regime for the past 75 years.
Israeli-imposed apartheid in the region has been well-documented, with reports published by both Amnesty International and Human Rights Watch. What we have seen this October is a continuation of decades of the Israeli state murdering Palestinians, dispossessing them from their land and discriminating against them in an apartheid state.
Thanks to the relentless work of Palestinian activists and their allies, Israeli misinformation campaigns in Western media are now being challenged globally. Massive pro-Palestinian protests have drawn hundreds of thousands of people in cities from London to Seoul to Los Angeles.
At UCLA, we are proud to join in this global movement.
The four on-campus protests to date have drawn crowds of as many as 1,000 people. UCLA students, like the people of the world, will no longer accept collective punishment, colonialism and war – not in Palestine, not anywhere.
The institution of UCLA, however, is complicit in war and colonialism.
The UC system invests over $2 billion in BlackRock, the world's largest private investor in the production of military hardware. Students, faculty and workers have no say over how their money is invested. Boeing, Lockheed Martin, Raytheon, Northrop Grumman and General Dynamics pour $20.9 million annually into research at the UCLA campus alone. These companies also build the weapons and aircraft that the Zionist state uses to kill Palestinian families.
The UC is a major recipient of Department of Defense funding. It is also deeply involved in the operation of the Los Alamos National Laboratory and the Lawrence Livermore National Laboratory, two of the most important nuclear weapons laboratories in the U.S.
UCLA thus exports genocide and oppression. UCLA has blood on its hands.
Students speaking in solidarity with Palestinians are silenced in many forms. Consider the backlash from the last three weeks alone. Student organizations have internally removed students from positions for speaking out. Students have been assaulted on campus for showing up to pro-Palestine events.
Offices professing a commitment to justice, equity, diversity and inclusion tell students that university Listservs cannot be used to send any emails about Palestine-related events, claiming it may "alienate" or "marginalize" other students. Chancellor Gene Block's recent emails fail to mention the existence of anti-Palestinian racism or the real violence that pro-Palestine advocates are facing.
The silence from faculty and staff on these matters is astounding.
This is the Palestine Exception. Liberal values of self-determination and protection of free speech simply do not extend to Palestine. In their 2015 report, Palestine Legal extensively documented 152 incidents of censorship, punishment and reprisals for advocating for Palestine in that year alone.
Students and scholars speaking about Palestine in the United States and across the globe – many of whom aren't even Palestinian themselves – are targeted by Zionist groups with significant resources and political power to silence and punish them. Many have lost their jobs, been banned from speaking engagements or been threatened with legal action.
On Oct. 26, the Anti-Defamation League and the Louis Brandeis Center for Human Rights Under Law sent an open letter to around 200 universities, including UCLA, asking administrators to "immediately investigate their campus chapters of Students for Justice in Palestine." Brandeis University became the first private university in the U.S. to ban their campus SJP chapter, followed by Columbia University's suspension of both SJP and Jewish Voice for Peace.
On Nov. 10, Block's message to the UCLA community took aim at the peaceful protests on this campus, while making no mention of the many instances of harassment and intimidation against Muslim students. Rather than condemn a rally on UCLA's campus held by white nationalist and antisemite Charlie Kirk, the UC chose to smear organizers for a free Palestine with false allegations of antisemitic chants.
Tremendous pressure is being brought to bear on the universities. Pretexts for cracking down on students must be found. UC President Michael Drake's Nov. 10 message to the UC community repeatedly warns of "consequences" for protestors and warns that "free speech is not absolute." University administrators around the country are making similar veiled threats, each relying on their own set of falsifications.
At the same time that they inveigh against intolerance and intimidation, UC administrators think they can threaten and intimidate student protestors. They will find that they face thousands of students who are determined to oppose war and genocide.
The hypocrisy is appalling. But students and workers are coming to understand the real nature of the UC's financial and political interests. The UC system is run by the wealthy business tycoons and well-connected political operatives on its Board of Regents as a key element in the state's economic and political machinery. For the UC, questions of morality, human rights and "diversity and inclusion" are no more than exercises in public relations.
The UC does not see Palestinians as human. If they did, Palestinian students and their allies at UCLA would at minimum be heard. Their events, meetings and messages would not face repression. Their students would feel safe enough to gather in its classrooms.
Palestine is a litmus test. It is a test not just of democratic rights and human empathy – although Palestinians must still demand these – but of our collective commitment to freedom for all people everywhere.
We reject the strawman that liberation for one people will lead to the repression of another group's freedom. In fact, Palestinian solidarity at UCLA is not just about Palestine – it is linked to other struggles for freedom as well.
Palestinians experience the same violent oppression as Filipinos, Yemenis and Sahrawis, to name a few, backed by the same weapons traded between the U.S., Israel and European states. Palestine is carved up by borders and barriers much like the increasingly militarized U.S.-Mexico border slices up communities. And Palestinians live under the same settler colonialism that the indigenous peoples of the Americas, Australia and New Zealand continue to experience.
At the UC, a common understanding of the global character of imperialism and the university's role in funding it has brought student groups together into the UC Divest Coalition. Palestine is threatening to the UC because it attracts a collective of people seeking freedom from all oppression everywhere – including on our own campus.
A united front of students, staff and faculty against exploitation, profiteering and war is indeed the most terrifying possibility to an institution like the UC.
We write this not just to appeal to ideals but to call attention to the UC's criminal role in financing genocide and to call on students and workers to take action. Now is the time to protest, boycott, organize and demand that the voices of the oppressed be heard.
Despite UCLA's attempts to silence our voices, we believe that from the river to the sea, Palestine will be free.
For more information about this op-ed's use of the phrase "From the river to the sea, Palestine will be free," please read this article from Jewish Currents.