West Point to Westwood: Anthony Adkins embraces search for larger purpose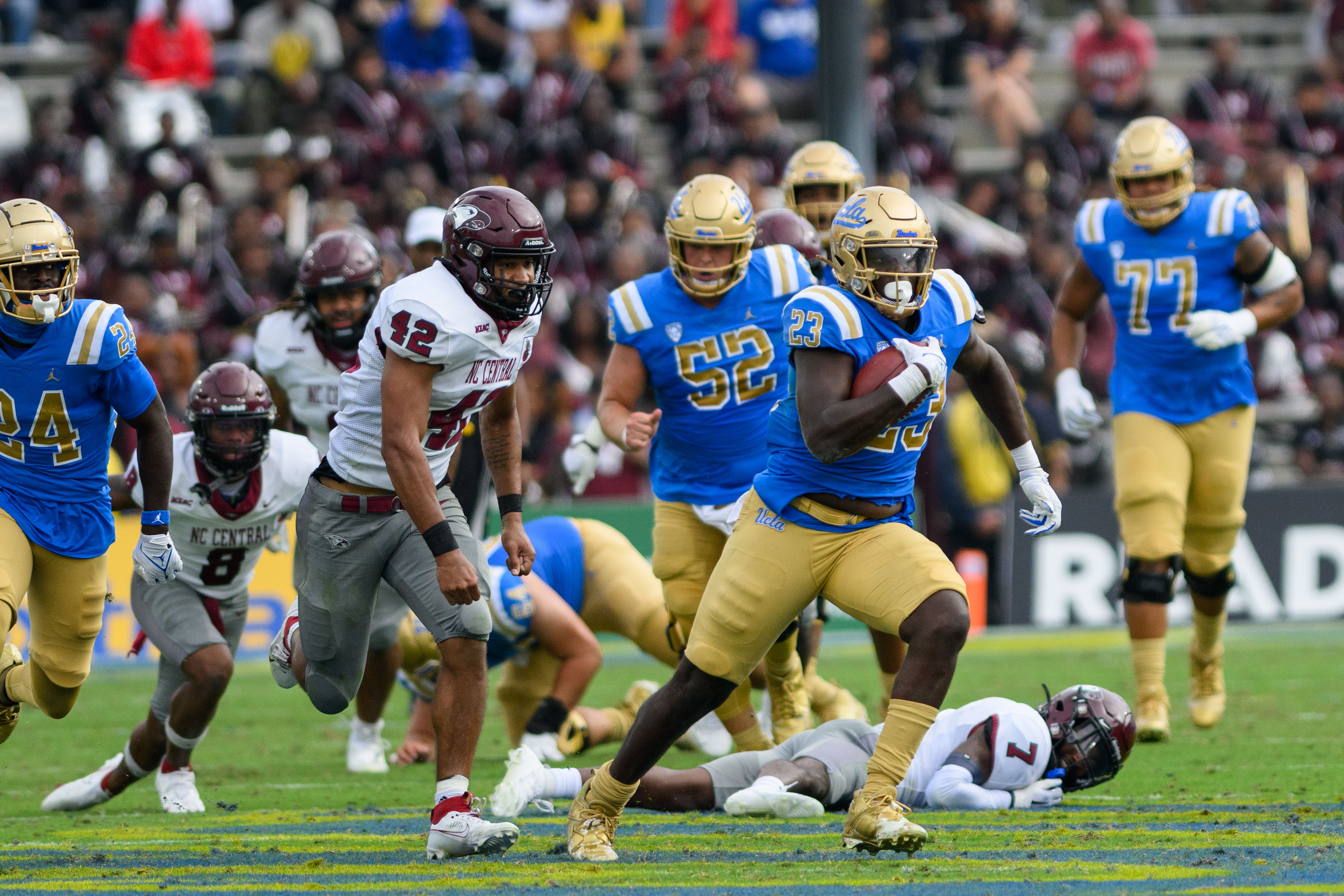 Redshirt junior running back Anthony Adkins carries the ball against North Carolina Central. Against the Eagles, Adkins recorded 96 yards and a touchdown on 10 carries. (Brandon Morquecho/Assistant Photo editor)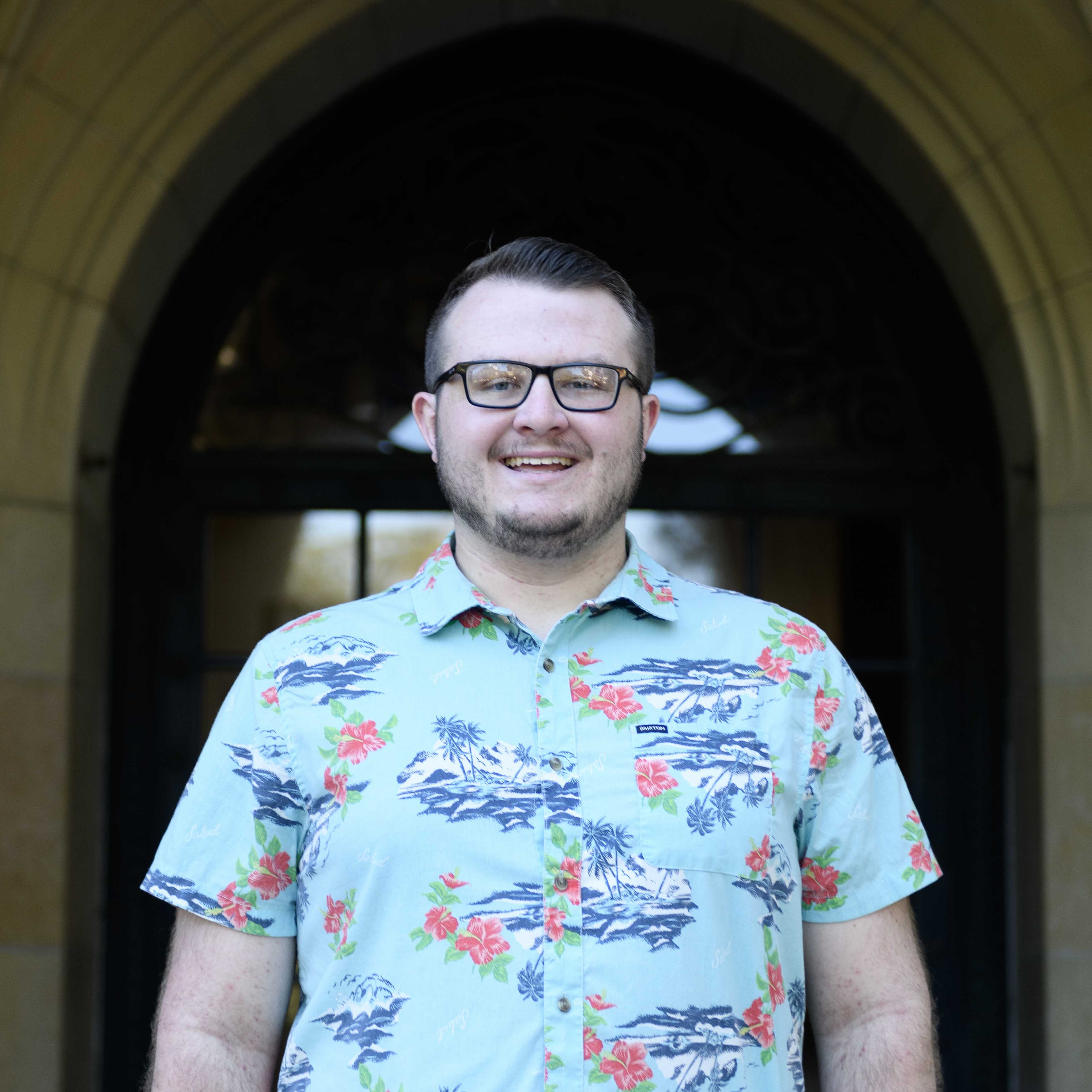 "Duty," "honor" and "country" adorn the logo of the United States Military Academy as words meant to guide the school's cadets.
Anthony Adkins was one of them, drawn to Army West Point for the value of the education he would receive and the opportunity that the academy provided.
"When they recruited me, there was a lot of long talks with my family and with them (Army), and I came to the terms with that. I want to do something bigger than myself," Adkins said. "In doing so, serving the country like that was where my mindset was at the time, and I had no problem with that."
The Army transfer – now a redshirt junior running back for UCLA football – spent three years preparing for service, balancing the demands of training to be commissioned as an officer with the academic rigor of a world-class institution and the practice requirements of a DI athlete.
Coming out of high school, Adkins said it was the long-term commitment of the academy and beyond that initially appealed to him.
"They just always preached about the opportunity they had, because going to Army isn't necessarily a four-year decision. It's a 40-year decision," Adkins said. "That line right there is really what drew me in."
As a cadet at West Point, Adkins' days regularly featured 5:45 a.m. wake-up calls for formation before marching to the mess hall and eventually splitting off from the non-athletes to attend practice or class, depending on the day.
But when second thoughts began to arise, he knew it was time to change directions.
"The moment I felt like my heart wasn't 100% in it, then I was like, 'I'm doing a disservice to everybody here,'" Adkins said. "You can't have a leader who is half-hearted about what they're leading people to do."
Talks with his parents – Tonya and Tony Adkins – ensued to decide Anthony's best path forward.
He entered the transfer portal in April 2022, spending an extended period of time in limbo and missing the 2022 season because of the nature of leaving the service academy. Anthony enrolled at UCLA in January after a short stint at his hometown community college.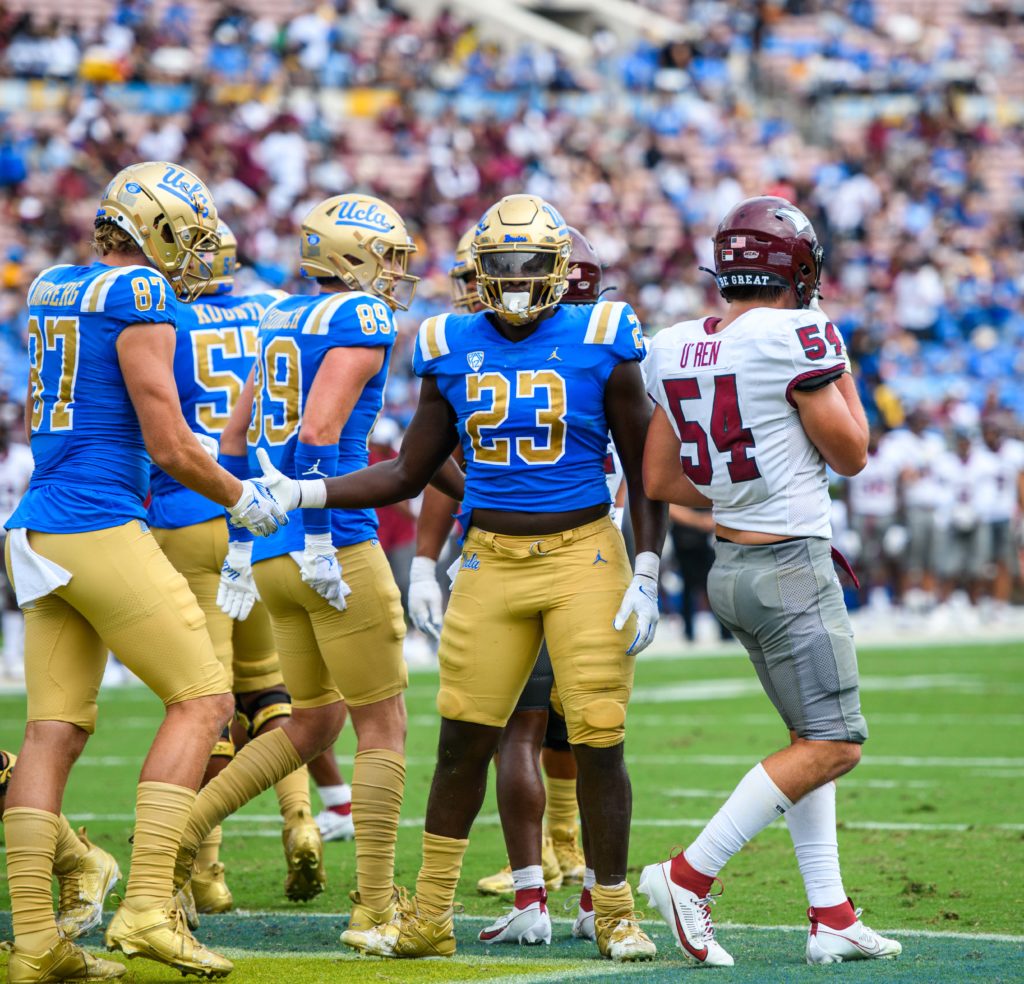 Anthony said conversations with head coach Chip Kelly and running backs coach DeShaun Foster ultimately pulled him to UCLA.
Now over a year removed from his time at the academy, Anthony's sights haven't shifted away from something bigger than himself. He changed majors from psychology to sociology when he enrolled at UCLA and is now considering a master's in education next year.
"I've been doing a lot of thinking about maybe pursuing education. Maybe not lead – that's not leading people in a way, but it also is leading people because I may go teach," Anthony said. "Just do something bigger than myself, giving back to the community."
A self-proclaimed history buff, Anthony isn't yet lecturing about the Renaissance – his favorite time period – from the front of a classroom. But he is already finding ways to impart wisdom to his teammates about the history of his time.
"When he does speak, he's very intelligent," Foster said. "We like the political side that he can give us sometimes in the meeting room – just what's going on, climate of the world, politics or anything like that. Just cool to have somebody like that in the room. The younger guys, they've leaned on him."
Through 10 games in 2022, Anthony sits behind his younger counterparts in junior Carson Steele and sophomore T.J. Harden on the depth chart, with the trio combining for 1,481 yards and 12 touchdowns on the ground.
While Anthony has 26 carries across eight games, he's also been called upon to act as a blocker or decoy back in the Bruins' T-formation.
Foster said Anthony's acceptance of his role is something that's bled over from Army.
"He's selfless," Foster said. "We'll call for him to go in there and block 30 times, that's what he's going to do. You tell him he's going to carry the ball, he'll do that, too. … He just embraces the role that he has and the time that he gets to play."
Anthony's journey to his new role with UCLA, though, is a rare one.
Even with the proliferation of the transfer portal and NCAA rule changes affording student-athletes more flexibility, transfers out of the service schools – Army, Navy and Air Force – are rare.
Linebacker Christian Taylor and defensive back Deavyn Woullard transferred from Air Force to UCLA in 2004 and 2019, respectively, but neither appeared on a roster for the Falcons.
Perhaps the most successful service transfer story in UCLA history is Cormac Carney, a wide receiver who spent one season with Air Force in 1978 before earning All-Pac-10 honors with UCLA in 1981 and 1982. Carney was his team's leading receiver in every season he played, with his time as a Bruin culminating in a Rose Bowl win over Michigan.
But Anthony is one of, if not the first, Army-to-UCLA transfers.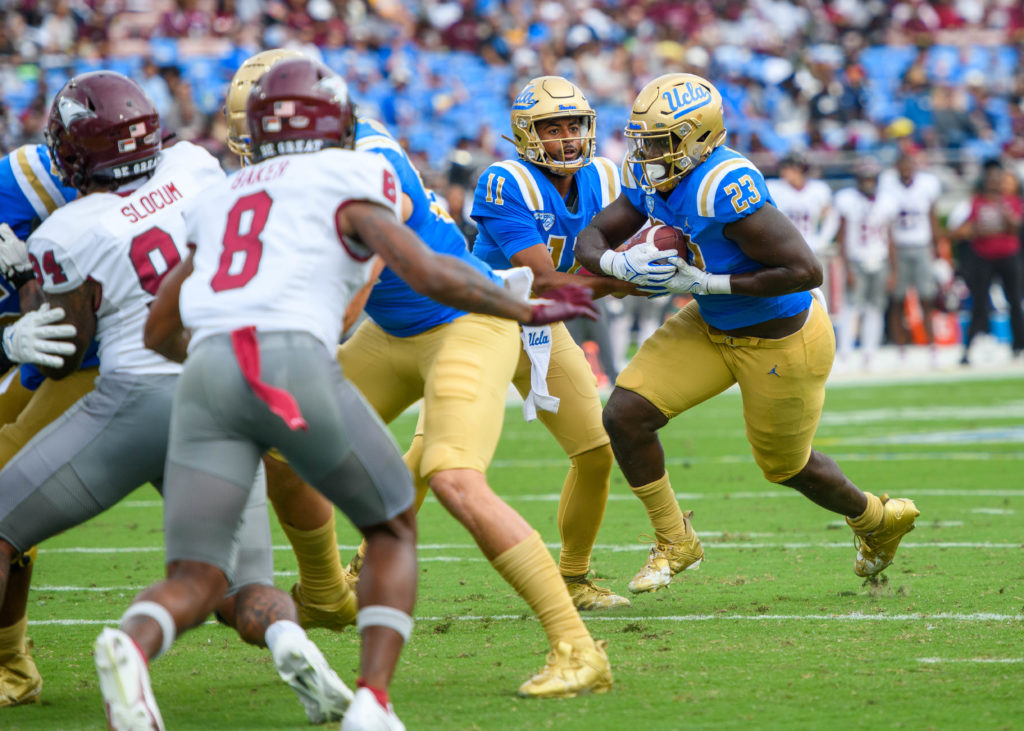 He said the first and biggest culture shock in coming to Westwood was the independence he was presented with.
"When I got here, I didn't have to check in with somebody, necessarily. I didn't have to always, like, 'I'm doing this, I'm doing this, I'm doing this,'" Anthony said. "More freedom and not as many restrictions."
The differences didn't stop there. With an undergraduate enrollment of under five thousand, 98% of Army's classes have fewer than 20 people. Just 49% of classes at UCLA – where enrollment exceeds 30,000 – are that size.
"My first class had 100-something people in it," Anthony said. "I'm like, 'Yo, I came from somewhere where we had 15 people in the class. This is crazy.'"
Despite his unicorn-like status in the UCLA transfer record book, Anthony's aspirations of being a part of something bigger than himself aren't unique.
Carney – now a US District Court judge in the Central District of California – said his experiences at Air Force instilled in him a commitment to service.
"For the first time in my life, I realized that there's something bigger than me, and that you devote your life to your country and your loyalty to your country," Carney said. "It was that experience (Air Force) that led me to get involved in the law to one day be a judge. I could serve my country in a different capacity than in the military."
Whether it's education or another path entirely, Anthony has time to figure out his calling.
Until then, he's focused on his team and doing his one-eleventh.
"I just want to give everything I have for the guy next to me and knowing that he will give the same for me," Anthony said. "If everybody has that mindset on the team, nobody can get in front of you."
Crosby is the 2023-2024 Sports editor on the football and men's basketball beats. He was previously an assistant Sports editor on the baseball, women's golf, men's water polo and women's water polo beats and a contributor on the baseball and women's golf beats. He is also a fourth-year statistics student.
Crosby is the 2023-2024 Sports editor on the football and men's basketball beats. He was previously an assistant Sports editor on the baseball, women's golf, men's water polo and women's water polo beats and a contributor on the baseball and women's golf beats. He is also a fourth-year statistics student.