Scouting Report: UCLA football vs. USC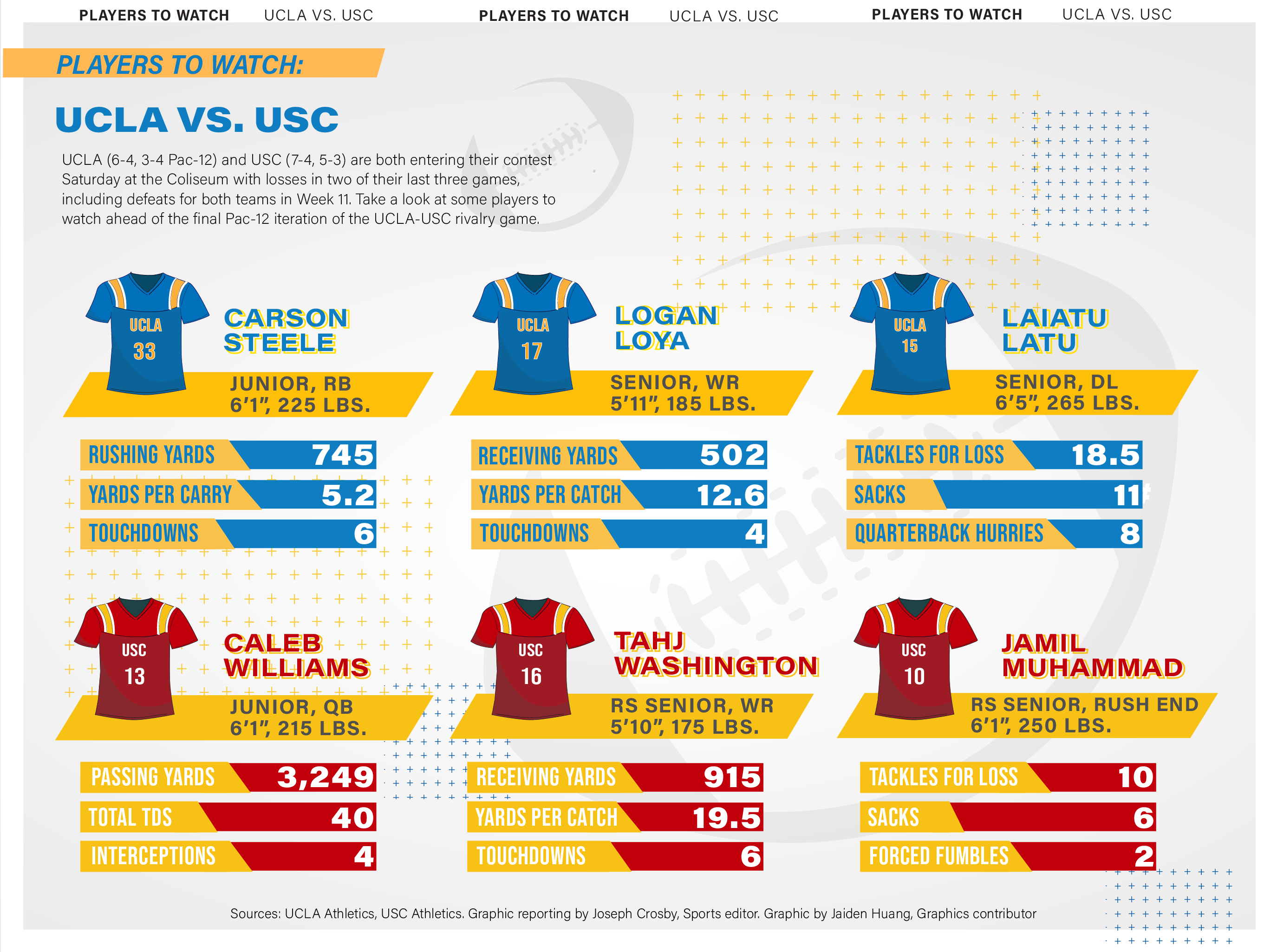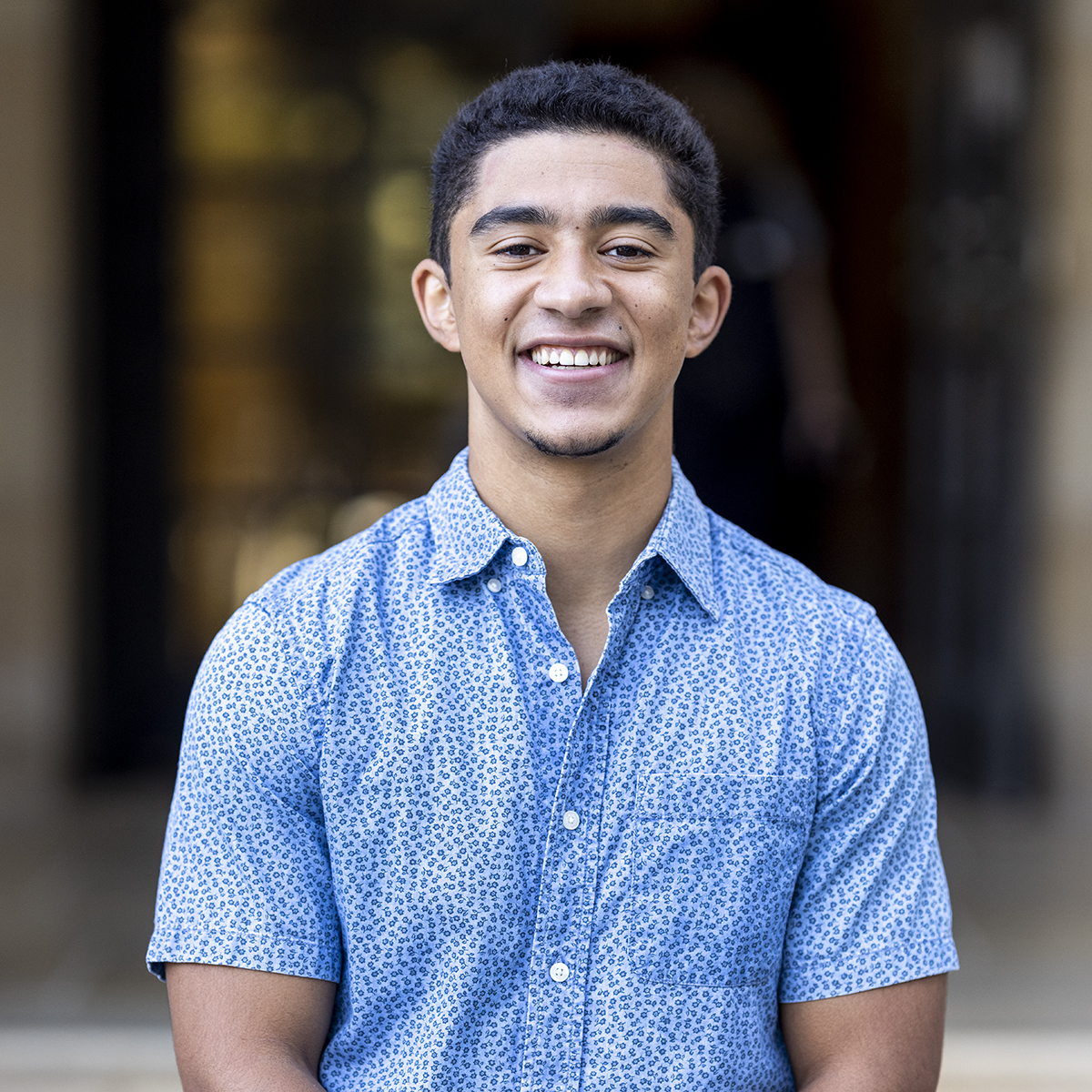 UCLA football (6-4, 3-4 Pac-12) and USC (7-4, 5-3) are each on two-game losing streaks heading into this Saturday's matchup at the Los Angeles Memorial Coliseum. Here's this week's scouting report from staff writer Gavin Carlson – who truly believes Caleb Williams is a future NFL Hall of Famer.
USC's offense
Offensive scheme: Air-raid
Run-pass percentage: 56.4% pass, 43.6% run
Strength: Elite passing attack
Weakness: Running the ball consistently
X-factor: WR Zachariah Branch
That's not a typo in the heading – Caleb Williams is not the X-factor for USC's offense on Saturday.
No, the reigning Heisman Trophy winner is not suddenly bad at his job. In fact, the star quarterback's omission from this year's Heisman race might make the Trojans' leader underrated.
Williams is still the best player in college football.
In fact, you could make the argument that Williams is playing even better this year than in 2022. Despite losing No. 1 wide receiver Jordan Addison to the first round of the NFL Draft, the Trojans' offense is actually averaging more points per game in 2023.
The current Minnesota Viking led USC with 59 receptions, 875 receiving yards and eight touchdowns in 11 games.
But Williams' talents have helped current wide receiver Tahj Washington exceed Addison's yardage totals through the same amount of games this season with 915. And fellow wide receiver Brenden Rice caught three more touchdowns than Addison did in the 11-game stretch.
Even with all of their successes, and Williams being the star that he is, Saturday's X-factor is actually wide receiver Zachariah Branch.
It's a bold claim, given Branch has not tallied more than four receptions or two carries in a game this season.
And yet, it is Branch that UCLA should not forget heading into Saturday.
The freshman showed his talents with the ball in his hands in USC's opener when he returned a kickoff 96 yards for a dazzling touchdown. Since then, the Trojans have inexplicably not prioritized getting the ball in his hands on offense.
However, rivalry games can lead to unexpected events and breakout performances.
Former UCLA running back/wide receiver Kazmeir Allen had 278 all-purpose yards and three touchdowns at the Coliseum in 2021, and he added another five receptions for 72 receiving yards and a touchdown in this matchup at the Rose Bowl last season.
Branch possesses similar track-level speed and elite quickness to Allen. More importantly, USC must get creative in the run-game given the Bruins outmatch the Trojans in that category.
USC is averaging 20 fewer rushing yards per contest than last season, and UCLA currently boasts the No. 1 rushing defense in all of college football. Don't be surprised if the Trojans abandon traditional running plays and look to end-arounds and jet sweeps to generate offense from Branch on the ground.
Williams spreading the ball around is a given – USC's passing attack is about as good as it gets.
But keep an eye out for creative play calling from coach Lincoln Riley, especially with his most versatile threat.
USC's defense
Defensive scheme: Multiple
Strength: Defensive line
Weakness: Just about everything else
X-factor: Rush end Jamil Muhammad
Coming into the season, the question was never if USC's defense would be good.
Instead, it was simply whether or not the Trojans' defense would be less terrible than it was last year. Competency from the defensive unit was all Riley and a Williams-led offense would need to compete for a Pac-12 title and College Football Playoff berth.
Yet, this defense has been far below mediocre. Even with extraordinarily low expectations, former USC defensive coordinator Alex Grinch did not make it to the end of the season before getting fired.
The Trojans rank 120th out of 130 teams in scoring defense, allowing 34.6 points per game. In the past five contests – in which USC is 1-4 – that average has risen to 43.8.
That stretch includes games against the high-powered offenses of Oregon, Washington and Notre Dame. But it also includes the average attacks of Utah and California.
The Utes, who the Bruins held to 14 points in Salt Lake City, scored 34 at the Coliseum. The Golden Bears put up 49 points.
The opponent doesn't matter – this defense can't stop anybody.
Unlike average defenses in college football, the Trojans don't even have one phase where they excel.
If you want to try to go blow for blow with Williams through the air, USC allows 264.3 passing yards per contest. That ranks 119th.
If you want to run against the Trojans, as the Bruins are likely to do, you can do that as well. USC's rushing defense is 116th in the nation, allowing 182.3 per game.
Somehow, that's the unit's strength.
The Trojans have a few impact players on the defensive line who could make a difference if the Bruins' quarterbacks – particularly freshman Dante Moore – hold onto the ball too long. UCLA's offensive line has struggled in recent weeks, so pressuring the quarterback is USC's best bet at disrupting coach Chip Kelly's faltering offense.
But otherwise, the only question in this matchup is whether or not the Bruins' inevitable trips to the red zone end in touchdowns rather than field goals. Fortunately for the Trojans, that has also been an issue for Kelly's unit in recent weeks.
And, to be fair, even if UCLA can put up multiple touchdowns, it's likely Williams and the offense will still put up more.
Carlson is currently a staff writer on the football, men's basketball and women's basketball beats. He was previously a reporter on the softball and men's golf beats.
Carlson is currently a staff writer on the football, men's basketball and women's basketball beats. He was previously a reporter on the softball and men's golf beats.