Q&A: Daily Trojan Sports editors discuss 2023 rivalry game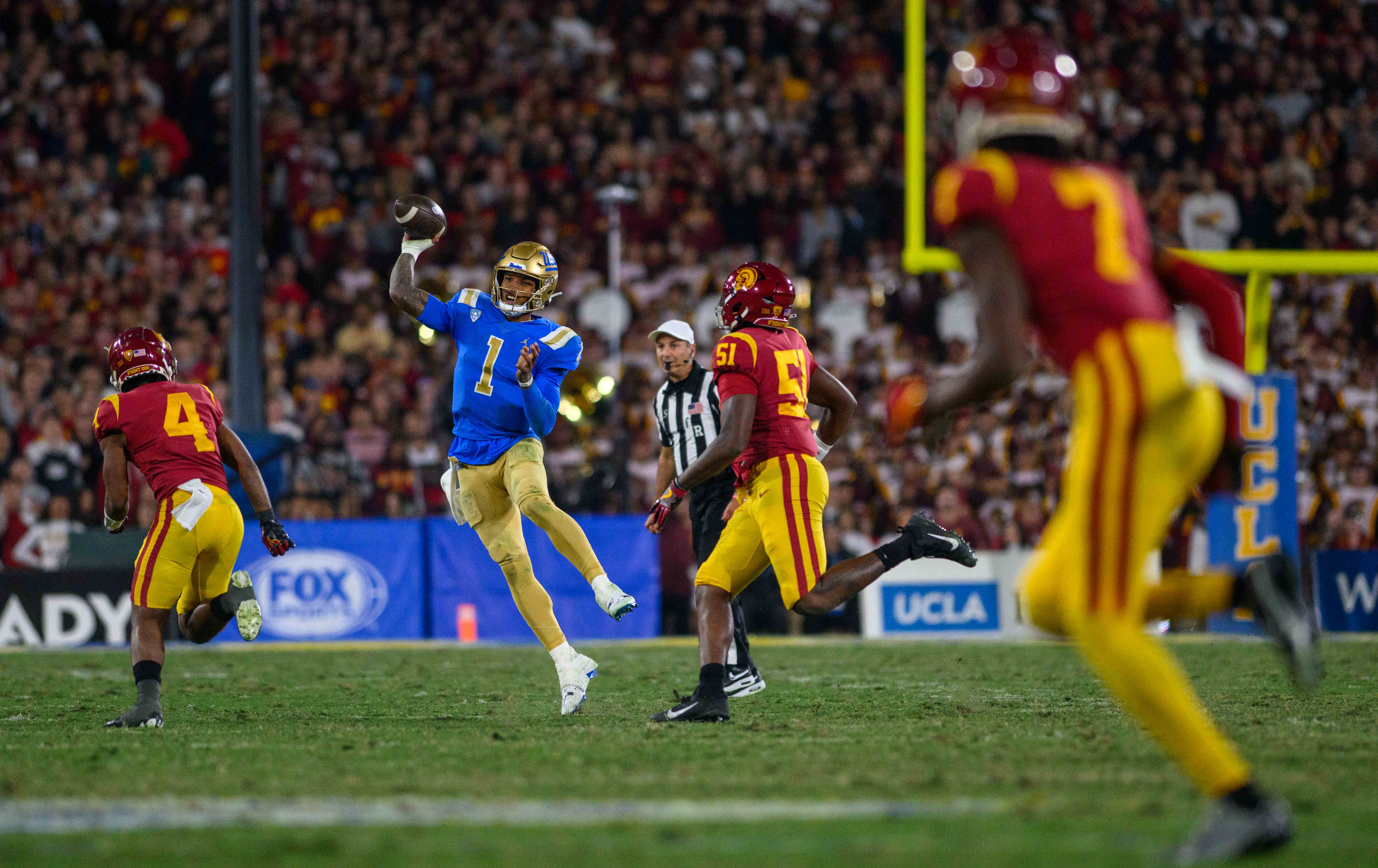 Former UCLA quarterback Dorian Thompson-Robinson prepares to throw a pass during last year's rivalry game between UCLA and USC. (Daily Bruin file photo)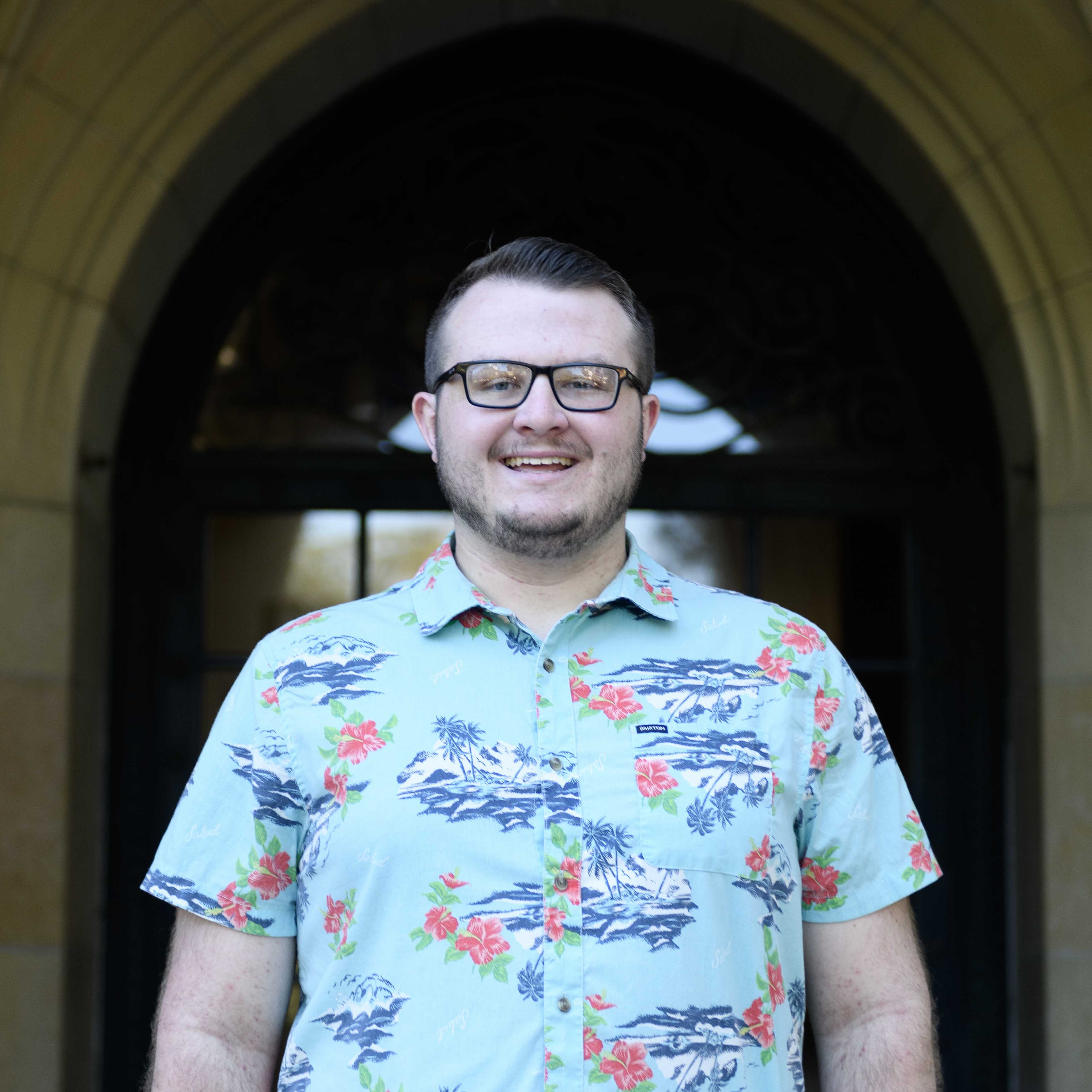 UCLA football (6-4, 3-4 Pac-12) is heading to the Los Angeles Memorial Coliseum to face USC (7-4, 5-3) for the final edition of the crosstown rivalry as Pac-12 teams. Ahead of Saturday's 12:30 p.m. kickoff, Daily Bruin Sports editor Joseph Crosby sat down with Daily Trojan Co-Sports editors Stefano Fendrich and Joshua Sacher to discuss the game.
This interview has been edited for length and clarity.
Daily Bruin: This game had a considerably different context last year than it does this year, with UCLA at 6-4 and USC at 7-4. What does this game mean for the Trojans in the grand scheme of their season?
Joshua Sacher: I think it's a huge, huge game in terms of momentum, and heading into bowl season. USC, obviously, last year dropped their last two in the Pac-12 Championship against Utah, and then Tulane in the bowl game. Obviously the season's kind of been a disappointment. It's a little bit down the drain, but if they can get a win here against UCLA and then a bowl win, kind of bringing that momentum into next season and proving that the defense has the framework for the future, I think it's really big. Also, it's a rival game. Those are always important.
Stefano Fendrich: I kind of almost want to see what would happen if UCLA won, because I think at that point, you already fired Alex Grinch, you can't put any more blame on him. No one's going to put blame on Caleb (USC quarterback Caleb Williams), our prized possession. So I would be very interested to see how quickly and how harshly fans turn on Lincoln Riley. Because at this point, there's no one left to blame. Losing to UCLA would absolutely send an uproar through fans. The aspirations were CFP, and if we can't even beat a UCLA team that is, admittedly, not the best, I think it would mean dire consequences for the all-perfect Riley regime.
DB: Lincoln Riley is 18-7 through almost two full seasons with USC. Clay Helton was 21-6 through his first two full seasons. What is the general sense surrounding the team of Riley's coaching ability?
SF: In my personal opinion, I think the defense is too highly scrutinized because the defense has been the worst unit for more than a year now, and it's been obvious. Lincoln Riley has not done enough to alleviate some of the pressure off the defense by being more methodical when he pushes the ball down the field instead of running hurry-up offense where every drive is two minutes. Some of the play calling has been questionable this season. But I think the greater sense has really just been focused on the defense. I don't think Riley has gotten enough slack. He's gotten it from reports, obviously, for not making players available after the games. But I think the general consensus, fans still feel like this offense is doing its job – which it is, but I still think people haven't been holding him as accountable as he might need to be as the person in charge of the entire football team, rather than just looking at him as the offensive mastermind.
JS: There's three sides of the ball in football, not just one. I do still trust him. I think he's one of the top football minds in college football. I think he really needs to hit recruiting hard and not just bank on the fact that the offense is going to put up 50, and that you're going to try to outshoot everyone in every game. It's crazy to say, because we thought he was going to be here for 10-plus years, but I think he's on the hot seat next year if he can't get to at least a New Year's Six bowl. This season was far, far under any expectation.
DB: Defensively, do you see the firing of Alex Grinch changing anything, or is he just the scapegoat for losing three of four games before getting fired?
JS: I don't see it changing anything this season. There needs to be a complete change of scheme, a change of tackling, just an all-around revamp of the defense. It's tough to fire a guy with three games left and expect the defense to then give up 14 points in a game. The big changes, like I said, will be recruiting in the offseason, getting some guys through the portal and really just making new hires. Getting a well-known defensive coordinator that can really change and turn around the program and the way the defense is viewed.
SF: It's a talent thing. I think there needs to be more talent on the defense and the scheme needs to play more to their strengths. There's so many defensive freshmen that are just being asked to do things that's not their skill strengths yet. It's putting them in bad spots. There just needs to be a complete overhaul of the mindset, the philosophy, to the defense in the offseason.
DB: Offensively, Caleb Williams – there's not a ton to say about him, but it does seem like he's slipped out of those Heisman talks this season.Where would you assess 2023 Caleb Williams relative to 2022 Caleb Williams?
SF: If you look at the numbers, it's like he's improving, almost. Last year, it almost seemed easier in the sense that his offensive line was better, his receivers – he had a more objective No. 1 receiver. Everything seemed easier for Caleb, and now he's making it look easy. But he's still constantly in trouble, constantly running out of the pocket, trying to extend plays. Whether the protection is breaking down or the receivers aren't getting open quick enough, I think that has led him to make a lot more mistakes this year, but he's still looked just as impressive. It's just frustrating because the defense is so bad, Caleb almost needs to literally play a perfect game.
JS: To someone average, who is not a USC fan, who is not watching every game, they're thinking, "Okay, he's making some mistakes now." And he's making those plays, but they're not viewed as winning plays because USC isn't winning the games. But I still think he's a generational-type talent. It's unfortunate that USC's defense was what it was, but I still think he's putting up historic numbers. It's hard to follow up a Heisman. There's a reason why it's only been done once. So obviously, they're always going to compare to the season before, and if you're not winning games and you're not in the hunt, it's hard to realize how well a player is actually playing.
DB: At times, it seems very "Caleb Williams and Co." Who's the X-factor to watch out for on either side of the ball that isn't Caleb Williams?
JS: One of my favorite players at USC, who I think just hasn't been utilized in the right way at all: Zachariah Branch (wide receiver Zachariah Branch). He was the No. 1 receiver and a top-five player coming out of the 2023 class. You've seen what he's done in the special teams game – first Pac-12 player since Christian McCaffrey to have a rushing touchdown, receiving touchdown, kick return touchdown, punt return touchdown in the same season. I think he's just electrifying when he has the ball in space. He's so quick, I don't know why there haven't been more deep shots to him or at least just screen passes getting him in space. But be careful when he gets the ball in his hands, as we've seen. He's an electrifying player, and I think he's going to have a huge game against UCLA.
SF: Continuing the theme of underutilized players, I'm going to have to go with MarShawn Lloyd, the running back. Besides Jayden Daniels, he leads the FBS in yards per carry at just 108 carries. He needs to be used a lot more. They need to be running the ball more, setting the tone earlier. I think too many times it's just, "Okay, let's just give it to Caleb and see what he does." The running game opens up the passing game so much more. It makes the defense respect the running game so much more. If MarShawn Lloyd can literally just get 20 carries, I think USC will have a much easier time on offense.
DB: Question of the hour: Who's winning the game, what's the final score?
SF: As much as I like to talk down about USC, they're winning this game. I would give it to UCLA if they hadn't been on the decline as of late, but I think USC wins, something along the lines of 42-35 or something like that. I think the scoreline will be a lot closer than it is because our defense is so bad, but USC will be dominant on offense, and they'll come away with a victory.
JS: Going to be a shootout because I still don't trust USC's defense. I think it's going to be 38-31. USC wins on a late fourth-quarter touchdown.
Crosby is the 2023-2024 Sports editor on the football and men's basketball beats. He was previously an assistant Sports editor on the baseball, women's golf, men's water polo and women's water polo beats and a contributor on the baseball and women's golf beats. He is also a fourth-year statistics student.
Crosby is the 2023-2024 Sports editor on the football and men's basketball beats. He was previously an assistant Sports editor on the baseball, women's golf, men's water polo and women's water polo beats and a contributor on the baseball and women's golf beats. He is also a fourth-year statistics student.