Gameday Predictions: UCLA vs. USC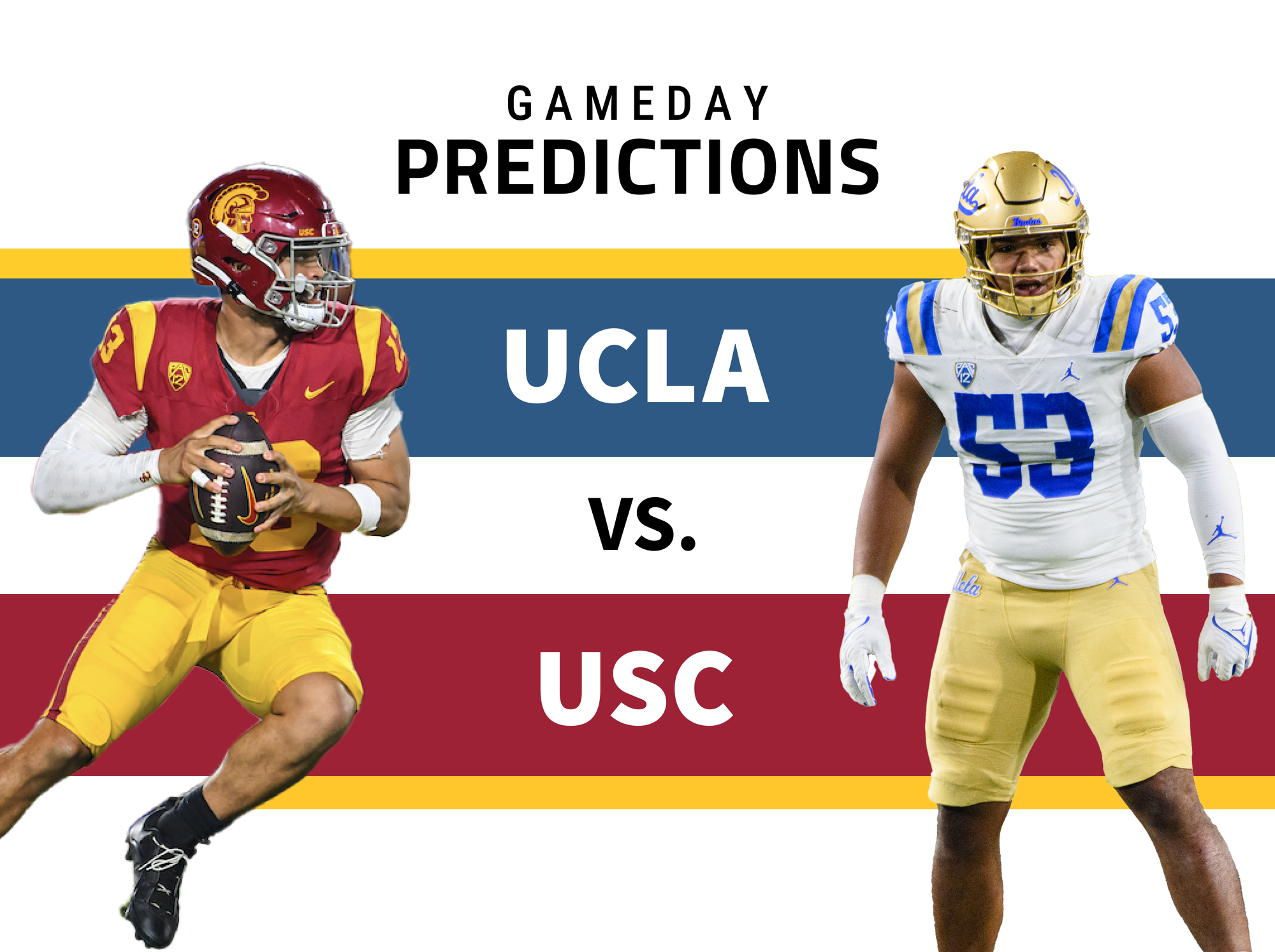 USC quarterback Caleb Williams (left) and UCLA football redshirt senior linebacker Darius Muasau (right) are pictured. (Photos by left to right: USC Athletics, Brandon Morquecho/Assistant Photo editor. Photo illustration Helen Quach/Design director)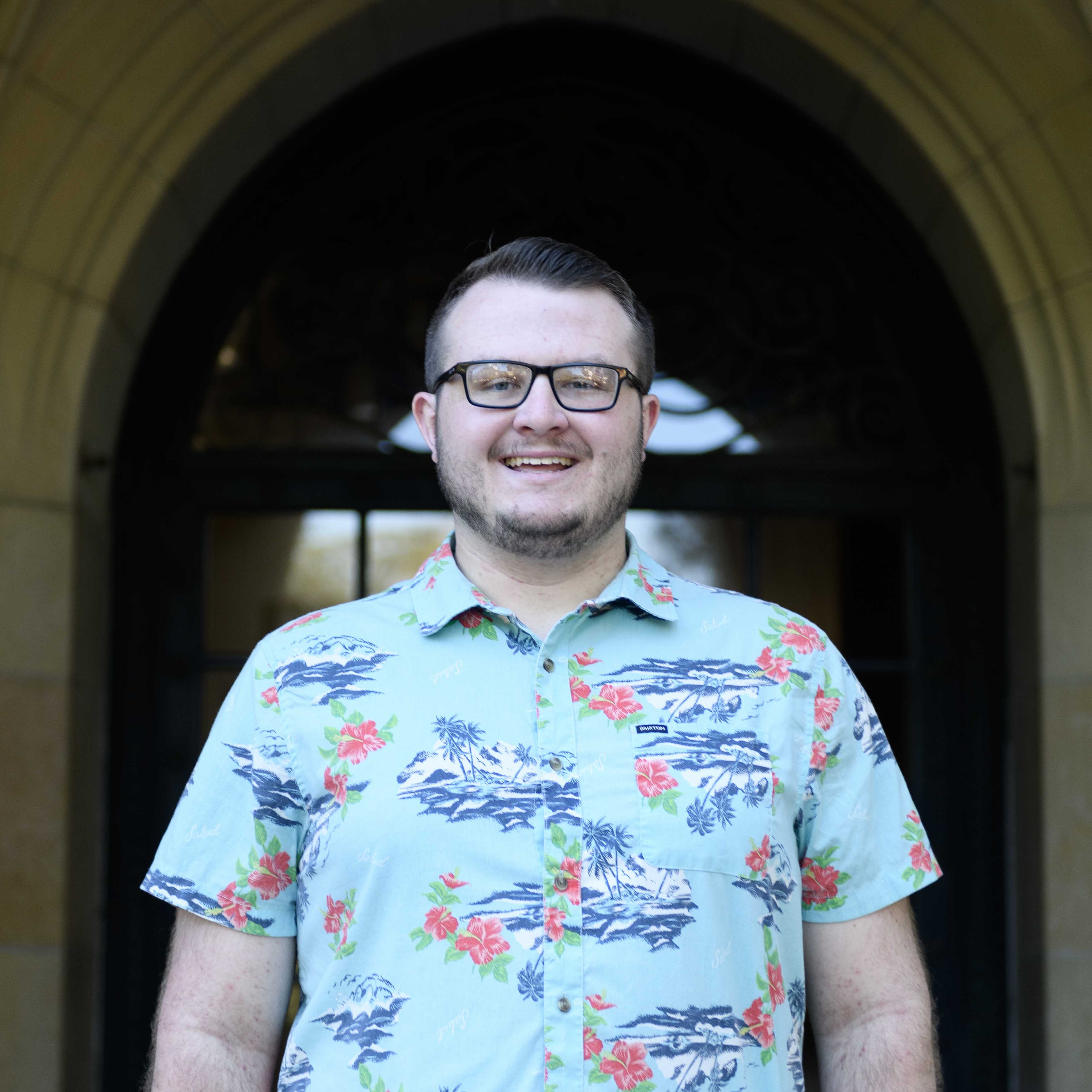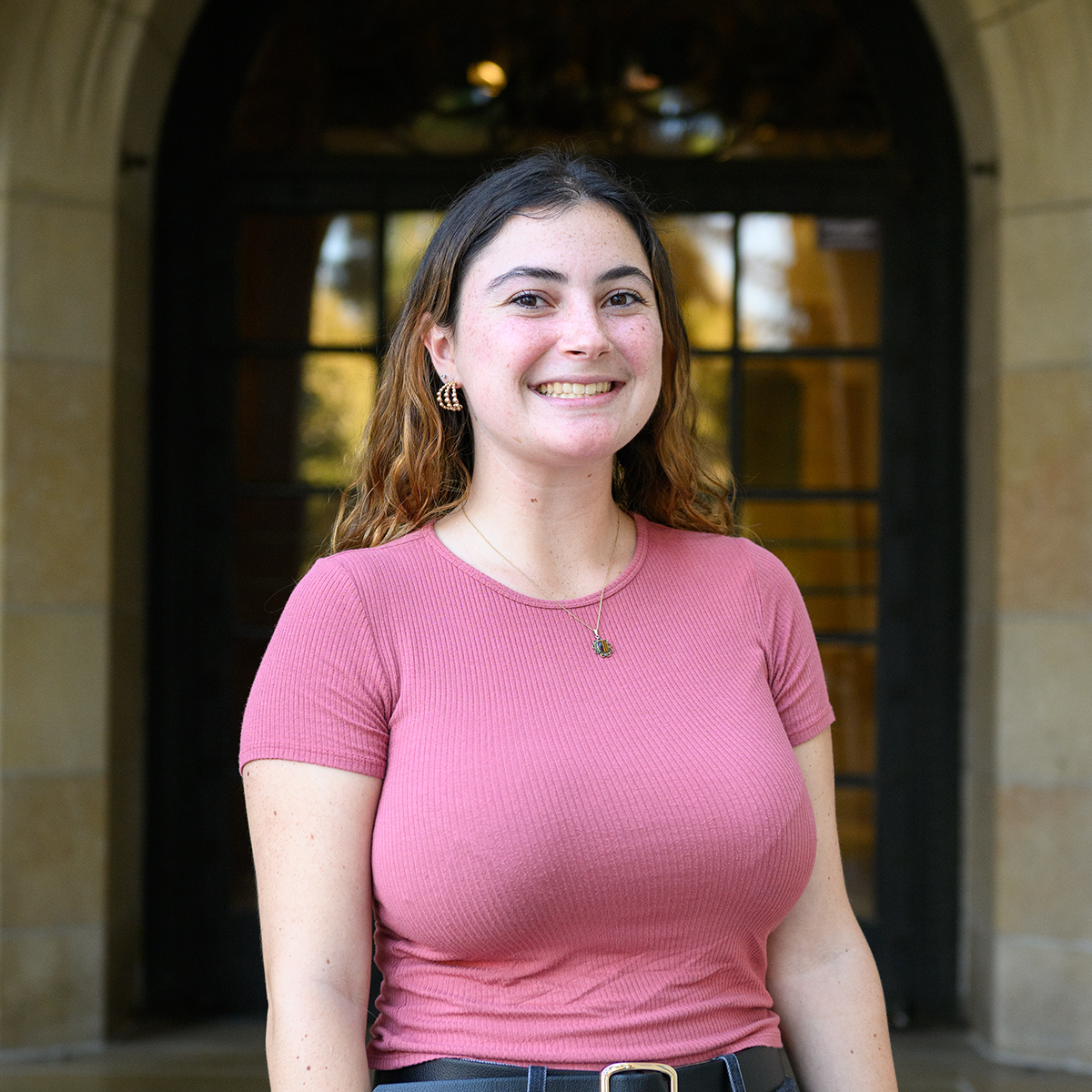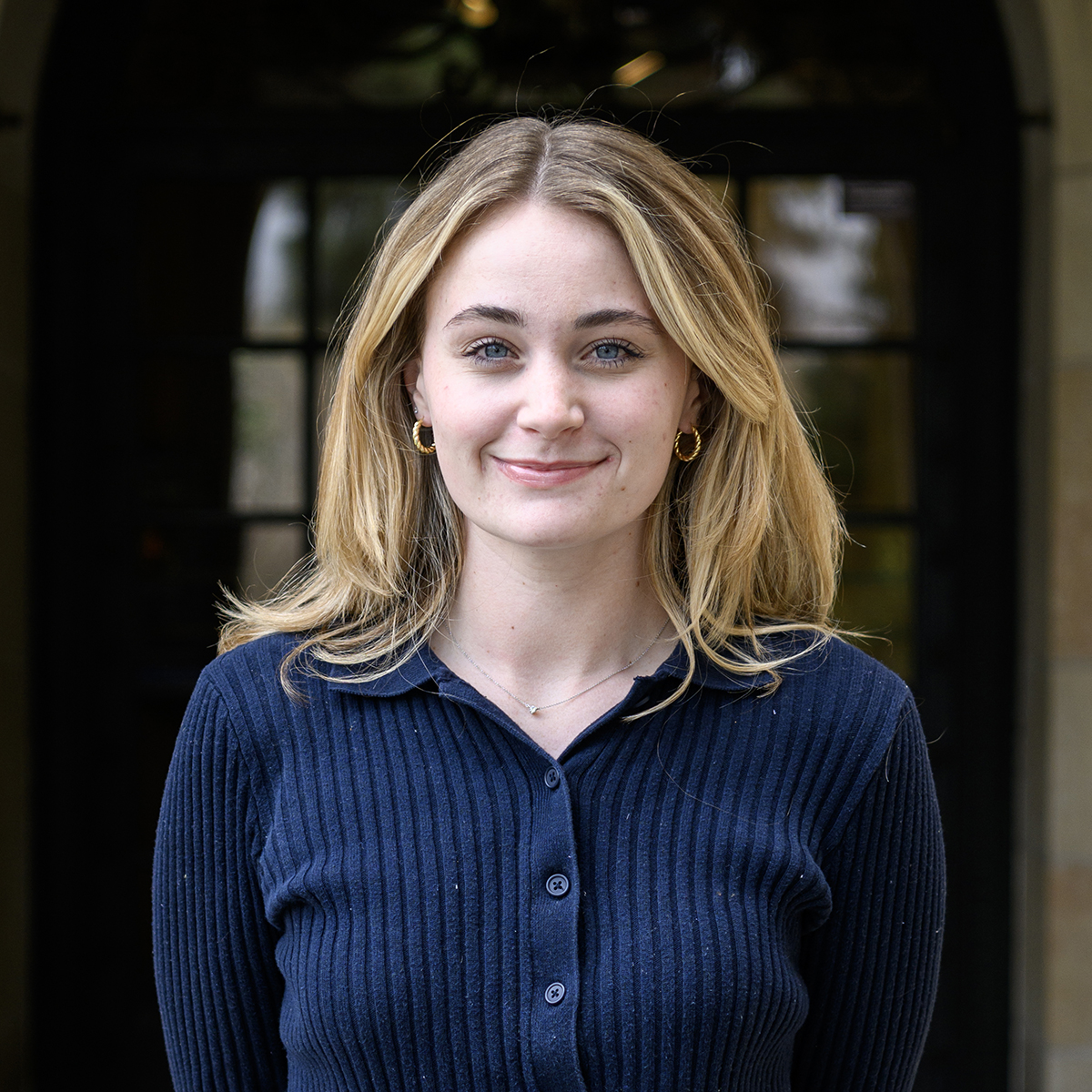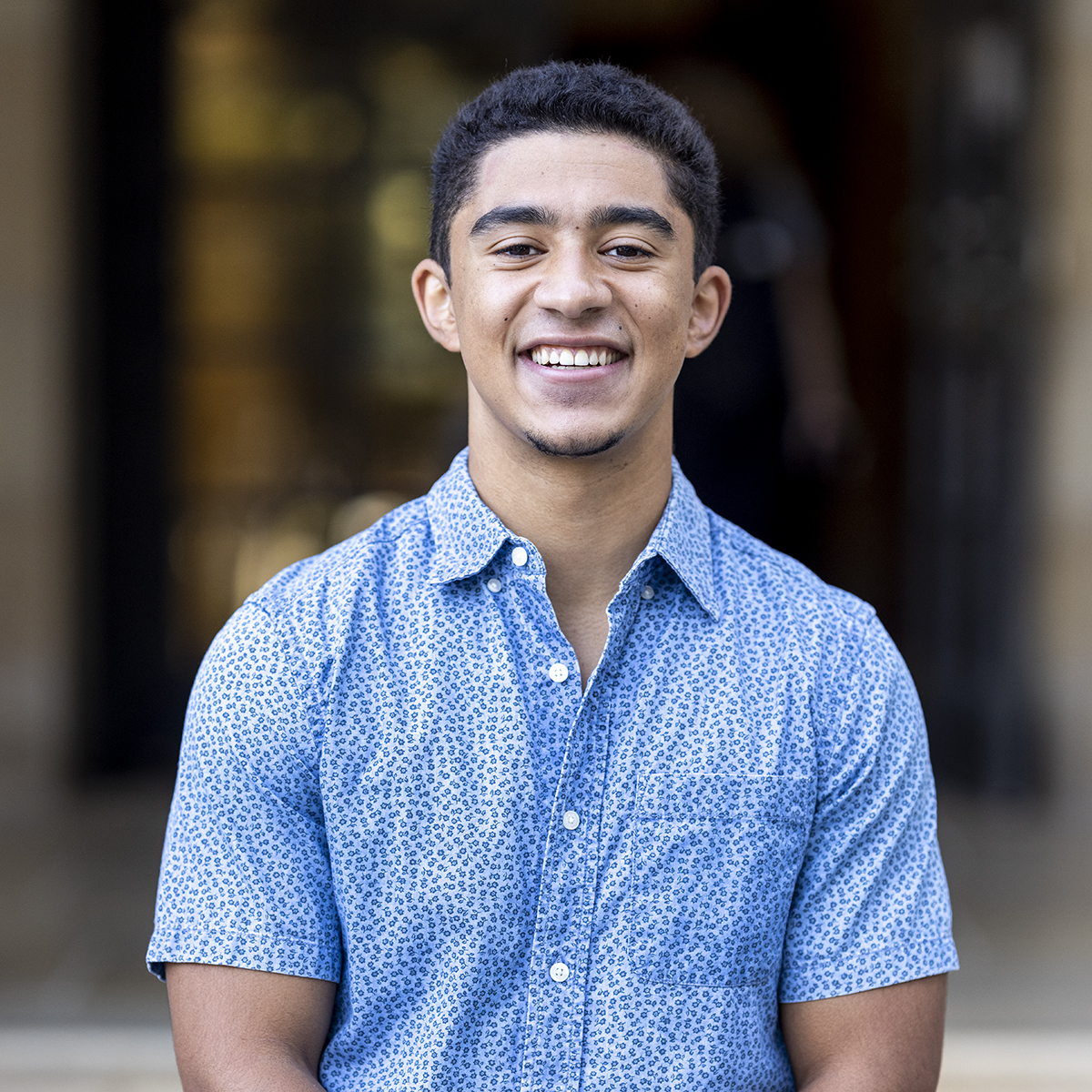 UCLA football (6-4, 3-4 Pac-12) and USC (7-4, 5-3) will face off at the Los Angeles Memorial Coliseum as Pac-12 rivals for the final time Saturday, with both teams losing two of their last three games. Here are the rivalry week gameday predictions from Sports editor Joseph Crosby, senior staff writer Grace Whitaker and staff writer Gavin Carlson – along with a guest prediction from senior staff writer Isabelle Friedman.
Joseph Crosby
Sports editor
Prediction: UCLA 14, USC 35
The first – and only – exposure I've had to philosophy was the class I took to fulfill my Writing II requirement here at UCLA.
It was an interesting experience to be sure, but it focused more on the writings of John Stuart Mill and Immanuel Kant than paradoxes and thought experiments.
For this week, though, I'll be highlighting one of those paradoxes – specifically, that of the unstoppable force and an immovable object.
Logically, it's an impossibility.
If an unstoppable force exists, then no object is immovable. The converse is similarly true: If an immovable object exists, then no force is unstoppable.
Fortunately for me, I'm going to focus on an extremely movable object and an easily stopped force.
USC's defense – the movable object – is not good. The Trojans have allowed more than 40 points in four of their eight conference games and gave up 34 to Utah and 36 to Oregon in two of the other four. Meanwhile, the firing of defensive coordinator Alex Grinch will have little observable effect as the season nears its end.
On the other end is the stoppable force – UCLA's offense. Posting just seven points against the Sun Devils, the Bruins were repeatedly and quite literally stopped from scoring, getting stuffed on multiple fourth-and-shorts.
In a battle of underachieving units, the Trojans' defense will come out on top. UCLA's offense is utterly inept and will be incapable of keeping up with USC quarterback Caleb Williams, leading to a three-score loss and a 2-4 record in the rivalry showdown under coach Chip Kelly.
Grace Whitaker
Daily Bruin senior staff
Prediction: UCLA 7, USC 17
Historically – at least across the last two years – the victor of the Daily Bruin-Daily Trojan Blood Bowl has predicted the loser of the ensuing rivalry game.
In 2021, the Daily Trojan took down the Bruin, and a day later UCLA defeated USC 62-33 in the Coliseum.
The following year, the Daily Bruin came back with a vengeance, defeating the Trojan on its home field with a game-winning touchdown from former Sports editor Sam Settleman. One day later, in a heartbreaking defeat, UCLA lost to USC by one field goal.
Safe to say, this year it all depends on the events of the Blood Bowl.
Even considering my biased opinion toward the Daily Bruin, a back-to-back win is likely. With the return of a star quarterback in staff writer Gavin Carlson and veteran leadership in Sports editor Joseph Crosby, while also introducing a stacked roster of other participants, the Daily Trojan has its work cut out to take us down.
The Bruins, on the other hand, don't have the same story going into the rivalry matchup. Off the heels of two losses to Arizona and Arizona State, UCLA looks like a messy group rather than the polished product that it should be this late in the season. USC also hasn't seen the same success they did last season, but the leadership and poise from Williams – which directly contrasts UCLA's shaky quarterback situation – will ultimately carry the Trojans to the win.
I guess we'll see which newspaper correctly predetermines the events of Saturday.
Gavin Carlson
Daily Bruin staff
Prediction: UCLA 17, USC 31
Call me biased, but UCLA versus USC is still the best rivalry in the Pac-12 and in the entire Pacific Time Zone.
Not only is it one of the few true "crosstown" rivalries in all of college sports, and not only are there nearly 100 years of history and tradition, but the public school versus private school aspect breeds real animosity between students and alumni.
And don't get me started on that beautiful tradition with both teams wearing their home uniforms. Blue and gold, red and yellow – it's perfection.
Despite my admiration for the rivalry that I've followed since I was born, even I can admit that this is the final year in which this battle is the best in its conference.
With both UCLA and USC headed to the Big Ten next season, that title will still belong to Michigan-Ohio State. That rivalry game almost always has conference championship implications and has garnered a crowd of more than 100,000 fans in the last 21 matchups.
They call it "The Game" for a reason.
In most years, the Battle for the Victory Bell doesn't even sniff that level of importance, which is especially the case in 2023.
Two-game losing streaks for both UCLA and USC have tanked anticipation for this year's game. Neither team is in the Pac-12 title game hunt, nor are they ranked and aiming for a legitimate bowl-game appearance.
If anything, Kelly potentially coaching to keep his job is the only meaningful thing anybody is playing for.
So with this year's game lacking true implications and storylines, it's simple: give me the more talented and better-coached team to win.
Behind the second-coming of Patrick Mahomes in Williams, USC will beat UCLA by a couple touchdowns.
Isabelle Friedman
Editor in chief
Prediction: UCLA 0, USC 3
Last week, I wrote my 50th article for Daily Bruin Sports.
With this prediction as my 51st Sports byline, I am officially a Sports staffer, rather than a Sports reporter.
One might suppose that with my new title, I would use the vast sports knowledge I've acquired to make an educated prediction about the outcome of the UCLA-USC game.
But I don't have to be a sports expert to know that this rendition of UCLA-USC isn't garnering the hype that it usually does. In fact, I'm feeling a little pessimistic overall.
Last Friday, I watched UC Irvine knock the reigning national champion in No. 1 seed UCLA women's soccer out of the NCAA tournament in the first round. The next evening, I watched UCLA football get held scoreless for three quarters before I left the Rose Bowl. And to make matters even worse, I couldn't even get a ticket to the USC game.
With that being said, I think it's going to be a miserable game for everyone involved.
As of Tuesday, the weather forecast calls for rain Saturday. I am anticipating the Bruins and Trojans slipping and sliding across the Coliseum – each failing to reach the end zone until the final few minutes, when USC will eventually make a game-winning field goal.
Fans will be soaked and frustrated that they postponed going home for Thanksgiving for this game – and all the while, I'll be cozy at home with my dog saying "I'm so glad that's not me."