UCLA swim and dive to divide and conquer consecutive season-end invitationals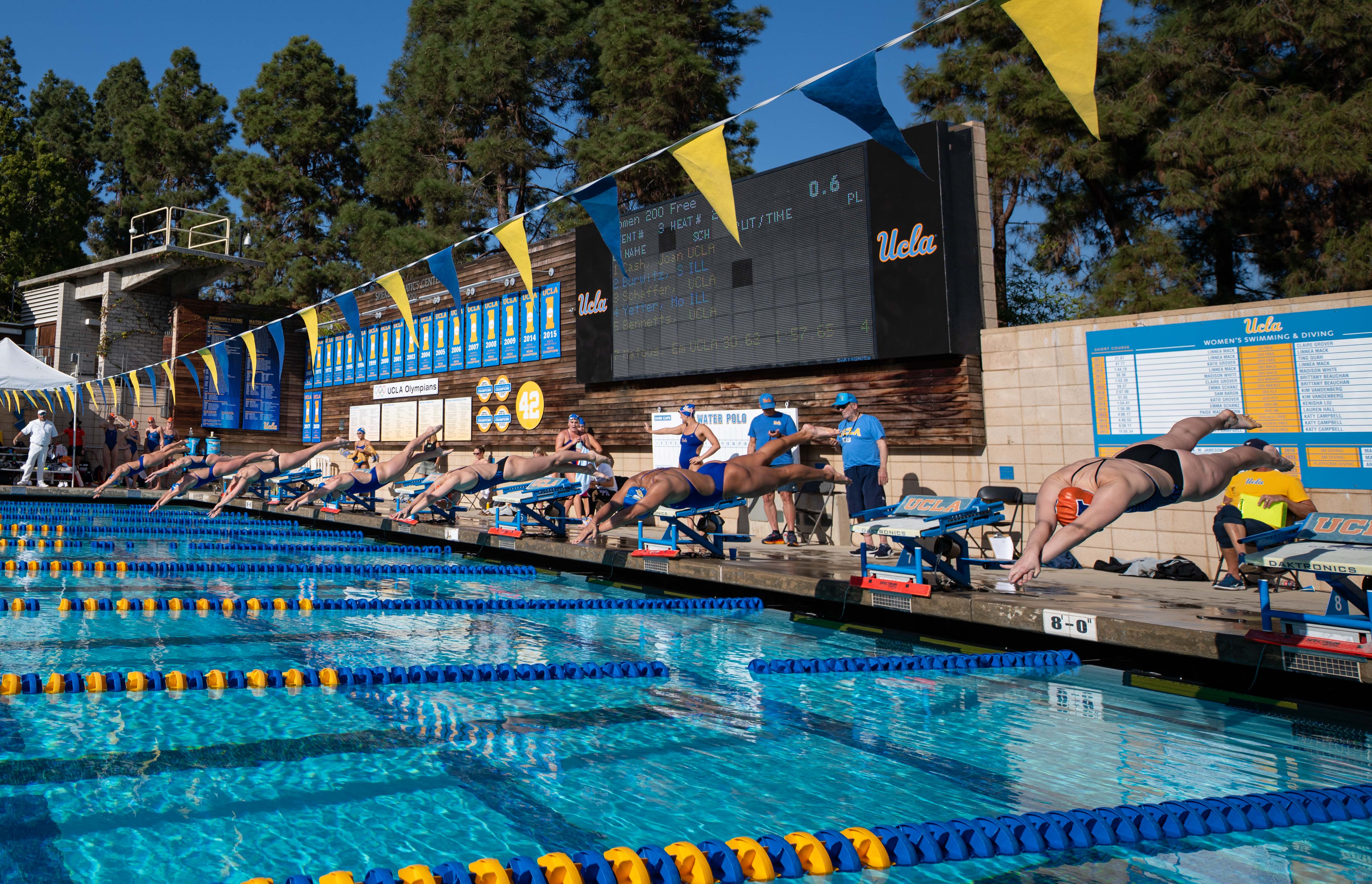 Swimmers point down into the water as they jump off the blocks during a UCLA swim and dive meet. (Jeremy Chen/Daily Bruin senior staff)
Swim and Dive
---
Art Adamson Invitational
Nov. 15 - 17
Rec Center Natatorium
State College, Texas
---
Trojan Diving Invitational
Nov. 17 - 19
Uytengsu Aquatics Center
Los Angeles
The Bruins will split to compete in not one, but two invitationals.
No. 23 UCLA swim and dive (4-1, 2-1 Pac-12) is sending its swimmers to State College, Texas to compete in the Art Adamson Invitational, while its divers will be staying in Los Angeles to compete in the Trojan Diving Invitational at Uytengsu Aquatics Center. The former will take place Wednesday through Friday and the latter will be Friday through Sunday.
With both meets following a multi-day format, they parallel the structure of the Pac-12 and NCAA championships.
Sophomore Fay Lustria said her focus on stamina training will be key at the Art Adamson Invitational.
"Toward the end of the meet, when I would basically be very exhausted, not have much more in me," Lustria said. "I'm kind of at a turning point now where I will begin to have that energy by the end of the swim competition."
The Bruins started their season with the Fresno State Invite, but have only competed in dual meets since.
Coach Jordan Wolfrum said the team focuses on three pillars before the multi-day invitationals: grit, pride and winning habits.
"All of those are equally applicable at our dual meets, but they just kind of get ramped up in this format," Wolfrum said. "Our winning habits, we have to repeat them a lot more in a six-session meet than we do in a one-session meet."
The preliminary rounds will be raced in a long-course meter pool, whereas the final rounds will be in a short-course yards pool.
Wolfrum said the times reported from the preliminary rounds will look slower than usual due to the pool format.
"Things will look strange on paper, especially because everyone is entered with short-course times," Wolfrum said.
This will be UCLA's first time competing at the Art Adamson Invitational under Wolfrum, but it has competed in the Trojan Diving Invitational every year – except for the 2020-2021 season – since Wolfrum became head coach.
After these invitationals, the Bruins' fall season will come to a close. Lustria said she hopes to use the invitational to create team camaraderie.
"Another goal I have is making sure I am really bonding with my teammates and making sure we have a good sense of community," Lustria said. "That's where my team is the strongest – when we make sure that we all are doing it for each other."
The Bruins will kick off their week of invitationals Wednesday at Texas A&M's Rec Center Natatorium.
Baker is currently a Sports contributor on the swim & dive beat.
Baker is currently a Sports contributor on the swim & dive beat.