Study by VPNOverview finds UCLA to be America's most Instagrammable campus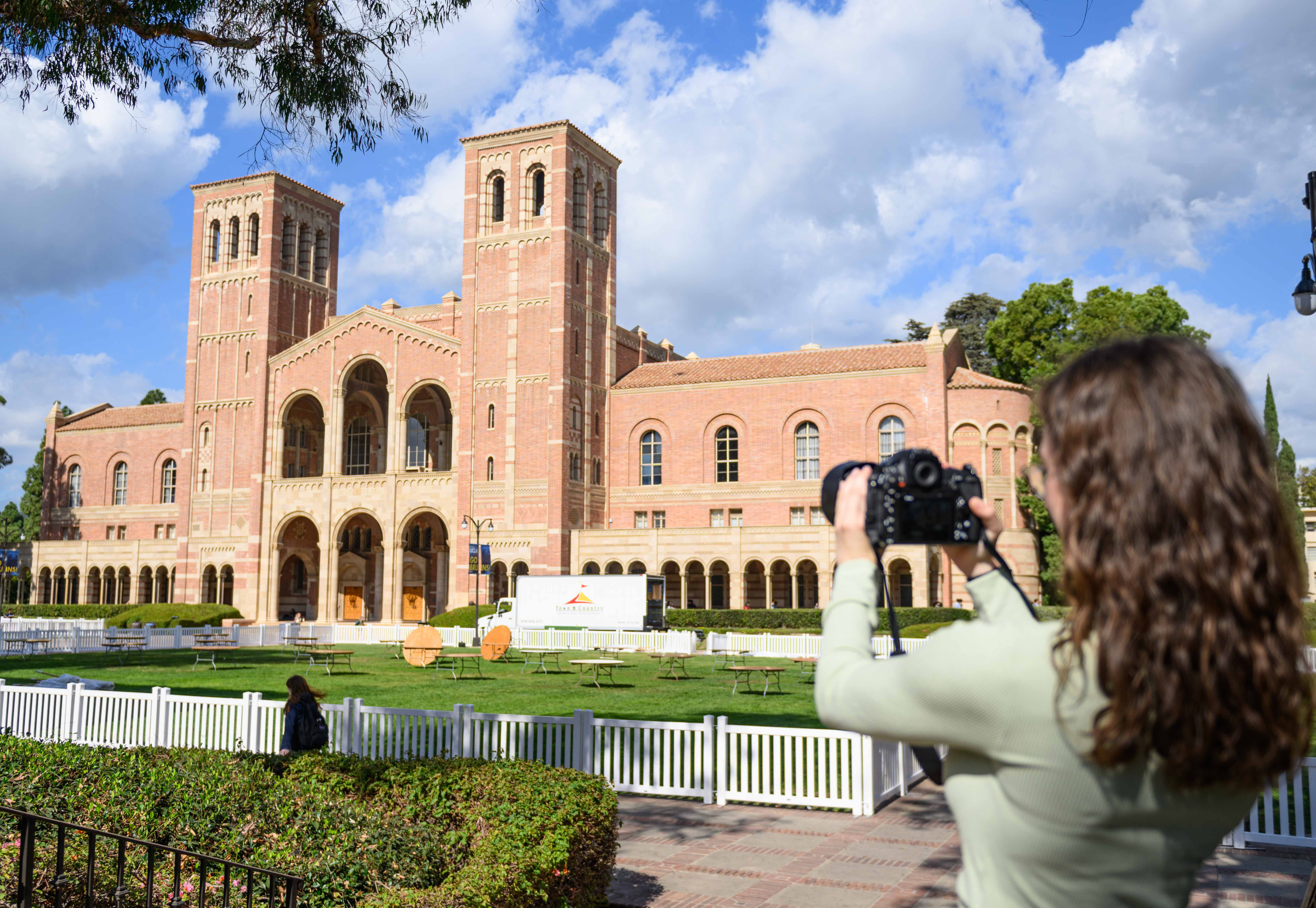 Pictured is a staged shot of someone taking a picture at Royce Hall. A recent report found UCLA has the most Instagrammable college campus in the United States. (Dylan Winward/Daily Bruin senior staff)
UCLA has earned another No. 1 ranking. However, this time, it's not for academics or athletics – it is related to Instagram.
In a study by VPNOverview – an organization specializing in cybersecurity research – UCLA was named the most Instagrammable campus in the United States. The study considered how many times Instagram users hashtagged each school on Forbes' List of America's Top Colleges as of Oct. 16. Instagram users mentioned the hashtag "UCLA" in over 1.87 million posts, beating out Harvard University, which placed second, by more than 700,000 hashtags.
Jolie Miller, a third-year sociology student, said she found it easy to believe that UCLA is the most Instagrammable campus in America.
"It honestly doesn't surprise me," Miller said. "Compared to the Ivies, it's pretty crazy. But in terms of a California university, you have the blue skies, green grass, and the buildings at UCLA look like museums."
Ava Shechtman, a first-year molecular, cell and developmental biology student, said Royce Hall – one common location for Instagram posts – stands out from the rest of campus because of its historical architecture, which is based on Milan's ancient Basilica di Sant'Ambrogio church.
Shechtman added that, along with Royce Hall's history, she thinks the building's imperfections – such as its mismatched window placements – make it a particularly interesting spot for photos.
However, UCLA's Instagram presence extends beyond the campus' aesthetics and Royce Hall. Instagram is used as a device for connection and promotions by many clubs, sports teams and other sports groups at UCLA.
Angeline Espina, the vice president of the social media club REACH – which has more than 1,400 followers on Instagram – said the club connects its members, who are all social media influencers, to brands that can help them reach a wider audience.
Espina, who is also a fourth-year linguistics and psychology student, added that Instagram helps REACH with crafting its online image and increasing engagement for the club.
Noah Camacho, a fourth-year psychology student and a member of REACH, said he credits Instagram for spreading the club's message and boosting outreach.
"Instagram has helped us showcase what we are as a club," Camacho said. "A short little video about what our club is really gets people engaged, and it obviously helps boost outreach."
Some students also said they derive more than just aesthetics and club promotion from the Instagrammable quality of UCLA.
Anna Boehmer, a second-year environmental science student, said the beauty of UCLA's campus boosts her mood and helps preserve positivity during difficult times.
"It just uplifts my spirits when I'm feeling down," Boehmer said. "If anything is hard, I can realize that I'm at a really cool place and that I deserve to be here."