Frontcourt starters lead UCLA men's basketball to 20-point victory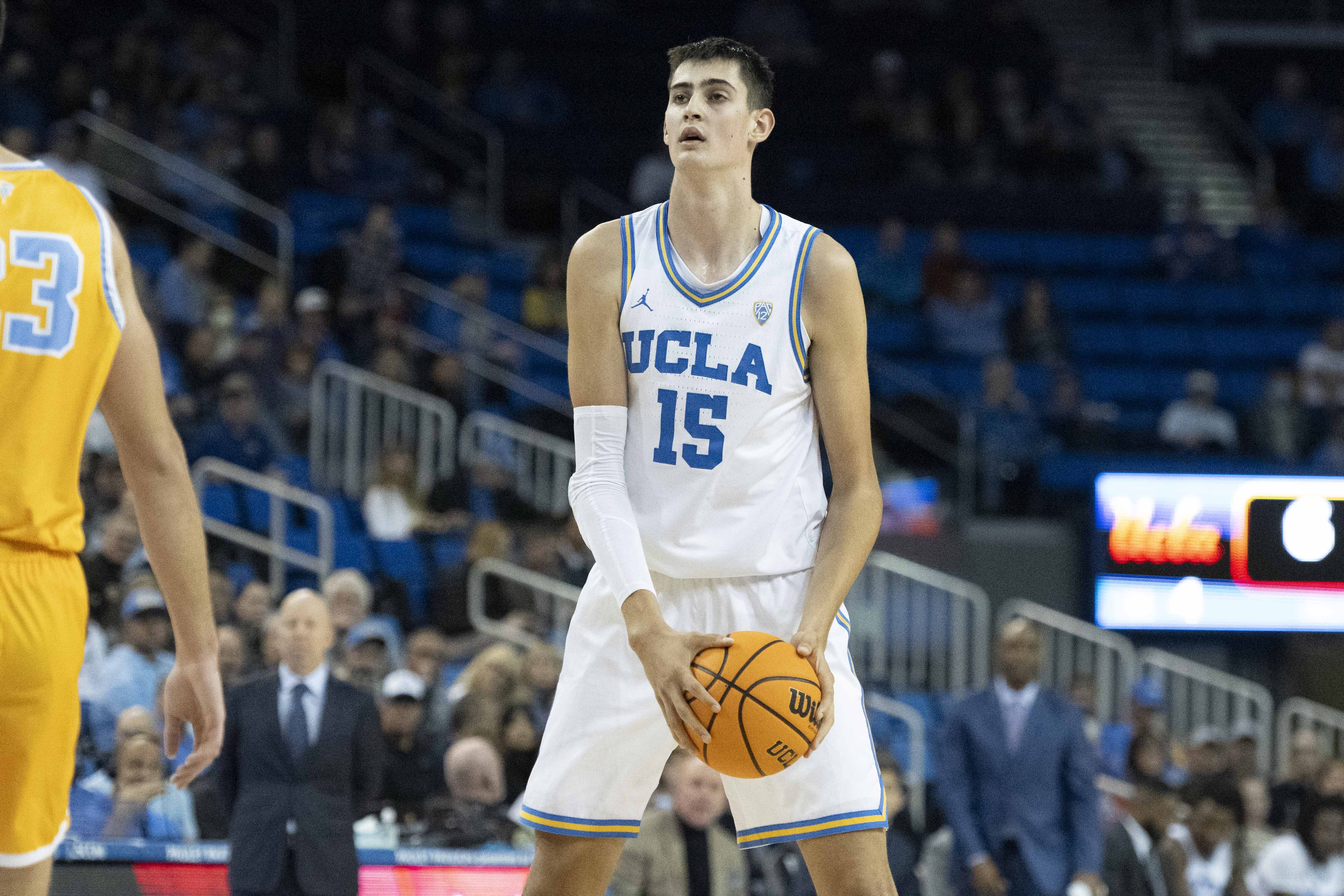 Freshman center Aday Mara holds the ball during UCLA men's basketball's game against Long Island. (Emily Tang/Daily Bruin senior staff)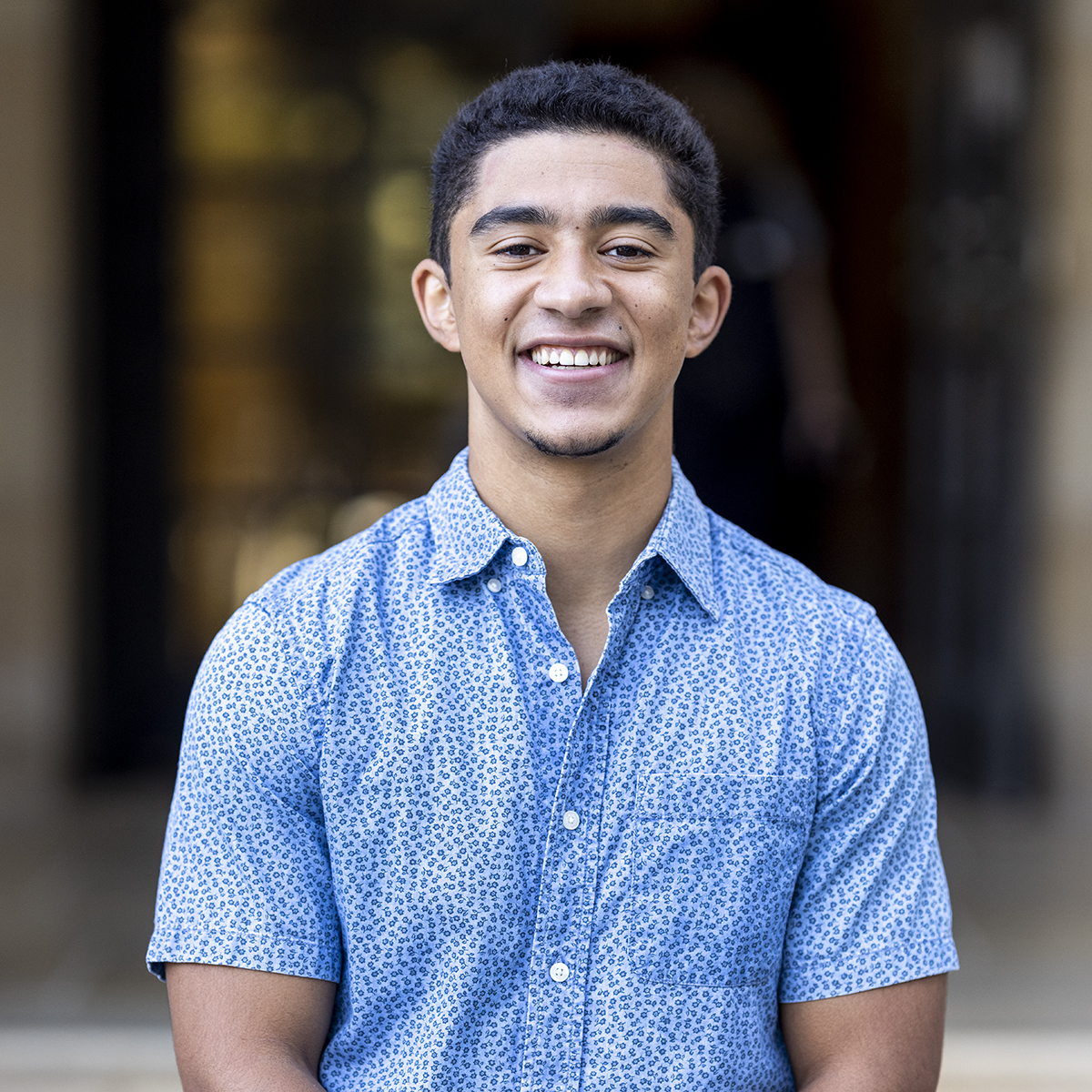 Mick Cronin chose to deploy a two-big starting lineup last Friday.
The coach's decision resulted in a halftime deficit for the Bruins, and Cronin said after the game that it wasn't the optimal lineup in the contest.
Cronin returned to a two-big opening-five Wednesday night in Pauley Pavilion, but the lineup featured a different combination of frontcourt starters.
Things clicked early on this time around.
With freshman center Aday Mara making his first career start alongside sophomore forward/center Adem Bona, UCLA men's basketball (3-0) led by double digits for a majority of its convincing 78-58 win over Long Island (0-3) on Wednesday night. Bona led the Bruins with 20 points and 11 rebounds, while Mara set new career highs in minutes, points, rebounds and blocks in front of the Pauley Pavilion crowd.
Following the performance from his freshman center, coach Mick Cronin said Mara is a unique talent and added a comparison to an NBA legend.
"He's got to realize you're not getting calls when you're as tall as him. … People aren't used to seeing somebody like him," Cronin said. "I watched what people were allowed to do to Shaquille O'Neal his whole career because they couldn't guard him in his prime, they just fouled him every play. But he's (Mara's) got to get ready for that."
UCLA's new frontcourt pairing wasted little time finding success.
Mara and Bona combined for 12 of the Bruins' first 20 points to help the team jump out to a 20-9 lead in the opening 11 minutes.
The 7-foot-3 freshman showed offensive versatility during the stretch, scoring UCLA's first field goal of the game on a putback dunk before converting a left-handed hookshot just under eight minutes later. Bona, meanwhile, responded to the 1-of-7, six-point performance of his previous outing with 12 points on 5-of-7 shooting in the first half.
Bona said he was pleased to see Mara begin to show glimpses of his talent.
"I was really excited – if you could see me from the bench, I was celebrating every point, every assist, every rebound he got because I knew there's so much to come from him," Bona said. "There's so much the country hasn't seen."
UCLA asserted its dominance in the paint throughout the opening 20 minutes, as 16 of the team's 35 first-half points came from inside the key. The Bruins also had 11 second-chance points in the opening period.
The presence of Bona and Mara was felt on the defensive end as well, as the duo combined for four blocks and nine rebounds in the first 20 minutes. With both constantly altering Long Island's drives to the basket, the Sharks were held to 23.1% shooting from the field and had just one basket in the paint as UCLA went into the halftime break leading 35-17.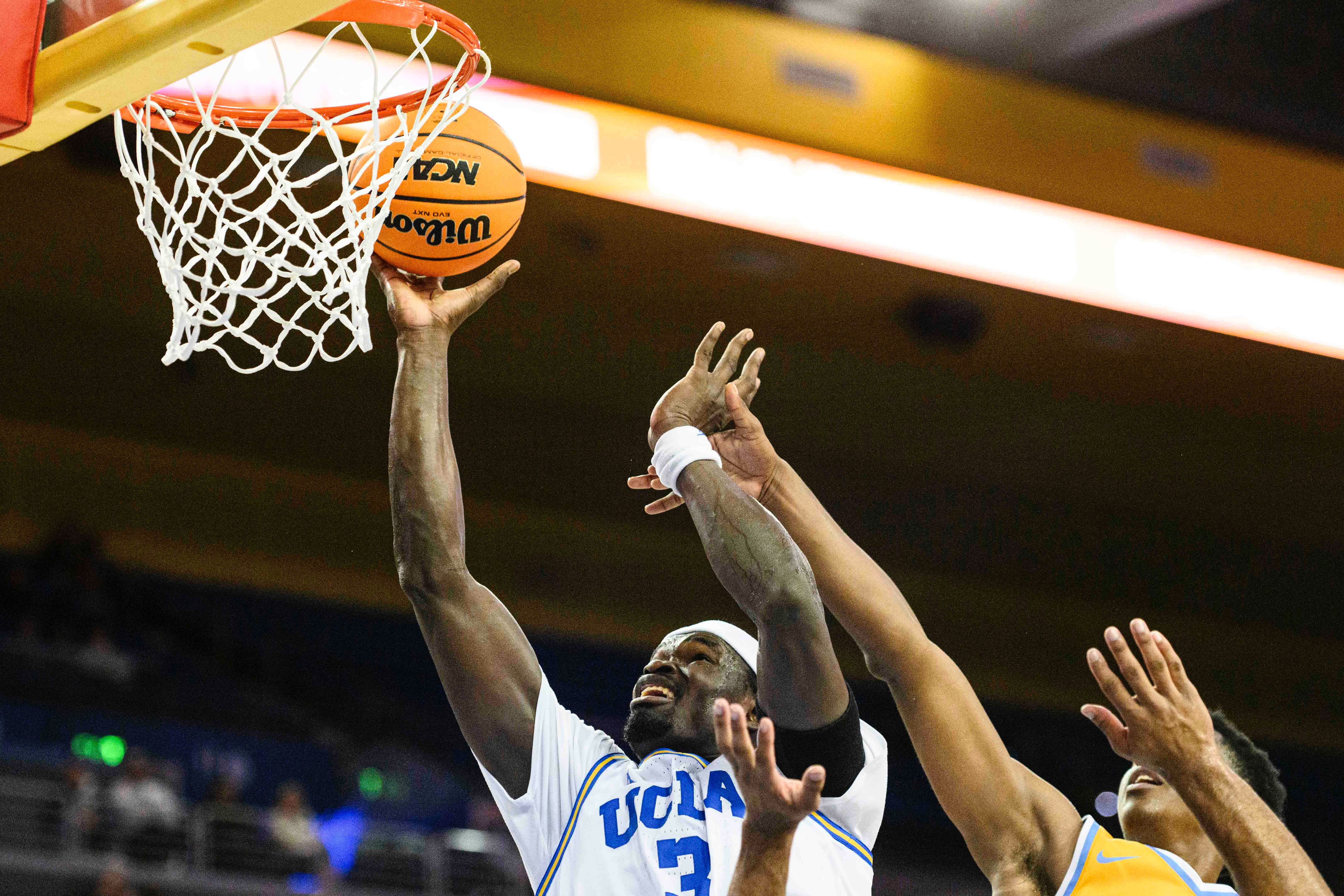 The second half was filled with more success from the Bruins' frontcourt pairing.
Mara's 10 points in the second half on 4-of-5 shooting tied with freshman guard Jan Vide for the UCLA lead, pushing his career-high scoring tally to 14 points for the game. His four rebounds and four blocks in 24 minutes were all-career bests as well.
Vide said he's familiar with the Spaniard's skills.
"We played against each other in Spain. … I know his game, I know his vision," Vide said. "Playing with him is easy – 7'3″, looking over everything."
Bona, the veteran of the duo, added another eight points on 4-of-5 shooting, five rebounds and two blocks in the closing period to secure his first double-double of 2023.
Despite the blowout win, Cronin was not satisfied with the team's 14 turnovers and poor facilitating.
With sophomore guard Dylan Andrews absent from the rotation for the game, freshman guard Sebastian Mack scored 11 points but had just one assist versus four turnovers and shot 3-of-9 from the field.
Cronin said the team is still searching for consistency from the point guard position.
"We have too many turnovers, so if point guard play doesn't improve for us, we're going to be in trouble until it does," Cronin said. "When you're turning the ball over at home in buy-games, … we'll be down 10 so fast next Monday, your head will spin. I've got to get somebody out there that can take care of the basketball, or we're in trouble."
Despite the playmaking struggles and Andrews' absence, the Bruins cruised to their third win with a margin of victory of at least 18 points to move to 3-0 in their opening stretch.
Carlson is currently a staff writer on the football, men's basketball and women's basketball beats. He was previously a reporter on the softball and men's golf beats.
Carlson is currently a staff writer on the football, men's basketball and women's basketball beats. He was previously a reporter on the softball and men's golf beats.