LA Metro must implement Alternative 6 for Sepulveda Transit Corridor Project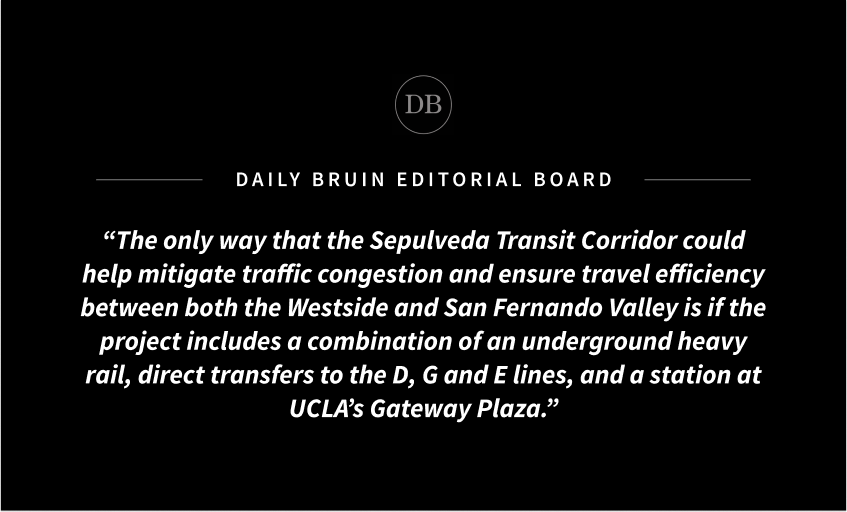 This post was updated Nov. 12 at 8:20p.m.
Los Angeles is a city designed for automobiles.
Today, however, this car-centric city has the opportunity to design a world-class rapid public transit system. To do that, LA Metro needs to adopt Alternative 6 for the Sepulveda Transit Corridor Project.
The Sepulveda Transit Corridor Project is one of LA Metro's standing proposals to extend its rail line service across LA County. If successful, the new line along the Sepulveda Pass, from the San Fernando Valley to the Westside of LA, would connect an expanded D Line with the G line and the E line.
The project's goal is to decrease traffic congestion on America's most notorious freeway, the Interstate 405. Using traffic volume data from 2011, the U.S. Department of Transportation's Federal Highway Administration categorized the I-405 as the "busiest interstate in any American city" with nearly 400,000 vehicles passing through each day. According to the Westside Regional Alliance Council's 2021 fact sheet, over 2,000 students and 7,000 staff members currently live in the San Fernando Valley and commute using the I-405.
As of now, six options are being considered for the project. The two questions are then whether or not the plan will move forward with a heavy rail or monorail – meaning underground or above ground, respectively – and whether or not there will be a direct station on campus.
In late 2021 and early 2022, Metro began holding public meetings for public input on the project's six alternatives. Beginning in late October, Metro hosted additional in-person and virtual meetings, including one at the Westwood United Methodist Church on Oct. 24. The most recent meetings unveiled new details on travel time and boarding logistics for each alternative plan.
Earlier this year, the Editorial Board made it clear that an entirely heavy rail that has a direct stop on campus is the best option to better serve not only Bruins but also the community at large. Now, the recent findings regarding the travel time and boarding logistics for the Sepulveda Transit Corridor reinforce our stance.
The only way the Sepulveda Transit Corridor could help mitigate traffic congestion and ensure travel efficiency between both the Westside and San Fernando Valley is if the project includes a combination of an underground heavy rail, direct transfers to the D, G and E lines, and a station at UCLA's Gateway Plaza.
Out of all the options that Metro has proposed, Alternative 6 is the best bet to fulfill these goals.
One of the biggest incentives regarding ridership on subway lines in dense urban settings is having a competitive alternative to automobiles. Alternative 6 is entirely heavy rail and has all stations underground starting from Van Nuys Metrolink to a direct station on campus at Gateway Plaza, making it the fastest, most viable subway line option to compete against motorists.
The current travel time from the Van Nuys Metrolink to UCLA during morning peak hours ranges from 40 to 90 minutes. Alternative 6 would dramatically reduce that commute to only 12 minutes long.
Across the board, Alternative 6 reduces commute times tremendously for commuters also connecting to other lines such as the D line and E line. During peak hours, the trip from the Van Nuys Metrolink Station to Century City can be a commute of up to 1 hour and 25 minutes. Alternative 6 would cut that to around 22 minutes.
The commute from Van Nuys Metrolink Station to the E Line Downtown Santa Monica Station during peak hours can be 1 hour and 40 minutes. Alternative 6 would reduce that to about 31 minutes.
There is no doubt that there is a pressing need for substantial service improvement that emphasizes building faster and more connected lines for all Angelenos to drastically bolster ridership on Metro.
The Board believes that Alternative 6 is the option that Metro must choose if it wants to continue to increase its ridership and get Angelenos off the I-405.