Freshman duo wins doubles crown for UCLA men's tennis at Dennis Rizza Classic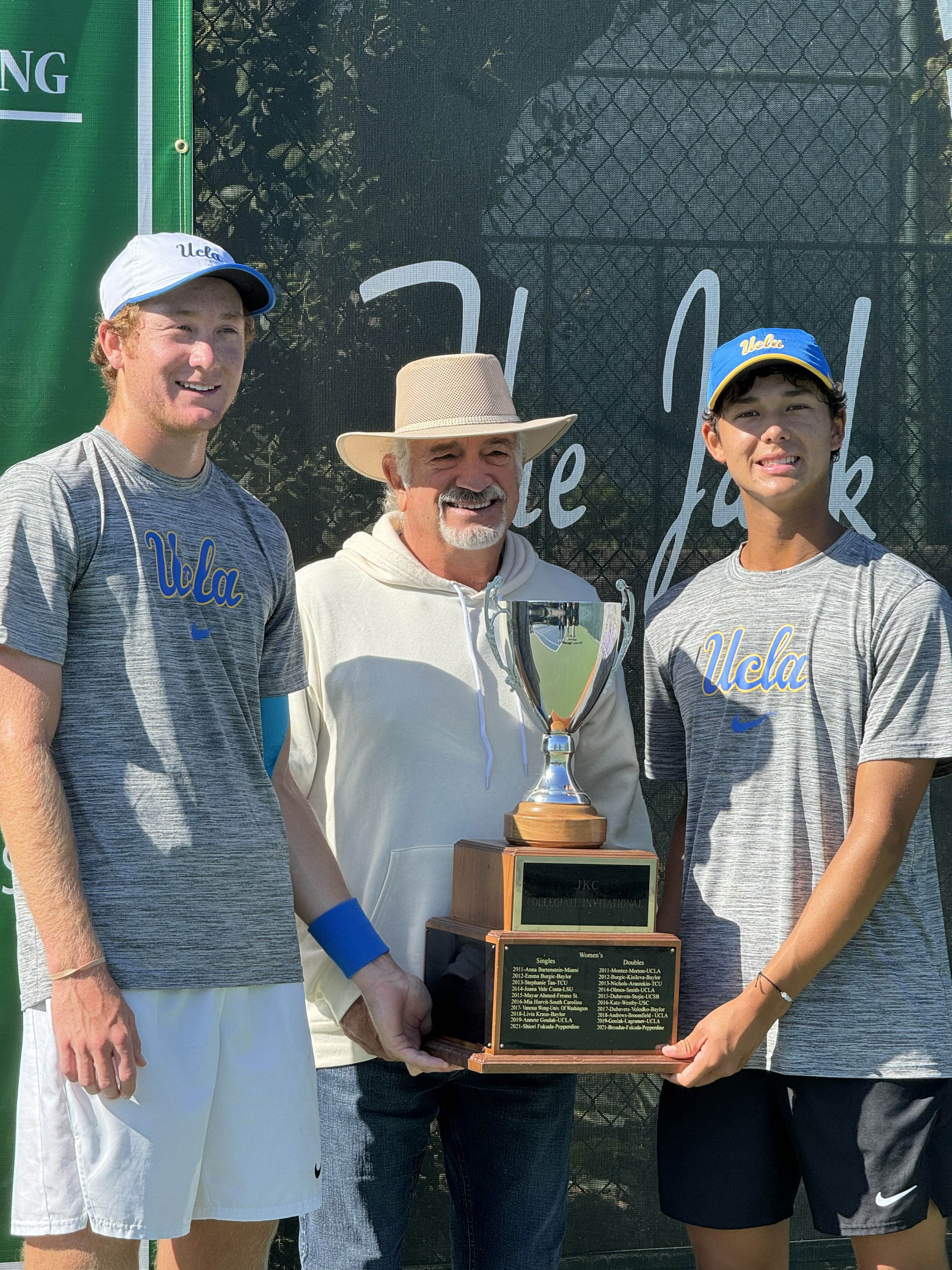 Freshmen Spencer Johnson (left) and Emon van Loben Sels hold the Dennis Rizza Classic doubles trophy at Jack Kramer Club. (Courtesy of UCLA Athletics)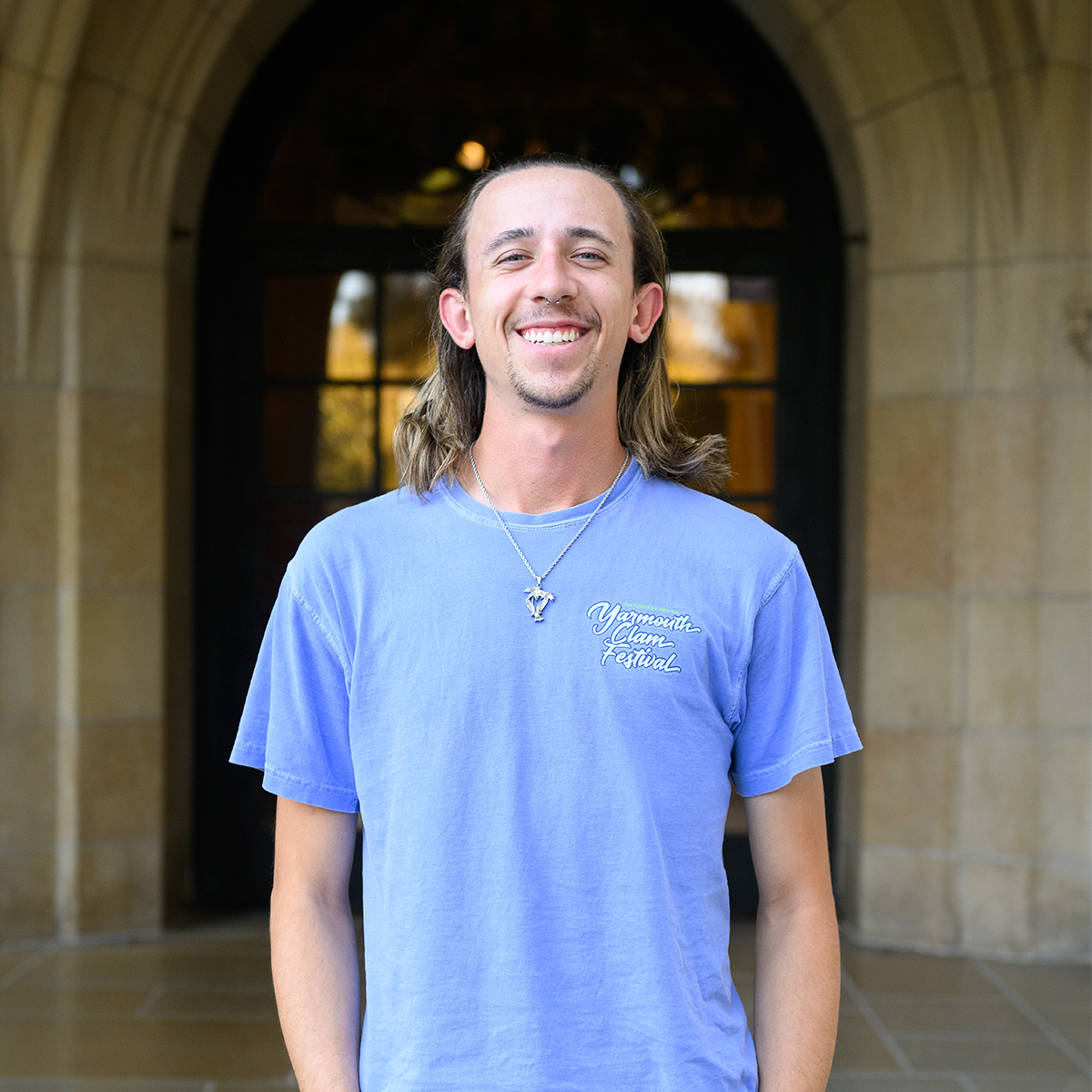 The collegiate courts were the great unknown to Spencer Johnson and Emon van Loben Sels last season.
Neither of the freshmen were active in dual-match play – the latter watched from the sidelines during his redshirt year and the former was yet to begin his Bruin career.
But the first connection between them was triumphant.
Johnson and van Loben Sels of UCLA men's tennis hoisted the doubles trophy at the Dennis Rizza Classic in Rolling Hills Estates, California, last weekend. The duo was joined by sophomore Aadarsh Tripathi in singles play, closing out the Bruins' fall schedule before the arrival of the regular season next year.
"Emon sometimes has a little trouble with his serve and holding. Fortunately, Spencer is so good at net, he's such a big guy and covers a lot of territory," said coach Billy Martin. "They both were returning unbelievably well, and they put a lot of pressure on their opponents."
Coming away with the crown would be a tall order as Spencer and van Loben Sels were tasked with toppling the No. 1, 2 and 3 seeds in three consecutive matches.
With a widening margin of victory, they accomplished precisely that.
The two Bruins opened their run against another freshman pair in California's Alex Aney and Ethan Schiffman – their only Pac-12 adversaries all tournament – and earned an 8-4 win before entering a high-seed gauntlet. No. 1 seed Robin Parts and Alexander Mandma of San Diego State were first up.
As a senior and junior, respectively, the Aztecs held the veteran upper hand, pushing Johnson and van Loben Sels to their tightest match of the weekend. But the Bruins ultimately got the break they needed, claiming an 8-6 decision to knock the top seed out of the running in the quarterfinals.
Johnson had barely touched a racket over the past two years while on a Latter Day Saints mission in Argentina, but his partner said the hiatus hasn't shown in his level of play.
"I wasn't sure what to expect after not playing with him for two years, but I've been very impressed by how he's playing right now," van Loben Sels said. "I feel like he'll be our future No. 1 player on the team."
The Bruin pair enjoyed a more comfortable 8-3 win in the semifinals, defeating No. 3 seed Colter Smith and Noah Berry of Cal Poly to slingshot themselves into the title bout. With an 8-2 result, Johnson and van Loben Sels delivered their most dominant performance against UC Santa Barbara's No. 2-seeded Kai Brady and Lucca Liu to top the podium.
Building an early lead was the key in both affairs. Johnson and van Loben Sels quickly solved their opponents' serve and stormed out to 4-0 leads in both the semifinals and finals – halfway to victory early in the eight-game superset format.
Martin said he discovered serious potential with the outcome.
"We're always trying little different matchups to see what works and what chemistry works," Martin said. "I came away thinking, 'Gosh darn it, this could be a pretty good team.'"
And on the singles front, Johnson and van Loben Sels each came a win short of playing each other for the title.
Both of the Bruins won their first three matches of the draw – and for van Loben Sels, that brought him face to face with someone both he and his coach know very well – USC's Karl Lee. The No. 3-seeded Trojan and former Bruin – who practices with van Loben Sels as a fellow Sacramento native – upended his counterpart 6-4, 6-4.
Johnson, on the other hand, didn't have the luxury of knowing the ins and outs of his opponent's game. He squared off with the No. 1 seed and eventual champion Carl Emil Overbeck of Cal, falling 7-6(4), 6-2.
"He did a good job pinning me back, but I just kind of struggled creating offense," Johnson said. "I needed to do that from the get-go, and I was a little inconsistent with that."
Loss aside, Martin pointed to Johnson as the highlight of the fall season. Despite knowing what he was getting when he recruited the former blue-chip recruit, the coach said he's been surprised by how Johnson has challenged some of the team's top players.
And when Johnson returns from winter break for the regular season, Martin said he expects him to pick up right where he left off.
"Yeah, you were playing great before, but this is now," Martin said. "It's kind of like being a salesperson, you're month-to-month unfortunately, but life is like that. It's a dog-eat-dog world out there."
Nelson is currently a Sports senior staff writer. He was previously an assistant Sports editor on the softball, men's tennis and women's tennis beats and a contributor on the men's tennis and women's tennis beats.
Nelson is currently a Sports senior staff writer. He was previously an assistant Sports editor on the softball, men's tennis and women's tennis beats and a contributor on the men's tennis and women's tennis beats.