Students air frustrations with UCLA Dining's switch to mobile ordering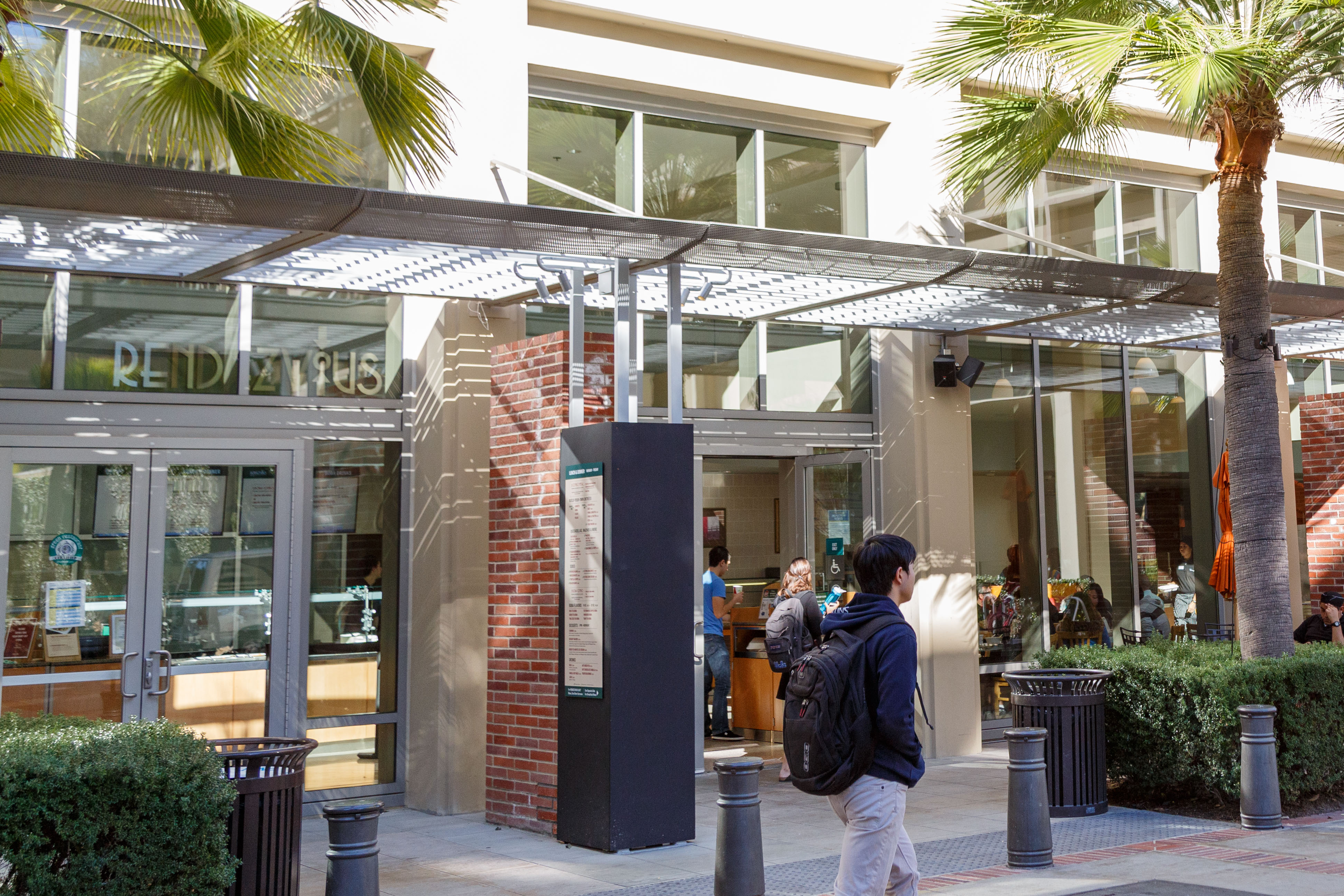 Pictured is Rendezvous, a takeout residential restaurant on the Hill. Rendezvous is one of a number of takeout restaurants that transitioned to mobile ordering ahead of this academic year. (Daily Bruin file photo)
This post was updated Nov. 7 at 11:29 p.m.
Students living on the Hill are complaining of long wait times – sometimes up to 90 minutes – at UCLA's takeout restaurants.
The delays come after UCLA Dining switched food ordering at The Study at Hedrick, Rendezvous, Bruin Café and Epicuria at Ackerman to an online system through the Transact Mobile app last month. This switch to mobile ordering was intended to reduce wait times for students by allowing them to order in advance and avoid lines, UCLA Dining said in an emailed statement. However, the app has faced issues including an inability to process the high volume of orders, which led to a temporary systemwide shutdown in late September.
Kaylyn Albert, a first-year psychobiology student, said she waited almost an hour and a half to get her food at The Study while ill because mobile orders had backed up, and the app failed to notify her when her food was ready.
"(I was) probably the sickest I've ever been," Albert said. "I just really wanted to get my sandwich and go back to bed."
Linus Murphy, a second-year chemistry student, said he understands how mobile ordering could be a convenient option because it allows students to schedule food for pickup between commitments. However, he has been frustrated by its current inefficiency, he said, adding that he has regularly been waiting for more than an hour at Epicuria at Ackerman.
He added that he had been forced to leave or give away his order multiple times this quarter because the estimated time the order would be ready happened during one of his classes.
Colby Ye, a second-year mechanical engineering student, said he was also initially excited about the potential of mobile ordering but has begun skipping meals because of long wait times.
However, Albert said the new mobile ordering system and lengthy wait times have pushed her to plan her meals further in advance, adding that she frequently orders food during her classes so that it will be ready for pickup afterward.
UCLA Dining said in the statement that students experienced long wait times because of algorithmic issues with the Transact Mobile system. It added in the statement that external factors, such as order volume and staffing capacity, may also contribute to the wait times.
Murphy said the wait times, combined with the relatively limited dining hall hours, have made it difficult for him to access healthy and affordable meal options. He added that difficulty getting food on the Hill has led to him spending more money on meals on campus.
"I definitely have been eating foods that I would not want to be eating or would not expect to be eating a lot more, like Subway," he said. "Subway is particularly frustrating because if you spend a meal swipe, … you're still left with another five dollars to pay for a footlong sandwich."
Ye said he thinks implementing an electronic system to help UCLA Dining employees find and distribute mobile orders could help shorten wait times. Currently, food orders correspond to unique identification numbers, which dining staff have to match to prepared food.
Murphy added that he would like to see the option to order food in person restored so that students can avoid mobile ordering. Although he said he understood how the shift to mobile ordering could have been convenient for students, he has been frustrated with the outcome so far.
"Being able to order stuff while you're in class and then just pick it up instantly – it's a cool idea," he said. "But in practice, I feel like it makes a lot of things basically inaccessible."