From financial crises to the World Cup: How cricket has evolved in the US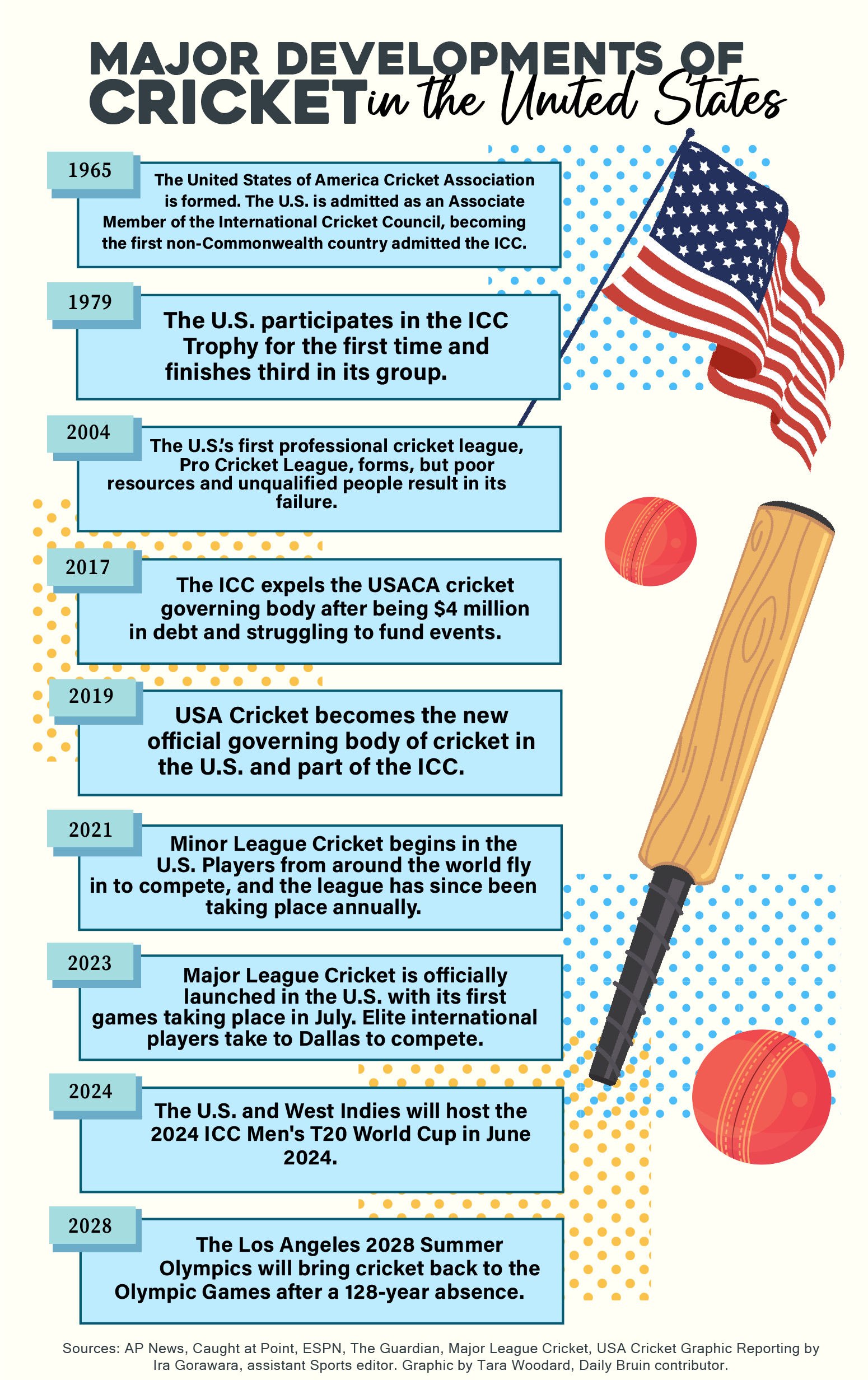 This post was updated Nov. 14 at 10:59 p.m.
When the International Cricket Council visited the United States in 2015, it opened a Pandora's box.
The visit brought forth a hidden abyss of debt and inefficiency, according to ICC CEO David Richardson. As a result, the ICC suspended the United States of America Cricket Association.
After its third suspension since 2005, the USACA was expelled in 2017 for being more than $4 million in debt and facing instability at the helm, according to ESPNcricinfo.
Monetary crises led to the cancellation of numerous national events, signaling the nadir of cricket in the U.S. But the status of cricket stateside has metamorphosed since the expulsion.
In recent years, the sport has found its way into American culture. Around 200,000 Americans will compete competitively in 2023 in over 400 local leagues, according to a projection from USA Cricket, signifying the sport's resurgence after the combined number of viewers and players stood at 30,000 in 2006.
After the cricketing landscape in the U.S. landed at a downfall in 2017, it took two years for a revamped governing body – USA Cricket – to take its shape and reintroduce the country to the ICC.
In 2019, the U.S. competed in the ICC World Cricket League Division Two event, mustering an 84-run victory against Hong Kong on April 24. The team finished the tournament in the top four and clinched its inaugural One Day International status – a stature granting official international recognition.
UCLA club cricket sophomore wicketkeeper-batsman Rahul Jariwala said the country's cricketing momentum took off after it gained ODI status.
"It just set up that vision for U.S. cricket to grow, because the media market in the U.S. is something that's not there anywhere else in the world," Jariwala said.
Jariwala – one of 29 players on UCLA's club cricket team – has been dubbed a child prodigy after being called up to Team USA's U19 squad at around the age of 14 and making his national team debut just a day before turning 18. As the development of U.S. cricket unfolded alongside Jariwala's upbringing, the enhancements of facilities became the launchpad for him to catapult his cricketing journey.
The first significant buildout of USA Cricket came in the form of Minor League Cricket, which serves as the developmental league of Major League Cricket. The latter launched two years after the former, as MiLC hosted its first season in 2021 with 26 teams across four regions.
Vedant Jain, now a right-arm leg spinner for MiLC's San Diego Surf Riders team, departed India seven years ago to begin his undergraduate degree at the University of Southern California. After playing competitive cricket in India – a nation that boasts 90% of the world's one billion cricket fans, according to the ICC – Jain had minimal expectations of advancing his cricket career in a nation that, at the time, was far from boasting any sort of cricket culture.
"I came to the U.S. fully expecting to be playing quite recreationally or quite casually, and then I realized that there's actually a U.S. cricket team. There's Major League starting soon, there's Minor League starting soon," Jain said. "There's potential to play quite seriously, and I actually started playing more seriously here than I actually did over there."
Jain leveraged any and all cricketing opportunities in the Southern California region, quickly assuming the captain role at USC's club cricket team and debuting in the 2021 MiLC tournament's very first season.
Beyond the game itself, Jain said the community in the American cricket scene has been vibrant, so much so that he constructed a cricket net in the back of his house to share with his teammates and employ as a platform for conducting one-on-one training sessions.
Graduate student right-arm fast bowler Shaswata Bisi said the expansion of cricket in the U.S. has helped affix the tesserae of America's diverse cultural mosaic.
"Since they (my batch mates) have heard that I've been part of the cricket team, they're very excited to come and watch me play," Bisi said. "People come and ask you, 'I'm OK with traveling 30 minutes just to see how you play.' You automatically feel that, 'OK, there is some connection that is there.' These are the kinds of things that … bridge those cultural gaps."
Guided by his academic pursuits, Bisi made the cross-continental leap from India to the U.S. on July 12. But the UCLA Anderson School of Management student said he has cricket to thank for the friendships he has forged while over 8,000 miles away from home.
"Talking to people who like cricket has obviously created bonds that I'll always cherish," Bisi said. "Before coming here, I didn't know anybody. But I think of later in the past two, three months – with the help of cricket, of course – I've learned a lot of people that I can rely on or fall back on."
The birth of MLC in 2023 pioneered the first professional Twenty20 league, one that featured world-renowned players such as Faf Du Plessis, Dwayne Bravo and Aaron Finch. Most of the 19 matches produced sold-out crowds as Willow TV and CBS Sports Network dispatched live broadcasts in 87 countries. The league's social channels have generated over 110 million impressions, and tens of millions of dollars are flowing into next year's season two.
The growth of cricket in the U.S. will reach new heights next summer when the U.S. and West Indies host the 2024 ICC Men's T20 World Cup. Texas, Florida and New York have been etched into the map as U.S. venues, and stadiums and facilities are buzzing in preparation.
"I just went to Houston and there are six turf grounds," Jariwala said. "Just a really rapid increase and with everything that's going on in Major League and Minor League and stuff like that, I feel like it's only going to get better."
As the sport begins to carve out its niche in the U.S., it will emerge on a bigger stage in 2028 when it is reintroduced to the Olympic Games. Los Angeles will bring cricket back to the Olympics after more than 120 years, further cementing cricket's place in U.S. sports culture.
Despite relocating from the ICC's No. 1 cricket nation, Bisi said the evolution of cricket in the U.S. has kindled newfound ardor for the sport.
"For a country where cricket was not at all there a few years ago, it has come leaps and bounds from where it was earlier," Bisi said. "That enthusiasm, that attraction is coming in for cricket."
Gorawara is a 2023-2024 assistant Sports editor on the men's volleyball, women's volleyball, men's tennis and rowing beats and is a Copy contributor. She was previously a reporter on the men's volleyball and rowing beats. She is also a second-year communication and economics student.
Gorawara is a 2023-2024 assistant Sports editor on the men's volleyball, women's volleyball, men's tennis and rowing beats and is a Copy contributor. She was previously a reporter on the men's volleyball and rowing beats. She is also a second-year communication and economics student.