UCLA football falls to Arizona as Garbers, Moore exit with injury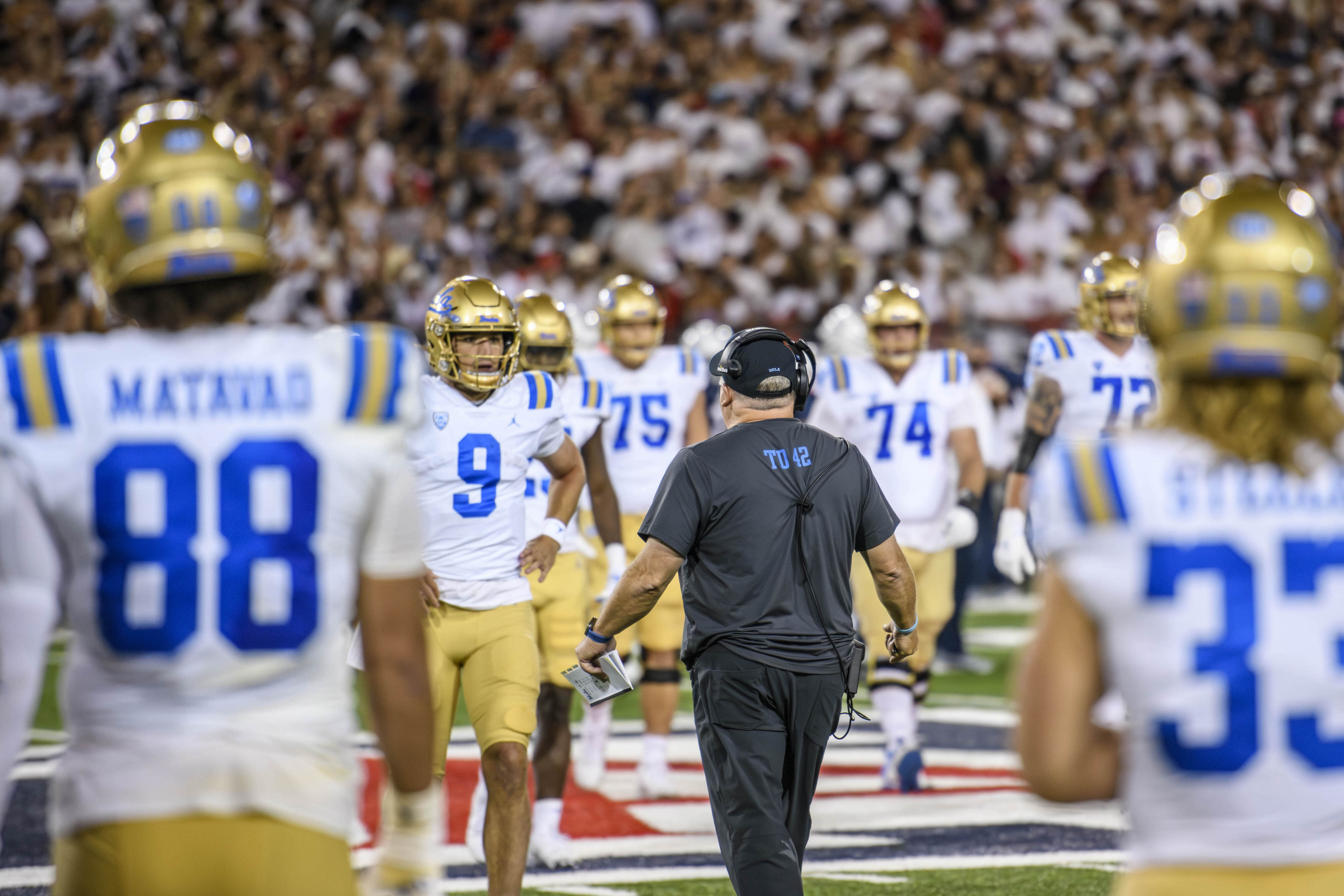 Coach Chip Kelly approaches redshirt junior quarterback Collin Schlee at midfield. Schlee was one of three quarterbacks to see the field, and was the last for No. 19 UCLA football after redshirt junior Ethan Garbers and freshman Dante Moore exited with injuries. (Shane Yu/Daily Bruin staff)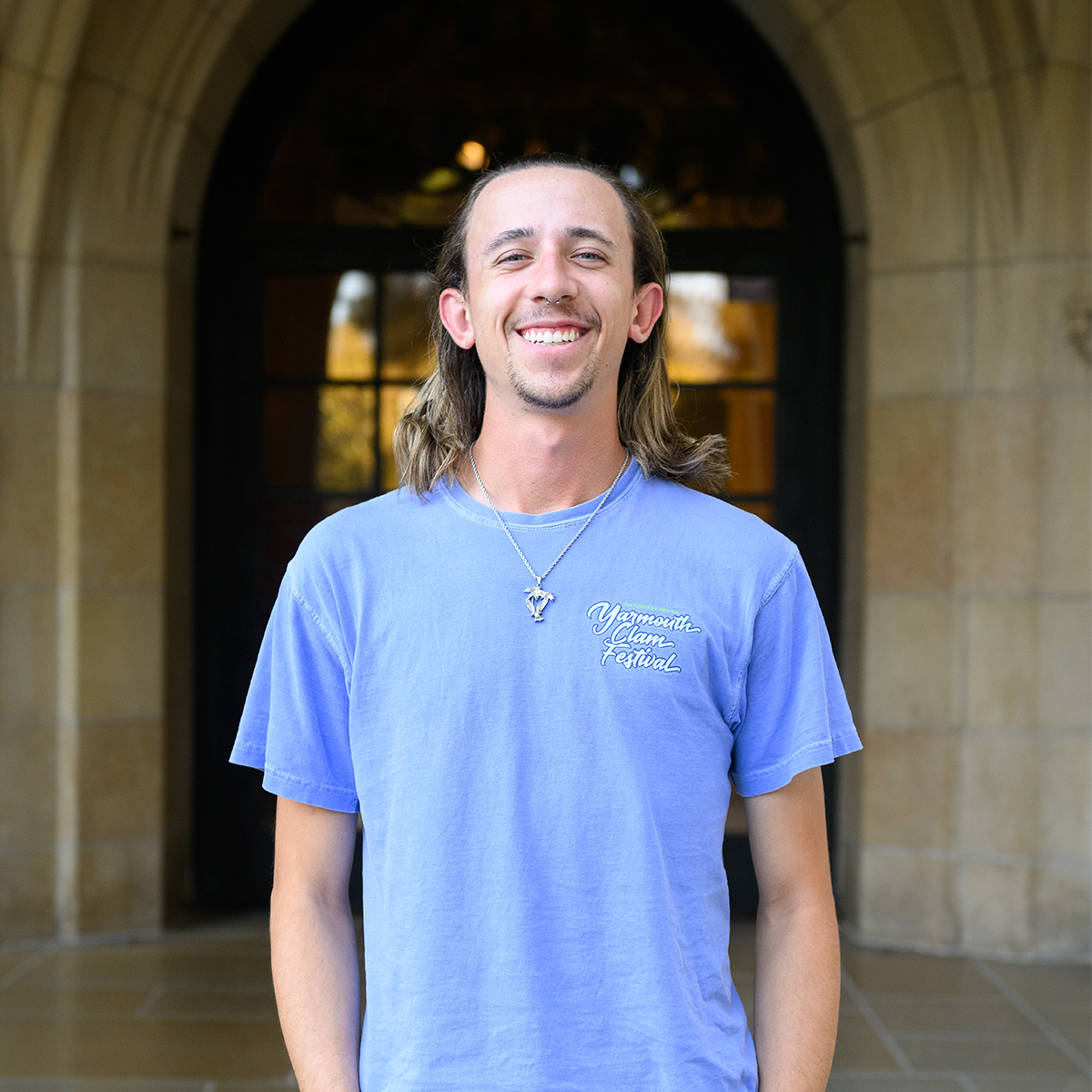 This post was updated Nov, 6 at 12:51 a.m.
TUCSON – Redshirt junior Ethan Garbers hobbled off the field in the arms of his trainers, and Dante Moore found himself back in the driver's seat.
The freshman quarterback's team was down 14 in the late stages of a crucial contest. He held the opportunity to not only pioneer a comeback victory, but prove that his benching in favor of his veteran counterpart three weeks ago was a mistake.
Except there would be no redemption. There was only disaster.
Bringing its brief winning streak to a close, No. 19 UCLA football (6-3, 3-3 Pac-12) fell 27-10 to Arizona (6-3, 4-2) at Arizona Stadium. The Bruins endured injuries to both Garbers and Moore, losing their top two signal callers to punctuate a Saturday night in which they all but fell out of the Pac-12 title race.
"Injury is never a good thing for football or anything, but especially two dudes who've got to lead an offense is really hard," said junior running back Carson Steele. "Hoping for recovery with whatever they had and hopefully nothing too serious."
Garbers – making his third consecutive start under center – struggled to peel his body off the turf after a sack early in the fourth quarter. When he did arise, he couldn't put weight on his right leg, favoring his left on the way to the sideline and never returning to the game.
Moore inherited the 2nd-and-long and mustered a pair of incompletions. Arizona, comfortably up by a pair of touchdowns, followed with a punt – only its second of the game – which was blocked by senior linebacker Kain Medrano.
"Coach Whit (cornerbacks coach Kodi Whitfield) schemed up a great, great block for us this week," said redshirt senior defensive back Alex Johnson. "It was tough, tough sledding for us all night. It was a great team."
With over 10 minutes left on the clock, the Bruins had favorable field position and the chance to deliver some Pac-12 After Dark magic.
Despite the gift from his special teams, Moore couldn't execute. When he did complete passes, he couldn't string them together, and when he didn't, offensive penalties and an inefficient run game sunk the effort. The freshman would finish 4-of-7 through the air for 14 yards, and the Bruins turned the ball over on a fourth-and-19.
Time hadn't run out, but Moore was seen heading back to the locker room for medical attention while redshirt junior quarterback Collin Schlee couldn't buy a completion, going 0-for-4 on the ensuing drive. His 46 yards on the ground weren't enough.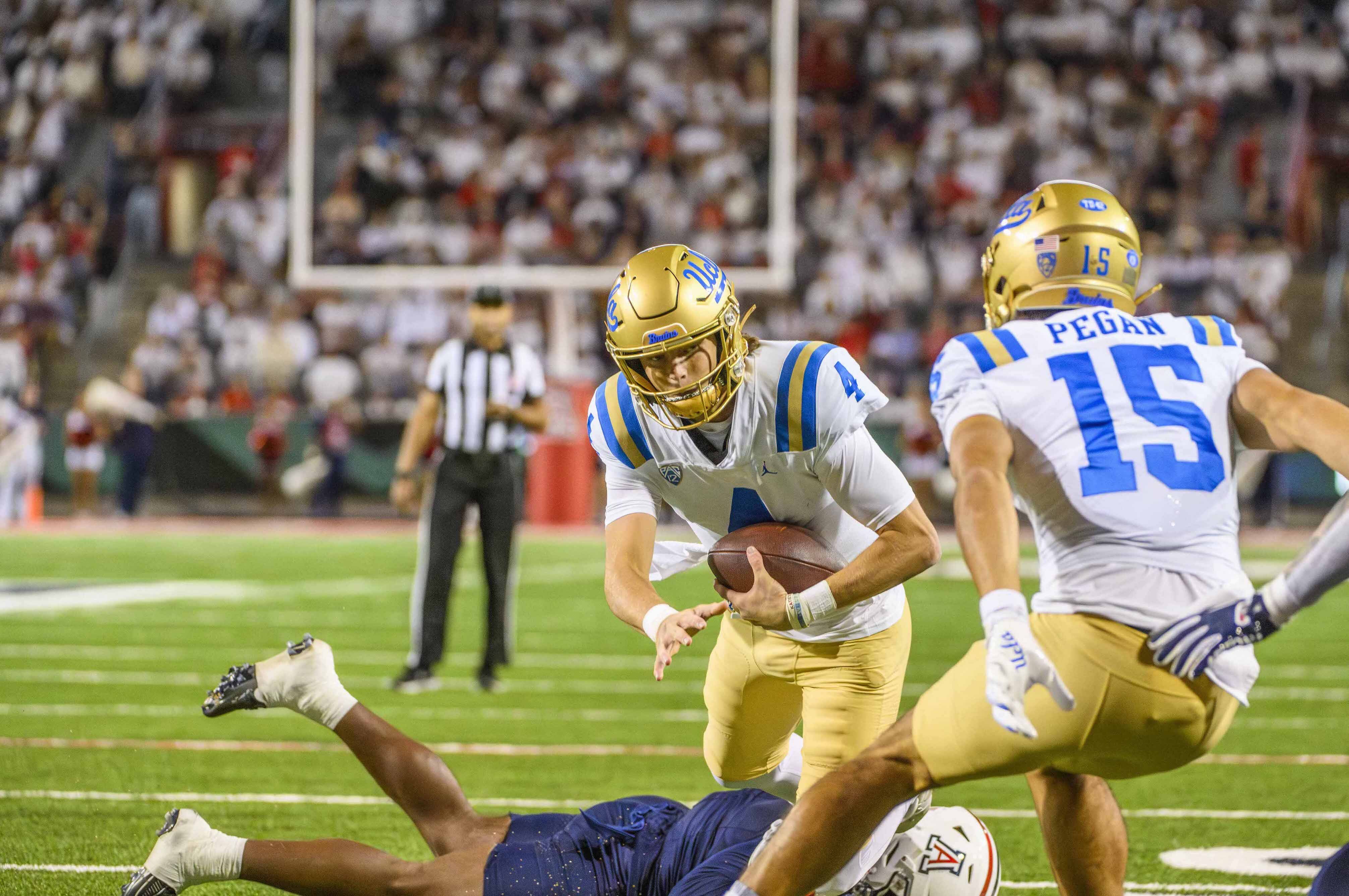 "It was more us, we had the ball in the red zone three or four times. We've got to convert when we have the ball in the red zone," coach Chip Kelly said. "We're trading threes for sevens, and you can't trade threes for sevens against a good offensive team like they have."
The night opened in a similarly underwhelming fashion on offense, with the Bruins taking a three-and-out on their first possession. But the possession arrow would swing right back.
After Johnson's team-leading fourth interception of the season, the Bruins were set up deep in Wildcat territory. But forced to attempt a field goal 42 yards out after failing to convert on third down, UCLA submitted to one of its recurrent struggles.
Kelly went to the leg of someone he never had before this season – redshirt junior Blake Glessner. Senior R.J. Lopez, the usual place kicker, had missed five of his last eight tries, and lost a kicking competition to Glessner in practice earlier in the week.
The curse continued anyway.
Sending the ball wide right, Glessner gave the ball back to Arizona, which wouldn't need to rely on its kicking unit to make a dent in the score.
On Arizona's subsequent march to the end zone, quarterback Noah Fifita connected twice with wide receiver Tetairoa McMillan – both on third-and-long – for a pair of 21- and 15-yard gains.
"Great, great receiver," Johnson said. "He's explosive, he's big, he's got a great catch radius. It was a great test for us. Now, going forward, we're going to be playing big receivers, explosive receivers."
What followed for the Bruins was another laugh in what has become a running joke.
Garbers responded by pioneering an 11-play, 5:52 drive – UCLA's longest of the night – all for it to end scoreless off the foot of Glessner. This time, it was cornerback Ephesians Prysock who tipped the kick and sent it flailing well short of the goalposts.
The UCLA offense would summon some life in the waning moments of the first half, going hurry-up with immediate success in the form of a passing touchdown to sophomore tight end Carsen Ryan. But it was far less animated from then on.
The animation came from the home crowd at the close, storming the field to crown a victorious underdog.
Nelson is currently a Sports senior staff writer. He was previously an assistant Sports editor on the softball, men's tennis and women's tennis beats and a contributor on the men's tennis and women's tennis beats.
Nelson is currently a Sports senior staff writer. He was previously an assistant Sports editor on the softball, men's tennis and women's tennis beats and a contributor on the men's tennis and women's tennis beats.