Gameday predictions: UCLA vs. Arizona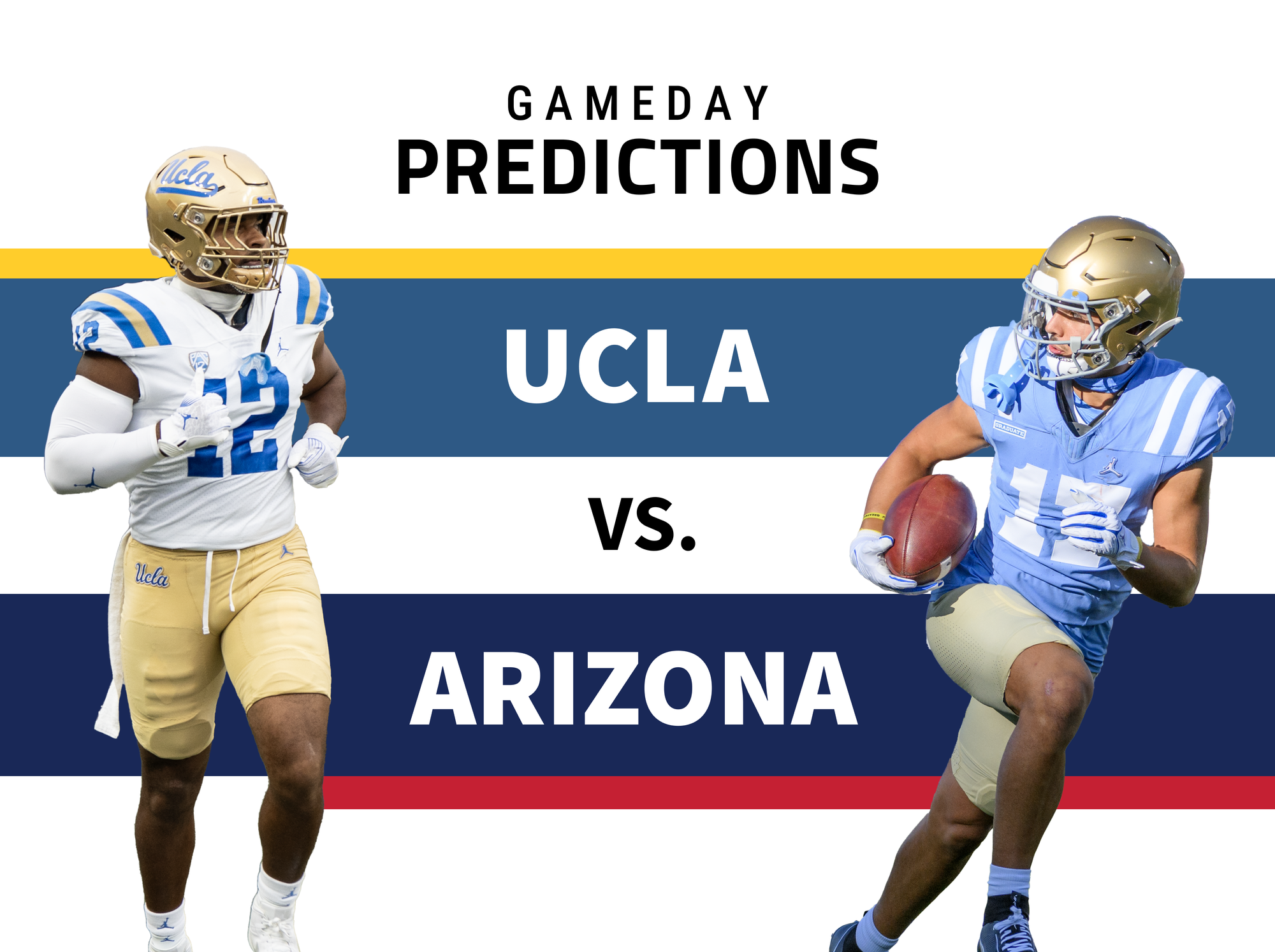 Pictured are redshirt junior defensive lineman Grayson Murphy (left) and senior wide receiver Logan Loya (right). (Photos by (left to right): Brandon Morquecho/Assistant Photo editor, Myka Fromm/Assistant Photo editor. Photo illustration by Helen Quach/Design director)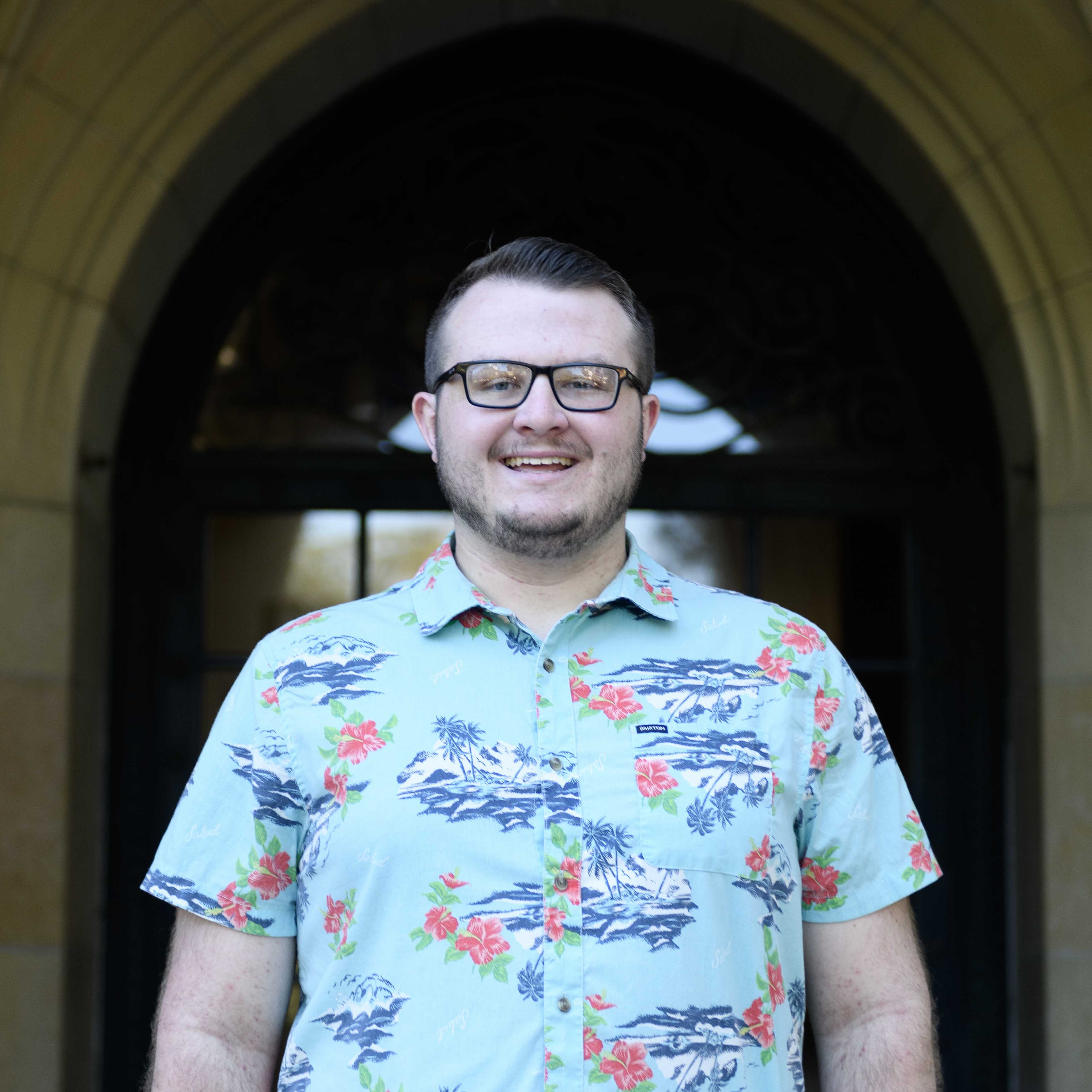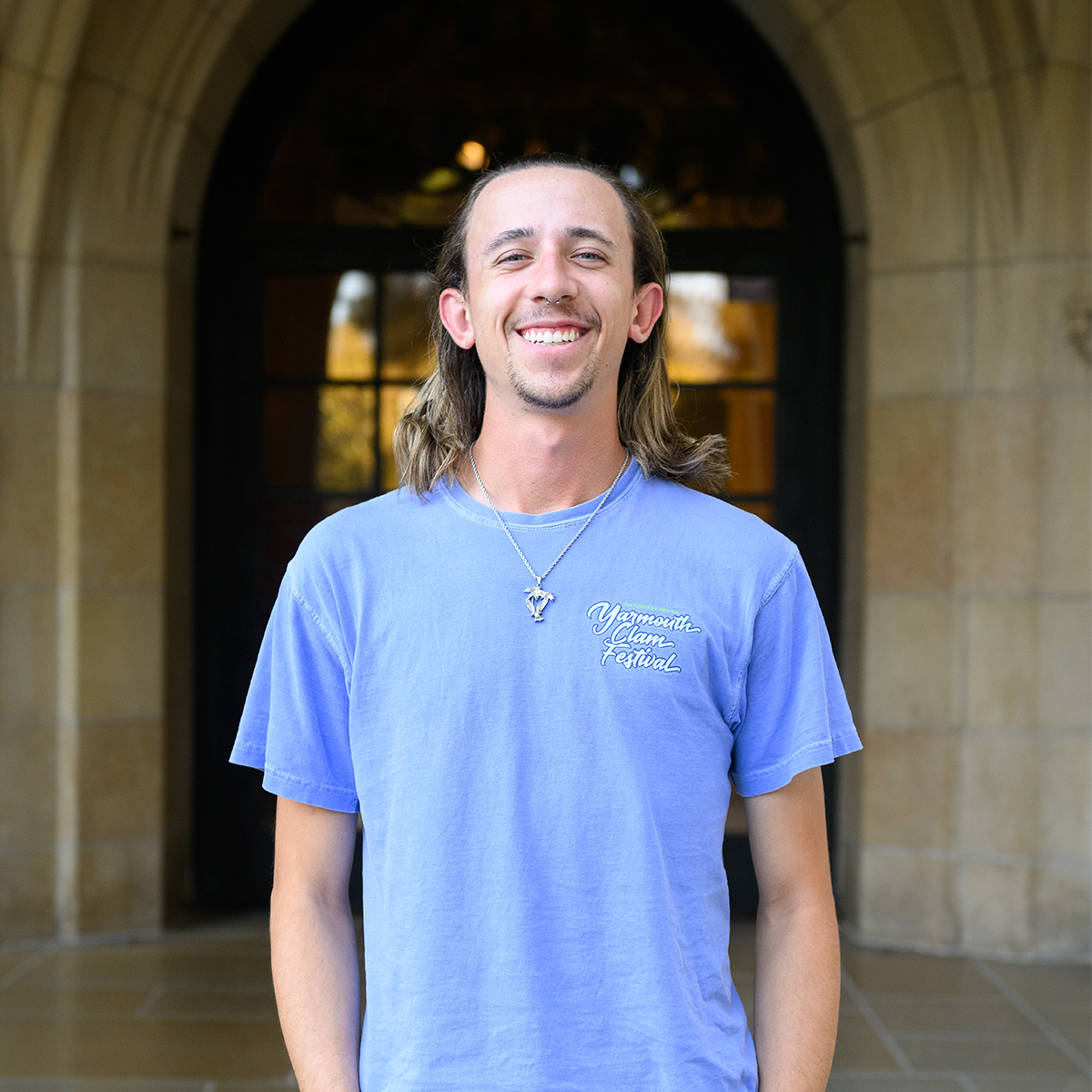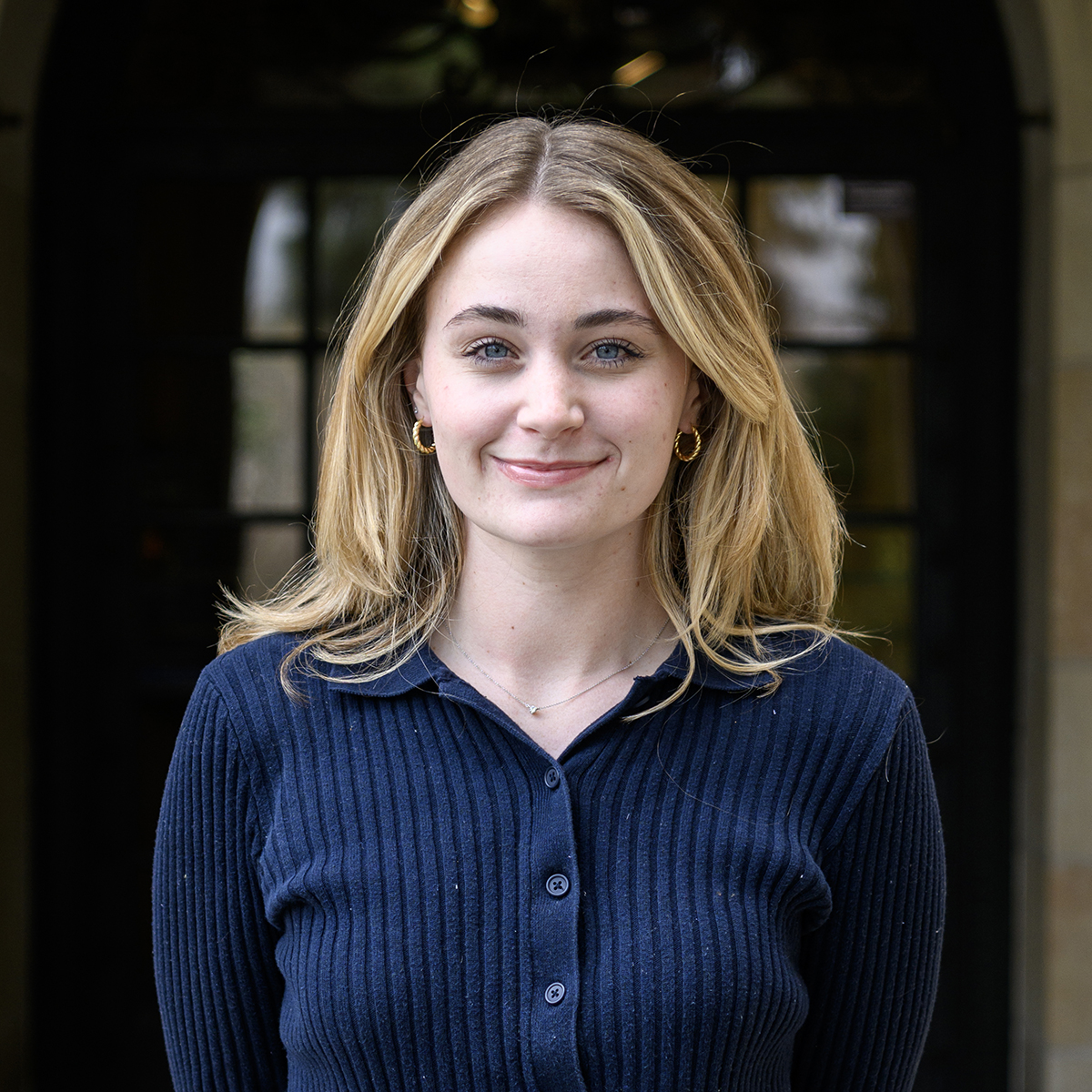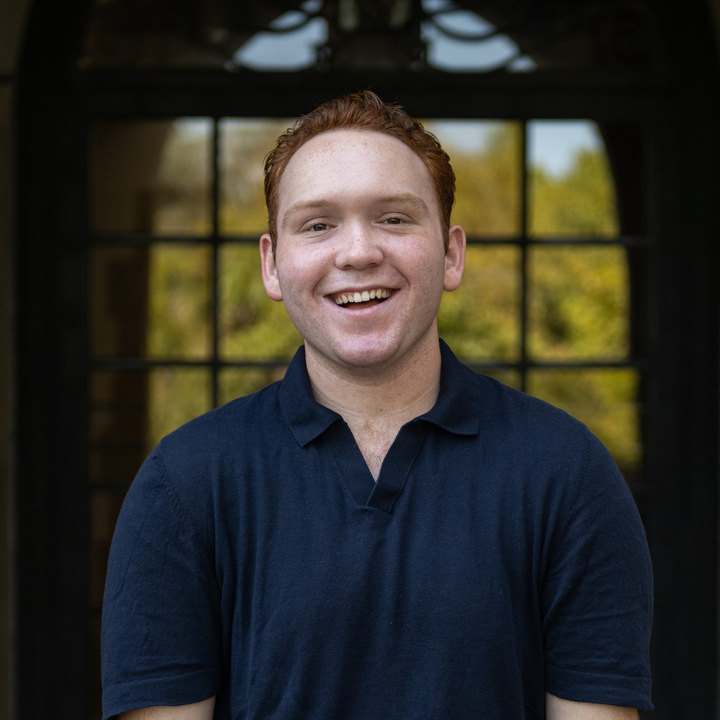 Pac-12 After Dark is back on the menu when No. 19 UCLA football (6-2, 3-2 Pac-12) travels to Tucson for a 7:30 p.m. kickoff against Arizona (5-3, 3-2). Here are this week's predictions from Sports editor Joseph Crosby, senior staff writers Jack Nelson and Grace Whitaker and assistant Sports editor Benjamin Royer.
Joseph Crosby
Sports editor
Prediction: UCLA 21, Arizona 27
Batman typically patrols the streets of Gotham City.
But for the past five weeks, billionaire Bruce Wayne has given way to the newest Dark Knight.
This time he resides in Tucson.
Redshirt freshman quarterback Noah Fifita has donned the cowl and utility belt of the Caped Crusader, becoming the football hero Arizona and head coach Jedd Fisch needed.
Despite the Wildcats splitting Fifita's four starts, the team has posted a +32 point differential, largely thanks to a 44-6 slaughter of then-No. 19 Washington State in Pullman.
The first two losses were accomplishments of their own. Arizona narrowly fell by seven points at home to then-No. 7 Washington and forced then-No. 9 USC to triple overtime before losing 43-41 at the Coliseum.
In the four-game span, Fifita has put up 1,152 yards and 11 touchdowns.
He's kept the Wildcats in those games and is primed to do the same against the Bruins come Saturday.
With a Nightwing and Red Robin-esque duo of Tetairoa McMillan and Jacob Cowing catching passes, UCLA's defensive backs will be sure to have their hands full.
But when push comes to shove, the Bat-Signal of Pac-12 After Dark has been lit.
And UCLA won't be able to stop the man that answers its call.
Jack Nelson
Daily Bruin senior staff
Prediction: UCLA 14, Arizona 24
Something is up with the weather in Westwood.
The Santa Ana winds have brought hot, dry air from the desert, giving a much different feel than the usually cooler, moist air from the Pacific Ocean.
It reminds me of the New England fall – which I so dearly miss – but the feelings shouldn't be sentimental for UCLA football. The winds merely foreshadow the storm awaiting it.
Since an injured Jayden de Laura spurred the emergence of Fifita at quarterback six weeks ago, the Wildcat offense has been an entirely different animal.
Not only is Arizona fresh off back-to-back upsets of then-No. 11 Oregon State and then-No. 19 Washington State, but it also came within a score of toppling then-No. 9 USC and then-No. 7 Washington. And with a 5-3 record thus far, the Wildcats are more than just the most underrated team in the Pac-12.
They're one of the most underestimated squads in the country.
Accuracy and efficiency have been the name of the game, and it's all attributable to Fifita. He stands No. 4 nationally with a 75.8% completion percentage and ranks as the country's 18th-most-efficient passer. With 11 touchdowns against three interceptions, he thrives on a mistake-free brand of football.
UCLA, on the other hand, has a knack for offensive turnovers regardless of who's under center. Though the offense has been clicking as of late thanks to redshirt junior quarterback Ethan Garbers and junior running back Carson Steele, there's cause for concern with the Wildcats' No. 17-ranked run defense next up.
The Bruins can handle the winds, but they'll need to batten down the hatches – this will be one serious storm.
Grace Whitaker
Daily Bruin senior staff
Prediction: UCLA 14, Arizona 28
Between this season and last, UCLA has won nearly 80% of the games that I've attended.
I'm not insinuating I'm the Bruins' good luck charm, but after an unfortunate correlation between my midterms and the football schedule, I was not at the UCLA-Arizona game last season.
The Bruins ended up losing that game, 34-28. In a similar manner this season, I did not travel to Corvallis or Salt Lake City to see UCLA fall to both Oregon State and Utah.
But as my psychology professors have taught me, correlation does not infer causation. So the more likely cause of UCLA's defeats has something to do with their quarterback uncertainty in pressured environments.
Due to the combination of my inability to travel to Tucson this weekend and the brutal environment of a Pac-12 After Dark game where pressure will inevitably be forced upon Garbers – both from the crowd and the Arizona defense – UCLA is bound to lose.
Yes, Garbers has shown growth in his last two contests, carrying the Bruins to back-to-back victories. But Colorado's No. 129-ranked passing defense in the sold-out Rose Bowl is not the same as Arizona's No. 17-ranked rushing defense.
The game will likely remain low-scoring, as UCLA's defense has consistently shown promise in any environment, but the inability to find the end zone will plague the inconsistent offense that the Bruins have struggled with all season.
And, as I watch from home like last year, I'll further ponder if maybe I truly am UCLA's good luck charm.
Benjamin Royer
Assistant Sports editor
Prediction: UCLA 21, Arizona 35
No one wants to go to Tucson.
Well, maybe Joseph Crosby and Jack Nelson want to. They'll be in the "Dirty-T" on Saturday.
But for real – no one wants to go. At least, I feel that way.
When it comes to very bad, no good, football games for one team involved, UCLA against Arizona is the cream of the crop. Disaster strikes every time. It's a guarantee for at least one of the programs.
Last year, it was the Bruins who fell victim at the Rose Bowl, missing out on a potential New Year's Six bowl game because of their loss to the Wildcats.
And in 2016, Arizona relinquished an early seven-point lead and its Pac-12 title hopes in one fell swoop. The Wildcats were dismantled by Fisch, the Bruins' then-offensive coordinator, and UCLA quarterback Josh Rosen en route to a 21-point loss.
Saturday will be no different. Who will cause havoc on the football field in a game that'll likely start closer to a spooky 8 p.m. rather than its listed 7:30 p.m. kickoff?
Fisch will. I have no doubt.
The Wildcats are on the rise, and it sure doesn't help that the former Bruin interim head coach has yet to defeat his past team at Arizona Stadium. He's placed his trust in Fifita, a young and budding star in the making, who's only improving week by week.
When the dust settles, only one of these teams will appear in the Top 25. And it'll be Wilbur the Wildcat rising from the shadows of the Pac-12 to stake a claim in the CFP poll.