Opinion: Despite fluctuations in public interest, science will always evoke enthusiasm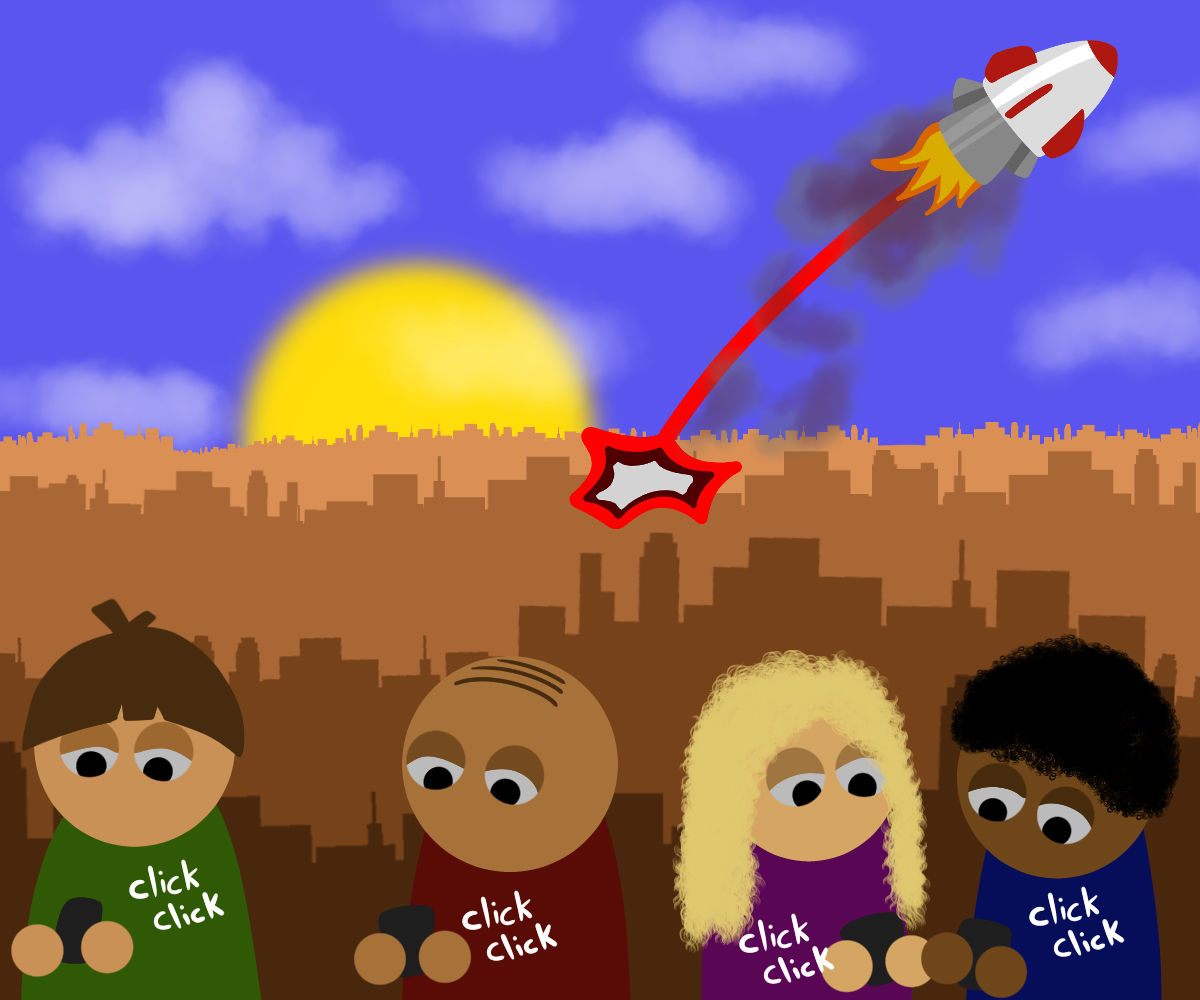 (Alicia Melanie Caldera/ Daily Bruin)
"That's one small step for man, one giant leap for mankind." Masses huddling around TV screens, cheers filling the air and drinks clinking together. Some may say it was the most remarkable day ever: the first moon landing.
Fast forward to today's world – while flying cars and robot takeovers may not be in our day-to-day lives as those of the past may have predicted, science has not slowed down. Yet, it seems people's reactions to remarkable discoveries have changed. If we were to land on a new planet today, it seems the same enthusiasm from the first moon landing could never be recaptured.
Just two months ago, after a failed mission by Russia, India launched a mission to land on the south pole region of the moon for the first time. However, in comparison to past discoveries and missions, it seems these travels to space are not as highly regarded by the general public. The decrease in interest, care and enthusiasm is palpable.
What has caused such a dramatic shift in reaction to scientific discovery? Surely, in a more modern world, one would expect increased enthusiasm as opposed to lessened interest.
To understand this shift, the history of the moon landing must be contextualized. The historic mission occurred a little more than 20 years after the end of World War II, just as the Cold War began. During this time, there was a huge push for scientific discoveries to prove national strength and superiority, not purely for the purpose of scientific advancement.
"Going to the moon, for example, wasn't just going to the moon. It was showing that we have better science than you do – we have better technological capabilities than you do," said Sherrilyn Roush, professor and chair of the UCLA philosophy department.
This goal of proving superiority through scientific development increased public enthusiasm.
Without war or a weapons race in the present day, there is less public excitement and, as a result, less funding for science. The particle supercollider in Texas exemplifies this situation, Roush explained. Initially backed by $2 billion in government funding, the collider was suddenly cut off by Congress when a clear relationship between its use and national security couldn't be justified.
The relationship between the government's and the public's perceptions of science is very closely related.
Roush further stated that growing feelings of anti-intellectualism and anti-elitism in Americans have bred distrust toward scientists and fostered misunderstandings about what they do and the importance of their work.
This decrease in the public's support also lends itself to decreased funding, decreased discovery and decreased enthusiasm when the discoveries are made.
While resources are still devoted toward advancing science, it is not in the same way the Apollo mission devoted all resources to one common goal, said Amir Alexander, an adjunct professor of history at UCLA.
This lack of government support and funding then directly influences the public's opinion over the various scientific projects in motion. In fact, over time, there have been many trends over the relationship between the public and the government, which is especially important to note in the context of "new science."
"I think through much of the past century and a half, there has been an ambivalence among Americans – not so much about science, per se, but about big science, about big government projects and authority in conflict with this American ideal of free enterprise and individualism," Alexander said.
Thinking about more recent developments such as COVID-19 vaccines or climate change research, wavering public confidence in what those in power tell Americans to do is a common pattern. And, with the increasing prevalence of artificial intelligence, there is also growing fear among citizens about the future of science and technology.
In today's world, though, developments seem less rapid and less shocking than they once were. This could be a potential reason why science just doesn't invoke the same vigor as it did in the past.
With so many outlets for news, discoveries often include gradual progress shared incrementally with the public. Additionally, there are quick segments among a continuous stream of "breaking news," the club World of Ethics at UCLA noted when discussing the role of science today.
"In 1,500 years, we went from a horse-drawn carriage to a horse-drawn carriage. And then in 20 years, we went from a horse-drawn carriage to going into outer space, so that was a huge, massive leap in a short amount of time," said Edgar Sahakian, a fourth-year psychobiology student and co-president of World of Ethics at UCLA.
It must also be remembered that the barrier between humankind and space has already been broken. Therefore, future missions, although exciting and novel, may never cause that same initial excitement.
Sahakian said most Americans have become so habituated to the news that it doesn't invoke such feelings of excitement anymore.
As a part of this generation, it takes a conscious effort to pursue information about the world and to educate oneself.
Such education may not always be a readily available resource. In fact, differences in interest could also be accredited to gaps in understanding, not necessarily differences in enthusiasm. Interest is often diminished because of lack of understanding, and differences in education levels, age and willingness to learn can inevitably push many people out of the realm of scientific and technological discovery.
"I think they're (older people are) very interested, just it's not as accessible or there isn't the proper way to educate themselves on … how to implement in their lives, but I would argue there is still interest in new technology," said Monica Nazarian, a fourth-year political science student and secretary of World of Ethics.
Especially among the social and political climate that dominates most news forums, the importance in educating oneself is commonly emphasized. However, this is also an argument against high interest levels in new scientific discoveries, as many assert that finding solutions to pre-existing problems should take precedence over creating new scientific hypotheses. In fact, this is not a new counter perspective either.
"In the 1960s, the counterculture movement (and) the civil rights movement emphasized that our problems are here on Earth – not in the heavens," Alexander said. "Even as Neil Armstrong and Buzz Aldrin were landing on the moon, there was a popular song, 'Whities on the Moon' ('Whitey on the Moon' by Gil Scott-Heron). It was a parody about life in Black America in the inner city and the brutality, the death, the suffering, poverty. … 'Oh, this is going on, but Whitey's on the moon.' There was already this criticism that is reasserting itself."
From such criticism, the belief was shared that our priorities should not be scientific discovery but instead the issues at home, and it was suggested these issues should be addressed more immediately.
Yet, the importance of science should not be diminished. In fact, studies prove there is still large support for the scientific field. A PEW Research survey found that 73% of Americans said science has a positive effect on society, and 82% said they expect future developments to benefit society into the future.
It also should be understood that perhaps science does not need to unite people in the exact same way it once did. There is still a huge community of scientists at the forefront pushing science forward with genuine intrigue, curiosity and excitement about what they do.
While the incredible feat of the first moon landing captivated the world in the way it did, it is still likely that future "firsts" could create the same reaction.
Understandably, though, the lead-up to these firsts may not generate that same level of communal excitement, said planetary astronomer and professor Jean-Luc Margot.
"Different people have different interests. Some will be the ones climbing the mountain the first time, and others will be watching and happy about the report that somebody has climbed a mountain," Margot said.
As long as people stay curious about the world, science will always have a place here. Whether it is understanding phenomena around us or about us, there is always much to learn. Science should never be pushed to the back corner.
However, we cannot dictate what people are interested in, and there is no need to. As time goes on, there is no doubt science will continue to expand and grow as a field drawing in people from all different fields and backgrounds. While there may not be the same evocative moment as the first moon landing, science will always cause excitement and interest.
"It's an amazing accomplishment that humans – a little species descended from apes on this tiny little planet – can emerge out of it and explore the heavens," Alexander said.
And it leaves us to think – what's next for humans, where else will we explore, what else can we learn, and where will science lead us next?