Sebastian Mack powers UCLA men's basketball to exhibition win in unofficial debut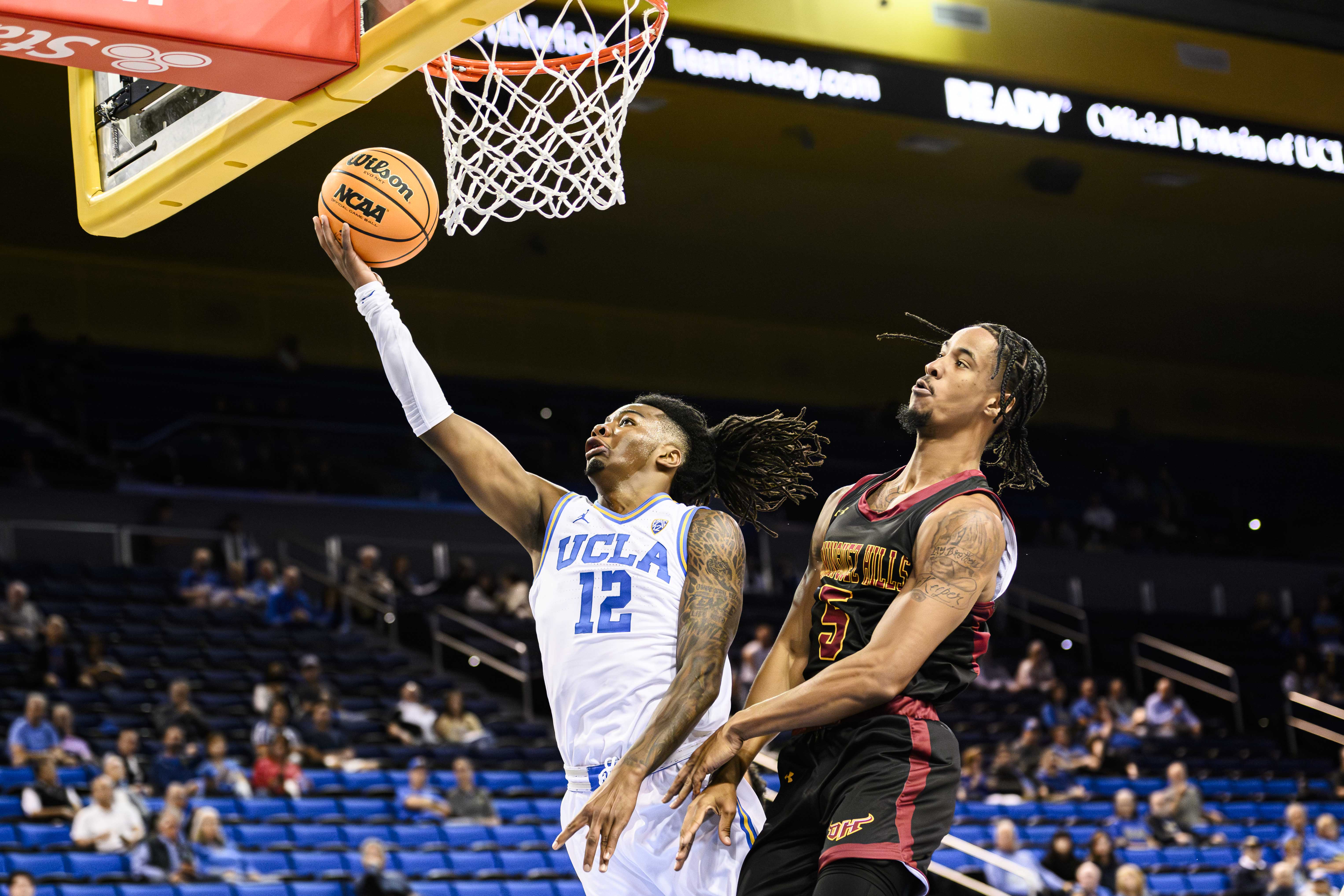 Freshman guard Sebastian Mack reaches for a layup against guard/forward Andre Ball. (Joseph Jimenez/Photo editor)
Men's basketball
---
| | |
| --- | --- |
| Cal State Dominguez Hills | 56 |
| UCLA | 97 |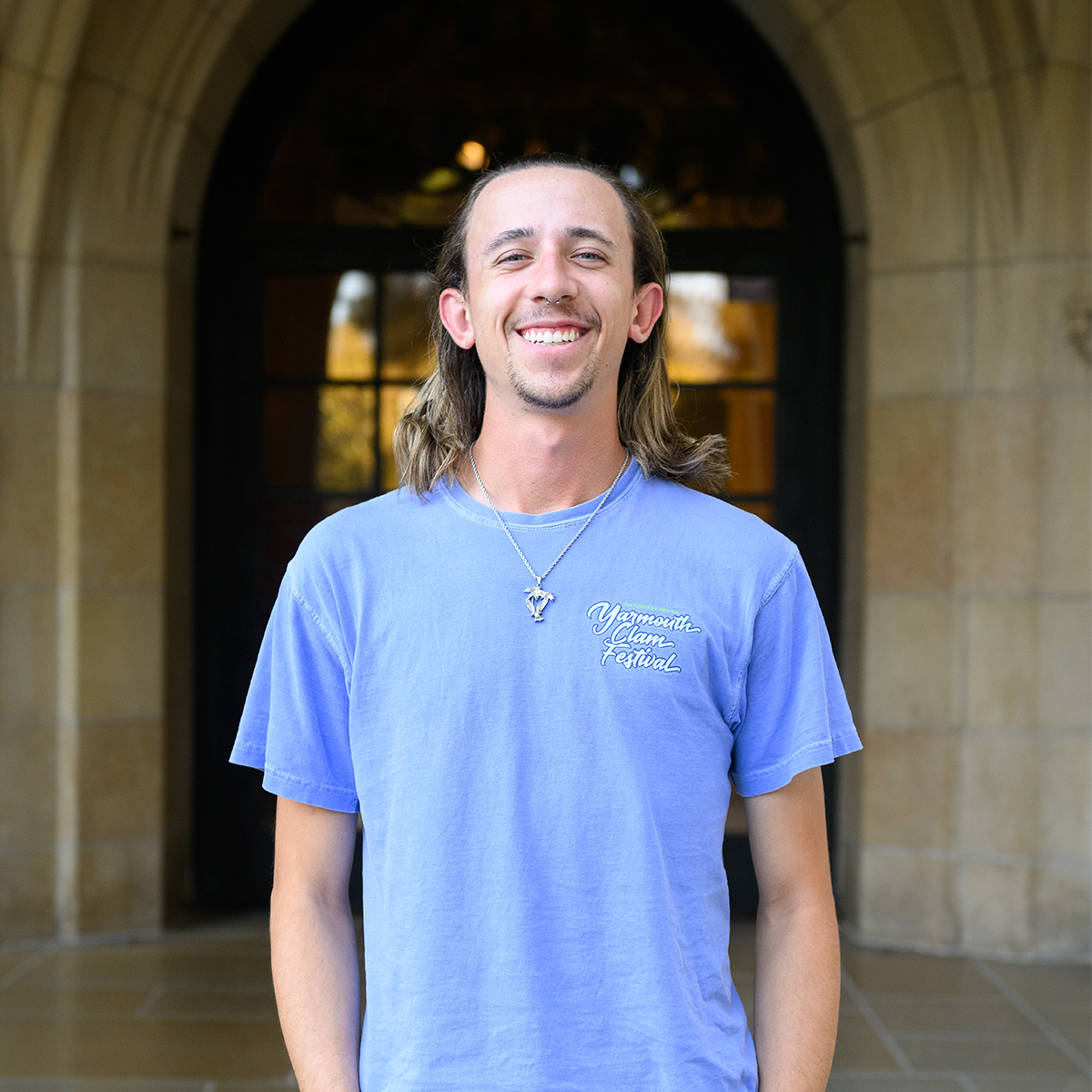 This post was updated Nov. 2 at 9:46 p.m.
It was only fitting that on the spookiest night of the year, the Bruins gave their fans a scare – moments before the opening tip, no less.
Four of UCLA's top options were ruled unavailable – including key returning sophomores forward/center Adem Bona and guard Dylan Andrews. And with seven freshmen and a transfer coming into the program, the question of who would steal the night remained.
The answer was freshman guard Sebastian Mack, who ensured the Bruins wouldn't be haunted by what could've been.
"He's got great quickness. Man, when he does make the 3, he's a problem," said coach Mick Cronin.
In its first and only public dress rehearsal before the start of the regular season, UCLA men's basketball cruised past Cal State Dominguez Hills 97-56 at Pauley Pavilion on Tuesday night. The Bruins rode six double-digit scoring performances to the 41-point victory – a larger margin than last season's exhibition.
Freshmen center Aday Mara and forward Berke Buyuktuncel, who are yet to be cleared for play by the NCAA, compounded the absences of Bona and Andrews, spurring a rotating door of opportunity for the rest of the team.
Opportunity was all Mack needed.
"Since Dylan went down, he (Mack) slid back over to the point, him sharing it with (freshman guard) Jan Vide, and he struggled with it early because he was just 100 miles an hour on the gas," Cronin said. "He's got real basketball aptitude and intelligence."
Mack operated as the fill-in point guard with Andrews held out as a precaution after getting banged up in practice and quickly made his presence known. The former four-star recruit flexed his range, draining a pair of 3-pointers in the first five minutes while connecting on his first four shot attempts.
When Mack wasn't darting around in pursuit of an open shot, he was facilitating plays elsewhere, leading all Bruins with seven assists. His dish to redshirt fifth-year forward/center Kenneth Nwuba for an emphatic alley-oop with under three minutes to go in the first half earned the loudest response all night from a sparse crowd.
Acknowledging the unique situation of missing four key players on the court, Mack said his performance could be attributed to the teammates who made it possible.
"We compete so much in practice. They know that we are always going to have their back, with or without them," Mack said. "We've got to be like Navy SEALs, so we all have to be patched in and locked in with each other."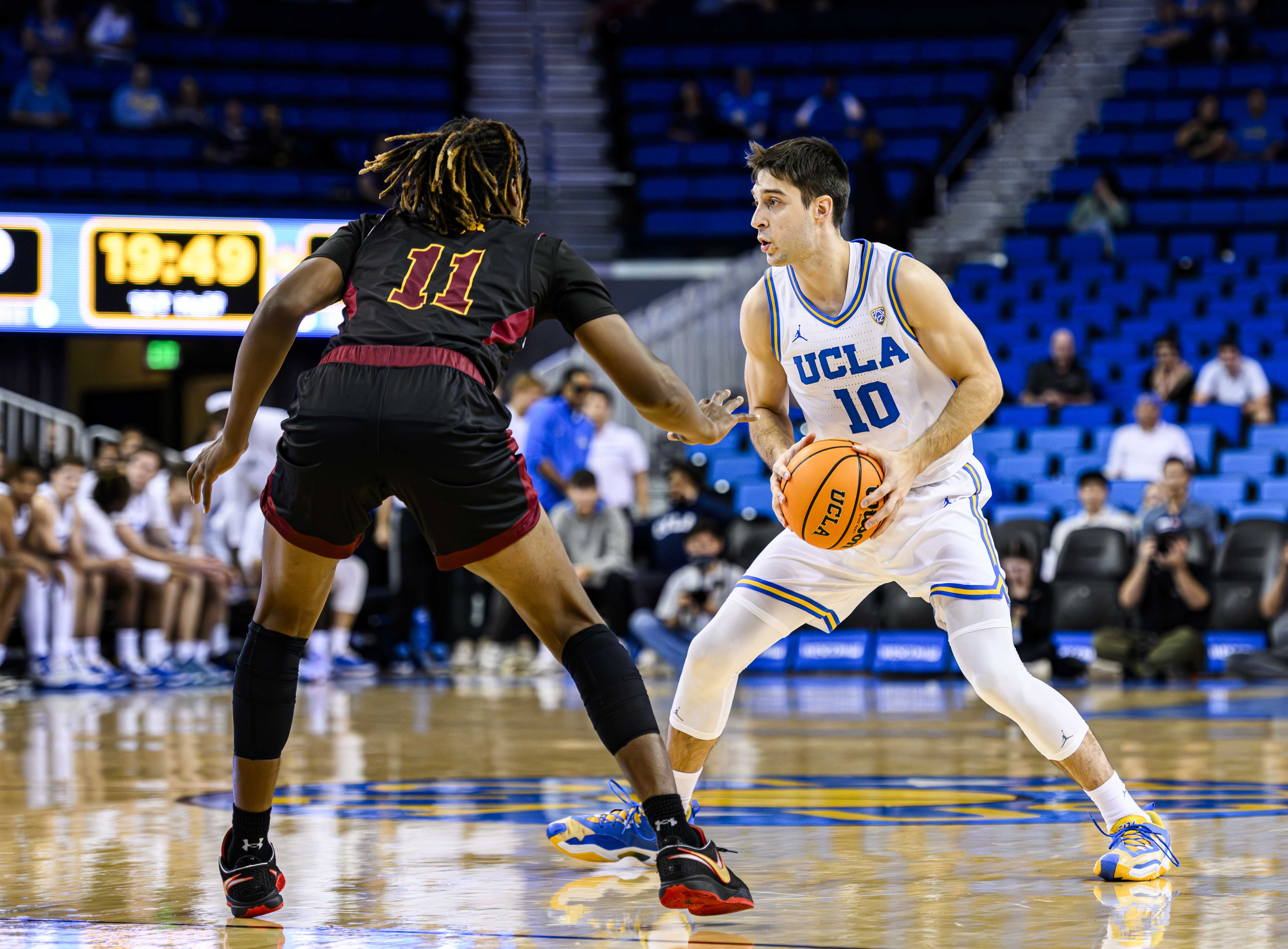 Whether it was veterans shaking off rust or newcomers learning the ropes, both teams had their respective struggles before the break. The scoring first ran dry for UCLA, with the Bruins failing to sink a shot for 3 minutes and 40 seconds, allowing the Toros to assemble an 8-0 run before responding with 12 consecutive points.
But when it came to the final frame, struggles persisted only for the visitors.
The Toros finished 28.1% from the field and an even worse 5-of-26 from 3-point range. Only two – guard/forward DJ Guest and guard Jeremy Dent-Smith – narrowly cracked double digits with 10 apiece, each on less than 50% shooting.
Despite playing as an unusually small team lacking some of its tallest players, the limits on Cal State Dominguez Hills' shooting were a product of UCLA's disruptive defense. The Bruins tallied 41 deflections – according to Cronin – and outdid the Toros in defensive rebounds 30 to 14.
"There's some mistakes, but I think our effort was good. And I think that can make Coach happy because that was the number one factor that he was looking for," said junior guard Lazar Stefanovic.
Mack would end the evening with 23 points on 9-for-14 from the field, while Stefanovic finished only four behind him on the scoreboards – adding 19 of his own on an efficient 6-of-7 shooting. But it wasn't the Utah transfer who received "MVP" chants before the final buzzer sounded.
That would be Mack.
Nelson is currently a Sports senior staff writer. He was previously an assistant Sports editor on the softball, men's tennis and women's tennis beats and a contributor on the men's tennis and women's tennis beats.
Nelson is currently a Sports senior staff writer. He was previously an assistant Sports editor on the softball, men's tennis and women's tennis beats and a contributor on the men's tennis and women's tennis beats.