Quarterback questions resurface ahead of UCLA football's matchup with Colorado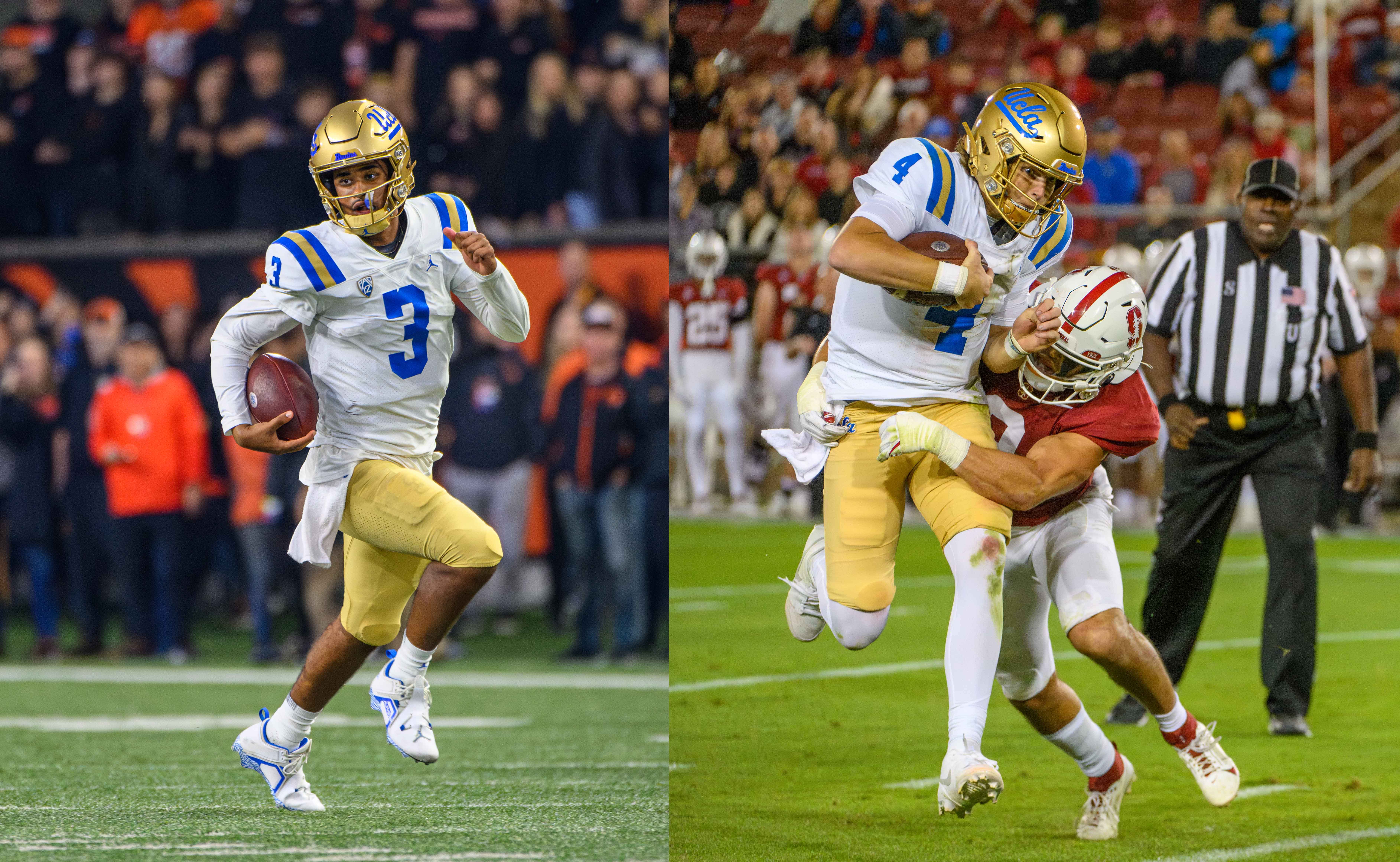 Freshman quarterback Dante Moore runs with the ball against Oregon State (left), while redshirt junior quarterback Ethan Garbers is tackled by a Stanford defender (right). (Brandon Morquecho/Assistant Photo editor, Anya Yakimenko/Daily Bruin staff)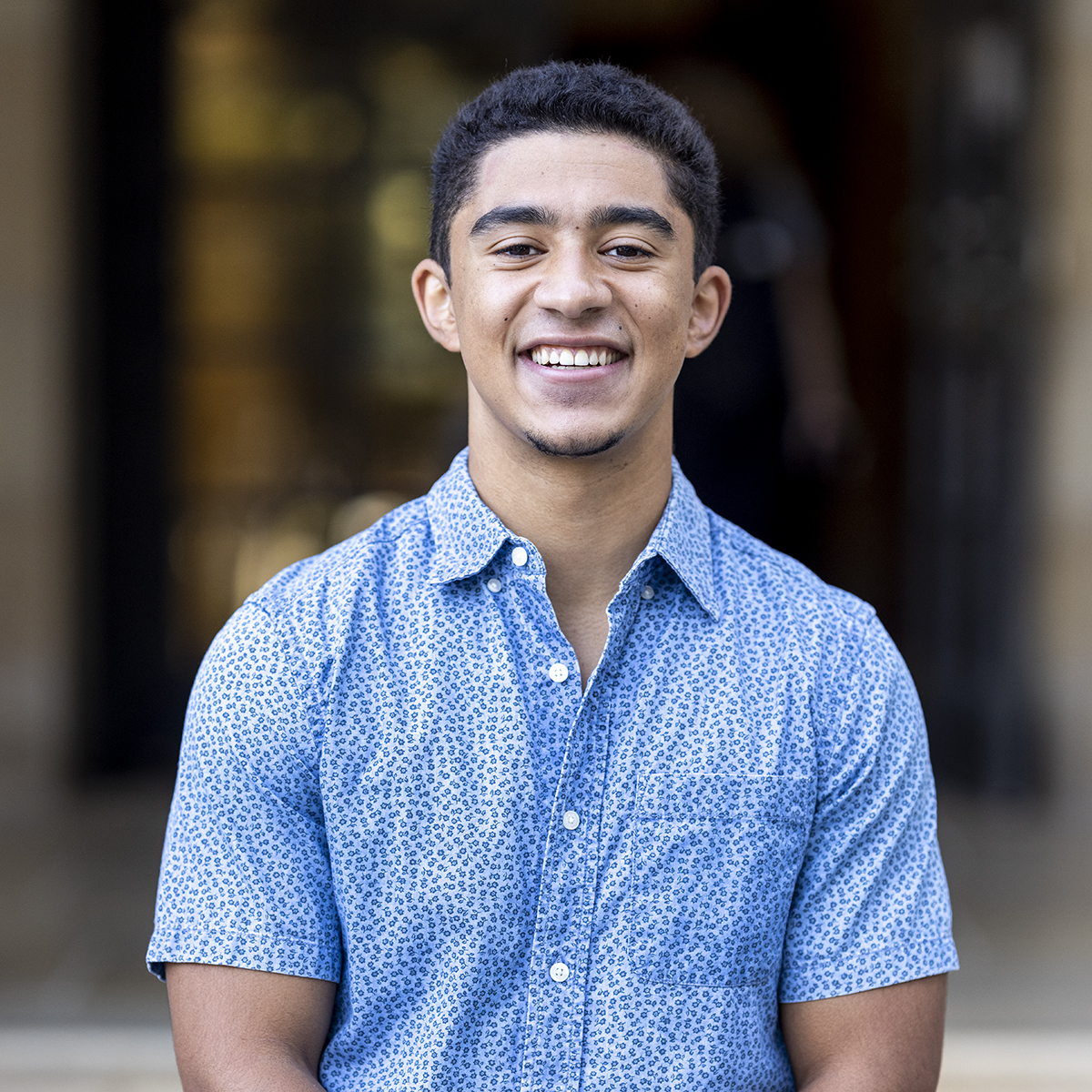 This post was updated Oct. 24 at 10:50 p.m.
The Buffaloes and Bruins' upcoming clash is a tale of two vastly different situations at quarterback.
Following coach Chip Kelly's decision to bench freshman quarterback Dante Moore in favor of redshirt junior Ethan Garbers in Saturday's win over Stanford, No. 23 UCLA football has a level of uncertainty at quarterback that Colorado has not experienced all season.
Buffalo quarterback Shedeur Sanders' job is as secure as they come.
Not only is he the coach's son, but Sanders is widely regarded by many – including Kelly – as one of the best signal callers in college football.
"He's certainly in the conversation for top quarterbacks in the country the way he's playing right now," Kelly said. "He's the key. How he goes is how that offense goes."
When it comes to national ranks, Sanders shines. He's first in completions per game, second in passing yards per game, third in passing touchdowns and eighth in completion percentage.
He is Colorado's undisputed passer.
Nobody holds that title in Westwood.
Kelly handed Garbers the first-string nod days prior to UCLA's season-opener against Coastal Carolina after an offseason of speculation. But after two interceptions from Garbers and two touchdowns from Moore in that game against the Chanticleers, the freshman started the following five games for the Bruins.
Thus, Moore was expected to be the starter again last Saturday – that is, until Garbers ran out onto the field for UCLA's opening possession.
"Ethan's done everything well since he's been here," Kelly said Monday. "It was at the beginning of the week, Ethan got a lot more reps in practice because Dante was banged up, so over the course of the week we decided we were going to go with Ethan."
Garbers went on to throw for 240 yards and two touchdowns against zero turnovers in UCLA's 42-7 win over Stanford.
Moore did see the field in the fourth quarter – after the Bruins already led by 35 – and completed four of his five passes for 26 yards while adding 11 on the ground.
Senior tight end Hudson Habermehl, who has caught passes from both Garbers and Moore this season, praised the the two quarterbacks' relationship.
"They're always encouraging each other, high-fives, telling them what they see from the sideline and from the field," Habermehl said. "They're really close off the field, on the field, so it's really cool. And, it tells a lot about them – how good of characters they are and how mature they are."
In addition to Moore and Steele, redshirt junior quarterback Collin Schlee could be competing for snaps this weekend. Schlee missed Saturday's game after sustaining an injury in UCLA's loss to Oregon State, but Kelly confirmed he was participating at Monday's practice.
Though he has yet to start a game this season, Schlee has earned game time in large part because of his ability to run the ball.
The Kent State transfer has rushed 11 times for 175 yards and two touchdowns in three games this season, but has completed three of his seven pass attempts including an interception. Prior to sustaining an injury in Corvallis, Schlee took six carries for 80 yards, five of which came on UCLA's first two touchdown drives.
Regardless of who he snaps the ball to Saturday, redshirt senior center Duke Clemens said he trusts all of the team's quarterbacks.
"Our quarterback situation might be a little different than most, but all those guys can play," Clemens said. "I'll back any one of those quarterbacks to go in there and get the job done."
Carlson is currently a staff writer on the football, men's basketball and women's basketball beats. He was previously a reporter on the softball and men's golf beats.
Carlson is currently a staff writer on the football, men's basketball and women's basketball beats. He was previously a reporter on the softball and men's golf beats.