Defeat of UCSB marks 20th consecutive victory for No. 1 UCLA men's water polo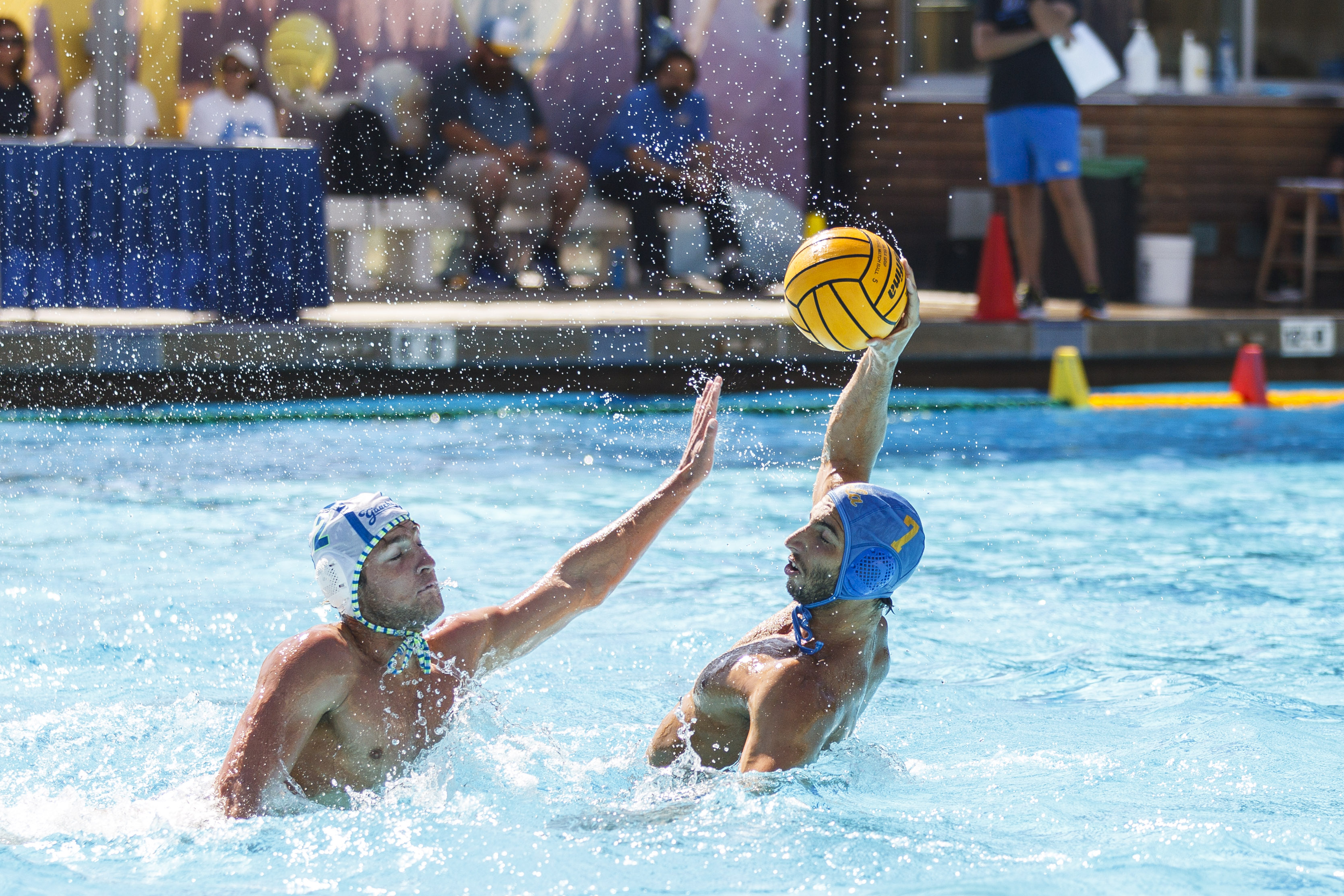 Senior attacker Rafael Real Vergara leans back as he grasps the ball. Real Vergara recorded a hat trick against UC Santa Barbara. (Emily Tang/Daily Bruin senior staff)
Men's water polo
---
| | |
| --- | --- |
| No. 10 UC Santa Barbara | 9 |
| No. 1 UCLA | 15 |
This post was updated on Oct. 22 at 9:06 p.m.
It was in the quiet before the storm where Rafael Real Vergara found his flow.
"I think they were pressing me more in the beginning, and then our players were also getting goals or getting balls to the center," the senior attacker said. "As the game goes, they (UC Santa Barbara) have to draw their attention, so they let go of me, and then I can go and do my part."
After a silent first half, Real Vergara scored his first goal of the game to open the Bruins' scoring in the third period. One minute later, Real Vergara converted back-to-back chances and tallied his 11th hat trick of the season to separate his squad from the Gauchos 11-7.
No. 1 UCLA men's water polo (20-0, 4-0 MPSF) defeated No. 10 UC Santa Barbara (14-11, 1-1 Big West) by a score of 15-9 on Friday at Spieker Aquatics Center, marking the Bruins' second win against the Gauchos this season and their 20th consecutive victory. Ten different Bruins scored, with both Real Vergara and senior attacker Makoto Kenney recording hat tricks.
"It's not really an individual team," said redshirt senior attacker Jack Larsen. "It could come from anybody on any given day, and that's what is so special about this group."
The Bruins began their match firing heavy on the net with redshirt freshman attacker Frederico Jucá Carsalade scoring after freshman center Marcell Szécsi drew a penalty.
After outscoring UCSB 4-1 in the first period with four different Bruins scoring, history repeated itself with four other prospective players joining the scoresheet to outpace their opponents 4-3 in the second period.
For coach Adam Wright, however, Real Vergara's performance was the first step to finding balance in the match.
"We don't need him to over-exert himself in certain situations, which is going to serve him well for the entirety of the game," Wright said. "He's so used to having to work constantly from the first possession to the last possession, and he's done a great job adapting to playing within the team."
Real Vergara has been a consistent player for the Bruins since transferring from Long Beach State. With goals in every match he's played in this season, as well as a .650 shooting percentage, the Brazilian-native said he has been feeding into the UCLA approach.
"We want to win," Real Vergara said. "Every time I played against UCLA, it was a really tough game, and so I always believed that his system was a good system, and now that I'm in it, I have to buy in and just follow with everything I got."
The Bruins have held their opponents to 10 or less in six of their past seven matches, with an 11-goal game by California being the outlier.
With 12 saves and two steals from senior goalkeeper Garret Griggs on Friday, UCLA kept a winning distance, but for the rest of the season, Wright said the defense needs to continue to improve.
"The last two games we gave up 10 goals and nine goals, and you just can't do that," Wright said. "Defense is a mindset. … If we do that next week, and with Cal coming to town, it's going to be much more than 10 goals."
UCLA will carry the 20-game winning streak into its final three regular season games, starting at home against No. 2 Cal next weekend.