The Black Bruin Experience: Bruinettes danceline team's debut takes historic step for Black inclusion at UCLA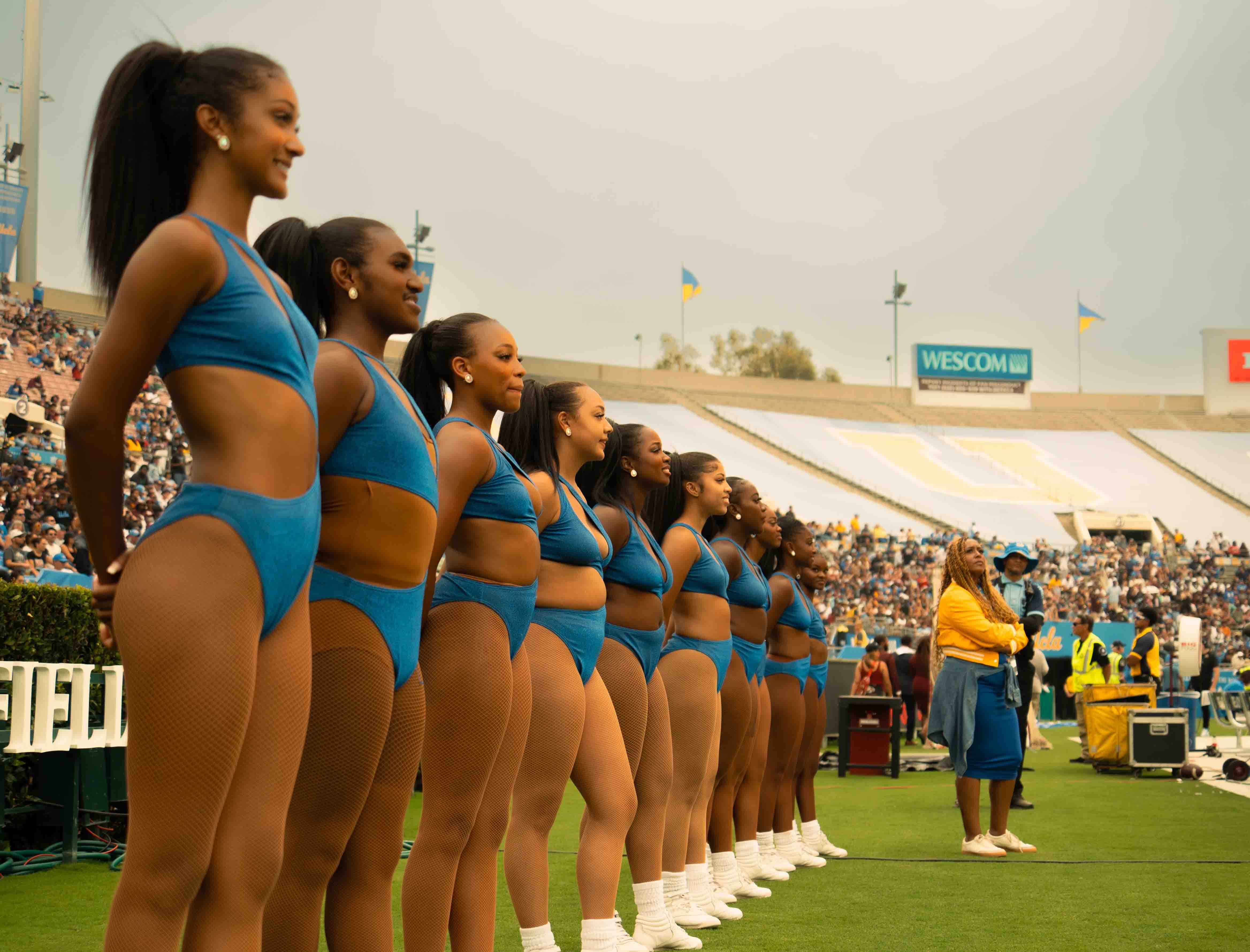 The Elegant Bruinettes line up at the Rose Bowl during a UCLA football game. (Courtesy of Kenny Pratt)
Correction: The original version of this article incorrectly stated that the Cardinal Divas at the University of Southern California were the first all-Black majorette team at a predominantly white institution. In fact, they are one of a few all-Black majorette teams at predominantly white institutions. Also, the original version of this article's photo caption incorrectly attributed the photo credit to Krystal Tomé. In fact, the photo is courtesy of Kenny Pratt.
This post was updated Nov. 2 at 10:04 p.m.
On Saturday, Sept. 16, the Elegant Bruinettes made history at the Rose Bowl.
The university's first danceline team performed during UCLA's Black Excellence football game against North Carolina Central, a historically Black university. In 1968, the Golden Girls majorette team captivated an audience at Alcorn State with an innovative hybrid dance style, which is widely regarded as the first danceline performance.
Since then, the style has been adopted by HBCU campuses nationwide. Today, it is marked by bright, dazzling costumes, creative, high-energy choreography and an unpredictable "wow" factor that leaves the audience excitedly wondering what each performance will hold.
Jasmine Aner, a second-year political science student and Bruinette, said danceline is a mixture of styles such as West African, jazz, ballet and some hip-hop.
Danceline has recently permeated national pop culture, spreading far beyond the stadiums of HBCUs. Beyoncé's 2018 Coachella performance incorporated danceline elements, which sparked a new wave of enthusiasm for the style. Vice President Kamala Harris was even escorted by Howard University's Ooh La La! dancers and marching band during the 2021 inauguration.
The Bruinettes' Rose Bowl performance marks a major milestone in UCLA's history. To understand the significance of the Bruinettes' presence on campus, the UCLA community must educate itself on danceline, a historically Black dance style.
Upon hearing that a danceline team was forming at UCLA, Reba Thomas, a fourth-year communication student and Bruinette, said her immediate reaction was pure excitement. With 17 years of dance experience, she knew she had to try out.
On Sept. 9, the Bruinettes debuted as the football team took on the San Diego State Aztecs in Snapdragon Stadium.
"I just remember feeling like everything was going in slow-mo for a second because of just how overwhelming it was," Thomas said. "From the moment you step off the bus, it's showtime. All eyes are on you."
Two weeks ago, the Bruinettes performed at the Rose Bowl for the first time, and emotions ran high among the dancers during that historic moment.
"I was just so excited," Aner said. "Some of the girls were nervous or scared, but me, I was ready. I was so ready."
Their first performance occurred at a Rose Bowl tailgate event hosted by the Black Bruin Resource Center, with both UCLA and North Carolina Central fans in attendance.
Even from 500 yards away, I could spot their dazzling blue sequined costumes, and the energy radiating from the Bruinettes felt electric as I got closer.
Throughout the performance, members of the Black community gave enthusiastic applause and shouted encouraging sentiments.
Dianna Wheeler, a class of 1990 alumnus and member of the Black Alumni Association, said she was surprised and excited to see the Bruinettes because she had never seen a danceline performance at a predominantly white institution before.
Last year, the Cardinal Divas at the University of Southern California became the one of the few all-Black majorette teams at a predominantly white institution. They faced internet backlash as many Twitter users suggested that the danceline style should be exclusive to HBCUs. Regardless, teams like the Cardinal Divas and the Bruinettes remain steadfast in their mission to bring danceline to campuses where Black culture is underrepresented.
During the game, the Bruinettes proved that they could hold their own against an HBCU danceline team. The Bruinettes sat in a pyramid formation and stood periodically to perform polished eight counts of dance moves.
The Bruinettes are working tirelessly in preparation for their upcoming performances, with practices from 9 a.m. to 9 p.m. on some days.
Thomas added that although practice can be exhausting, it is all worth it. She thought back to how much the Bruinettes have grown, from a small group excited about the possibilities of actually performing to having fans asking to take their photos.
Having the Bruinettes on UCLA's campus is a monumental step that could transform the university's culture around Black representation. For example, the Bruinettes are bridging cultural divides on campus as they train with the marching band.
Thomas said that the band has been very welcoming to the dancers, even including them in their socials and spirit week festivities. Furthermore, the team is strengthening the Black community by creating a safe space for dancers.
"What keeps me going, I'm going to say, is my teammates – my sisters, the dancers," Aner said.
Moreover, the Bruinettes performing on a schoolwide stage is a significant stride toward making Black Bruins feel included and seen.
"We should share in the college culture and the community just like everyone else, and this shows us that yes, that is something that's important to the university as well," Wheeler said.
After the football team's victory against North Carolina Central, the Bruinettes stood to sing the UCLA alma mater, "Hail to the Hills of Westwood," a moment that beautifully captured Wheeler's sentiments.
Perhaps UCLA is becoming a space in which non-Black Bruins can better understand Black culture and Black Bruins can fully express their racial and cultural pride.
I grew up watching "Bring It!" religiously, which is a TV show about danceline competitions. Although I am not a dancer, watching the dancers win stand battle competitions made me feel proud to be a Black woman. I knew I was a part of a confident, powerful and unapologetically fierce group.
Frankly, part of me thought I would be hindering my ability to tap into that sense of racial pride by attending a predominantly white and Asian university, but UCLA is beginning to prove me wrong.
While watching the Elegant Bruinettes' groundbreaking first performance at the Rose Bowl, I felt tremendously proud to be a Black Bruin.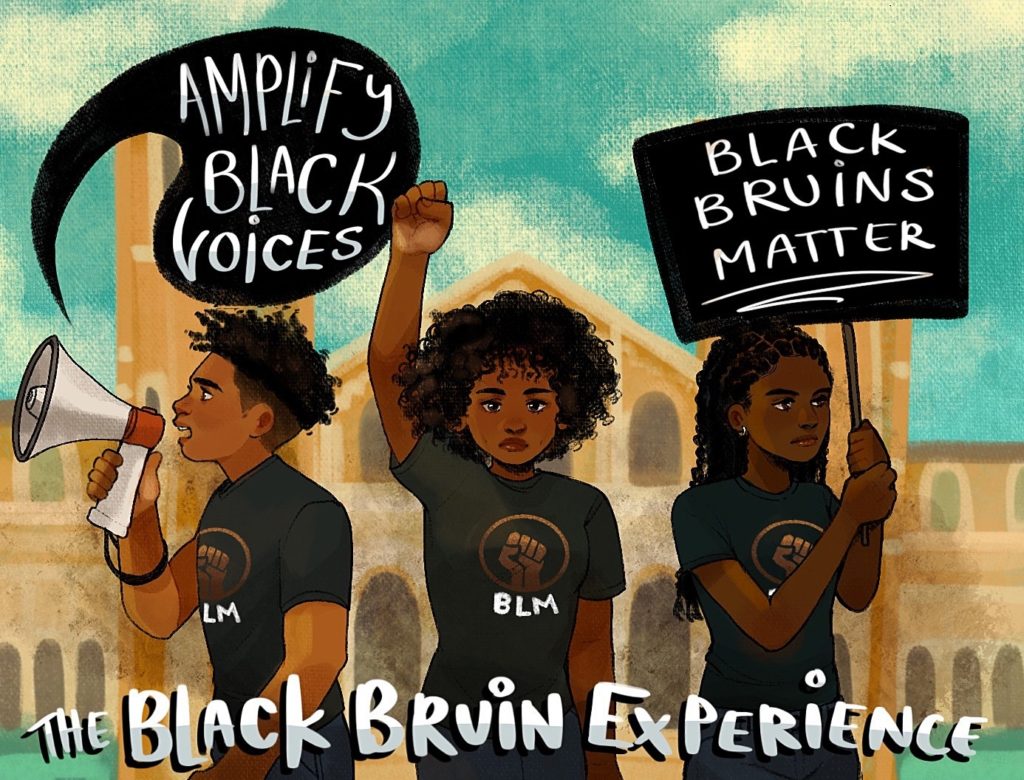 "The Black Bruin Experience" is a series created by Opinion editor Laila Wheeler, a third-year public affairs, sociology and education student. She and other Black Bruins will be exploring a variety of issues, from institutional racism to the everyday experiences of being Black in the higher education system. These columns will also highlight the multidimensionality of Blackness, including Black creativity, success, leadership and excellence. The Black community at UCLA has been tirelessly advocating for its demands to be heard, and this series aims to amplify Black voices and call on UCLA administrators to actively work toward fostering an anti-racist institution. Black Bruins are welcome to submit op-eds or letters to the editor to be published as part of this series to fully represent the diverse experiences and viewpoints of the Black community.