Despite flashes of momentum throughout, UCLA women's volleyball swept by Utah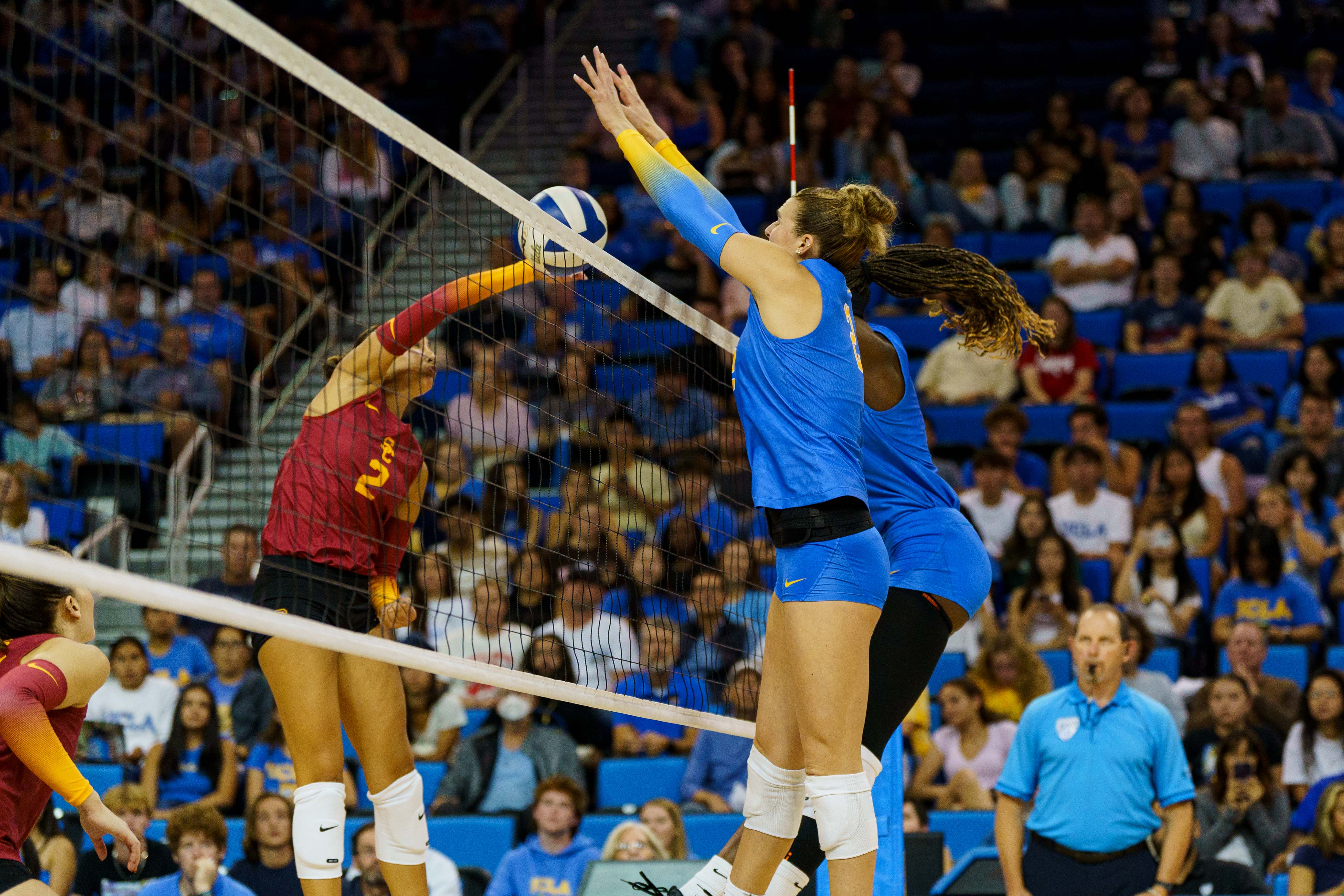 Redshirt senior Anna Dodson elevates for a block. The middle blocker notched a game-high seven blocks in the Bruins' three-set defeat to the Utes, where the latter bested the former in nearly all statistical categories. The Bruins have now completed a four-game home stand with a 1-3 record. (Brandon Morquecho/Assistant Photo editor)
Correction: The original version of this article incorrectly stated that four UCLA women's volleyball players scored double-digit kills versus Utah last year. In fact, three UCLA women's volleyball players scored double-digit kills versus Utah last year.
This post was updated Oct. 3 at 9:41 p.m.
Tough serves and a fighter mentality weren't enough to secure another conference win for the Bruins.
UCLA women's volleyball (9-5, 1-3 Pac-12) failed to defend Pauley Pavilion as it lost to Utah (7-7, 2-2 Pac-12) in a 3-0 sweep.
In what would have been UCLA's second conference win, Utah displayed its power. The Utes led the Bruins in all categories except for blocks, which are usually UCLA's saving grace. Coach Alfee Reft knew that Utah would pose a challenge with its serving.
"They showed a very good game," Reft said. "We knew that they were going to serve hard tonight and keep the pressure on us."
Seven blocks were courtesy of redshirt senior middle blocker Anna Dodson, who hit a .278 attack percentage. She faced the Utes twice last year, recording 22 kills across the two games, and was one of three Bruins to notch double-digit kills versus Utah the previous year.
Following Dodson in blocks were senior setter Audrey Pak and graduate student middle blocker Desiree Becker, who had three and two blocks, respectively.
Despite the blocks, the Utes quickly surpassed the Bruins with 45 kills compared to 28. The Bruins experienced a significant drop in kills from the 47 they served in their match against Colorado just a couple days before they took on Utah.
The Bruins also only had two aces. The first came in set one when sophomore libero Mokihana Tufono served an ace to give UCLA its third point of the match.
The second ace was UCLA's final point in the second match as sophomore outside hitter Cheridyn Leverette scored, but it wasn't enough to keep the team in the game longer.
The highlight of Sunday's match was a third-set rally by the Bruins that nearly pushed the Bruins to a fourth set. Dodson said that the Bruins' rally all went back to the team's energy.
"I think we really capitalize off of these moments where we can be fired up, especially when we get blocks," Dodson said.
The Bruins experienced moments when it appeared the game would slip away from them, but their tenacity shone through. Each time it seemed like the game was finished, they fought back and earned another point. With the score at 15-9 for the Utes, UCLA went on a 3-0 run to advance the score to 15-12.
The Bruins then would go on another 3-0 run to inch closer to a third-set win, courtesy of kills by Becker and senior outside/opposite hitter Iman Ndiaye and a block by sophomore outside/opposite hitter Grayce Olson, making the score 22-19 for the Utes.
The point that could have been Utah's 24th was reversed after a review, providing the Bruins a final opportunity with the score at 22-24. However, a kill by outside hitter/defensive specialist Kamry Bailey sealed the deal on Utah's sweep.
"While we found spurs of good, we wanted to stay in the game for longer," Reft said.