Editorial: Proposition 1 has the potential to advance California's mental health programs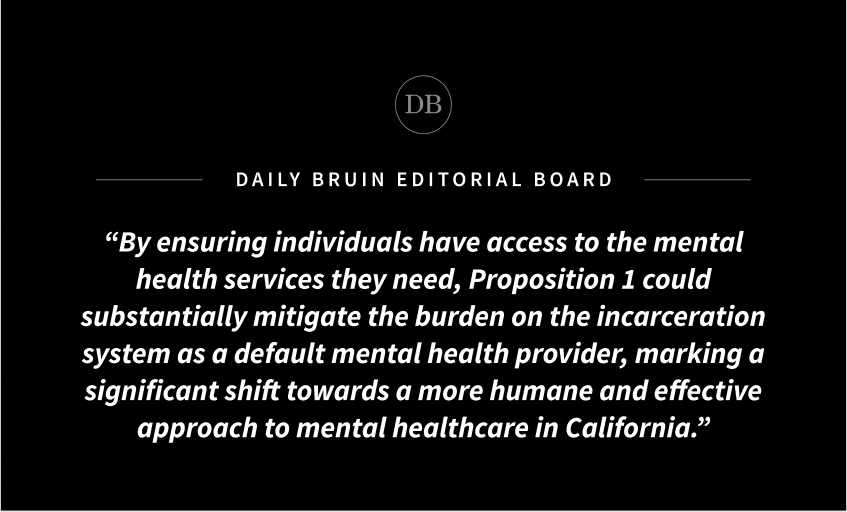 Correction: The original version of this article incorrectly stated that it has been 20 years since California's mental healthcare system was revamped. In fact, it was last revamped in 2004 with the passage of the Mental Health Services Act.
This post was updated Oct. 3 at 10:52 p.m.
Voters may soon decide whether to fundamentally reshape California's mental health programs to help people experiencing homelessness.
This comes after overwhelming bipartisan support in the California State Legislature for Senate Bill 326 and Assembly Bill 531. Now, all that is left is for Gov. Gavin Newsom to sign the proposals by Oct. 14. Newsom's previous calls to action on the initiative, announcing his approach of modernizing the state's mental health system in March, shows that his support for the proposals seems likely.
An upcoming ballot measure, known as Proposition 1, will combine the two proposals to call for an expansion of substance use services and housing for individuals with severe mental health issues. It has become part of an effort to assist people experiencing homelessness by revamping the state's mental healthcare system, an effort that hasn't been seen at a large scale in almost 20 years.
California's current mental healthcare system is based on the Mental Health Services Act, approved by voters back in 2004, which created a 1% tax on wealthy individuals making upward of $1 million per year. The MHSA has supported county mental health programs through funding, hiring employees and providing resources. With this support, the Los Angeles County Department of Mental Health designed several programs, including the Peer-Run Respite Care Homes program, which provides temporary living spaces for those with chronic mental health or substance use issues.
If a majority of voters approve Proposition 1 in March, the measure would allocate $6.4 billion in funds to build around 10,000 new treatment beds, granting the state the ability to house more Californians who have mental illnesses and especially those without reliable access to shelter.
Therefore, Proposition 1 is a crucial step forward in improving California's approach to mental health, substance use and homelessness.
A report by UC San Francisco that inspired the measure showed that 82% of Californians experiencing homelessness reported a time in their life when they experienced a serious mental health condition. However, only 27% of individuals experiencing homelessness have been hospitalized for mental health issues.
It is essential to acknowledge, however, that mental health care should not be limited to hospitalization and must extend to preventive measures such as therapy, which may reduce the need for individuals to be admitted to these facilities in the first place.
Providing robust mental health services and additional housing could even prevent the incarceration of people experiencing homelessness. The Twin Towers Correctional Facility in Los Angeles is currently the largest mental health facility in the United States, according to the LA Sheriff's Department. This demonstrates how homelessness and mental illness can be heavily criminalized in society rather than providing equitable resources to alleviate systemic issues.
Proposition 1 has the potential to transform this. By ensuring individuals have access to the mental health services they need, Proposition 1 could substantially mitigate the burden on the incarceration system as a default mental health provider, marking a significant shift toward a more humane and effective approach to mental health care in California.
It is also imperative that there is an investment in skillfully developed preventative measures to ensure early support for Californians in need. By working to identify and address mental health conditions at their onset, the state can reduce the demand for more intensive treatment facilities and provide timely, effective care.
Addressing California's mental health crisis is not simply about building more facilities or expanding services, though these are critical steps. It is about reshaping our perspective on mental health and understanding that it intertwines deeply with other societal issues, such as homelessness.
A well-funded and strongly developed mental healthcare system with comprehensive preventative measures will provide an opportunity for Californians to live healthily.