Opinion: Students in Artsakh persevere through humanitarian crisis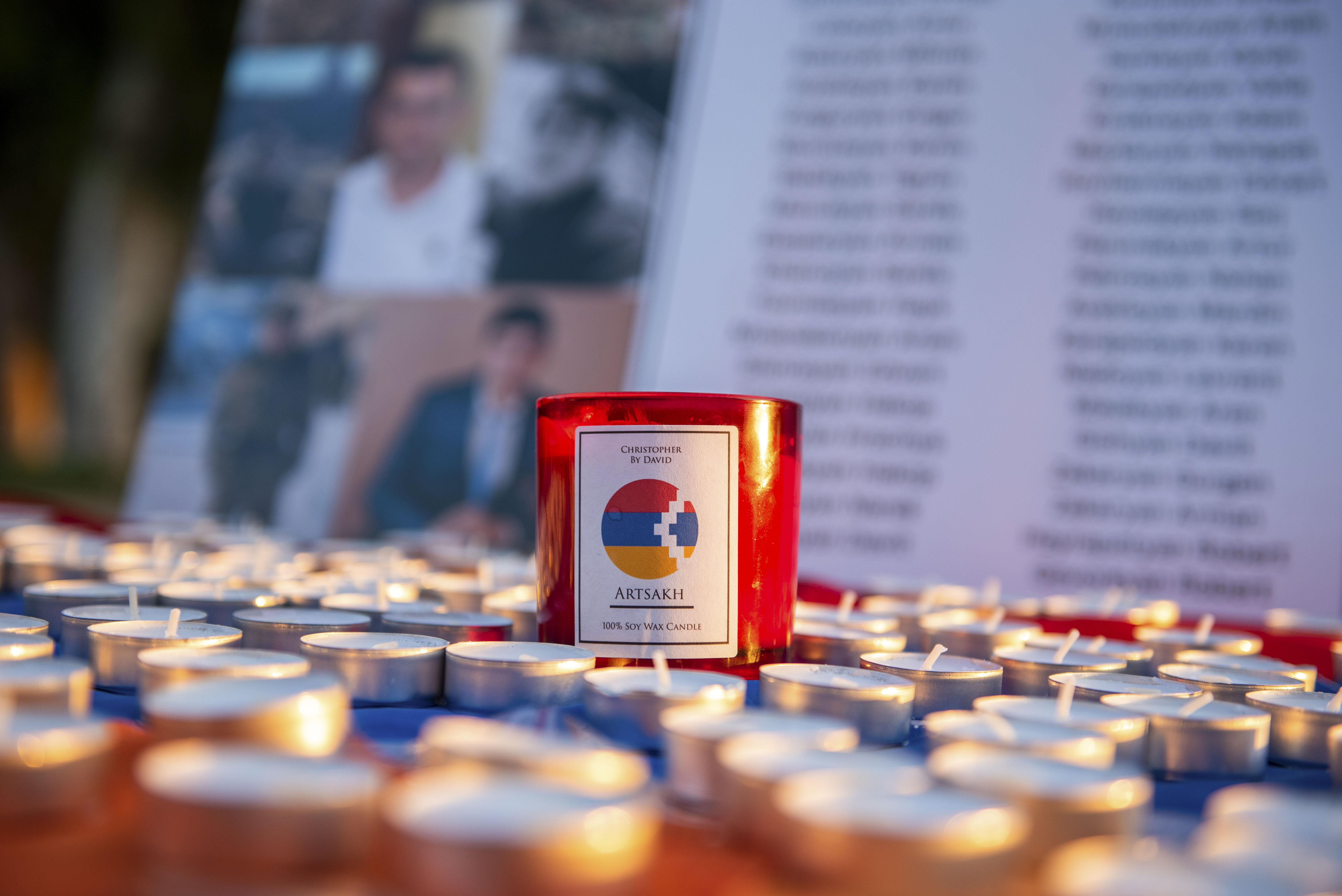 Pictured are candles from a vigil hosted last year by the Armenian Students' Association, commemorating the lives lost during clashes on the Armenia-Azerbaijan border. (Christine Kao/Daily Bruin staff).
This post was updated Sept. 27 at 11:10 p.m.
It is 8 p.m., and 120 students sit on one side of a screen with volunteer teachers like myself from the Hidden Road Initiative, a non-governmental organization that gives students in Armenian and Artsakh villages the opportunity to explore educational and leadership opportunities.
As we teach them English, we watch the students sound out new words with an excited gleam in their eyes, noses pressed up against their computer screens, chasing their hunger to learn.
They are ordinary kids placed into extraordinarily difficult circumstances, racing against the clock to stave off the moment their electricity will be shut off mid-lesson.
No light. No power. No connection.
These children are caught in the eye of the storm as a humanitarian crisis overtakes Artsakh. The world is turning a blind eye to the situation, which the group Genocide Watch has labeled a genocide emergency.
There may be 120,000 Armenians in Artsakh, 3 million in Armenia and 10 million worldwide, but there is one bleeding heart for today's tragedies. A renewed effort at an ethnic cleansing of the Armenian population has manifested itself in the empty bellies and fearful eyes of our people.
Nagorno-Karabakh, which is also called Artsakh by Armenians, lies in the South Caucasus mountains and consists of 99.7% ethnic Armenians. It has been the epicenter of a centuries-long conflict between Armenia and Azerbaijan over land and identity, continuing to the present day.
Currently, the continued bombing of cities Stepanakert and Askeran by the Azerbaijani government has resulted in over 400 casualties and has left families with no home, no viable escape strategy and no hope.
In December, the Azerbaijani government allowed "environmentalists" to station themselves at the Lachin Corridor, the only road connecting the breakaway region of Artsakh to its familial population in Armenia. Their proposed innocent posts transformed into a military checkpoint, a blockade and direct attack on the survival of Armenians in Artsakh.
It has been nine months these illegal blockades have denied trucks of food, water and medical aid from Armenia and the Red Cross. With all other roads to Armenia severed and with 90% of Artsakh's food coming from the Lachin Corridor, the supplies are nearly gone. The last delivery of humanitarian aid was four months ago, revealing a shameful lack of worldwide concern.
Dr. Eric Esrailian is a health sciences clinical professor of medicine at the David Geffen School of Medicine who funds projects and advocates for Artsakh through his active online presence. His continued humanitarian efforts and pleas reflect frustrations and fears of Armenians seeing history repeat itself before their eyes.
"The rhetoric coming from the Azeri government, combined with using hunger and starvation as a weapon, has all the red flags of genocidal intent," Esrailian said. "It goes against all concepts of decency and humanity."
One in three deaths in Artsakh are now due to malnutrition, with about 270 children separated and unable to reunite with family and 2,000 pregnant women left without basic healthcare. Further, 9,000 people with disabilities have no aid and over 13,000 people with chronic conditions have no medicine to survive.
Azerbaijan was urged to end the blockade by the International Court of Justice but it continue to block any and all aid coming from Armenia. With no help from the U.N. or Armenia's traditional ally Russia, whose "peacekeeper" forces in the region did nothing during the offensive, Artsakh is facing a genocide in a disgusting disguise.
This conflict is stripping the Artsakh children of their childhood and their time to play, grow and pursue an education without the threat of war and death pressing down upon their tiny shoulders.
"Nearly 30,000 of the people living in Artsakh are children, and the disruption of education and them having access to nutrition during these vital years of growth, the impact of all of this is going to be immeasurable, if they survive at all," Esrailian said.
This summer, I volunteered as a teacher for an online summer camp for Artsakh hosted by the Hidden Road Initiative. The camp hosted English and STEM lessons to help students whose educational, social and personal growth has been disrupted.
As a volunteer alongside camp co-leader Sona Asatryan, a third-year molecular and cell biology student at UC Berkeley and president of its campus's HRI chapter, I witnessed the systematic ways the Azerbaijani government cut off electricity and power in order to make it impossible for Artsakh students to communicate with teachers and peers throughout the day.
We are able to witness and find inspiration in the persistence of the children to join the lessons despite insufficient light and fickle Internet. It speaks to the greater strength of the Armenian spirit and an unwillingness to give up.
By interacting personally with these students and sharing these important stories, Asatryan and volunteers like myself helped raise awareness within the Armenian diaspora about the intentional block to education.
Mary Keushkerian, a fourth-year psychobiology student and president of the Armenian Students' Association at UCLA, said the biggest way ordinary citizens can help is by being loud, intentional and fearless with their words and actions.
"I always tell every Armenian that the only way we can help and learn more is one, by utilizing your voice, and two, creating connections with people at the scene," Keushkerian said. "Social media is an important source of knowledge, networks and advertisements."
As one of our most versatile and profound ways of communication, we should not underestimate social media's unifying role in our defense.
"We can't expect for the media visibility to be enough, but those who have some reach should use their platforms to share the truth and combat disinformation being spread by authoritarian regimes," Esrailian said.
There is a robust Armenian community of influencers that can use their platforms to start important conversations, such as Kim Kardashian and Araksya Karapetyan, who have repeatedly raised awareness about the crisis by providing actionable items of change.
We can't hide behind performative activism. Words on a screen are not enough.
The crisis has also bulldozed a path of destruction for Artsakh students. Graduating young adults cannot attend university because of the ban on transport, and children can't buy school supplies – a detriment to their future careers.
The long-term psychological effects of this crisis on the developing minds of Armenian youth are often overlooked. Sofia Gevorgian, a second-year political science student at UCLA, has seen these consequences and works to address them with HRI, which leads an English tutoring program for children in Artsakh.
"Among the volatility of war, it is this consistency of joining class every Saturday that is essential for resolution of trauma," said Gevorgian, who also serves as the president of UCLA's HRI chapter, in an emailed statement.
As a tutor in the program, I work virtually with an 11-year-old student. He has found solace in the mornings we spend learning the alphabet and how to spell his name in English.
I see a tenacity and fierceness in his words, eyes and hearts that is awe-inspiring. Despite the tragedy of the situation, Artsakh students are showing up every week to learn, to add to their arsenal of knowledge and hope more diaspora will interact and counteract.
Nanor Balabanian, the founder and director of HRI who works closely with the children to provide resources and opportunities, said the situation is as dire as ever.
"Our students in Artsakh messaged us for help – some were in bomb shelters, others were evacuated from their villages under heavy gunfire and were brought to the Stepanakert airport and are staying there overnight in their cars, some on the street, to find out what they will do tomorrow," Balabanian said. "Some students were told, in Stepanakert, that they have two days to pack up their stuff to evacuate Artsakh."
Every Armenian in Artsakh is forged with an inextinguishable fire. Despite their hardships, they refuse to leave their home, the land and heritage that is as much a part of them as the seas and skies of Armenia. They fight for the future of Artsakh and to preserve their culture and homeland, all without hesitation.
Their native songs and prayers, beautifully captured by our mother tongue, all call to a divine belief in change and survival. This belief should fuel the action of the diaspora who sit in positions of power and privilege and can save lives if only by seeing, reading, writing, sharing and speaking the truth of our people.