"Sark-nado" Jack Sarkos co-leads Pac-12 in men's soccer scoring pace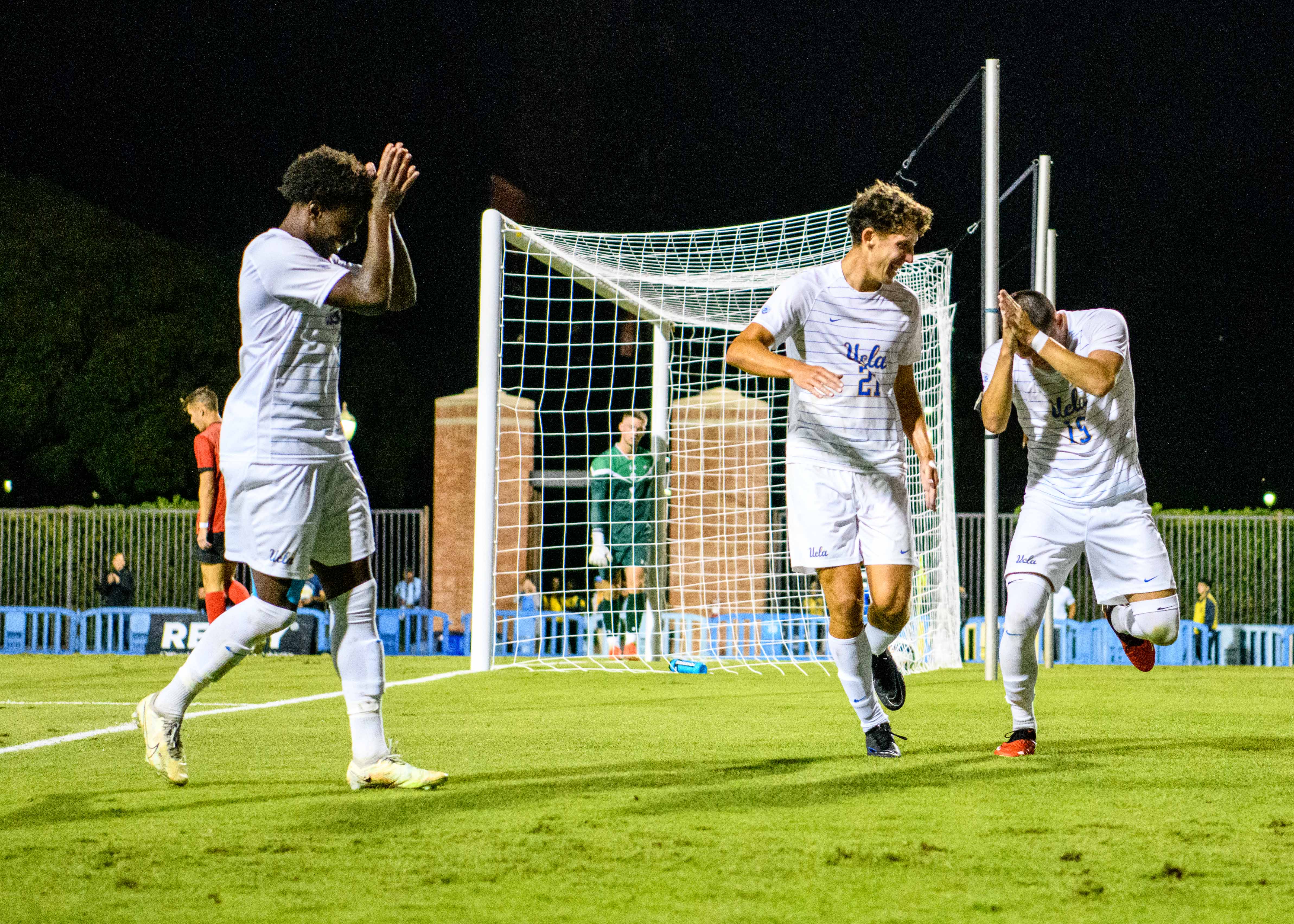 After scoring a goal for UCLA men's soccer, graduate student forward Jack Sarkos performs his "Sark-nado" celebration with fellow graduate students, midfielders Sean Karani and Ryan Becher. (Daily Bruin file photo)
One name has been synonymous with the Bruins' attacking efforts in their first five games.
"Everybody should want to come and see the 'Sark-nado' scoring goals for us," said coach Ryan Jorden.
Graduate student forward Jack Sarkos is off to a goal-scoring start that puts him above the rest of UCLA men's soccer's roster this season – in addition to last year's Bruins' squad.
Sarkos has scored five goals in five matches – a total higher than any Bruin scored across the 2022 season– following through every ball in the net with a signature celebration: dancing like a shark.
After every goal, the Lehigh transfer places his hands in front of his forehead to make a shape akin to a shark's fin as he runs around the corner flags toward the UCLA bench to celebrate further with his teammates.
"It's kind of taken off," said midfielder Tucker Lepley. "It's funny that we call him 'Sark attack.' That's literally his contact name on my phone."
The redshirt junior said Sarkos has led the change of pace from last season's attacking efforts. He added that having a teammate who can play a true nine has paid dividends early in the season.
However, Sarkos' goal-scoring efforts did not begin in Westwood.
During his last two seasons at Lehigh, Sarkos scored 16 goals and was the Mountain Hawks' leading scorer. His efforts led the Patriot League to honor Sarkos by naming him to the All-Patriot League First Team for both campaigns.
Lehigh was also where Sarkos met his teammate Noah Sutherland. The graduate student goalkeeper, who enrolled at UCLA in 2022 and joined the program this year, said he remembers talking to Sarkos when he entered the transfer portal.
"I felt like he was something that we were missing," Sutherland said. "I almost made a promise to him that, you know, if he came here, he would fit into the system."
Fit into the system, he did, Sutherland said.
When Sarkos scored his fifth goal Sept. 9 against Rutgers, he became the fastest Bruin to reach five goals since forward Milan Iloski in 2019. His goal-a-game pace co-leads the Pac-12 alongside Oregon State's Logan Farrington, as well as second nationally behind Lipscomb's forward Tyrese Spicer, who holds a slightly higher pace of 1.20.
Jorden said the addition of Sarkos – and his ability to get in the box – led to a change in scheming for the offense.
"We can play a little bit more directly in moments because we feel like we've got somebody who can get on the end of it," Jorden said.
Jorden added that integrating new players into a college system can be challenging, but having somebody who provides the team with goal-scoring confidence significantly influences hegemony early in the season.
Lepley echoed Jorden's sentiment.
"Having a guy like that on your team, we never feel like we're out of games," Lepley said. "We know if we give him one chance or just a half chance, there's a good chance that he'll take it."
While Sarkos was scoreless against Cal State Fullerton, he will attempt to reenter the scoring column at UC Irvine on Saturday before starting conference play next week.
Sutherland added that Sarkos' hot start to the year has not just brought comfort to the team, but also to himself, as the friend and former teammate who pitched him on coming to Westwood.
"I'm thankful that I didn't make any empty promises there," Sutherland said.
Royer is a senior staff reporter for the News and Sports sections of the Bruin. He was previously the 2022-2023 assistant News editor for the city and crime beat.
Royer is a senior staff reporter for the News and Sports sections of the Bruin. He was previously the 2022-2023 assistant News editor for the city and crime beat.