UCLA taps into social media platforms to connect, inform Bruin audiences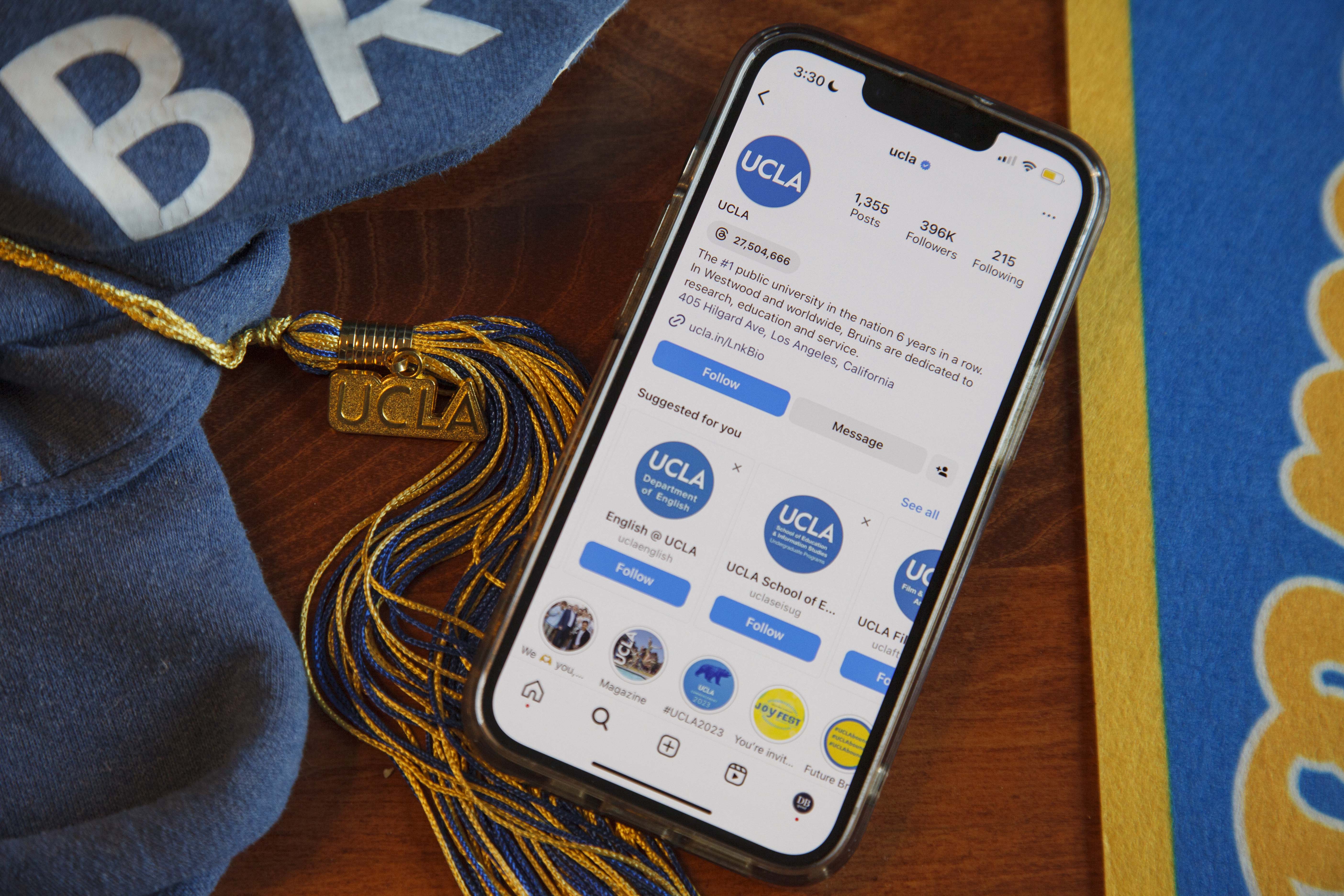 A phone displaying UCLA's official Instagram account is pictured next to UCLA merchandise. The university uses its social media platforms to connect with students and communicate updates during summer and the school year. (Olivia Simons/Daily Bruin senior staff)
How many accounts related to UCLA do you follow on social media? Do you ever get recommended UCLA content on TikTok or Instagram?
UCLA runs many social media platforms where students can build community and stay updated on campus happenings. The university aims to use social media to connect its news, achievements and goals with the public it serves, according to UCLA's social media guidelines.
Bruins may also use social media to connect with one another on UCLA's several platforms.
First-year undeclared engineering student Victoria Garcia said she recently created an Instagram account to meet new people before the upcoming school year. She added that the majority of her followers are Bruins, with whom she interacts through posting, direct messaging and liking their stories.
Garcia follows multiple Instagram handles such as UCLA's main certified account, a class of 2027 account and various club accounts. She said her first impression of UCLA on social media was its architecture, scenery and activity.
"It's very romanticized in the best way possible," Garcia said. "A lot of images of Royce Hall are taken, or the Hill. … The main UCLA account also reposts a lot of other people's stuff, and I feel I really like that because it actually shows that they're caring about the community."
Ciclalis Rico Galvan, a first-year pre-psychobiology student, said she learned of UCLA's four-year housing commitment on social media, which influenced her choice of schools when deciding where to attend.
"I was choosing between two great schools, and what I noticed about one over the other one was the housing situation," Rico Galvan said. "UCLA demonstrated the care and commitment to their students and the idea that we would be cared for."
According to an article published in the Procedia Computer Science journal, many educational institutions use digital marketing to enhance their public image and improve their market value. Similar to a business organization's management process, schools can increase their visibility, attract new collaborations and build exclusive communities with effective social media content, according to the same source.
Sophia Gawronski, a fourth-year biochemistry student, said email lists and social media keep her informed of campus announcements and events. She follows UCLA sports teams on Instagram, reads discussion threads on Reddit and likes UCLA's content on Facebook.
With updates on UCLA news and resources on multiple platforms, different accounts are tailored to students' various needs.
UCLA Library is one of many UCLA-affiliated official accounts active on various social media platforms. Sally Márquez, the assistant director of communications and digital content at UCLA Library, said in an emailed statement that her role focuses on amplifying the library's services, resources and stories through social media.
"While we do have over 18 million titles, we also want our audiences to know about all the wonderful campus-based and online resources, collections, programs and workshops and people available to them to expand their access to knowledge," Márquez said. "To that end, we try to create content that showcases the diversity of the Library as a whole."
The library reaches unique primary audiences on different social media platforms, such as UCLA students on Instagram and library community members on LinkedIn, and it varies its content accordingly, Márquez said in the statement. She added that the library's student employees are responsible for researching relevant topics and proposing fun ideas for posts.
"Students from across the greater campus community then react to our posts and share them with their networks, usually with excitement about a new collection or resource they didn't know about before," Márquez said.
In the upcoming academic year, Bruins will look forward to seeing more posts interacting with students on UCLA's social media accounts.
Gawronski said she enjoys posts about student life, such as UCLA Housing's Bruin on the Street student interview series alongside pictures and videos of animals on campus.
Rico Galvan also said she hopes to see more student-focused content on UCLA's social media accounts, such as TikToks featuring student activities and perspectives.
"If they interacted more with their student body, regardless of how many followers that they have, it's amplifying very important information and saying more about the character of the university," she said.