UCLA Bike Shop wheels back into Westwood to offer services, community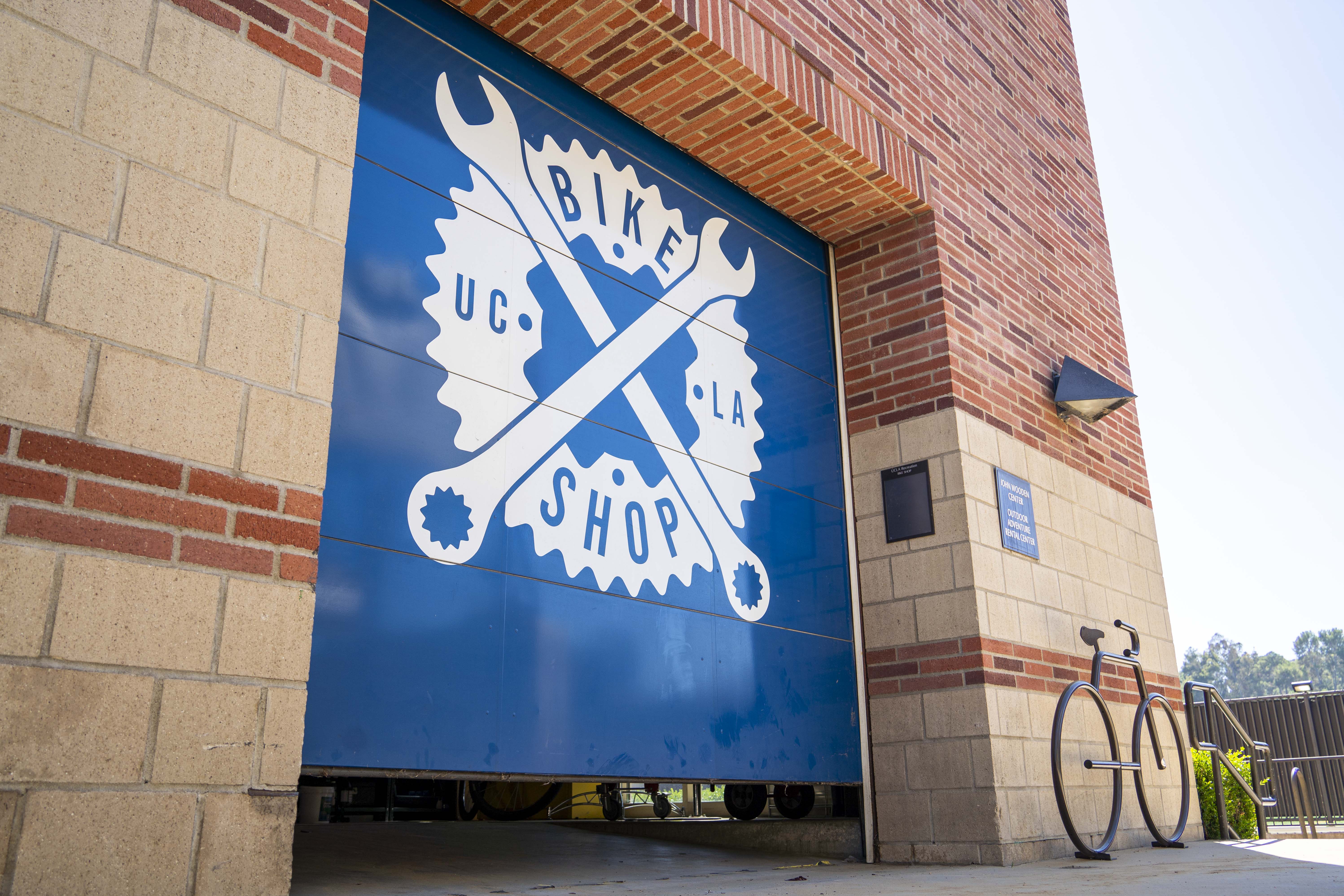 Pictured is the UCLA Bike Shop, which has just reopened after being closed throughout the COVID-19 pandemic. (Julia Zhou/Assistant Photo editor)
Sept. 21, 2023 10:45 p.m.
The UCLA Bike Shop reopened in July, spurring excitement for UCLA's biking community.
The UCLA Bike Shop, which is located in the John Wooden Center, has been closed since the start of the COVID-19 pandemic. The shop provides UCLA students and faculty members, as well as local residents, services including a do-it-yourself workstation, an assortment of bike accessories and advice from bike experts, according to the Bike Shop's website.
Emily Han, the Senior Planner of Active Transportation at UCLA, said in an emailed statement that there are many events and resources available to students to encourage a biking community. She added that events such as Operation Firefly and Bike Recycling Day display the value UCLA places on active transportation, and the bike shop is another example of this.
"The Bike Shop is an integral part of UCLA's active transportation efforts," Han said. "It's a central point of community for bicyclists, particularly students, and it's a place where Bruins can maintain and repair their bicycles."
Nate Woiwode, the UCLA Bike Shop coordinator, said growing up spending time in a bike shop inspired him to run one and work with cycling brands.
He added that he was excited to work on the community aspects of biking, including convenient emergency repairs, UCLA Transportation programs and safe routes for commuters, now that the shop is reopening.
"I think that there's a lot of doors that we can open and a lot of ways that we can get people out of cars and get people engaged with cycling," he said.
Woiwode said he commutes to UCLA by bike and loves to try out new routes. He added that he has only driven to campus three times in total since starting work at the university in May.
"It's a really great way to actually engage in the areas that you're passing through," he said. "It's just a friendlier way to pass through an area than driving through it."
Linnea Jackson, a third-year biochemistry student who works at the bike shop, said the shop allows members of the campus community to fix their bikes themselves, leave their bike for a service or buy new parts of their bike. She added that she has enjoyed working at the bike shop because meeting more competitive and recreational cyclists has reinvigorated her passion for biking.
"I just had a great time being there conversing with people who also love to ride bikes," Jackson said. "There's just many different types of riding, and so working there has definitely inspired me to get more active and get out on my bike more."
After her family inspired her to ride in seventh grade, Jackson said she was a competitive cyclist in high school and also used it to relieve stress during the COVID-19 pandemic.
Jackson said she has found that commuter students have particularly appreciated using the shop's resources because of the lack of alternative options for bike repairs in the Westwood area.
Max Eisenberg, the UCLA Cycling Team's sponsorship coordinator, said he was excited to hear about the bike shop reopening. He added that the free communal workspace helps people access the sport, which would otherwise have many barriers such as cost for entry and storage.
"It's intimidating for any college student to go into a normal bike shop, walk in and be faced with a $300, $400 bill," Eisenberg said. "I was super, super excited about the UCLA communal shop because it provided an alternate opportunity for me to explore services and save the money that, as a college student, I don't really have."
Sophia Woehl, a second-year environmental science student and member of UCLA Cycling, said one of the problems for entering the sport is the cost of a bike and the upkeep. She added that the idea of a bike shop being on campus is exciting because it will provide access and awareness to biking.
"I'm excited for myself personally but also for the community in general," Woehl said. "It's gonna bring awareness that, 'Oh, there's a bike shop on campus? There must be people biking here.'"
Woehl said cycling brings people together through solidarity in dealing with the difficulty of the sport. She added that she wishes more people on campus would try cycling.
"My dad owns a bike shop, so I have a great love for bike shops. … I've seen how the bike shop can be a great place for learning to happen and new experiences," Woehl said. "You can develop a love for bikes in the bike shop that I think doesn't happen just when you're riding."