Teamwork makes the dream work for UCLA women's volleyball's new coaching staff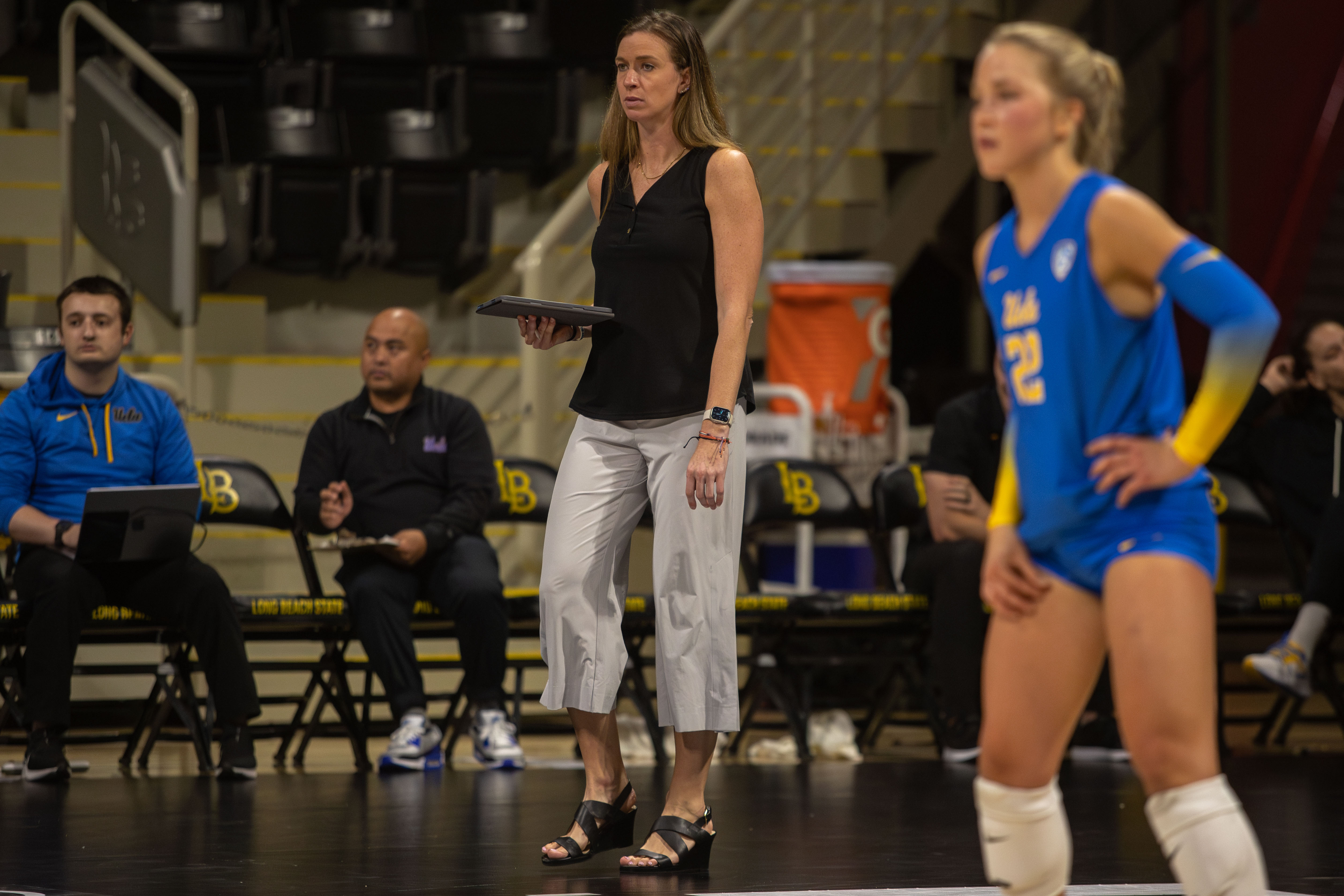 UCLA women's volleyball associate head coach Jen Malcom scans the court during a game. Malcom came to Westwood after seven years coaching at Iowa State and has assumed the head coach roles at times with Alfee Reft out with Team USA. (Joseph Jimenez/Photo editor)
Alfee Reft's recent hire described his essence in one simple sentence.
"He loves people, and people love him," said assistant coach and director of operations Noah Casaquit.
The new head coach's name has been commonplace in UCLA Athletics news – but when Reft stepped away from Westwood to make time for the U.S. Women's National Team, most recently joining them in Poland – his assistant coaching staff has entered the spotlight.
Contrary to former head coaches Andy Banachowski and Michael Sealy, Reft is not a UCLA alumnus – and the addition of other fresh faces to the mix leaves the Bruins with an entirely new crew steering the ship.
Comprising a troop rivaling that of a superhero squad, each new coach's personality has blended together to create a perfect energy entering the season, Casaquit said.
"I'm more of the happy-go-lucky, silly guy. Jen (associate head coach Jen Malcom) is very much the mama bear. Amir (assistant coach Amir Lugo-Rodriguez) is a cerebral volleyball genius," Casaquit said. "And then Alfee is just this leader that sets great standards and doesn't waver from that."
But rather than donning super suits, the coaches have created a motto for themselves preaching the opposite – being proud of staying in their own skin.
"We want to be who we are as people and not ashamed of it," Casaquit said. "That's going to allow you to thrive."
Like any classic band of heroes, each coach has their own origin story – whether meeting in college, crossing paths professionally or working together previously, the trio's influence on the team and one another started long before stepping foot in Pauley Pavilion.
Casaquit, recently promoted to assistant coach from the director of operations position, said he has known Reft since the latter played at Hawai'i, while Lugo-Rodriguez said Reft has been a source of wisdom to him since his third year of college. The two assistant coaches would later work together at California. Malcom met Reft through a mutual friend when he was coaching at Illinois, while she and Lugo-Rodriguez have known each other for a few years already.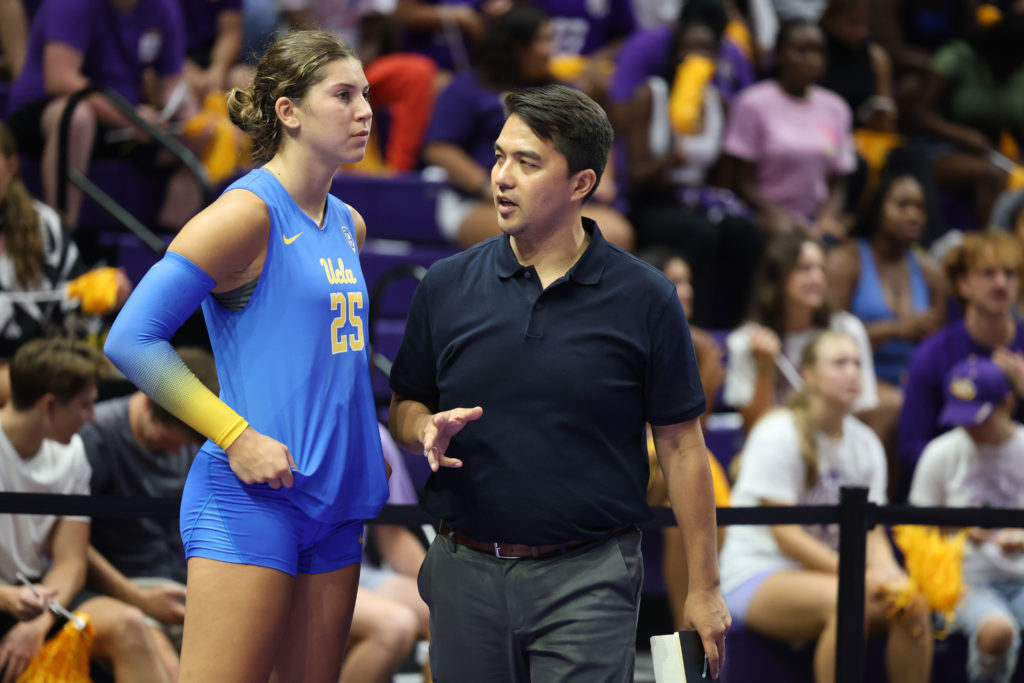 From Lugo-Rodriguez's perspective, their shared past facilitates effective communication with the players right off the bat.
"The energy seemed different from the staff because we're all friends who get to work together," Lugo-Rodriguez said. "We're not coworkers who are trying to become friends."
UCLA has been a dream destination for Reft, and Casaquit said coaching alongside him has been an equally dreamlike experience.
"We love the game so, so much, and energies attract," Casaquit said. "It's just kind of surreal every single day to walk into the offices and get to work with your best friend."
Beyond just their intertwined histories, the coaches were hired for their ability to level with players. In a statement released at the time of Malcom and Lugo-Rodriguez's hiring, Reft said hiring a staff that recognizes the humanity required in coaching was integral.
Lugo-Rodriguez's compassionate, relatable coaching style was derived from his own past coaches – channeling that experience at UCLA was a given, he said.
"The biggest thing for me was those guys took time to understand who I was as a person. … I think with the girls here, that was a big part of what we tried to do, to just get to know them," Lugo-Rodriguez said. "It's you and me working together to get you where you want. It's not me using you to get where we want the team to be."
The players have looked to Malcom to fill Reft's shoes in the wake of his absence. While she said she tries to keep a steady demeanor whether or not Reft is present, she strives to use her experience as a female athlete to play whatever role the players require – from sounding board to older sister.
Most recently, Malcom said her favorite position has been an observer to the players' rediscovered appreciation for the game.
"Just their energy and willingness to learn and want to learn and bring joy back into them has been huge. They've done a great job of adapting to our culture and what we want to do in the gym, and I can tell that they thoroughly enjoy it again," Malcom said. "I think that's the biggest thing for me. It's just seeing that on their faces."
In between resounding echoes of bumps, sets, spikes – and victory – Lugo-Rodriguez said laughter will be the season's soundtrack for Bruin fans.
"I think there's a misconception where some of the best teams in the country just have to be uber-focused and serious and no fun," Lugo-Rodriguez said. "I think that we definitely try to change that narrative a little bit."
Augusta is a 2023-2024 Slot editor and Sports senior staff member on the women's volleyball beat. She was previously a Copy and Sports contributor on the softball beat. She is also a third-year economics and human biology and society student.
Augusta is a 2023-2024 Slot editor and Sports senior staff member on the women's volleyball beat. She was previously a Copy and Sports contributor on the softball beat. She is also a third-year economics and human biology and society student.