Tasting the benefits of slowing down, connecting with others through cooking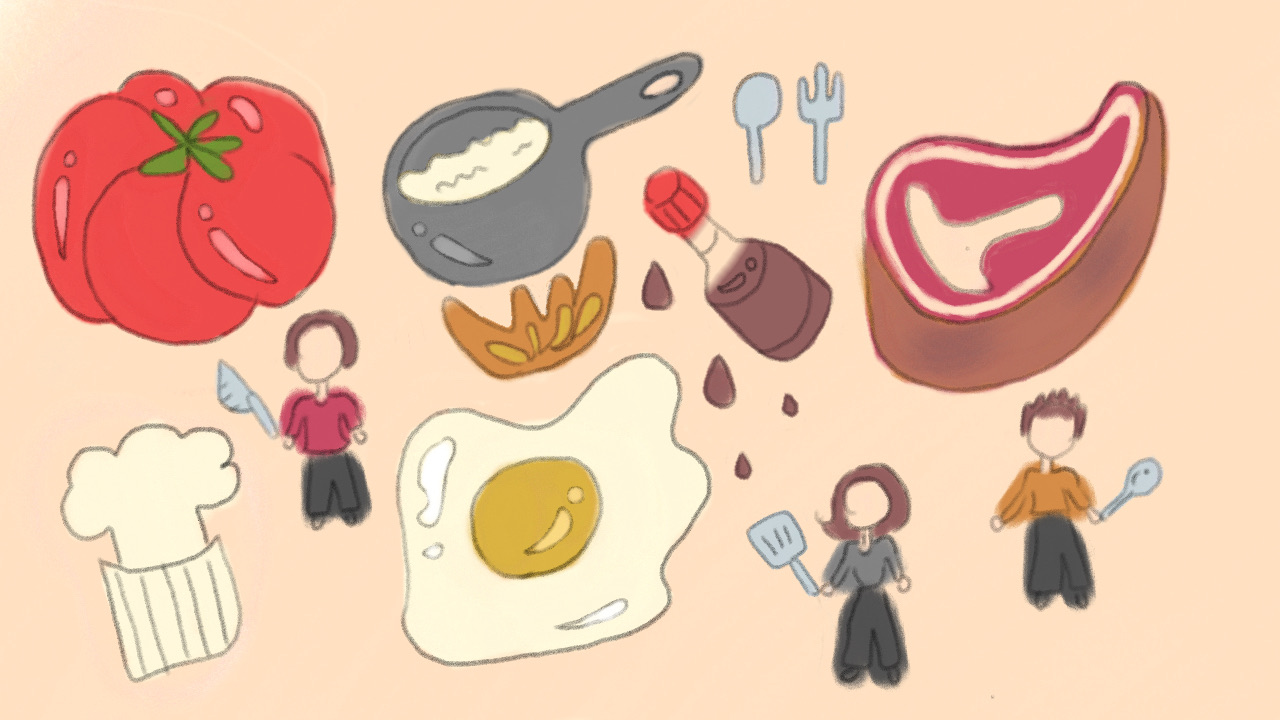 (Danielle Cho/Daily Bruin)
The microwave beeped, signaling the end of the convenient reheating process. I pulled out my bowls of leftover stew and rice, which my mom had made in one big batch at the beginning of the week. I consumed my meal in silence.
I lived in South Korea in high school, slightly outside of Seoul on a cute street lined with bakery shops. It was relatively like the suburbs of Korea – or as suburban as Korea could be. This was my routine every day; with two working parents, I mostly ate my plastic-wrapped dinners alone. I preferred to do the chores of recycling and washing dishes rather than cooking.
Then, in the middle of my sophomore year of high school, my time at home increased greatly with the onset of the COVID-19 pandemic. During the first few months of stay-at-home orders, while my school scrambled to gain some semblance of control over assignments and classes, I was left with more freedom than I ever had before.
Once I zipped through all of my asynchronous work, I had nothing left to do. Looking for a pastime, I remembered how much I loved watching cooking videos from a young age. For the first time since the late 2000s, I revisited cooking channels on YouTube, such as Laura in the Kitchen.
This time, I got sucked into the channel Pick Up Limes and watched chef Sadia Badiei create recipes filled with colorful veggies and grains. Watching these cooking videos sparked my ambition to attempt the recipes myself.
I learned to make simple things, like veggie curries and tacos. I got quite good at washing and chopping vegetables. I beamed when my mom and dad came home and tried my creations.
But as school ramped up once again for my junior and senior years, I was back in the classroom for eight hours and sometimes longer, leaving me with little spare time. For the rest of high school, I forgot about my brief excursion into the culinary world, and with it went my chopping skills.
It wasn't until coming to UCLA that I would revisit what seemed like a short-lived passion for cooking.
At the beginning of my college experience, everyone seemed to be in a rush to make friends. Almost every meal was eaten in a large group, with all of its participants trying to get to know each other.
In these new friendships, I found that once the initial stages of learning new tidbits of information about one another faded, conversations inevitably circled back to the same topics again and again. There was a feeling of stagnation in our efforts to get to know each other, which, in hindsight, could only be remedied by shared experiences and time.
Cooking would become one of these shared experiences that would bring me closer to the new friends I met.
A few days before Thanksgiving break, I gathered with some friends to cook in the Hitchen, a kitchen space that is open to residents of the Hill. Among them were some self-proclaimed chefs who missed the freedom of being able to cook their own meals.
With the groceries we bought specifically for the experience, we made a variety of meals, including egg tomato stir fry, key lime pie and chicken parmesan.
There was a lot of hustle and bustle as the sounds of meal preparations mixed with exclamations such as, "Look here! No, don't put that there, put that here! Can you taste this?"
People weaved in and out. Ingredients were scattered on the countertop and splattered along the sinks.
Our cooking was a dynamic process. There was no set amount of ingredients, no explicit instructions – just a vague estimate of the amount of soy sauce, sugar and salt needed for the recipe.
But after all the chaos, the mess-ups and the imperfections of the execution, the final result tasted good – maybe even better than it normally would have because it was a product of our shared labor.
In the activity of cooking, we found a sense of joy and accomplishment that day.
A few months later, a club project led me to use my friends' kitchen to test out a recipe. After helping me grab the groceries, my friends poked their heads into the kitchen and asked if there was anything they could help with. Recalling the joy of cooking with friends, I gladly accepted their offer.
We beat the eggs, prepared the flour mixture and marinade and fried up little circles of zucchini, experimenting by adding sparkling water to the batter and kiwi to the meat.
As one friend peeled the kiwi, I mentioned that we only needed half, and the other friend volunteered to eat the other half.
But upon seeing how the first friend had peeled the kiwi, he exclaimed, "No way I'm eating that hand kiwi!" I burst out laughing at my kiwi-peeling friend's embarrassed expression.
These hours were an expansion of getting to know sides of each other we had not seen before. They were chaotic and tiring, but as we all collapsed with full bellies at the night's end, the experience was well worth it.
During winter quarter, I joined a community service club and visited a shelter for veterans to make them lunch. The crew was just me and three other students I'd never met before.
At the site, we went straight into making stir fry. While we cooked together, the awkwardness of our status as strangers melted away. Improvising and brainstorming cooking alternatives cultivated a sense of teamwork that was solidified after watching the veterans enjoy the food.
There's something chaotic yet charming about fumbling around in a group of people you may not know very well, trying to figure out a recipe. And it is doubly meaningful to have people enjoy the food you made for – or with – them.
I've found that with all of the energy and thinking directed toward the common goal of making a delicious meal, cooking can make the awkwardness of new friendships slip into the shadows.
One can find out more about people's personalities through how they navigate this alternate world that merges fun and relaxation with chores. Cooking has the unique ability to make us pause in the moment, enjoy it and realize how precious this time spent together is. Exhausted after a hectic few hours in the kitchen, with the clanging of pots in the background, you might find that munching on your meal peacefully in the company of your fellow chefs will bring bursts of chatter that break the silence and friendships that last outside of the kitchen.