Chase Griffin channels 'NIL for Good' in student-athlete advocacy, philanthropy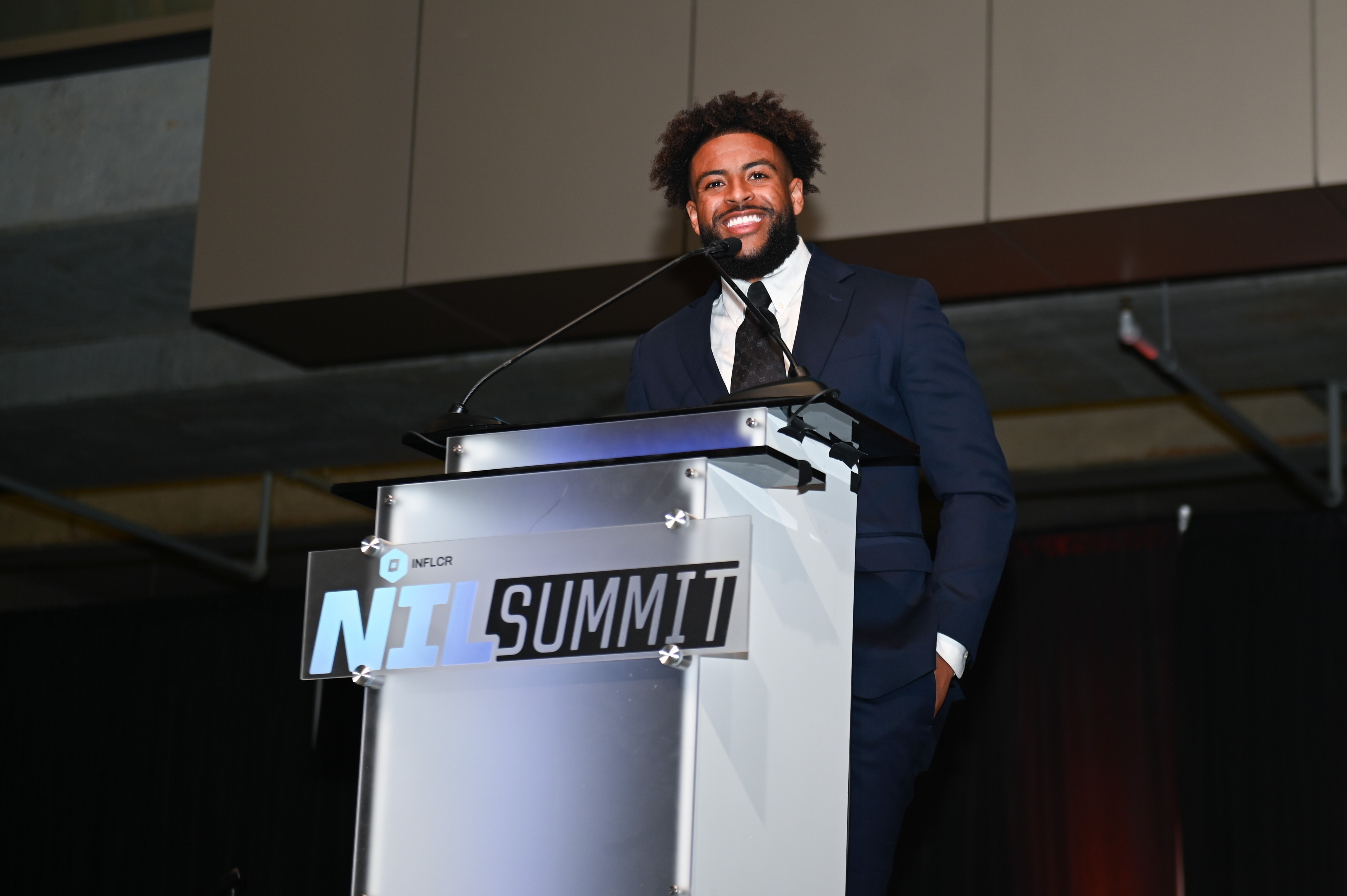 Senior quarterback Chase Griffin smiles at the podium at the NIL Summit. Griffin was awarded the inaugural NIL Male Athlete of the Year award in 2021 and earned the distinction again in 2022. (Courtesy of UCLA Athletics Photography)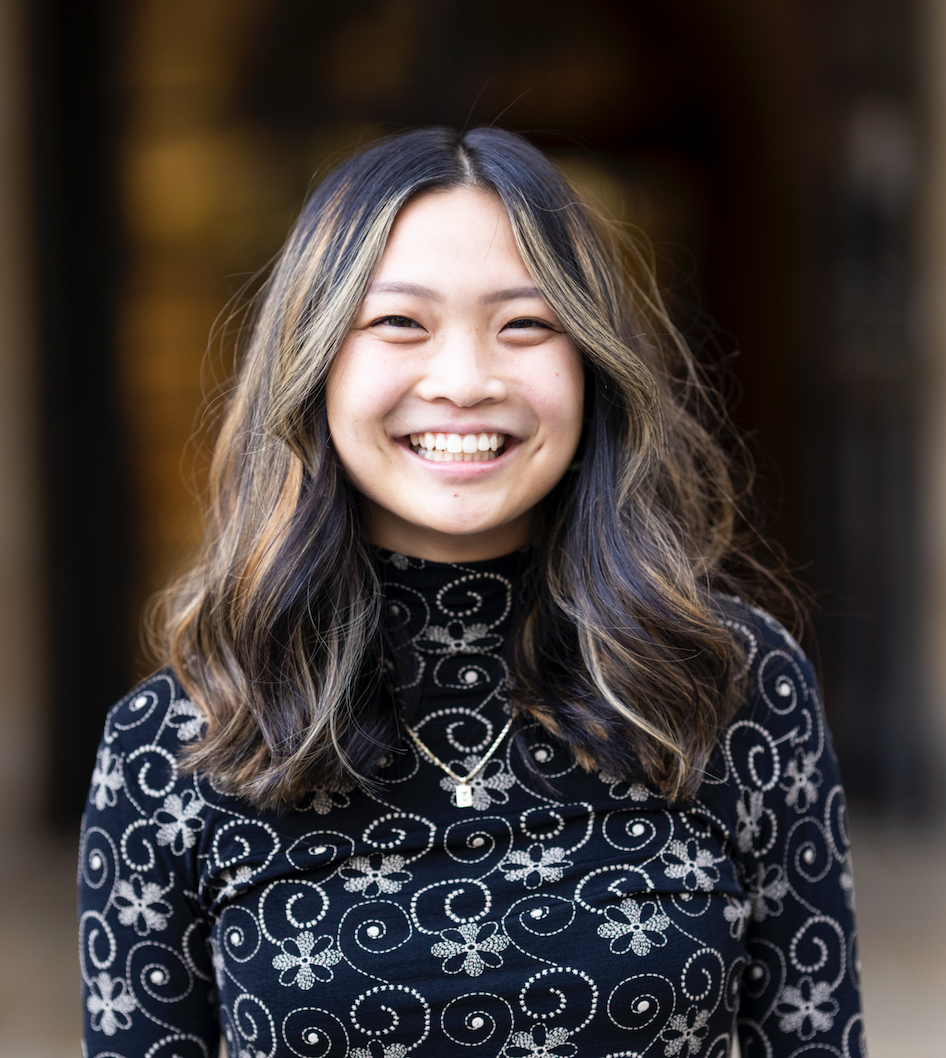 This post was updated on Sept. 22 at 12:14 p.m.
In 2014, ESPN coined 13-year-old Chase Griffin "the QB most likely to succeed."
"Where will Chase be in five years?" the feature pondered.
At 18 years old, he was committed to UCLA.
At 23 years old, the senior quarterback has proven ESPN's portrait a prophecy.
With two seasons of eligibility remaining, Griffin is now pursuing his third UCLA degree in as many years. After completing his bachelor's degree in public affairs and master's degree in transformative coaching and leadership, he is currently studying at the UCLA School of Law in the Master of Legal Studies program with a concentration in entertainment law.
Griffin has also rubbed shoulders in the classroom with peers from some of the top business schools in the world, including Harvard, Wharton and Stanford.
"They had all this technical knowledge because they were learning economics at the highest level," Griffin said.
But while he was familiarizing himself with industry vernacular as a part of Blueprint Investor Track's Dorm Room Fund cohort, he had the practical application down pat. Griffin was already well-versed in negotiating deals, delivering return on investment for partners and engaging with key performance indicators on the job.
For the past two years, Griffin has embraced experiential learning to a whole new degree, propelling his platform to new dimensions with the ability to profit off of his name, image and likeness. He is self-represented like many college athletes but has acquired the essential business acumen and outlook throughout his process of navigating the NIL landscape from the get-go.
"Experience is the best teacher," Griffin said. "I've gotten to a point where I trust my expertise more than ever because I've done it at a high level. … I think on the agency and the talent side and the production side, being self-represented has afforded me a lot of cool experiences. At the same time, I've found which expertise I need around me to support me."
Griffin's intrinsic motivation and pursuit of excellence date back to long before he signed his UCLA letter of intent under coach Chip Kelly. He was on ESPN's radar as early as 2014, but he was also accumulating a laundry list of accomplishments on the football field, including the 2018-2019 Gatorade Texas Player of the Year.
Developing skills in the spotlight allowed Griffin to capitalize when the Supreme Court ruled in a 9-0 decision that college athletes could profit off of their name, image and likeness starting July 2021. He recalled the horizons immediately broadening and imagined seizing those opportunities as a young person, athlete and entrepreneur with an established platform.
"Once NIL came to be, I'd built out a really good following based on LinkedIn with a lot of hitters that I was connected with," Griffin said. "Some of these folks ran advertising agencies and departments at Fortune 500 companies, so when it was their first chance to have a sponsorship deal with an 18, 19 or 20-year-old, I was prepared to do a good job creating return on investment."
Since then, support systems for navigating NIL have developed into a selling point in the recruiting process. For Griffin, UCLA's laissez-faire approach to NIL encourages student-athlete agency for the better.
"We have a system that allows me free reign over how I go about my NIL, which I really appreciate," Griffin said. "I'm excited to see as we transition to the Big Ten, how we can remain true to ourselves, hopefully continue building on programs that can help other athletes … go about NIL in their best way."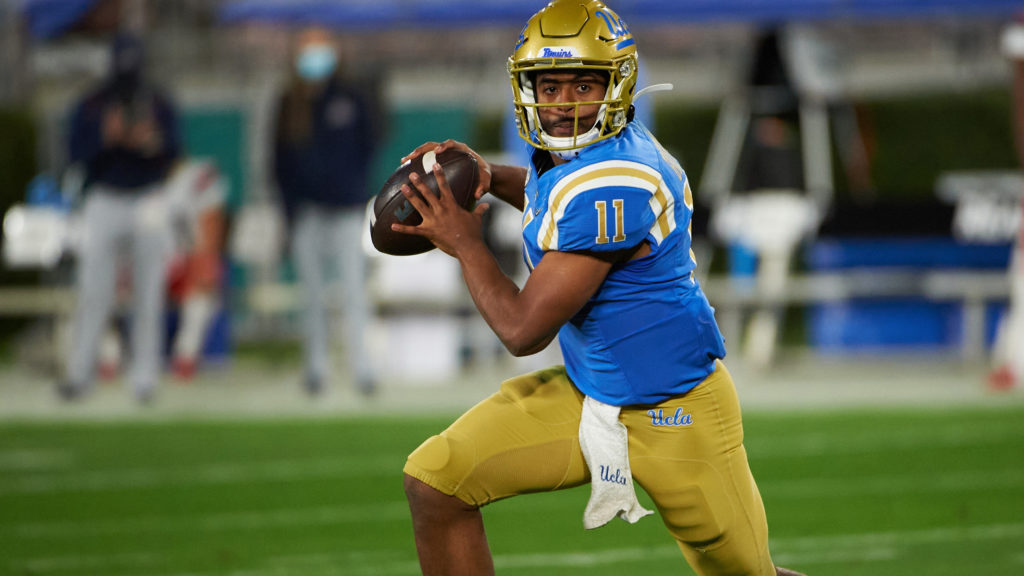 Leading with his own philosophy in the NIL space means that Griffin doesn't just operate with the bottom line in mind. The two-time winner of NIL Summit's National NIL Male Athlete of the Year distinction emphasizes a commitment to meaningful engagement with the Los Angeles community.
"I think understanding that using his platform as a UCLA football player and the people that he can touch and his outreach, he's been tremendous that way," Kelly said. "We're glad he's a part of what we got."
Expanding his network and deepening his connections beyond the professional spheres into philanthropic spaces, Griffin first reached out to the LA Regional Food Bank two years ago.
Roger Castle, the chief development officer for the LA Regional Food Bank, said Griffin's outreach and partnership was the first and most high-profile of its kind for the organization.
"He was a gracious, generous young man who was eager to help," Castle said. "He stepped up and started raising money for the food bank. Because of his status and association with UCLA football, it also raises awareness so other people learn about our mission to end hunger in L.A. County."
Griffin characterizes his approach as "NIL for Good," a core tenet of his recently established Chase Griffin Foundation. The foundation is currently furthering its partnership with the Los Angeles Regional Food Bank and will serve as a home base for Griffin's outreach and efforts in the community.
"NIL for Good is really a mindset," Griffin said. "My life mission is to build generational wealth, to contribute to public service and philanthropy … I'm at a stage where I have some financial capital as well as some followership. It would be a great practice while I'm still in college to practice my passions and make a difference on the scale that I can now in people's lives."
Griffin has recently scaled up his impact to the congressional level, working with Connecticut Sen. Chris Murphy and Massachusetts Rep. Lori Trahan to shape and publicly endorse the College Athlete Economic Freedom Act.
Previously serving on California Gov. Gavin Newsom's Student-Athlete Task Force, the Pac-12 Council's Student-Athlete Leadership Team and the Bruin Athletic Council, Griffin is no stranger to spaces of student-athlete advocacy. The formation of the College Athlete Economic Freedom Act presented a prime opportunity to lobby for legislative change.
The bill codifies provisions to protect international college athletes with visa status, encourages active facilitation between athletes and their colleges for negotiating NIL promotion and media rights deals, and prohibits discrimination on the basis of gender, race or sport in NIL-related agreements.
Griffin is vocal about NIL legislation that empowers student-athletes and centers around their health and well-being. Recognizing both the fiscal and social value of incentivizing NIL, he is adamant about advancing opportunities in college athletics.
"It's always about promoting equity and doing it in a way where even to the Senate, it creates progress," Griffin said. "There are folks who are against progress, just like every other time right before a major shift that created progress in the industry. That's something we'll have to overcome. I'm excited to be a part of that."
With the season underway, Griffin is focused on helping UCLA find the win column each week as the scout team quarterback. He last saw the field in the North Carolina State game and has another incentive to put the Bruins on the board now.
Griffin has pledged $11, mirroring his jersey number, to the LA Regional Food Bank for every point UCLA scores this season.
Thus far, that's 121 points scored, $1,331 raised and 5,324 meals provided to families across LA.
"He's a special young man," Kelly said. "He's the model for what NIL is supposed to be."
Wang is a 2022-2023 assistant Sports editor on the women's basketball, men's soccer, men's golf and track and field beats. She was previously a reporter on the women's basketball beat and contributor on the men's and women's golf beats. Wang is a third-year history major and community engagement and social change minor.
Wang is a 2022-2023 assistant Sports editor on the women's basketball, men's soccer, men's golf and track and field beats. She was previously a reporter on the women's basketball beat and contributor on the men's and women's golf beats. Wang is a third-year history major and community engagement and social change minor.