UCLA football dominates North Carolina Central in 59-7 blowout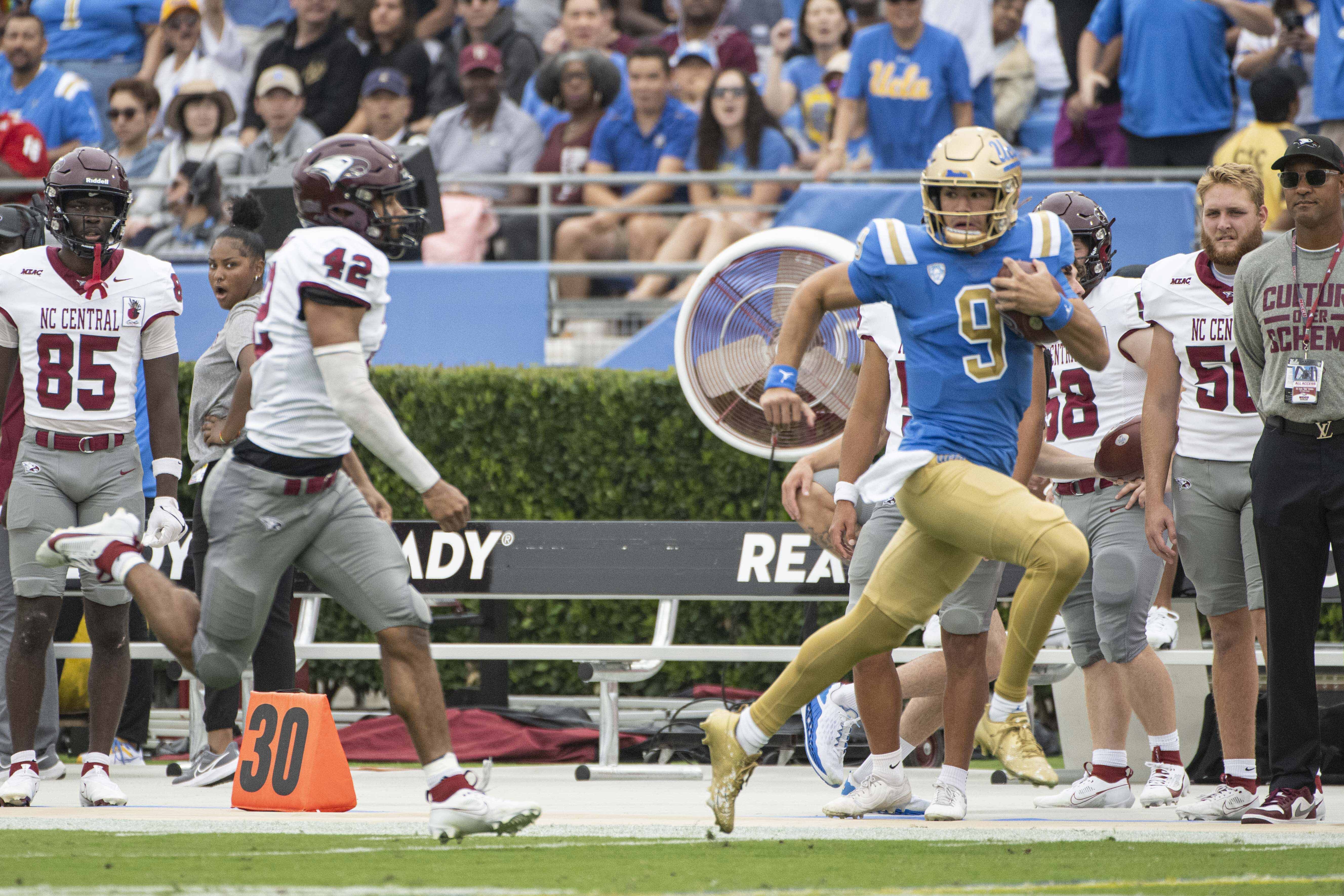 Redshirt junior quarterback Collin Schlee (right) runs down the sideline past North Carolina Central linebacker Jayden Flaker (left). Schlee scored two touchdowns on the ground. (Anya Yakimenko/Daily Bruin staff)
Football
---
| | |
| --- | --- |
| North Carolina Central | 7 |
| No. 24 UCLA | 59 |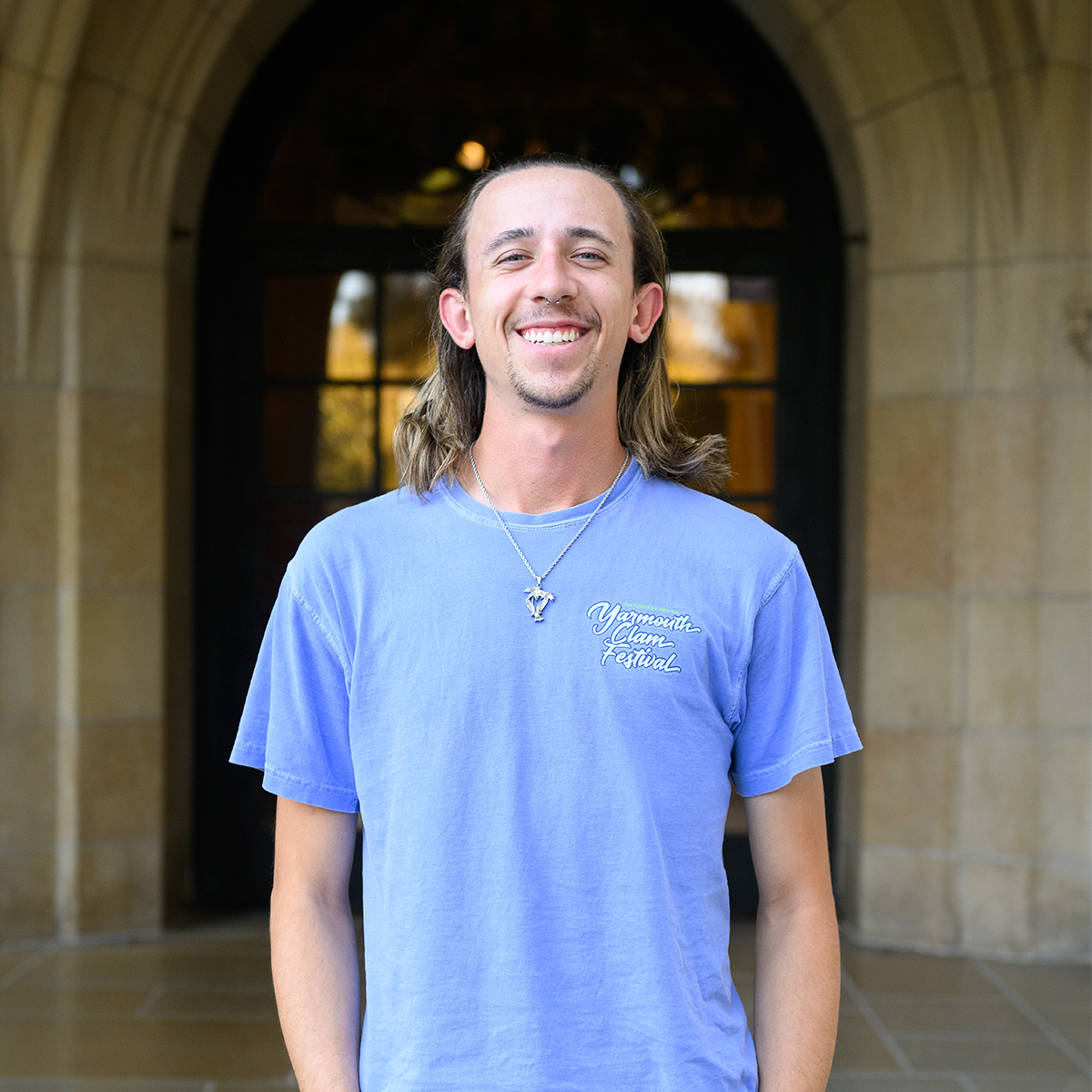 This post was updated Sept. 16 at 9:29 p.m.
Two plays, two touchdowns and not even two minutes had elapsed.
Soon, the Bruins were on pace for 140 points. The first quarter hadn't even ended.
In historic fashion, No. 24 UCLA football (3-0) befriended the end zone Saturday afternoon, dominating North Carolina Central (2-1) en route to a 59-7 triumph. With 35 in the first quarter alone, the Bruins broke the program record for most points in a quarter – a mark that had stood for over 60 years.
Making his second consecutive start, freshman quarterback Dante Moore set the tone from the outset, putting UCLA on the board with a 67-yard touchdown strike to senior wide receiver Kam Brown on the first play of the game.
That explosiveness has become a habit for Moore – who pioneered one-play touchdown drives in each of his previous two appearances. This time, he envisioned it.
"Dreams turn into reality," Moore said. "I had a dream about that play last night. I got told about it yesterday that it was the first play and I was just like, wow."
And just three plays into NC Central's responding drive, the ball was back in Bruin hands. Senior defensive lineman Laiatu Latu intercepted a pass – his first career pick – from Eagle quarterback Davius Richard, returning the ball 25 yards and giving it back to his offense with just one yard to the goal line.
Again, one play was all the Bruins needed for a touchdown – this time courtesy of junior running back Carson Steele. Moore followed on the next possession by connecting with redshirt sophomore wide receiver J.Michael Sturdivant, and coach Chip Kelly had already seen enough to change things up.
With his team up 21-0 and still in the first quarter, redshirt junior quarterback Collin Schlee trotted out from the sideline and promptly dashed 57 yards to the end zone on his first play.
From there, the Eagles' deficit only worsened.
NC Central punted on each of its final six drives of the first half as UCLA rattled off seven consecutive scores. By the end of the first quarter, UCLA had already matched its point total from last week against San Diego State.
"They went bang, bang, bang. I'm not sure what the total count was, but I think we may have scored more points than plays we ran today," Kelly said. "That's not a common occurrence."
Kelly maintained the musical chairs approach at the quarterback position, also giving looks to redshirt junior Ethan Garbers, senior Chase Griffin and redshirt freshman Justyn Martin.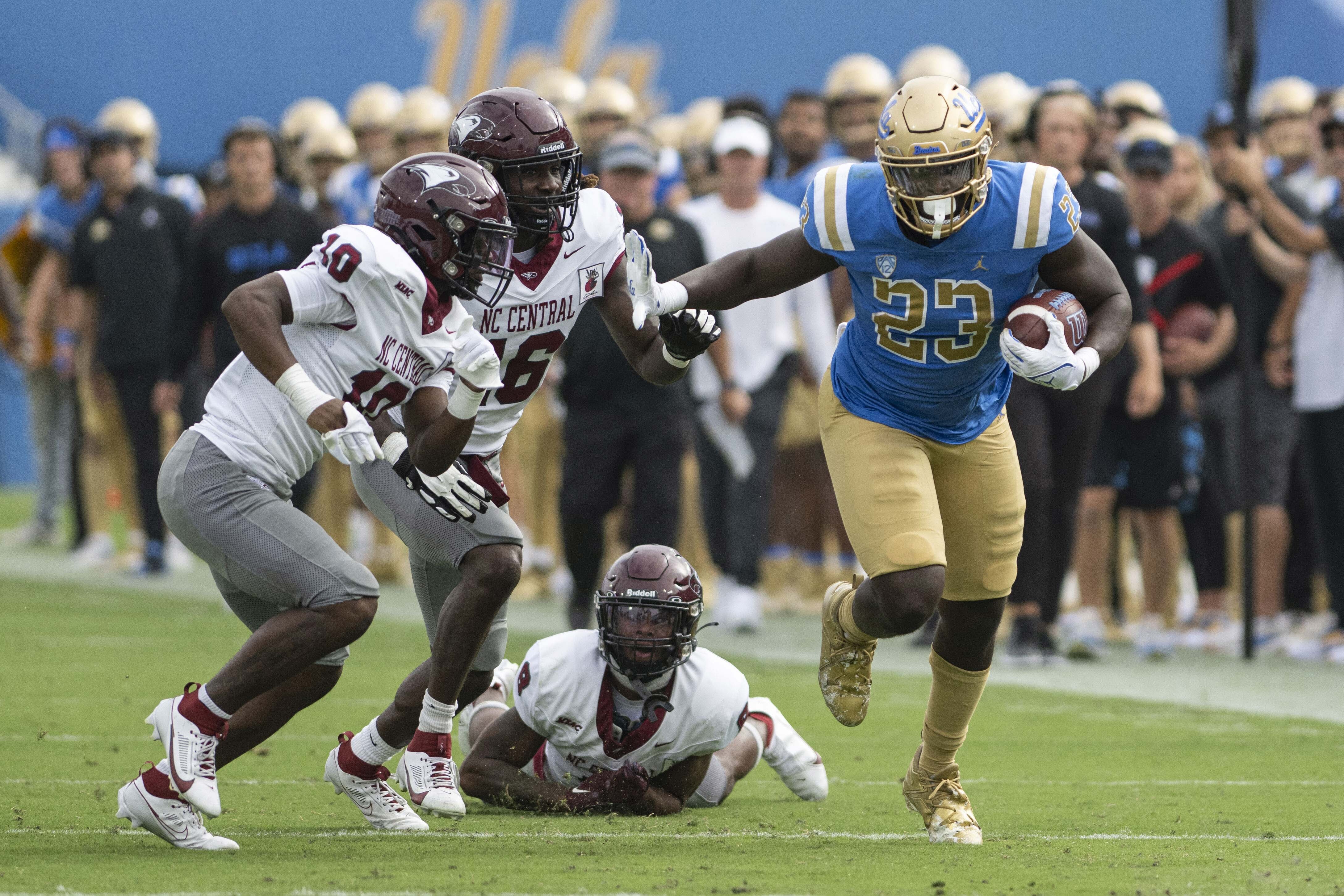 But it wasn't through the air where the damage was done.
The Bruins heavily favored the run game, with 404 of their 614 total yards coming from the ground and five different players contributing at least 50. Redshirt junior running back Anthony Adkins – who had just 26 rushing yards to his name with the Bruins coming in – led the charge from the backfield with 96 on 10 carries.
"Some of the things that I am good at, I brought that to the table to help the team win," Adkins said. "Just playing hard, playing physical, playing aggressive, and the rest of it took care of itself."
Kelly said Adkins – who sits behind Steele and sophomore running back T.J. Harden on the depth chart – is beginning to emerge in the greater scheme of the Bruin backfield.
"He's a big, physical back, but he's very nifty on his feet. I think he's got really good vision, and I'm not sure we knew how athletic he was when we got him," Kelly said. "Anthony is really starting to push and get into the mix."
It was a recurring theme – UCLA spread the wealth of opportunity to its backups as its starters took a step back, and it took until garbage time for NC Central to finally find the end zone with 3:36 remaining in the fourth.
The Bruins fell shy of handing the Eagles their worst loss ever against an FBS opponent, but they did hit a different number – the biggest win of the Kelly era.
Nelson is currently an assistant Sports editor on the softball, men's tennis and women's tennis beats. He was previously a contributor on the men's tennis and women's tennis beats.
Nelson is currently an assistant Sports editor on the softball, men's tennis and women's tennis beats. He was previously a contributor on the men's tennis and women's tennis beats.