New labor studies course will focus on history of labor movements in Los Angeles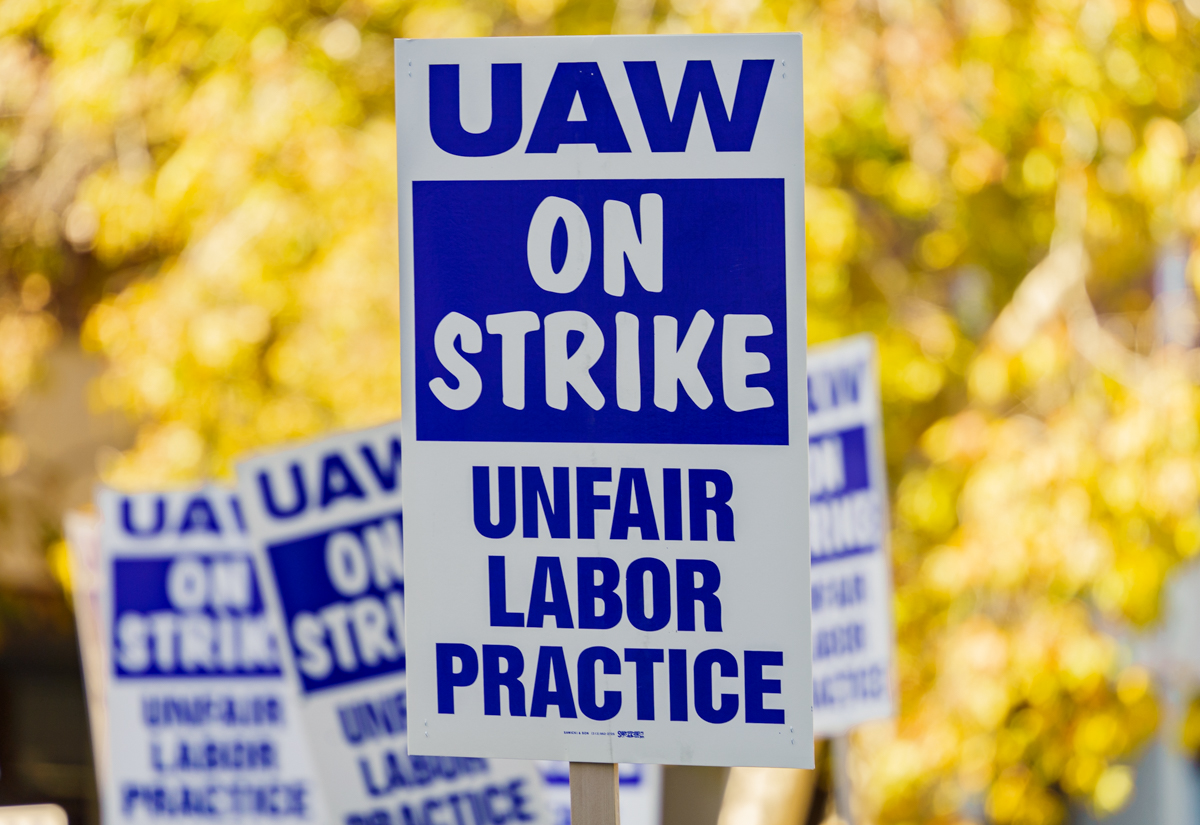 A poster from the United Auto Workers academic strike is pictured. A new labor studies class will cover the history of labor movements in Los Angeles (Julia Zhou/Assistant Photo editor)
Correction: The original version of this article misquoted Tobias Higbie as saying that one concept learned from labor students and labor history is that ordinary people are making part of history. In fact, he said that one concept learned from labor studies and labor history is that ordinary people are making part of history.
This post was updated Sept. 27 at 10:59 p.m.
A new class developed by labor studies and history Professor Tobias Higbie will focus on the labor history of Los Angeles.
The course, which will first be available to students during the 2024-2025 academic year, will follow LA's transition from a manufacturing to service economy and examine how laborers rebuilt their power after the city lost thousands of unionized jobs, Higbie said. It will also explore how workers without legal status organized labor after division between immigrant and nonimmigrant workers, he added.
Focusing on labor movements from the 1980s to the early 2000s provides an opportunity for students to directly interact with the labor leaders who brought about key changes, most of whom are still alive, Higbie said.
"This is the time for them (the leaders) to pause and think back on what they accomplished," he said. "It is an opportunity to engage with the people and interview them and ask them not just what did they do, but what did they think and why did it matter."
Keira Minamizono-von Imbior, a rising fourth-year psychology student with a labor studies minor, said she is interested in interacting with community labor leaders as part of the course.
"A lot of people may not be a fan of history because it seems like you're just reading about the past and not really interacting with the present," she said. "I think that (bringing in labor leaders) is a great way to keep students engaged."
Angie Rodriguez, a rising fourth-year Chicana and Chicano studies and history student, added that she was especially excited to learn about the perspective that the new labor history course could provide on noncitizen and immigrant laborers.
"I'm first-generation and my parents are immigrants," Rodriguez said. "It's interesting to see how … it (labor) affects everybody in general, not just the 1% or middle class."
Caroline Luce, a labor studies lecturer and a project director at the UCLA Institute for Research on Labor and Employment, said the success of businesses' anti-union agendas has contributed to the erasure of labor histories from the public memory. She added that she hopes this erasure will be rectified by opportunities like Higbie's course.
The course's focus on recent events could also help students, especially those from Southern California, place themselves in the historical narrative of labor movements, said Tia Koonse, a labor studies lecturer and research manager at IRLE.
"(These histories are) those puzzle pieces in your own family history that help you understand something that really shaped you," Koonse added.
Koonse said she thinks the course has practical value for students as future members of the workforce, in addition to providing valuable overlooked perspectives.
"We're all workers, and so I think there's a couple of really essential things we must, must know," Koonse said. "One is the history and legacy that we inherited, and if you don't know those things, then you're driving around blind."
Minamizono-von Imbior said she believed taking the new labor history course would be valuable since it would help students better understand the workforce before entering it.
Students taking this course will also engage with an extensive multimedia archive at the UCLA Labor Center, Higbie said. The archive contains materials from the United Service Workers West's Justice for Janitors campaign, the UNITE HERE Local 11 hotel workers' union and the LA Alliance for a New Economy, a labor justice advocacy organization.
Higbie said the course could also provide creative opportunities for students interested in other fields such as visual arts to draw inspiration from the archives, as they did in some of his previous courses engaging with the UCLA Labor Center's collection. Visual translations of the archives' contents can be essential to preservation and public memory initiatives, Higbie added.
Luce said she also hopes the course's focus on key political moments in LA's history will prompt greater civic participation among students.
Higbie said he hopes students will come away from the course with a greater understanding of themselves as history keepers, shapers and makers.
"One of the things that you learn in labor studies and in labor history generally is that ordinary people are a part of making history and what happens to ordinary people … matters," he said. "(Seeing that process) is a way to empower democratic subjects … to enable the people of California to make California the best that it can be."