Nearing conference play, UCLA women's soccer prepares to face Pepperdine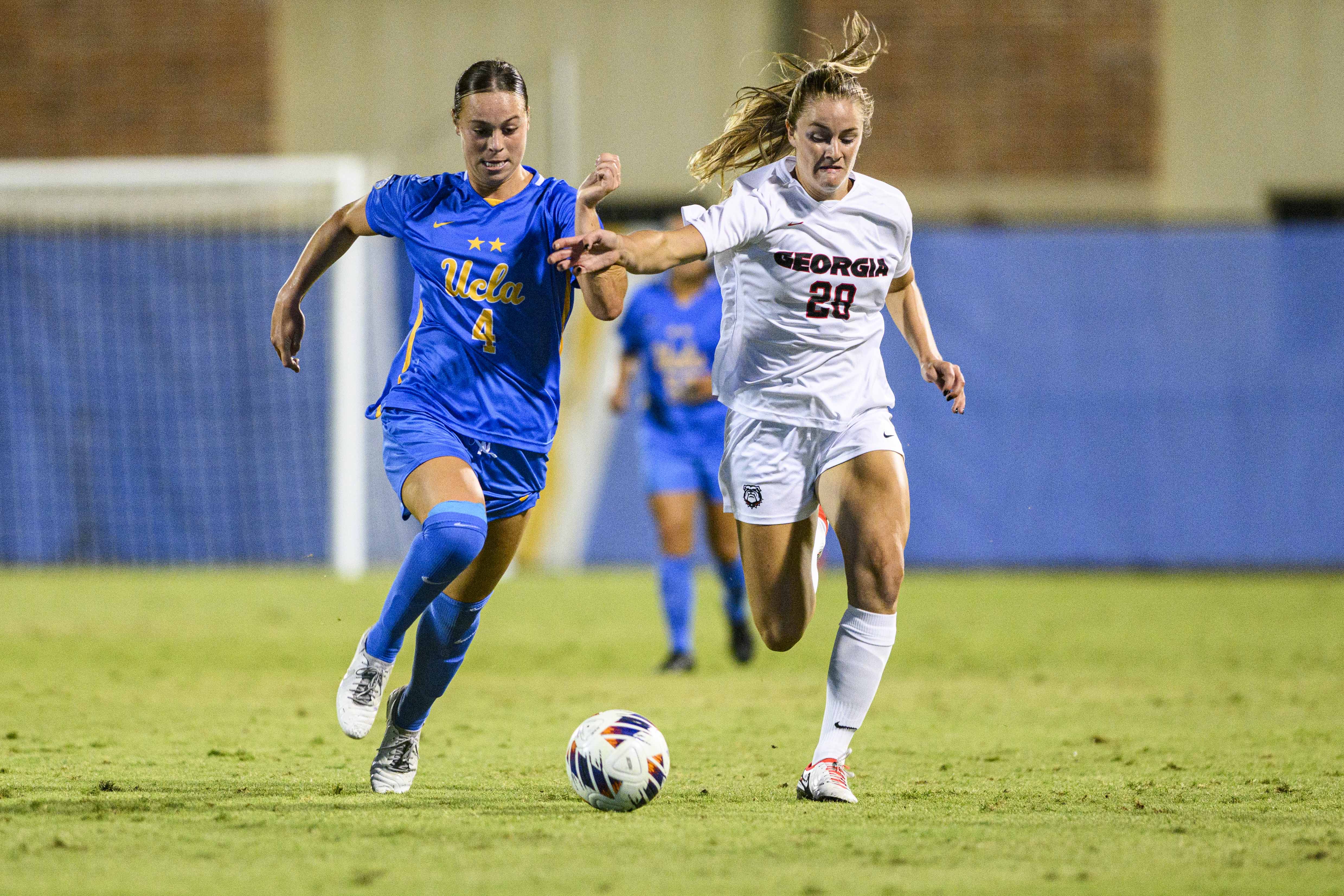 Junior defender Lilly Reale (left) races alongside Georgia midfielder Mallie McKenzie (right) in pursuit of the ball. (Christine Kao/Daily Bruin staff)
Women's Soccer
---
Pepperdine
Friday, 7 p.m.
Wallis Annenberg Stadium
UCLA Live Stream-2
Sept. 15, 2023 12:24 p.m.
The Bruins' countdown to conference play is nearing zero.
No. 5 UCLA women's soccer (5-1-0) will face Pepperdine (2-1-5) on Friday night at Wallis Annenberg Stadium, marking the squad's final home game before the Bruins hit the road for three consecutive games to commence Pac-12 play. The Bruins will journey around the west as they take to Colorado next week and Washington the week after.
Last season, a shutout win against the Waves helped propel the Bruins to a five-game win streak to open the Pac-12. This year, the Bruins get to play that final game in their own stadium.
Having a home game prior to tackling non-conference opponents on the road will help the Bruins build momentum, coach Margueritte Aozasa said.
"We try to make Wally (Wallis Annenberg Stadium) one of the hardest places to play in the country. That's what we'll try to do again on Friday," Aozasa said. "Hopefully we'll have another good performance and feel good and sharp heading into conference."
The Pepperdine game follows two shutout victories for UCLA against Long Beach State and CSUN. Throughout the two games, the Bruins held their opponents to no more than one shot on goal.
"We take pride in our defending and we've been talking a lot about how defending shows our culture," said junior defender Lilly Reale. "We've been really focusing on that side of our game and keeping other teams to a shutout."
The minimal shots from opposing teams also provided the Bruin offense additional opportunities to score.
The Bruins notched 24 shots in their recent matchup against the Matadors, with five of those being on target.
Senior forward Reilyn Turner, who mustered seven shots and one goal against CSUN, said the team measures their success based on collective improvement.
"We just measure our success based on how we improve every day," Turner said.
Turning to the upcoming games, Turner added that conference play is an entirely different ballgame.
"Conference is always tough because you know the teams you're playing and they know you," Turner said. "There are new challenges every year with new teams, but for the most part it's a familiar opponent."
Both 2022 season losses for the Bruins came during conference play, reflecting the challenges noted by Turner.
However, Reale said it's important for the team to treat every game like a must-win, regardless of whether it's a Pac-12 game or not.
"UCLA prides itself on not ever dropping the ball or taking a team lightly," Reale said. "It's ingrained in our mentality."