UCLA football to clash with NC Central in its 2nd game against an FCS program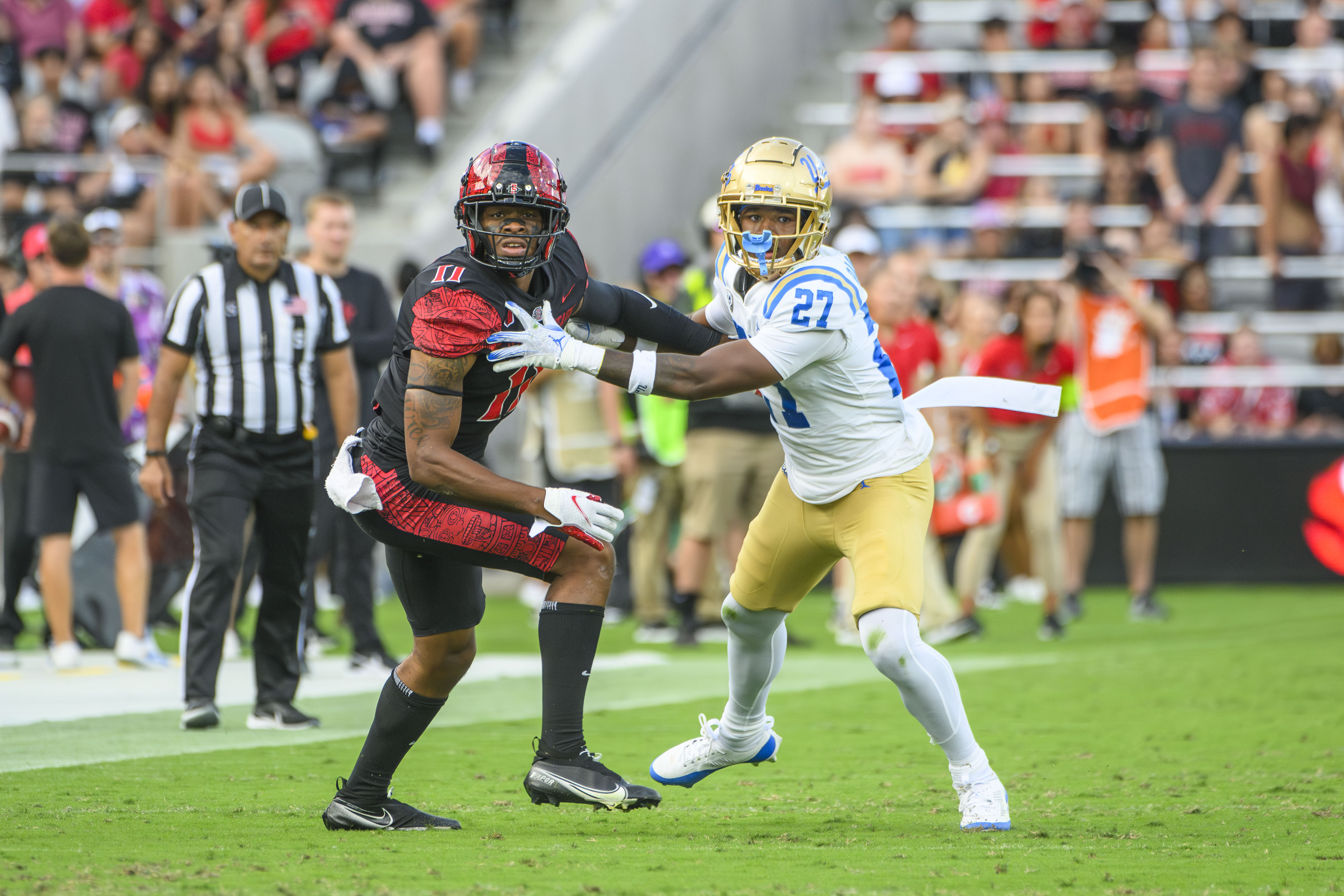 Redshirt freshman defensive back Kamari Ramsey guards San Diego State wide receiver Brionne Penny. (Joseph Jimenez/Photo editor)
Football
---
North Carolina Central
Saturday, 2 p.m.
Rose Bowl
Pac-12 Los Angeles
Sept. 14, 2023 11:43 a.m.
An HBCU and FCS program will suit up at the Rose Bowl for the second consecutive season.
Following Alabama State's venture to the Rose Bowl last year, North Carolina Central (2-0) will soon stand as the second-ever FCS foe that No. 24 UCLA football (2-0) has competed against in its 104-year history. The Bruins broke their FBS-exclusive-scheduling trend last season, defeating the Hornets 45-7, and they will now face off against the Eagles in Saturday's Week 3 contest.
Despite UCLA being heavily favored against NC Central – with the Eagles never defeating an FBS team in 12 tries – coach Chip Kelly said the team is preparing to face off against what he considers to be a solid program.
"They have our utmost respect," Kelly said. "Their quarterback is an NFL prospect, they have a safety who is an NFL prospect – this is a good football team."
NC Central coach Trei Oliver led his squad to a 10-win season and a Celebration Bowl victory over then-coach Deion Sanders' Jackson State last season.
Not only does NC Central represent the Mid-Eastern Athletic Conference, which the Eagles won in 2022 and are projected to win in 2023, but it's also a historically Black university, one of 21 HBCUs represented at the FCS level.
Early in the 2023 season and after two consecutive victories, Oliver lifted his squad to national recognition, as the Eagles slated in at No. 17 in the Stats Perform FCS Top 25 poll and No. 1 in the BOXTOROW HBCU FCS coaches poll.
UCLA athletic director Martin Jarmond spearheaded the effort to bring HBCU football programs such as NC Central and Alabama State to the Rose Bowl, Kelly said. The sixth-year coach added that Saturday's game shines a light on a lesser-known aspect of college football – buy games.
"Money games for FCS programs are a really big deal, and it's how some of those programs survive," Kelly said. "So the fact that we can bring somebody in and help them out at least a little bit with the athletic budget and then play a competitive game against a really good football team – that's always a positive."
While Saturday's affair is a chance for the Eagles' student-athletes to star at the Rose Bowl, it also presents the opportunity for Bruins lower on the depth chart to get playing time.
Against Alabama State last season, then-freshman running back T.J. Harden and then-freshman tight end Carsen Ryan led UCLA in rushing and receiving yards, respectively, for the first times in their careers, despite not yet featuring on the two-deep.
Even redshirt sophomore defensive back D.J. Justice, who switched positions from wide receiver last season, saw action in his first-ever game against the Hornets where he notched an interception.
Justice also recorded another first last week against San Diego State, earning his first career sack, which he said is another career highlight alongside his previously mentioned pick.
The San Diego local added that his father, former MLB All-Star outfielder David Justice, has provided valuable advice to help him stay focused on the field.
"It's more mindset instead of football because he didn't play football," Justice said. "Trust in the process, nothing happens overnight. Just kind of like Chip says, 'You got to be the same guy every day to build that confidence, to build that skill on the field.'"
Redshirt freshman defensive back Kamari Ramsey, who is now a prominent feature of the Bruins' defense much like Harden and Ryan on offense, also made his collegiate debut last season in UCLA's FCS matchup.
Now a starting safety for UCLA, Ramsey said the team can't think too much about how it closed nonconference play last season – narrowly defeating South Alabama – and must channel its efforts on besting its next opponent in NC Central.
"We're not really too worried about last year," Ramsey said. "We got to look at right now … we're going to play NC Central, and we're going to give them our best shot."