UCLA women's volleyball defeats Hawai'i to win Outrigger Volleyball Challenge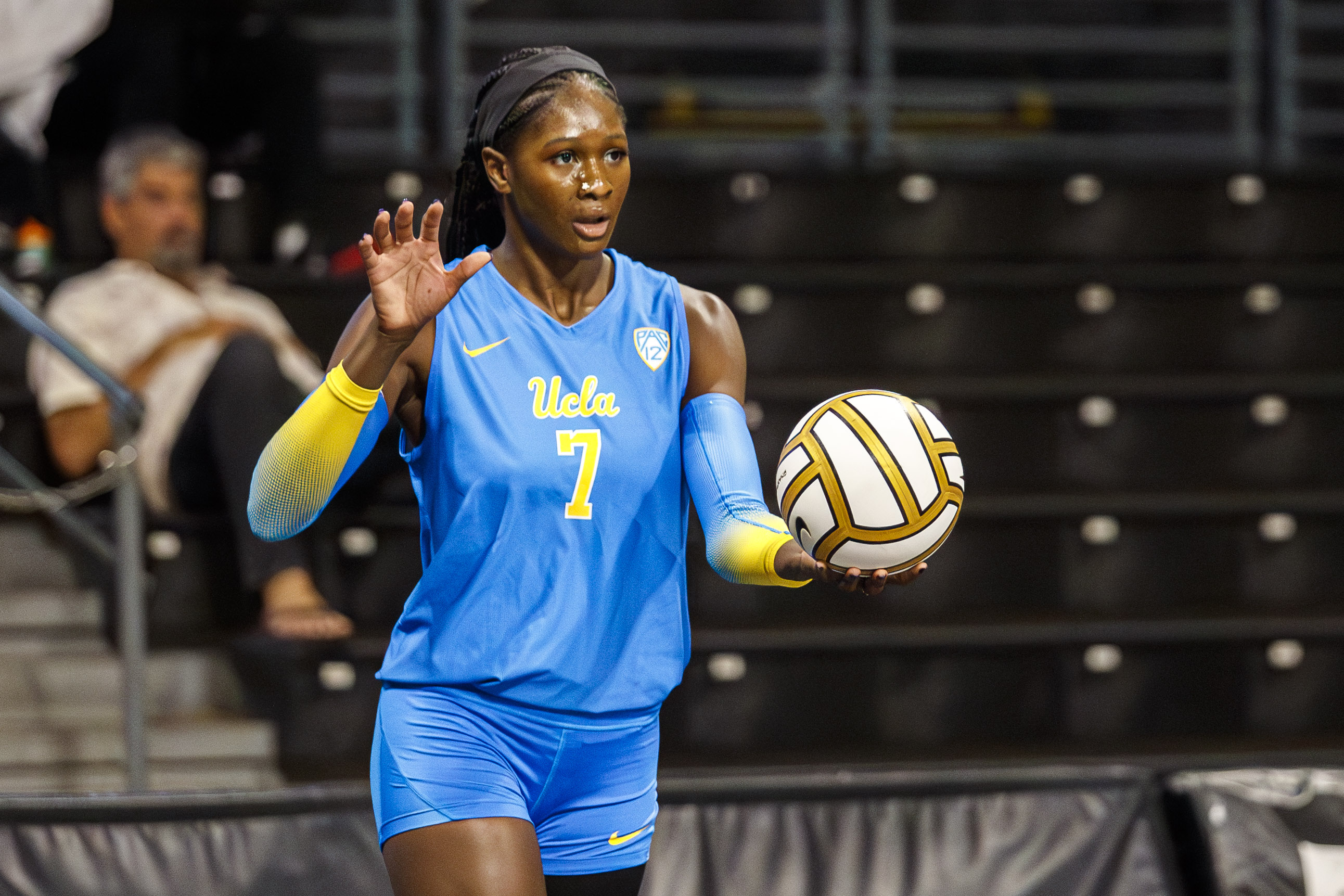 Senior outside/opposite hitter Iman Ndiaye prepares to hit a serve. The Bruins seized the Outrigger Volleyball Challenge title for the second straight year after besting the Rainbow Wahine in a four-set fashion. Ndiaye's double-digit kills in all three Outrigger games handed her the tournament MVP award. (Joseph Jimenez/Photo editor)
The Bruins washed out the Rainbow Wahine on Sunday night.
UCLA women's volleyball (7-1) closed the Outrigger Volleyball Challenge by adding a third win in as many matches over Hawaiʻi (5-3) in the Stan Sheriff Center to clinch the tournament for the second consecutive year after defeating Pepperdine and Liberty on Thursday and Friday, respectively.
The Sunday win was highlighted by a lack of Bruin errors, as the squad committed just 17 compared to the Rainbow Wahine's 31. The 2022 matchup also saw the Rainbow Wahine record 10 more errors than the Bruins.
"That is something we have been working on," said senior outside/opposite hitter Iman Ndiaye. "We realized we have been giving points away, and we just rather make our opponent earn our points."
The first set was neck and neck as the two teams met for the 78th time in program history. Hawaiʻi handed UCLA a 25-23 loss in the frame, narrowly avoiding a journey into overtime. Sophomore outside/opposite hitter Grayce Olson said the loss ignited a fire that would aid the Bruins in winning sets two, three and four to seal the match.
"We were able to find our way back," Olson said. "We knew we could keep up."
The Bruins opened the second set with a 7-0 scoring run courtesy of Ndiaye and sophomore outside hitter Cheridyn Leverette.
The two kept the Rainbow Wahine at bay, limiting its largest scoring run of the frame to just four. A serve by freshman setter Ashley Mullen and kill by redshirt senior middle blocker Anna Dodson sealed the deal at 25-15.
UCLA has already proved its offensive prowess, as Dodson, Olson and Ndiaye occupy the top three hitting percentages among players in the Hawaiʻi-UCLA match. Dodson currently slates in at the top followed by Olson and then Ndiaye.
After penciling 13 kills, five digs and two aces on her stat line against the Rainbow Wahine, Ndiaye achieved double-digit kills in each Outrigger contest and was awarded the tournament's MVP. Eight games into her senior campaign, Ndiaye has mustered 111 kills for an average of nearly 14 kills per game – leading the Bruin pack.
Leverette saw her name on the All-Tournament Team alongside Ndiaye. She led the team with a total of 18 points, 13 kills, three blocks, three aces and eight digs against Hawaiʻi. The Hampton local follows Ndiaye with 86 kills since the beginning of the season.
Ndiaye said it was the team's resilience that led them to defeat Hawaiʻi and emerge as winners of the Outrigger Volleyball Challenge.
"I think our strategy for this game was being really tough and to outlast the other team, keep having endurance," Ndiaye said.