Op-ed: Study, serve and seize opportunities in Westwood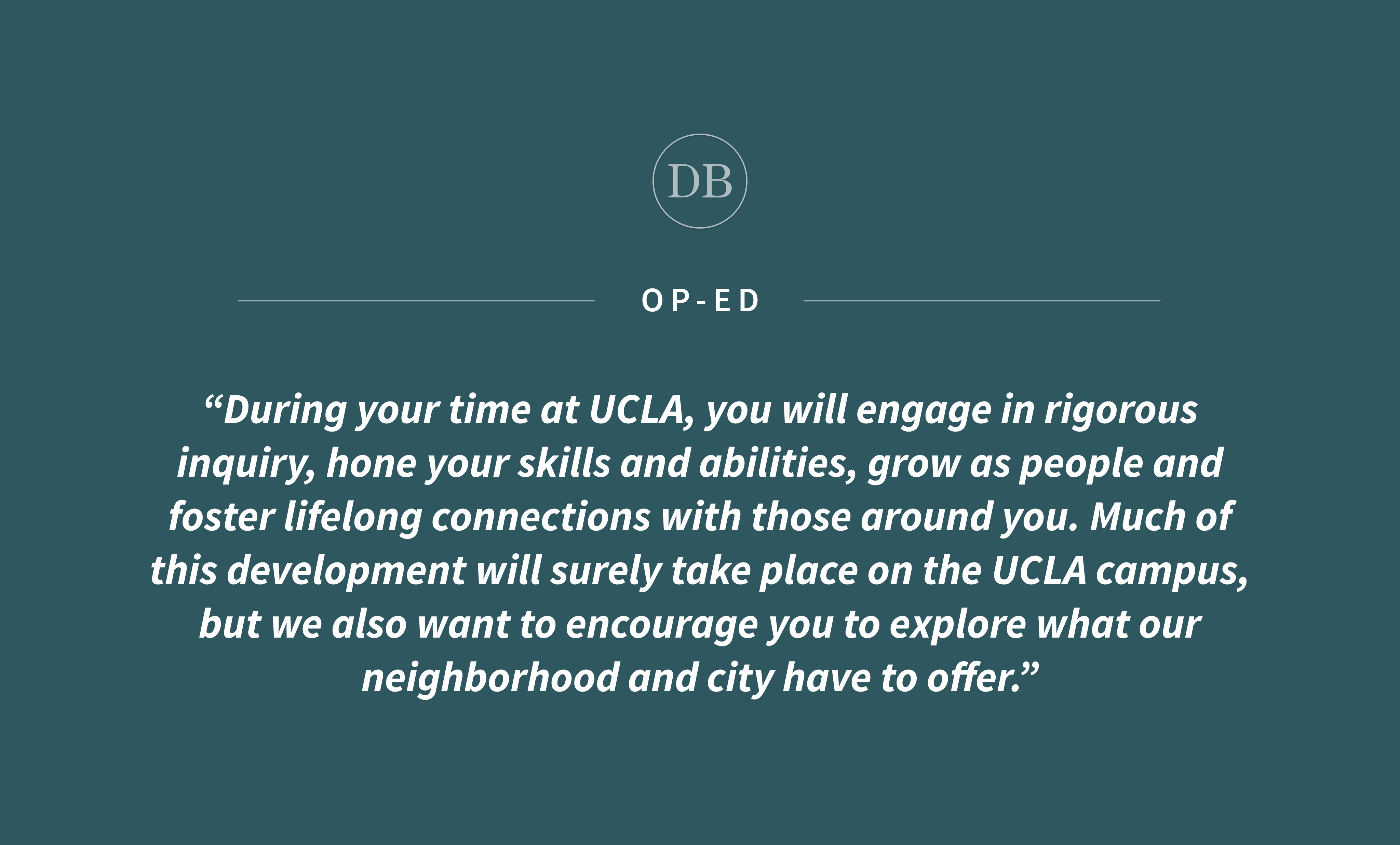 Welcome, Bruins – both first-timers and those who are returning. We are thrilled to have you with us here on campus and in Westwood Village.
During your time at UCLA, you will engage in rigorous inquiry, hone your skills and abilities, grow as people and foster lifelong connections with those around you. Much of this development will surely take place on the UCLA campus, but we also want to encourage you to explore what our neighborhood and city have to offer. Outside your doors sits the wonderful and welcoming enclave of Westwood – full of shops, restaurants and cultural gems for your enjoyment – as well as the world-class urban metropolis of Los Angeles. Opportunities to learn, serve and explore are nearly endless.
Public service – a core part of UCLA's mission – is one way to engage with these communities. We encourage you to share your talents, skills and passions with those around you, starting with the 15th Annual UCLA Volunteer Day on Sept. 30. For a decade and a half, the annual day of service has been one of the university's signature events, with UCLA students, faculty, staff, alumni, parents and community members volunteering on campus and in the greater LA area. Since its launch, more than 54,000 volunteers have logged more than 350,000 service hours through the event. Among the service projects this year are a Westwood cleanup, opportunities to support unhoused populations, pet adoption events and many more.
Volunteer Day is not your only opportunity to get involved in service and civic engagement. We encourage you to take an active part in the municipal life of the area by attending ​​North Westwood Neighborhood Council meetings or connecting with the Westwood Village Improvement Association. You can also join the Sepulveda Transit Corridor for All Ambassador Program, a new volunteer effort providing UCLA students with opportunities to raise awareness and build support for equitable and accessible public transit in Westwood and beyond.
Westwood Village is also a fantastic place to simply relax and spend time with friends. To kick off the academic year, we hope to see you at the Westwood Block Party on Sept. 24 at 4 p.m. on Broxton Avenue. We encourage you to visit the remarkable arts organizations in the village, including the recently renovated Hammer Museum, the acclaimed Geffen Playhouse and the Regency Theaters – where you can spot celebrities at the frequent movie premieres. Importantly, this fall marks the opening of the UCLA Nimoy Theater, operated by UCLA's Center for the Art of Performance. This performing arts space and cultural treasure will serve as an intimate home for diverse voices, viewpoints, ideas and expressions of creativity. This coming season will bring 50 performances to Westwood, with tickets available for less than $40.
The Broxton Plaza at Westwood Village, a new public space scheduled to be completed before the end of the year, marks another noteworthy change to the landscape of the neighborhood. It will provide a permanent place for live performances, activations, installations and community events. Even prior to the official opening of the plaza, there are activities to enjoy in this area. On the second Saturday of each month, Westwood hosts a themed pop-up maker's market on Broxton Avenue called Broxton Nights – come for dinner and shop for handmade gifts made by local artisans. Every Thursday from noon to 5 p.m., you can also visit the excellent Westwood Village Farmers' Market.
Finally, we are excited that a beloved UCLA tradition will be returning to the village this year: the monthly First Thursdays events. Each of the two-part First Thursdays sessions begin as a pop-up at the Westwood Village Farmers' Market on Broxton Avenue during the day and then transforms into a themed immersive experience from 7-10 p.m. Thursday, Oct. 5, marks the kickoff of First Thursdays with the theme of "Night Market."
While you are enjoying all the great benefits of UCLA and Westwood, we encourage you to demonstrate respect for each other, our neighbors and the surrounding community. Bruins are at their best when they show care and consideration for one another, and we want to remind you that Westwood is not just a college town – it is a thriving and diverse community full of people and families of all kinds. Please demonstrate your True Bruin Values by being a good neighbor.
Once again, welcome to UCLA and to Westwood – here's to a great year ahead!
Gene Block is UCLA's chancellor, serving in his 17th and final year at the helm of the university. Michael Russell is executive director of the Westwood Village Improvement Association.