Study finds patterns in health disparity across different genetic ancestry groups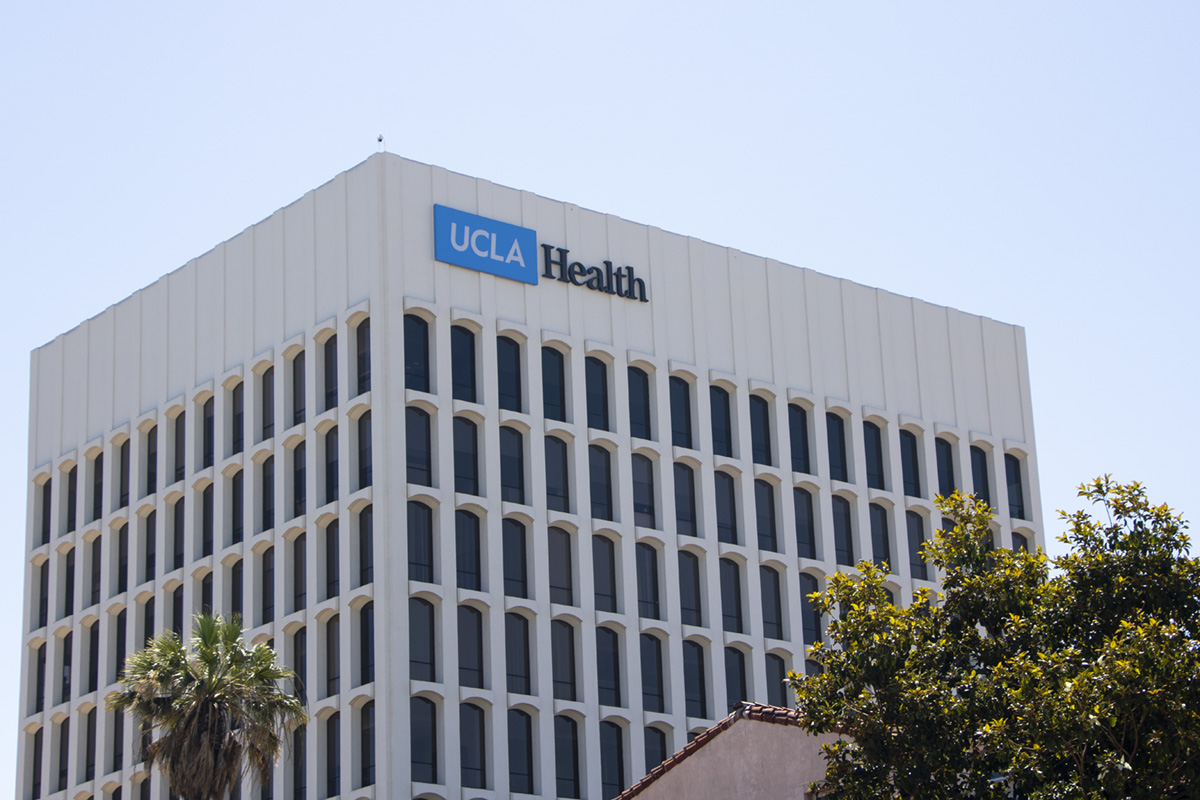 A UCLA Health building is pictured. Researchers, including professors from UCLA, published a study in July analyzing disease risks in different subpopulations based on genetic ancestry, using data sourced from the UCLA ATLAS Community Health Initiative. (Daily Bruin file photo)
UCLA researchers used genetic data from people in Los Angeles to identify different groups' disease risk and better understand health disparities.
In the study published in July, the researchers used data collected as part of the UCLA ATLAS Community Health Initiative – including medical info from patients across LA – to see whether they could understand why certain communities might be more likely to receive certain diagnoses or seek hospital care, said Noah Zaitlen, the paper's corresponding author. The researchers found that certain groups have an increased genetic risk for specific diseases, according to the paper.
"We're part of a larger set of collaborations that are trying to understand how to use genetics and biobanks to improve health, to understand health disparities and also to understand basic questions about our populations," said Zaitlen, who is also a professor of human genetics and neurology.
Race and ethnicity are currently recorded during hospital visits because it was thought that they might help identify if someone has an elevated risk for certain diseases, said Bogden Pasaniuc, vice chair of computational medicine and a co-author of the paper.
However, Pasaniuc added that these groupings are a poor stand-in for disease risk, as race and ethnicity are arbitrary social constructs. There has been a push in medicine to instead use genetic ancestry, which is determined by genomic similarity, he said.
For example, there is a wide range of people who identify as being of Hispanic/Latino ancestry, including people from Mexico, El Salvador, Guatemala and Puerto Rico, Zaitlen said, but the researchers found patterns in the clusters that were not apparent in the broader ethnic groups, such as pregnancy complications in one cluster and diet complications in another.
Pasaniuc said the researchers first designed a method to group people by their genetic ancestry. They used an artificial intelligence program that calculated the relative similarity in certain regions of people's DNA and then grouped people into clusters, said Christa Caggiano, the first author of the paper.
Caggiano, a postdoctoral fellow at the Mount Sinai Institute of Genomic Health who was formerly a doctoral student in Zaitlen's lab, said using an unsupervised AI program avoids imposing human preconceptions of what the groups should be. The AI came up with unique clusters such as Lebanese Christians and Egyptian Christians, she added.
The researchers then analyzed these populations by looking at the risks for different diseases in each cluster. For example, the researchers found that the Iranian Jewish community has an increased risk for GNE myopathy, a rare genetic disorder in which the skeletal muscle progressively atrophies, according to the National Human Genome Research Institute.
"This is not a disease that is regularly screened for at all, despite 5% being a very high carrier rate," Caggiano said. "My vision of one thing for UCLA and for other health centers like this is to expand the carrier screenings to more populations."
Caggiano said the researchers then further analyzed the data by investigating which clusters had high incidences of certain disease diagnoses and reasons for visiting the hospital. For example, they looked at which groups visited the emergency room more frequently, as this could indicate a lack of access to preventative healthcare such as checkups, she said.
"Being able to access preventative care and then not having to go to the emergency room as often are generally associated with better health outcomes," she added.
While it has been previously known that people from African American and Mexican backgrounds visit the emergency room at higher rates than other groups, the researchers' analysis revealed that people of Iranian Jewish and Armenian descent also have high incidences of emergency room visits, Caggiano said. She added that findings like this could give insight into less widely known health inequities.
However, she said one caveat of this research is that the findings cannot be purely attributed to genetics. Future research will need to investigate the social factors that affect health, Pasaniuc said.
"Let's say we find a community or a grouping of people … that has an elevated asthma disease risk," Pasaniuc said. "Then we can think about what are the factors that influence asthma, one of them being air quality and pollutants. And for that community, we can prioritize measuring air quality and air pollutants as a potential explanatory variable for why we see the increase of asthma."
Caggiano added that she also has concerns about how people might interpret this research, as solely attributing these findings to genetics and not considering social or environmental factors might potentially lead to racial bias in medical practice. Some individuals have used genetic information to strengthen white supremacist claims in the past, she said.
"There's probably a more complicated story because of the really important environmental forces when you are talking about health," she said. "There's going to be different reasons why someone is going to get health care."
Caggiano also said these findings need to be incorporated into clinical settings with careful consideration, adding that the researchers want to make sure there is mindful education for healthcare practitioners about the distinctions between genetic ancestry and race and ethnicity and when it is appropriate to consider these different categories.
"Identifying health disparities … is an important part of helping people and figuring out who needs help and what help they need," Zaitlen said.